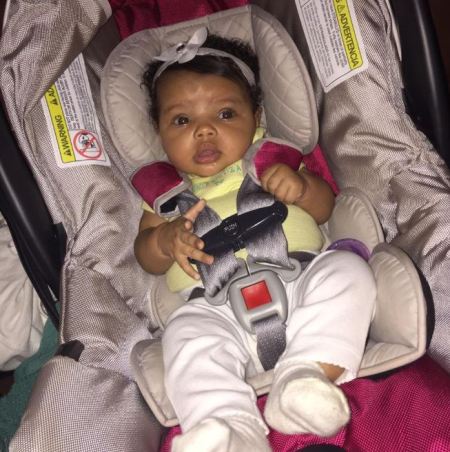 Zaviera Maxwell is a daughter of Willie Junior Maxwell II, professionally known as Fetty Wap who is a well-known American rapper, singer and songwriter.
She is a 4-year-old toddler famous for being Fetty's daughter.
Zaviera Maxwell Parents
She was born on 2015 in Paterson, New Jersey, the United States to parents Fetty Wap (her father) and Lezhae Zeona (her mother).
Here is a picture of Zaviera with her parents at her 4th birthday party.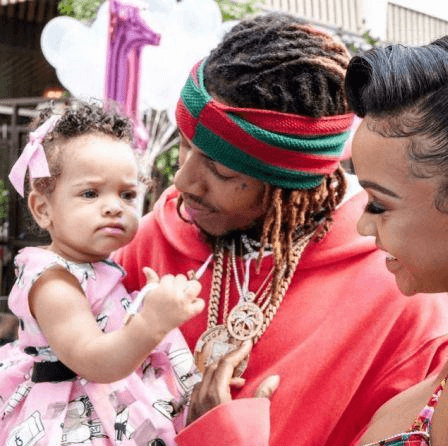 She has a sibling named Zy, who was born in 2018. Her parents were not married to each other when they had her.
She has other five half brothers and sisters sharing same father but different mother they include Aydin Zoovier born in 2011 to the mother Ariel Reese who is childhood girlfriend of Fetty, Amani born in 2016 to mother Elaynna Parker, Khari born in 2016 to Love & Hip Hop: Hollywood star Masika Kalysha, Lauren born in 2016 to exotic dancer Turquoise Miami and Alaiya born in 2018 to mother Alexis Skyy who is Fetty's ex-girlfriend.
Fetty got married to Leandra Gonzalez on September 2019.
Get IN: Gio Grace Levine Parents
Apart from having multiple relationship with several women, Fetty is also known for his debut single Trap Queen.
His many songs such as My Way, Wake Up, Strawberry Kush, etc. are quite popular.
He was also nominated in BET Awards and American Music Awards for Best New Artist for his single Trap Queen.
Fetty had a little accident when he was a kid who gave him congenital glaucoma in both of his eyes.
Doctors were able to save his right eye but unfortunately could not save the left one.
At least he can see with one eye; his vision is not entirely gone that is the reason why his left eyes look that way.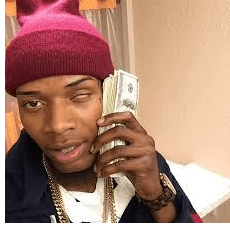 Father About A Son Trap Queen
Zaviera Maxwell's father explained how he created his hit song "Trap Queen." When he first wrote "Trap Queen," he lived on Summer Street and Park Avenue, in Peterson, New Jersey.
Fetty explained it was cool and freeze at the time around November and December.
They didn't have much furniture in the house, so they sat on the floor and went through the website named 'SoundClick.com' as used to get all his beats and stuff from there.
Along with the producer, Tony Fadd, he ran across the beat, and it just came out. Before recording his song, he let his friend hear it first.
He heard it and set up a studio session, and a week later, he was in the studio, and he recorded it with Brian Peoples, with RCA.
Trap Queen was the third song he ever wrote. Fetty shared that he loves the original one more than the one that everybody else knows that's on the album.
Despite being only three of the same verse, it consists of just so much more energy as it was like that's the original.
Fetty and Masika Kalysha's baby
Fetty dated reality television star, actress, and entrepreneur Masika. They have a daughter named Khari Barbi Maxwell.
But before they had Khari, Masika revealed that she had a miscarriage with twins while she and Fetty were together.
But later, they had Khari. Masika also revealed that when she found out about the pregnancy, she told to Fetty about it.
He was not happy at first. She further added that he also told her if she wanted to keep the baby, then she was on her own; he won't be involved. But Masika gave birth to beautiful Khari anyway.
Masika also had the time and again blamed Fetty for not being involved in their daughter's life.
Losing Iphones
Zaviera Maxwell's father, Fetty, revealed that he had lost almost forty iPhones to date. Fetty discussed his essentials like his wallet, jewelry, and different accessories that he uses in his everyday life.
Among those, the most essential thing that he has on him is his wallet because he keeps a letter written by his daughters in it.
His next essential item is his two and a half kilo's 18-carat gold chain, which is almost five-and-a-half to six pounds.
Fetty's party starter essential is 'Remy Martin', and his favorite Cologne is 'Cloud Pusher.' Fetty is from Paterson, New Jersey.
Talking about 'Backwoods,' he shared that when he was like 15-16, 'Backwoods' would come in like eight-pack for two or three dollars, and now it costs around eighteen dollars.
However, he still considers it as his favorite. Among his favorite is the Steamers.
He started using them in 2017 after he did an ad for Philips as he never saw someone who unwrinkled the shirt so fast and was just blown away.
Fetty's forever constant are his GI A-Certified Diamond earrings, which cost him about twenty-eight thousand dollars per ear.
He mentioned that it was his most expensive two items he brought in his life. Sadly, he lost one while he was doing a video shoot.
He also owns a 41 millimeter Rolex Presidential which cost him around fifty-five thousand dollars and is also one of his oldest purchases.
Fetty argued and threatened Zaviera's mother, Lezhae Zeona
In 2015, a video in which Zaviera's parents were arguing and threatening one another outside Lezhae's grandmother's house went viral and surfaced on the internet over the weekend.
The video clip consists of Zeona holding a knife while Fetty threatens to shoot her up if she does the interview.
Fetty was even rumored to be arrested for the act, but those rumors were proven false.
However, things are seen to be normal at present, and both of them are on good terms as Lezhae had her second baby Zy Maxwell with Fetty in 2018.
Favorite place to visit is Italy
Well, everyone knows Fetty is traveling around the world. However, he mentioned Florence, Italy, as his favorite destination.
He mentioned he visited there two years ago for the very first time. Fetty shared that he was on a European tour at that moment.
He is also a big Italian food lover and says he loves Italian food that's like a favorite dish of Fetty.
He also shared that he went to a place in Italy where they served different pasta and claimed that he had the best pasta ever. He also uploaded the picture on his Instagram.
Fetty says that he was at that restaurant from 10 in the morning to 11 at night at the center in the restaurant on the same block taking pictures all day.
Fetty also says that they had Hookah and they kept feeding him all the time he was hungry.
He shared that he didn't want to leave, which became his favorite spot, and claimed he drank wine for the first time there.
He learned about Tuscany, the red one, and the age one. Also, he went to a vineyard out there; Fetty claimed he was in a different time and he kind of felt mature too.
Respect Haitian culture?
Well, to let people know, Fetty truly cares about Haitian culture. Moreover, he is mostly recognized for wearing the Haitian flag proudly.
People around him might think he belongs to Haitian culture, but he is not. Furthermore, the main reason he wears the Haitian flag is to honor his daughter's grandmother.
Nevertheless, he had admitted to himself that the culture of Haiti is the most important and incredible thing to him.
Other than that, the name he had chosen as Fetty, there is a reason behind it.
He didn't choose Fetty Wap as it sounded cool, but actually, Fetty refers to slang for money and a knack for earning, whereas Wap refers to rapper Gucci Mane's nickname, Guwop.
He also revealed that he considered Gucci Mane his idol and one of the people he looked up to.
Her half-sister died from heart defect complications
One of her half-sisters, Lauren Maxwell, died from heart defect complications at just 4. Lauren's mom took her Instagram to share the news of her death.
As per the death certificate obtained by TMZ, she died on June 24 from cardiac arrhythmia and an irregular heartbeat due to the complications of congenital cardiac anomalies.
But just an hour after the report, Lauren's mom Turquoise Miami slammed the reporters for premature and incorrect information about her daughter's death via her Instagram, writing that though her death says cardiac arrhythmia due to a congenital heart defect, that is not the full cause of her death due to which the autopsy hasn't come back.
She also lashed out for stealing the death certificate and announcing the cause of death before they were ready.
Fetty broke his silence over the loss of her daughter in an emotional live video.
He held the photos of her and said she was good and she was happy now with eyes full of tears.
He also revealed that Lauren loved butterflies and asked fans to post a butterfly emoji and soon after the chat section was flooded with butterfly emojis.
Fett wanted to be a superman to his kids
Fetty does not want his kids to be looked at as the person with money but to be looked at as a dad.
He also credited the moms of his kids for raising them right, making sure his kids always respected them.
When he was running like that, it was their mothers whom he counted on to make sure his kids grew up the right way.
According to him, there was a big difference between being Fetty and being a dad.
When he got the time to be a dad, it was difficult because of their different personalities. When his kids are with him, then it's all of his kids.
Before, he was used to going out and coming house at 6:30, but he learned his kids woke up at seven and now, he will try his best to be home by 10 or 11, and if he works, he tries to be home before 3.
He wants to do all that because he wants to set an example. He says he wants to be that person, the superman to them.
He says he is learning and is very close to being the best father to them.
According to Wap, the best advice he can give is to love and give time to their children.
He says time is the most valuable, most beautiful, and most precious thing you can give to your children because you can never get that back.
You can get everything back that is materialistic but cannot get back time.
Net Worth
As a kid, Zavier does not have any net worth to her name to date.
Her father's net worth is estimated to be around $8 million and his income range from $2 to $3 million per year. Her mother is said to have an estimated net worth of $4 million.
About: Amanda Lee Gosling Parents And Their Net Worth
She is very young to have any career and earn money so let her enjoy being a kid for now and is being taken care of by her mom Lezhae with whom she lives with.
Here is a list of the wealthiest kids in the world and their net worth.
| | |
| --- | --- |
| Kids Name | Net Worth |
| Phoebe Adele Gates | $1 billion |
| Blue Ivy Carter | $1 billion |
| Suri Cruise | $800 million |
| Knox Jolie Pitt and Vivienne Jolie Pitt | $200 million |
| Emme and Maximillian Muniz | $200 million |
| North West and Saint West | $100 million |
| Rose Dauriac-Johansson | $100 million |
In the top of the list of the world, the richest kids are Prince George Alexander Louis (also known as Prince George of Cambridge) and Princess Charlotte who are the children of Prince Willian, Duke of Cambridge, and Catherine, Duchess of Cambridge.
Being a member of the British Royal family is how they have such a huge net worth. Phoebe Adele Gates who is second on the list is the daughter of billionaires Bill Gates and Melinda Gates.
For Amazing Articles Of Your Favorite Celebrities,
Stay Tuned To vergewiki
Zaviera, being the daughter of rapper people speculate that she might appear in a different advertisements, kids shows, or modeling or magazine covers, but she is not involved in any of those.
She came into the limelight after her mother accused Fetty of not taking care of her daughter and not giving their daughter enough time.
The couple was seen having feuds on social media many times in the past. Lehzae was also seen taking her anger out towards Fetty on Twitter many times.
She is very young, so the details about her height, weight ad body measurement is not available. Let her grow up at first, and we will see how she will turn out to be in the future.
Info and Highlights
Her birth name is Eliza Zaviera Maxwell.
Her nickname is ZaZa.
She is of 4 years of age.
She belongs to African-American, and her nationality is American.
Her zodiac sign is Pisces.
Zaviera celebrated her birthday on March 12.
Updated On Thu Sep 22 2022 Published On Tue Sep 24 2019 By paper-boat