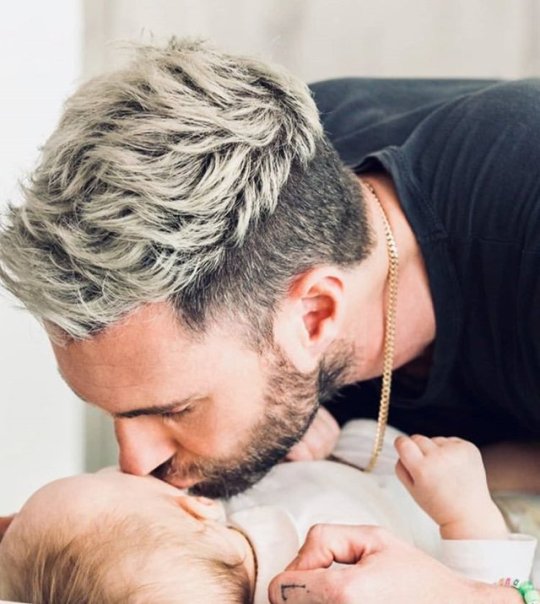 Facts of Gio Grace Levine
Gio Grace Levine is famous for being a daughter of actor and singer Adam Noan Levine and model Behati Prinsloo.
The couple named their daughter's name with deep meaning.
Her name meaning Gio sounds like Geo, which means earth or the whole world. Gio Grace is the whole world of her parents.
You And Me Baby
Her father loves to spend with her. This picture of a walk from papa and daughter will make her soul smile.
Adam has uploaded this one on his Instagram account on 7th March 2018, and he has captioned this one as,
"You and me…."
She is wearing a jersey, which has Levine printed on it. It is super cute.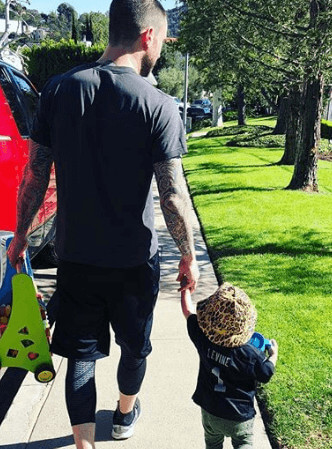 Off To School
Her mother is doing a perfect role in handling two cute kids. Here is an adorable picture of her mother carrying a school bag of her sister and her in her arms.
The Range Rover in the back shows the lifestyle and Behati's motherhood will make you smile.
Dusty is also in the picture, and she is looking cute in the picture too.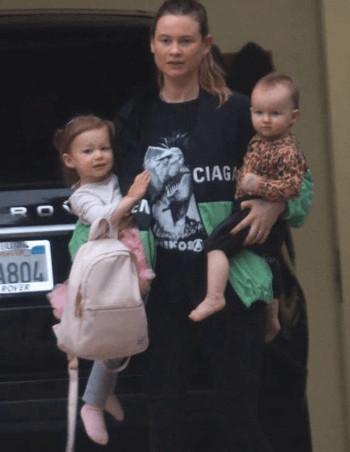 Gio Grace Family
She is born with a silver spoon in her mouth. Her dad is a famous singer, songwriter, and actor and her mom is Victoria Secret's model.
Her father is an American, and her mother is Namibian. Her parents got married on 19 July 2014 in Mexico. She has her big sister named Dusty Rose Levine.
She is rising in her mother's lap with her family. She is the lovable daughter of her parents.
Her parents have shared lots of pictures of her in their social media account.
Her mother shared a picture with two cute daughters with the caption
"Here's to the sleepless nights,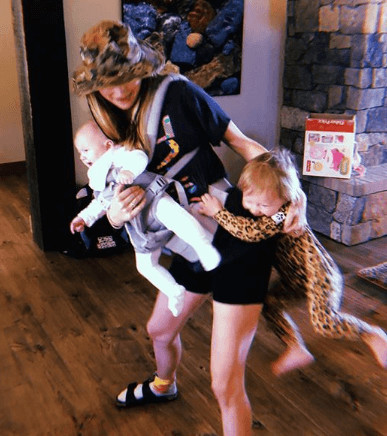 Mother Revelations, Saving Rhino and How Her Sister Was Named
Her father always mispronounces her mother's name, which is super cute.
Ellen reveals she named her sister, Dusty. Ellen also jokes, saying Behati did not like the name at first.
She shares how Adam came to her, saying Ellen has come up with the name of her child. Behati reveals it sounds like a piece of dust, and her parents won't like it at all.
She also reveals she said no way, but when the time kept on passing, she decided, Yes, it can be the name.
Her mother wants 3 to 4 children while Adam wants five.
She is helping to spread awareness about the poaching of Rhinos, and she is trying to save them. She is from Namibia, and her parents still live there.
She describes Black Rhinos as solitary animals.
The horn of Rhinos is medical, but the shocking fact is Asian people also use them as a status symbol.
Sarcasm
Ellen sarcastically commented on Adam Levine's hairdo, to which Adam said he is growing it just in the middle, and it's very long and gets sketchy sometimes.
The father of Gio Grace Levine further shared that one day, when he woke up in the morning, his kids were looking at his head, and when he asked what was wrong, they responded that it looked weird; his hair was like a total chicken head, like cockatoo vibe.
Ellen reveals that Allen was also responsible for Portia and her getting together as Portia wears a sweater around the house that Adam gave Ellen on his second appearance in her show.
They also ended up buying his house, which he convinced them to buy.
At present, he is just a stay-home dad and works on his music.
Ellen complimented him on his father skills and how he spends his time with his daughters, which were adorable.
Adam also mentioned that he is obsessed with them. Levine talked about his song 'Memories.' which is a tribute to his manager and best friend who passed away at that time.
Adam's feud with Miley Cyrus
Adam and Miley worked together for 'The Voice' in seasons 10, 11, and 13.
Miley was a full-time coach in Season 11 and 13 and a part-time advisor in Season Ten, whereas Adam was the coach from Season 1 to 16.
While in the Show, they usually have conflicts, with sources claiming Levine couldn't stand Miley.
According to the sources, Adam thinks that Miley is the most obnoxious person ever.
It was even said that Adam would never return to the show if they bring Cyrus back.
Gio Grace Levine net worth
Her mother is a supermodel and one of the angels of Victoria's Secret. Her mother, Behati Prinsloo, has a net worth of 9 million dollars.
Her primary source of income is from modeling work and the mega Victoria's Secret Angel.
Behati opened Victoria's Secret Angel shows back in the year 2014 and 2015.
She, Gio Grace Levine, is too young to have her net worth. She is dependent on her parents. She has a lavish life with her parents.
Her parent's net worth is in a hefty amount.
Her father's net worth is more than 120 million dollars. Her mother's net worth is 9 million dollars.
So there is no doubt that the baby of well-established parents' net worth will be in the massive amounts one day.
Her father's primary source of earning is from albums he has sold and also from TV shows appearances.
Her father Adam, received a salary of 6 million for the first episode of a show called The Voice. In the years 2015 and 2016, his earnings and salary per year reach a jaw-dropping 35 million dollars per year.
Her father is a part of a vast band called Maroon 5, and all the band members have enjoyed great earnings from the album's sales.
The table shows the total albums sold of the band, and the results are outrageous.
Maroon 5 albums name and total units sold.
| | |
| --- | --- |
| Album | Units Sold |
| Songs About Jane | U.S - 5,149,000 U.K- 2,019,827 World Wife- 10,000,000 |
| It Won't Be Soon Before Long | U.S - 2,379,000U.K- 413,451 |
| Hands All Over | U.S - 1,383,000 U.K- 313,034 |
| Overexposed | U.S - 1,586,000 U.K- 331,735 World Wife- 2,200,000 |
Her father has an exotic lifestyle.
For Amazing Biographies Of Your Favorite Celebrities,
Stay Tuned To vergewiki
He loves cars, and he has uploaded this picture on his Instagram account with a caption,
"The future is here!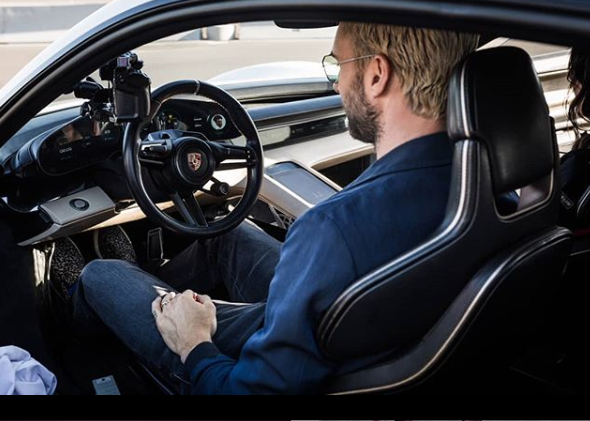 Gio Grace Levine wiki
She was born on 15 February 2018 in California, United States. She has celebrated her first birthday on 15 February 2019.
At this young age, she has become the limelight of the entertainment world already. She is American by nationality.
Also, read an interesting biography of Jade Logue and Kelsey Merritt.
Updated On Fri Aug 19 2022 Published On Sun Sep 01 2019 By paper-boat