Wilfried Mbappe is famous as the father of French National Team and Paris Saint Germain superstar striker Kylian Mbappe.
He is the agent of his son, and he is also a football coach.
A Moment With A Genius And Son
Here is a beautiful picture of father and son with the French Legend Zinedine Zidane. He is looking joyful as his son has made it to the very top.
Also: Alain Griezmann, father of Antoine Griezmann
This picture was uploaded on Instagram by his son, and the date was 25th September 2018.
He is looking excellent in his black suit and so it his son.
There has been a lot of rumors linking Kylian with Real Madrid, and in the future, this might surely happen as Zinedine Zidane is currently coaching Los Blancos.
The French legend will want France National Team Ace to be with him for glory.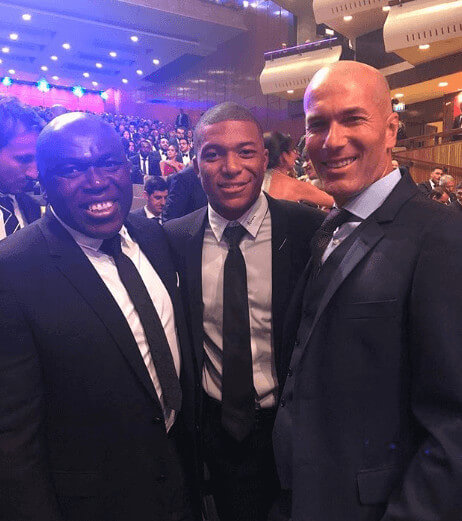 Always By His Son's Side
He has always been by the side of his son, and his success won't have been possible without Wilfried's support.
There is one interesting incident that occurred during the starting phase of his son's career.
He always wanted his son to play for Cameron National Team, but one shocking answer from the federation stopped the process.
He explains that the federation asked for a certain amount, and he was not willing to give that.
See: Gaston Varane, father of Raphael Varane
He says that this is the major problem in African football, and all they look for is money only.
He adds that France did not ask a penny for his inclusion in the national team, and this was the moment that turned the fortune of the French National Team.
Kylian was pivotal for the World Cup success of France, and Cameron missed an opportunity to sign the best young talent in the world of football.
His wife Fayza Lamari however wanted her son to play from Algeria but the football federation was not interested to sign her son.
Cameron and Algeria lost an opportunity to sign a gem and France took the opportunity.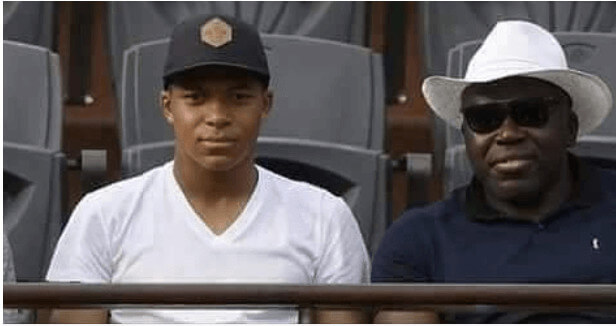 Day And Night For His Son
He was frustrated with the corruption from the Cameron football federation, but he always believed in his son's talent.
He went to the training of his sons and always gave him feedback to the areas where he could improve.
Also: Meet Hafid Benzema, father of Karim Benzema
Here is a picture of his son, and Kylian was very young at this time.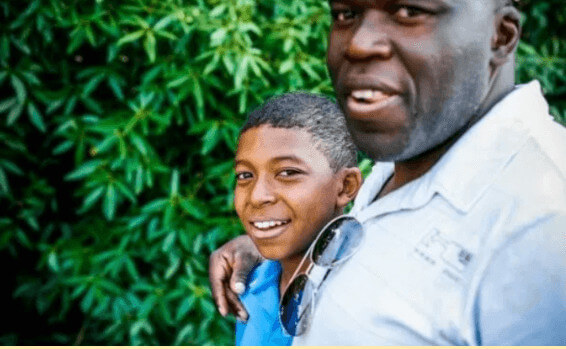 A Moment For Glory For His Son
His son scored four critical goals in the world cup, and his performance was pivotal for success.
He scored his first world cup goal against Peru and this was one of the very best moments of his life and career.
He scored two sensational goals against Argentina, and the pitch was set for the glory. His superb strike outside the box against Croatia set the tie and it was coming home to France.
Here is a video of his world cup glory.
His son a sensation and his achievements for the country is world cup was Pele like.
Here is a photo that was uploaded on his Instagram account on 15th July 2019, and it is a major throwback to the best moment of his life and career.
What a talent. He is kissing the most prestigious trophy in the football world and much is yet to come in his career.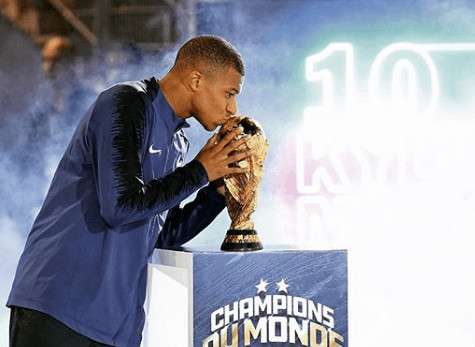 Son's Net Worth
His son has a jaw-dropping net worth of 95 million Euros, and this is around 83 million pounds. This figure is about 107 million dollars.
His current market value is a staggering 200 million Euros, and this is around 175 million pounds.
How Does His Son's Make His Money and His Salary?
His son makes money from his checks from PSG. He gets paid a staggering salary of 18,600,000 Euros per year and 1,550,000 Euros per month. His salary amounts to 1.07 Euros per second.
Here is a table showing his salary.
| | | |
| --- | --- | --- |
| S.N | Time Frame | Salary (Euros) |
| 1. | Second | 1.07 |
| 2. | Minute | 64.03 |
| 3. | Hour | 3842 |
| 4. | Day | 92207 |
| 5. | Week | 378049 |
| 6. | Month | 1550000 |
Son's Lifestyle
His son lives his life king-size, he loves vacations, and he loves cars. He loves relaxing in the pool as well.
Here is a picture that he uploaded on his Instagram account, and he has captioned this one
as "Merci…."
It is from Paris, and he has taken some time off from his busy schedule and from training to take a dip.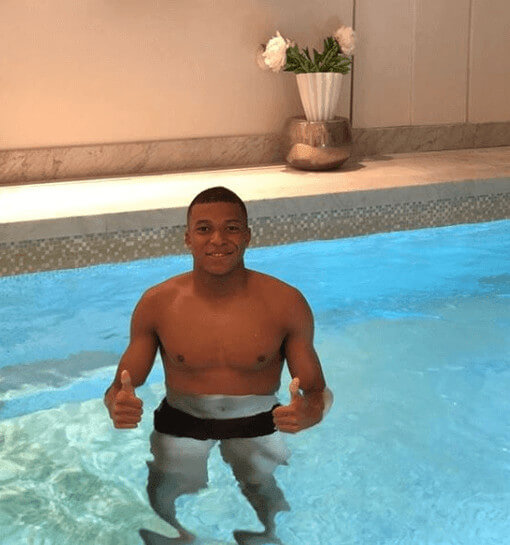 Trivia
1. His son's age is 21. He is in his 50s, but this is not confirmed and his age is under review.
2. He has two other sons and their names are Ethan Mbappe and Jires Kembo Ekoko.
Stay tuned to vergewiki.com.
Updated On Mon Oct 10 2022 Published On Sat Feb 08 2020 By paper-boat