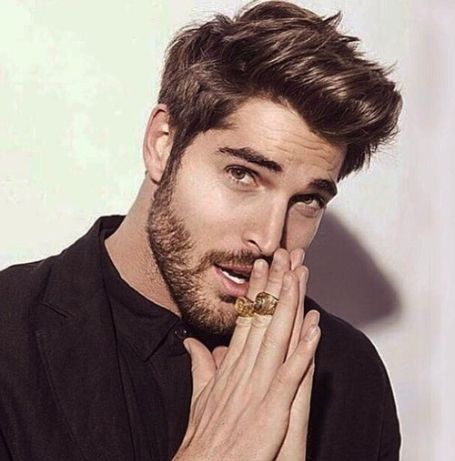 Facts of Nick Bateman
| | |
| --- | --- |
| Full Name | Nick Bateman |
| First Name | Nick |
| Last Name | Bateman |
| Profession | actor and model |
| Nationality | canadian |
| Birth City | Burlington |
| Birth Country | Canada |
| Gender Identity | Male |
| Sexual Orientation | Straight |
| Horoscope | Scorpio |
| Marital Status | Married |
| Spouse | Maria Corrigan |
| No Of Children | 1 |
| Networth | 750000 |
| Filmography | Winter Wedding,The Hazing Secret,Tapped Out,Apple of My Eye,Total Fray Movie |
| Height | 193 cm |
| Networth | $750 k |
| Insta Profile | |
| Date of Birth | November 18,1986 |
| Age | 36 years |
| Married Date | July 17,2019 |
Nick Bateman is a Canadian actor and model.
He is known for his roles in movies like Winter Wedding, The Hazing Secret, Tapped Out, Apple of My Eye, Total Fray Movie, Airplane Mode, and The Matchmaker's Playbook.
Married Life Blissful
Nick Bateman is married to beautiful Maria Corrigan.
Who is Nick Bateman's wife?
Maria Corrigan is a TV personality. She is also a blogger and loves to write about her personal life. She was born and raised in Burlington, Ontario.
How Nick Bateman and Maria Corrigan met and fell in love?
Maria, one day received a winky face on her Facebook messenger from a super-hot guy. When she checked his profile, she thought it was a fake account because all the pictures were from fashion shows.
But Maria ended up messaging. Do I know you?
She got no reply for weeks and did not give any more thought to that message.
On 2nd May 2009, it was Maria's best friend's birthday which they decided to celebrate in a bar.
In that bar, she saw a familiar-looking cute guy and walked to him and asked if they had met before.
Nicked looked a bit embarrassed and said that he was the guy who sent her winky face on Facebook message, and then he introduced himself.
After that, they started chatting and Maria thought he was sweet.
It was Maria's best friend's birthday, so Nick told Maria to have fun with her girlfriends and he will find her before he left.
After a few hours, Nick walked up to say goodbye but Maria threw her in the middle of her girlfriends to dance.
Nick thought she was not her type; she was too much of a party girl. Nick wanted to leave the bar and told Maria that he would message her the next day.
But Maria knew that Nick had no intention of calling her as her behavior has turned him a little off. So, she made him pinky swear that they would hang out one time together.
The next day, Nick messaged him and they went to the beach, skipped rocks, got hot dogs and watched Kill Bill.
After that, they started to spend time together every day and slowly, they began dating and their love affair started.
It became one of the most romantic summers of their lives.
They were pretty much inseparable at that time doing everything together like white-water rafting, camping and a few road-trips.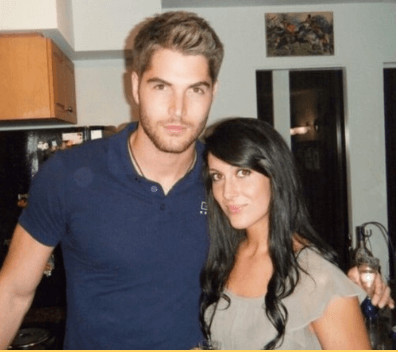 Nick Bateman's Surprise Engagement Proposal
To celebrate their ten years love anniversary both Nick and Maria decided to fly home back to Burlington, Ontario, where both of them grew up.
Maria thought that they were there to surprise her father and Nick's Nana for their birthdays.
Maria thought only Nick's mother knew about their arrival, and they secretly planned for the family to be at a local restaurant.
When Nick's nana arrived, she started crying happy tears.
After that Maria's parents arrived but they did not seem excited or surprised to see Maria, which completely shocked her. They all went back to stay with Maria's parents.
Maria had no idea that Nick would propose her on this trip, although they used to discuss marriage but she felt like it was pretty much like all the other times when they came back home.
On 17th July 2018, which was the day of their 10th anniversary, Nick asked her what would she like to do. Maria suggested going for a nice lunch together.
But Nick asked if she would like to go back to the place where they went for their first date to see if that place is still there or not — hearing that Maria suddenly had a feeling that he was going to propose her there.
But since Nick did not shower, started playing games on his phone, was in no rush to leave and was acting all cool and healthy, that quickly lead to change in her mind.
They went to Easterbrooks Hot Dog stand and sat on the same booth where they had their first date. After they finished their hot dog, they went to Royal Botanical Gardens, where they used to go for hikes.
In the gardens, Maria was admiring the view, and they continued passed along a wooden bridge by a ravine, she suddenly felt Nick's hands on her hips and he bends down behind her.
When she turned around, Nick was down on one knee with teary-eyes holding a diamond ring which had nestled in a silver bell case.
Seeing that Maria also started crying as he got up, they both hugged and kissed each other and Maria said Yes.
Technically, Nick never asked her to marry as he got emotional. But when you have been together for ten long years, you do not need words to communicate; you just understand what the other person is trying to tell you without them saying anything.
When both of them calmed down, Nick told Maria to hurry for their engagement dinner. Their whole family was present at dinner.
It was such a special moment for them and was even more magical as Maria was pregnant by then.
Nick had said that the thing that he liked the most about Maria is her heart. Despite having gorgeous looks and a killer body, it was Maria's kind and pure heart that lead, Nick fell head over heels for Maria.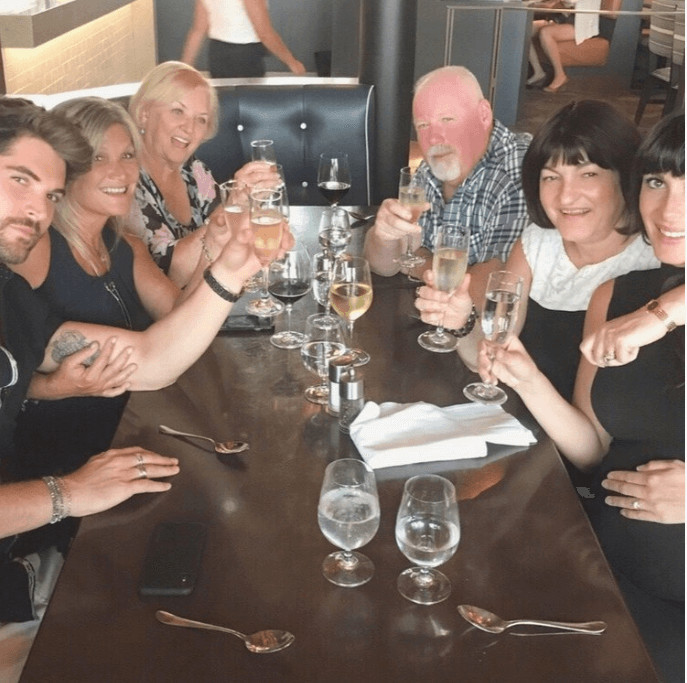 Nick Bateman's son Chase
On the 15th of September 2018, Maria gave birth to a baby boy. They named their son Chase John Yunge-Bateman. Chase was born before Maria and Nick got married.
Both Nick and Maria love to play and spend time with their cute son and call him Chasey. Nick said that after he became dad, he always wakes up with a smile on his face thinking that he gets to see his baby and being a father is the best feeling he ever had.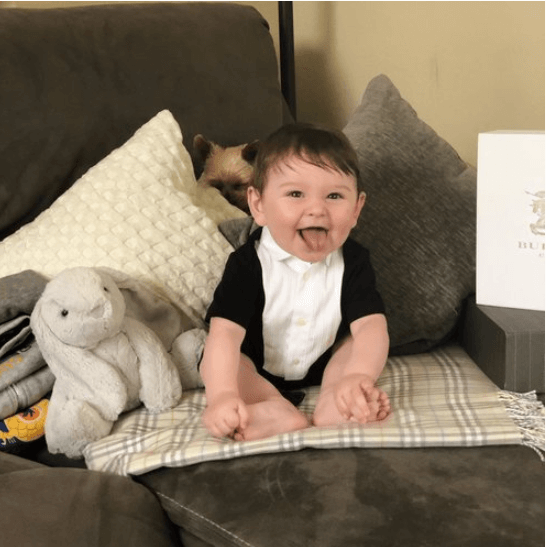 They are also planning on having a baby no. 2 in the future. Currently, they are focusing on raising Chase well and making memories with him.
Nick and Maria Fairytale Wedding
Their fairytale wedding took place on Calamigos Ranch on 17th July 2019.
It looked magical as Maria wore a custom wedding dress designed by Trish Peng which was a two-piece dress, the gown was in mermaid style with a detachable tulle skirt. Nick wore a suit designed by Hussein Dalla.
They even decided to do a first look before walking down the aisle, and both of them got a little emotional and shared an extraordinary moment in private.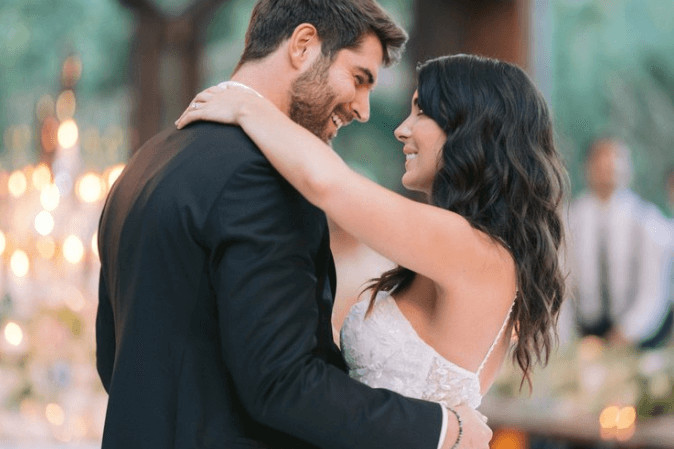 Their wedding was a massive party with the presence of all their family and friends. They exchanged vows in front of a gorgeous rock waterfall.
Nick became a little emotional while saying his vows and his vows was
"I promise to watch Netflix with you until our eyes fall out, to eat donuts with you until our teeth fall out, shop with you until our cards max out, laugh until our voice goes out, and love you until my heart goes out."
Maria also got all teary while saying her vows.
They first danced to Edwin McCain's "I'll be" as a husband and wife while looking into each other's eyes. After tying the knot, the newlywed went to Breuil-Cervinia, Italy for their honeymoon.
Nick has been such a loyal boyfriend and now husband that there has been no rumor about him dating or having an affair with any other woman apart from Maria.
Nick Bateman and Amanda Cerny
Amanda Cerny is an actress, health and wellness enthusiast, and model.
She has a massive follower of over 45 million across YouTube, Facebook and Instagram. Amanda is the half-sister of Nick; they share the same father.
Nick does not have any other siblings, while Amanda has a sister named Samantha Cerny. Nick and Amanda are very close to each other as they keep on sharing pictures of one another on their social media account.
Here is a picture Nick shared with captioned as
"Its pretty clear..."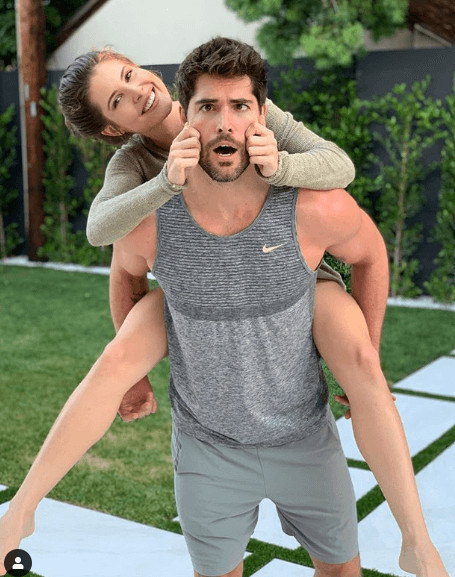 Net Worth, Staggering
Nick's net worth is rumored to be around $750,000.
He has earned his wealth through modeling and acting. He has also won four world titles in the National blackbelt League's 15-17 age division in his teen.
He started karate while he was four years old because he wanted to be a ninja turtle.
He never actually wanted to do modeling at first.
He was in Miami, Florida for competing on ESPN International for Martial Arts; at the same time, a Model Universe Contest was going on.
His friend signed him up as a joke for fun but Nick ended up meeting Calvin Klein and his journey to modeling started.
He has also worked with several other international brands such as Abercrombie & Fitch, Fila, Jockey and Dsquared.
His acting career started after he landed a role in the movie "Hobo with a Shotgun" in the year 2011.
He has also appeared in television shows such as "Just for Laughs," "Space Janitors," "Mr. D," and "My Babysitter's a Vampire."
In 2016, he won Golden Maple Award for Outstanding Social Media Achievement.
Lifestyles: love for dogs, hairstyles and workout
Nick is an animal lover; he owns two pets Yorkies dog whom he has named Joey and Keeva. He emphasizes more on adopting pets rather than buying one.
Nick is famous for his good looks and attractive body. He has lovely hair and his hairstyles are always trending.
He shared that the secret to his beautiful hair is that he only shampoos his hair once and other days he rinses his hair with only water.
He believes that the natural oil of the scalp does better to the hair and makes it easier to style the hair.
From his pictures, it can be seen that he is a fitness enthusiast. He has maintained his body very well. His body is so attractive which makes boys jealous and girls wanting him.
On September 2019, Nick and his spouse started 90 days workout challenge to stay fit. He keeps on posting his workout videos on his social media account.
He hits the gym and follows his diet but according to him, he does have cheat day two days or sometimes three days a week.
Trivia
Nick Bateman's full name is Nicholas Kevin Stanley Yunge-Bateman.
He celebrates his birthday on the 18th of November. He was born in Burlington, Canada in the year 1986 which makes him 33 years of age as of 2019.
A single parent raised him and his mother's name is Debbie Rockwell.
He is very tall and has a proper height of 6 feet 4 inches or 193 cm.
For more amazing biographies of your favorite celebrities, do visit vergewiki.com. Our content creation and content editor team are working hard to create amazing contents for you.
Updated On Wed Feb 17 2021 Published On Fri Dec 27 2019 By paper-boat