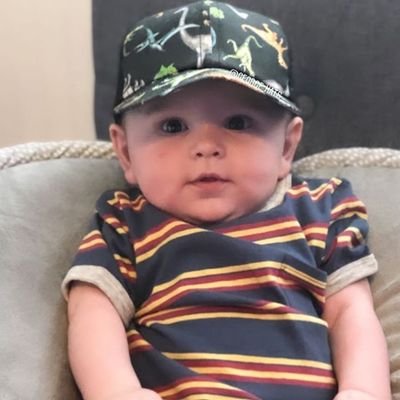 Chase Bateman is famous for being the son of the popular model and actor Nick Bateman.
Parents, Rich And Famous
Chase is born to parents Nick Bateman and Maria Corrigan. He was born before his parents got married.
Nick and Maria love story
Nick and Maria met at a bar in Burlington, Ontario (which is both of their birthplaces) for the first time in 2009.
They went on a date very next day after Maria made him pinky swear that they would hang out at least one time together. They have been inseparable since then.
On 17th July 2018, Nick proposed Maria when they were in their home town to celebrate their 10th love anniversary.
He took her to the same places where they went for their first date and on Royal Botanical Garden, Nick went down on one knee and proposed Maria; at that time, she was already six months pregnant with baby Chase.
Two months after their engagement Chase was born.
He weighed 10 lbs 1 oz and 21 ½ inches long at birth. He was a big baby and did not fit into newborn baby clothes, so he went straight into 3-month baby clothes.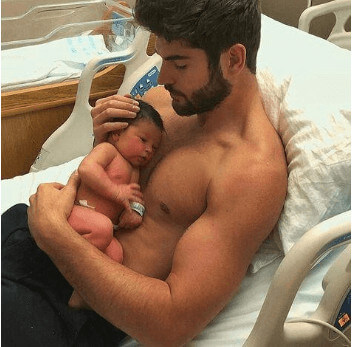 Wedding Of Parents
Nick and Maria's wedding took place on 17th July 2019, precisely after one year of their engagement.
Chase was ten months old by then. He attended his parent's wedding wearing Dolce & Gabbana Baby tuxedo-style playsuit.
He looked so cute on it. Maria's cousin pulled Chase down the aisle and he was smiling throughout the wedding ceremony.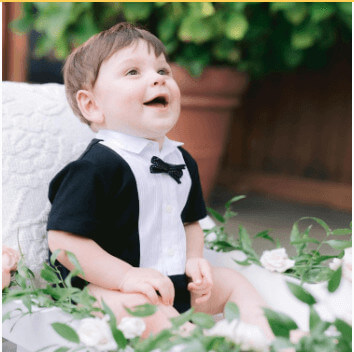 Nick and Maria love spending time with their children.
Nick even said that after Chase was born, he wakes up every morning smiling thinking that he can see his baby.
Both Nick and Maria keep on sharing pictures and videos of their child playing, laughing and doing different activities.
Here is a video of Chase's first step which Nick shared on his Instagram captioned as
"Chase's "
Net Worth Staggering Of Parents
Chase is a toddler, and he enjoys his parent's net worth. His father, Nick Bateman, is rumored to have a net worth of around $750,000 which he earned through modeling and acting.
Nick has worked with several international brands such as Calvin Klein, Abercrombie & Fitch, Fila, Jockey, and Dsquared.
He has won four world titles in the National blackbelt — League's 15-17 age division when he was a teen.
He has acted in several movies such as Winter Wedding, The Hazing Secret, Tapped Out, Apple of My Eye, Total Fray Movie, Airplane Mode, and The Matchmaker's Playbook.
He is also part of several TV shows like Just for Laughs, Space Janitors, Mr. D and My Babysitter's a Vampire.
The net worth of his mother is not available.
Lifestyle And Preference Of The Kid
Chase likes for expensive clothes, banana, and music.
Although Chase is a toddler, he has pretty expensive taste. He owns clothes from several big brand such as Gucci, Dolce & Gabbana, and Burberry, to name a few.
He started smiling when he was four days old and started teething at five months.
He loved eating banana since he was six months, his mother used to make him pureed banana which he loved eating.
Now he likes to eat banana pancakes which his mom makes by mixing banana and egg which is his favorite.
Chase loved music and songs in which he was three months old and he would listen to Baby Mozart while sleeping.
Anytime when Chase used to be fussy, Maria used to sing for him and he would stop and listen to her singing. Music used to calm him down.
Maria and Nick used to read his books to sleep. His favorite book was Animals and his parents would read it seven times for him.
Here is a picture of Maria reading to Chase, which Maria shared on her Instagram account captioned as
"'Twas the Night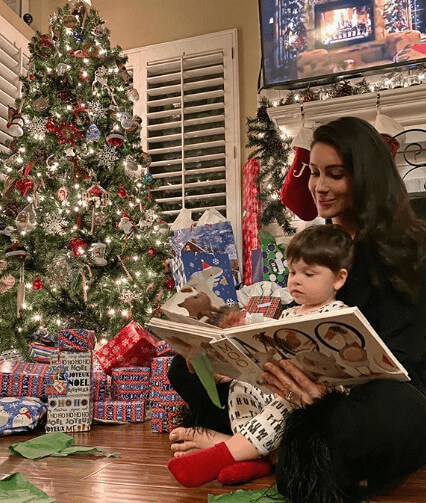 Chase's parents started focusing on his tummy time when he was only three months old which he did not like.
He was scared at first but placing a kid on his stomach helps to make the neck muscles strong and will aid in crawling in the months to come.
Pet And Baby
He loves his pet dog Keeva and is smitten by her. His face lightens up immediately whenever he sees her. He has another pet dog, too named Joey.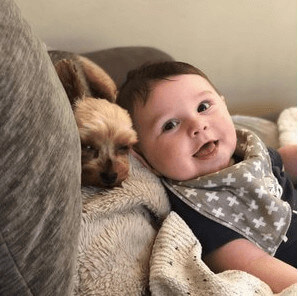 Trivia
Chase celebrates his birthday on 15th September.
He was born in California, United States, in the year 2018 which makes him one year of age as of January 2020.
Chase's family and close relatives call him Chasey.
Please stay tuned to vergewiki.com for awesome biographies.
Updated On Sun Jun 06 2021 Published On Wed Jan 08 2020 By paper-boat