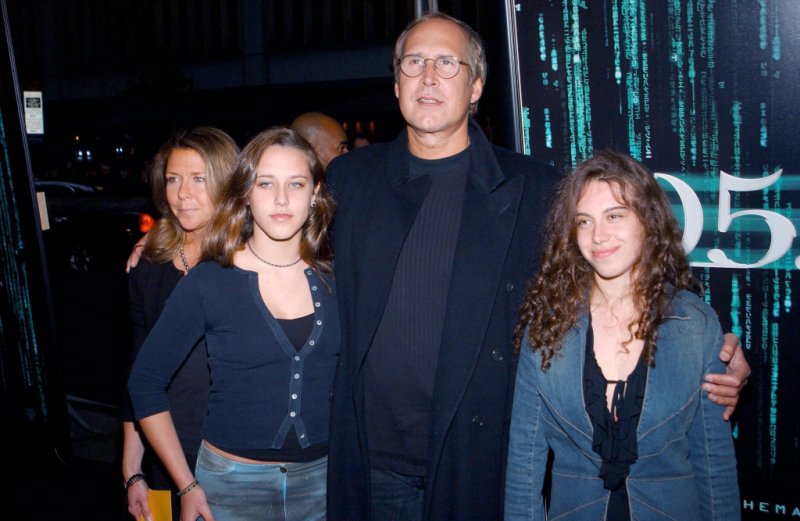 Facts of Emily Evelyn Chase
Emily Evelyn Chase is an American actress best known as the third daughter of the legendary actor, Chevy Chase, and Jayni Chase.
She is pursuing a career in music right now.
Moment With Legend Papa
Her father is a legend. She loves to spend time with her father. She has recently uploaded this picture with her father, and the duo is holding a skateboard.
Both of them are going to have fun, as she has described in her caption. She uploaded this picture on Instagram on 13th July.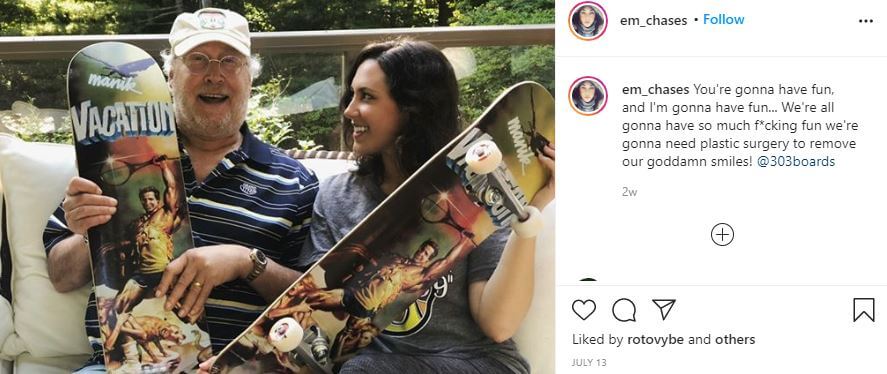 She loves her father so much. She has uploaded this picture on her account with her father, and she has described him as less hair dye and the same old loving father.
She has used a hashtag asking for recommendations for her father's dermatologist. The duo is fantastic.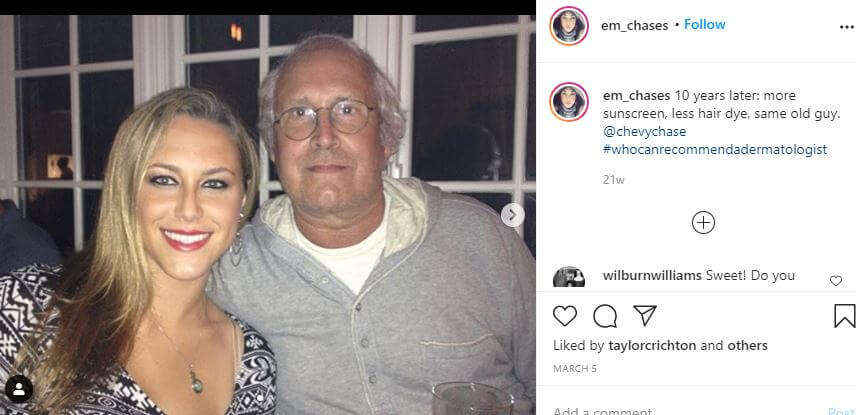 Her Parents' Love Story
Her parents Chevy Chase and Jayni Chase first met in the set of "Under The Rainbow" in 1981.
Emily's mother was the production coordinator while her father was the actor in the movie.
During the shooting of the film, they slowly got closer to each other and in a few weeks, started dating.
A few years later, the couple decided to turn their romantic affair into a long term relationship. They got married on June 19, 1982, in Palisades, Los Angeles.
As of now, the couple is blessed with three beautiful daughters. The husband and wife have been together for 37 years now and their love between them has grown over the years.
Both of them frequently share their pictures on Instagram. Here is a picture shared by Jayni with a caption,
"A Beautiful day at the beach!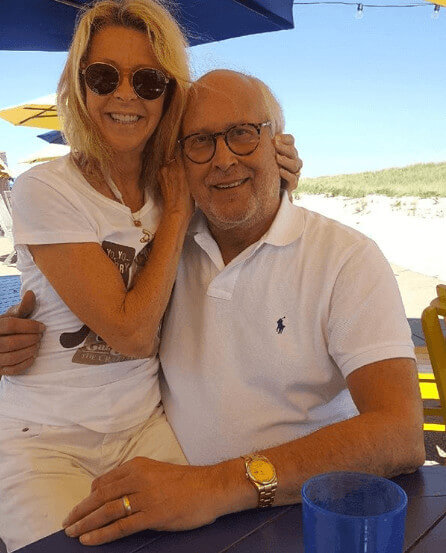 Siblings
She has a total of three siblings. She has two elder sisters, namely Caley Leigh Chase and Cydney Cathalene Chase and also a half-brother named Bryan Perkins.
Among the three sisters, she is the only one who is still single. Caley is in a relationship while Cydney is married to her boyfriend named Ryan Bartell.
Did Chevy call Donald Trump Stupid?
In one of his interviews, Chevy stated that he has thought, why doesn't this go over in the Oval Office and say, Donald, what the hell, what are you doing? You are not acting as president.
Chevy says he acts like a president that will start you off, and the next thing is doing something for the people.
It's sort of a little dream Chevy has, but he is not going to do it, obviously. Chevy also thinks there are enough people around Donald, Mr. president, who talks to him like that.
Chevy says that Trump has a lot of brains, as he makes George W. Bush look like Roosevelt.
It's just not a lot going on, and that's pretty unfortunate because being stupid, one can't change what you are doing, not a very good actor, Chevy said.
Other than that, Chevy shared he had lost 20 pounds off his face. As he was up to 240, and now he is at 195.
Emily has a successful professional life.
Undoubtedly, she is recognized as a successful lady when said about her professional life. Emily began her first job in March 2014.
At that time, she served in the role of a naturalist along with being an events coordinator for the Aspen Center for Environmental studies.
By her performance, she was then promoted to the position of Hallam Lake Programs Coordinator and then as a programs manager.
Emily served for the company until October 2018. After a year. In January 2019, Emily joined the National Audubon Society.
Emily there served as a Development Associate and Special Assistant to the Chief Development Officer.
As of the current scenario, too, she is a senior manager and developing leadership for the same company.
Besides that, Emily is followed by more than 8600 followers on her Instagram. She is by the name @em_chases.
Going through her profile, we can spot the lady uploading about her day-to-day life, special occasions, and her family time.
It's stated that she is also active on the Facebook platform too.
Her Parents' Net Worth
Her mother has an estimated net worth of $3 million, which she has accumulated through her career as an author and a writer.
On the other hand, her father, Chevy Chase, has an estimated net worth of $60 million. The primary source of his income is his acting career.
However, his earnings of $3 million from endorsements and commercials to add to his net worth. He has endorsed brands such as Aflac, Cola Turka, Doritos, Chase, and DORITOS Frito-Lay.
He has starred in various movies and shows until now, but the one that led him stardom is a show called Saturday Night Live (SNL).
He earned $750 per week from the show.
He also worked for National Lapoon Radio, which paid him $7 million per episode.
Below is the list of some of his movies:
| | |
| --- | --- |
| Name | Box Office |
| Hot Tub Time Machine | $64.6 million |
| Three Amigos | $39.2 million |
| Nothing but Trouble | $8.4 million |
| Memoirs of an Invisible Man | $14.4 million |
| Caddyshack II | $11.8 million |
He earned $6 million from National Lampoon's Christmas Vacation and Memories of an Invisible Man, $4 million from Cops and Robbersons and Man of the House, and $2 million from Vegas Vacation.
Love for Dogs
She is an avid dog lover. She has four pet dogs, which include two poodles, a random mix breed, and a Yorkiepoo.
She frequently shares pictures with her pet dogs in her Instagram account. She has named her Yorkiepoo as Ellsworth Roku Coleman.
Here is a picture with her pet captioned as,
'Baby...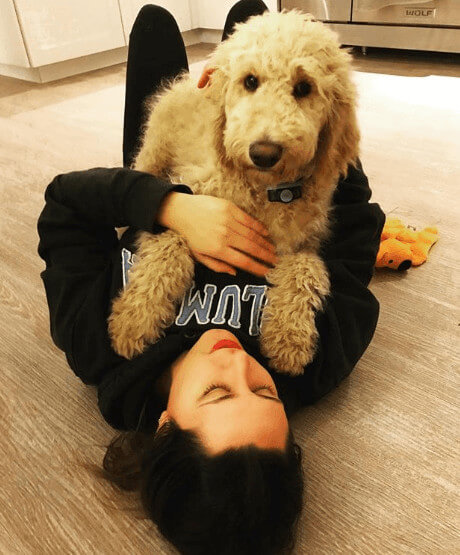 Trivia
She was born on September 29, 1988, which makes her age 31 as of 2019.
She has a slim body that complements her height.
We cover most of the information about Emily Evelyn Chase as it is difficult to find on other wiki sites.
For more amazing biographies of your favorite celebrities, do visit vergewiki.com. Our content creation and content editor team are working hard to create amazing contents for you.
Updated On Sat Aug 20 2022 Published On Sat Dec 14 2019 By paper-boat