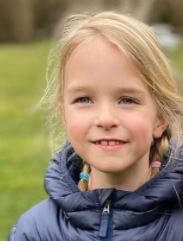 Facts of Winnie Rose Fallon
Winnie Rose Fallon is a celebrity kid of an American Comedian, actor, television host, writer, and producer, Jimmy Fallon.
His obsession became his career influence
Jimmy had an obsession with Saturday Night Live since his childhood, which later became his career influence. As a child, he and his older sister used to re-enact the parts of SNL.
He landed his life-long dream job at SNL at the age of 23 after his second audition, from where he rose to fame.
He left the program after six years of his stay to pursue his acting career. He returned to television as a host of Late Night with Jimmy in 2009.
He is the host of the late-night talk show The Tonight Show Starring Jimmy Fallon since 2014.
Married to a film producer
Jimmy is married to a film producer, Nancy Juvonen.
The couple first met at the set of Saturday Night Live, where Jimmy was a cast member, but they came closer after 2005's rom-com Fever Pitch that starred Drew Barrymore and Jimmy co-produced by Nancy.
They dated for three years before tying a knot on 29th December 2007.
A romantic proposal before their wedding
Jimmy and Nancy lived together in Los Angeles. He thought of giving a surprise to his now-wife by proposing to her but had to postpone as Nancy had planned a surprise for him too.
She had secured a table at one of the finest restaurants, Per Se, which could have been the place for the proposal, but he did not want to get engaged in the restaurant, thinking what if the restaurant changes hands to a laser-tag place.
He wanted to propose to her at some better and more romantic place so that he could show his future kids the place where their parents got engaged.
He waited for the next three months and also sought permission from his father-in-law before finally proposing at Nancy's family home in New Hampshire.
They went down to the dock at sunset, where he got down on one knee to propose to her. The wedding ceremony took place at Necker's Island.
She and her younger sister were born via surrogacy
Winnie Rose has one younger sister Frances Cole. Their parent went through a tough time trying everything they could for a baby for five years.
After waiting for years, Winnie came to the world via surrogacy. She got her name from the Lake Winnipesaukee of New Hampshire, where her parents got engaged.
Her younger sister was born on 3rd December 2014.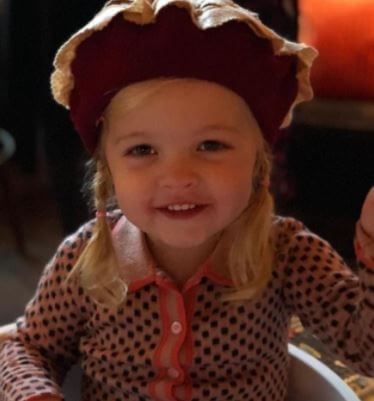 They have already become popular faces from their parent's "At Home Edition."
Winnie and her sister have become the popular faces from her parent's film quarantined "At Home Edition" episodes of The Tonight Show during the COVID-19 pandemic.
Since the show was on hold following the pandemic, Jimmy decided to broadcast the show from his home with the help of his wife to stay on the air.
He uploaded his first episode on 17th March 2020. Winnie and her sister completely stole the show where they were seen hilariously interrupting the interviews making it more interesting and funny.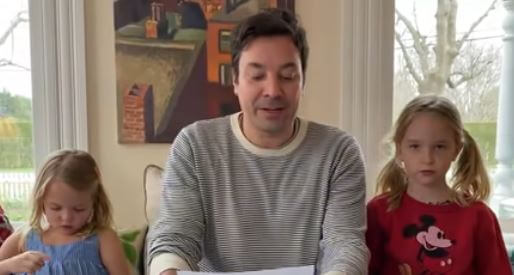 Her parents revealed their "I love you story."
During the Ask the Fallons segments, Jimmy and Nancy answered some of the fan questions, and while answering the fan questions, they revealed their "I love you story."
The first fan question to them was, "Who said I love you first, and when and where did it happen? Both Jimmy and Nancy shared their side of the story individually.
According to Jimmy, he said I love you in London when they were on the press thing of Fever Pitch, and they would hang out in the hotel all the time and listen to music and all.
Then he put on his favorite show, "Taxi," in his hotel room and made Nancy watch, and then after, they kissed.
He confessed to saying "I love you" after that. This was Jimmy's part of the story.
Nancy shared her side of her story, sharing that Jimmy did say I love you first, revealing that they had been having big crushes on each other during a "Fever pitch."
They were flirting all the time, listening to music, saying goodnight at 4 in the morning. They wrapped up the movie "Fever Pitch," and they were going to London to sell it.
She said their first I love you was in London. She had to take the flight the next day, and the night before her flight, Jimmy said, "I love you."
Jimmy interrupted, saying that he told the wrong story, being confused between the two. Nancy revealed their first kiss was in Boston when they levitated, saying it was the best kiss ever.
They also answered the other question, which was, Did Nancy's parents accept Jimmy immediately?
They said they had a "meet the parents" weekend. Jimmy's parents went to visit Nancy's parents for the first time in New Hampshire.
She interrupted her father's show to announce her lost tooth
Winnie and her sister stole most of her father's at-home edition of The Tonight Show, appearing in the middle of the show.
Likewise, she interrupted barging in the middle of the show to inform her father that she had lost her tooth while her father was chatting with Russell Wilson and Ciara about their quarantined lifestyle and charitable efforts.
And all their focus went to her lost tooth. Ciara excitedly asked how did that happen, and she replied that her mom put a string around her teeth and went to pull it out, which worked.
Hearing her story, Ciara could not stop herself from how her son Future lost his first tooth.
She said his sister accidentally bumped her arm into him when he was going down, and the tooth popped out right on the floor.
Celebrating their mom's birthday
With her sibling and dad, Jimmy, Winnie celebrated her mom's birthday, which we can see on The Tonight Show: At Home Edition of Jimmy's show.
Jimmy was smiling and saying it was a special day because it was his spouse's birthday.
He mentioned the producer, camera operator, editor, and location scouter, and lastly said he loves her. Jimmy also admitted that his wife doesn't like surprises.
He then laughed and said that she would get another cake later on.
Jimmy then showed the gift his dad got for her, which his spouse Nancy claimed was a great gift, and the gift was Graber Olives.
Also, Jimmy continued that Nancy loves the olives, and from the back, Nancy commented that it is the best tradition in the world.
Nancy further tells Jimmy that unless he loves them, there is no right to an opinion.
Their friend Johnny Bananas also did a personal message for Nancy for her special birthday, which is just unstoppable, Jimmy shared.
Also, Jimmy and her daughters bought a chocolate cake for Nancy. Winnie chose to sing a birthday song for her mom, and Franny went to hold a cake.
Winnie also prepared a birthday card for her mom. The family of four celebrated it together, which is adorable.
His mom insisted Jimmy for this career?
Jimmy's mom had indeed encouraged him to have a career in the comedy field. Moreover, his mom would say that her son could impersonate anyone in an hour.
Nevertheless, young Jimmy also performed for many. People who saw that performance couldn't deny that he was accurate.
Jimmy attended the College of Saint Rose, located in Albany, where he took computer science as his major.
Back then, while in college, Jimmy played at open mic evenings at Bananas in Poughkeepsie, NY.
Also, he quitted his college just when he had only one semester to focus and went on pursuing his comedic career.
Jimmy was devastated as he faced many rejections back then and had the desire to join the cast of SNL.
Nevertheless, as of now, we can say his dedication and hard work showed.
Net worth
Winnie is quite young and is currently relishing the lavish lifestyle provided by her parents from their extravagant income.
Jimmy Fallon is the recipient of four-time Primetime Emmy Awards, one Grammy Award, four times People's Choice Awards and many other awards. From his successful career, he has amassed a net worth of :
| | | |
| --- | --- | --- |
| Year | Salary | Net Worth |
| 2020 | $16 million per year | $60 million |
Age
She was born on 23rd July 2013. She is currently seven years old.
For Amazing Articles Of Your Favorite Celebrities,
Stay Tuned To vergewiki
Updated On Sat Aug 06 2022 Published On Fri Jan 01 2021 By paper-boat