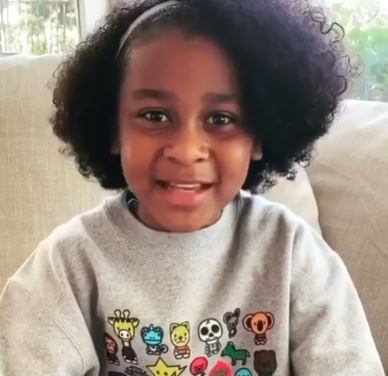 Facts of Vada Wamwene Mescudi
Vada Wamwene Mescudi is famous as a celebrity kid.
She is the daughter of Grammy Award-winning musician, record producer, and actor Scott Ramon Seguro Mescudi, better known by the stage name Kid Cudi.
Like her father, she wants to be a singer.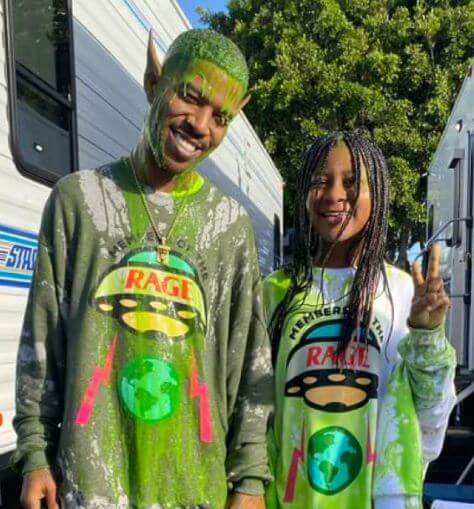 Her parents parted ways soon after her birth
Vada was born to her parents, Kid Cudi and Jacqueline Munyasya but her parents parted their ways soon after her birth, followed by a messy custody battle.
After years of fight, Jacqueline was granted full custody.
According to the paper obtained by TMZ, Jacqueline claimed Cudi only provided "sporadic and inconsistent amounts" and accused him of being an absentee father and having violent tendencies and having a long history of d*ug and alcohol abuse.
Later, both of them reached an agreement. Cudi is granted visitation rights and pays for child support.
He purchased a house in Chicago so that he could be close to then-two-year-old Vada.
She wishes her time with her dad not be interrupted
While appearing on the cover of the September issue of Esquire, Cudi opened up about how Vada feels about the fame.
Recalling his recent trip to Cleveland, he said he left Vada in a car for a while to take pictures with two of the fans in the parking lot and asked her how she feels when fans come up to him in the streets.
She replied, saying she was sad because she wanted to be just two of them when he was with her.
He then urged his fans to oblige with Vada's wish and asked them if they saw him with his daughter, letting them have a father-daughter moment.
This is Vada asking, not me, he continued.
He also said he has mixed feelings about his upcoming tour because the tour he is about to do is the biggest one she will see.
He is nervous and, at the same time, excited to see what Vada thinks about it. Cudi also wishes to be with someone and get married, and have more kids.
He said being the dad to Vada is the best thing of his life, and he wants to expand his family tree.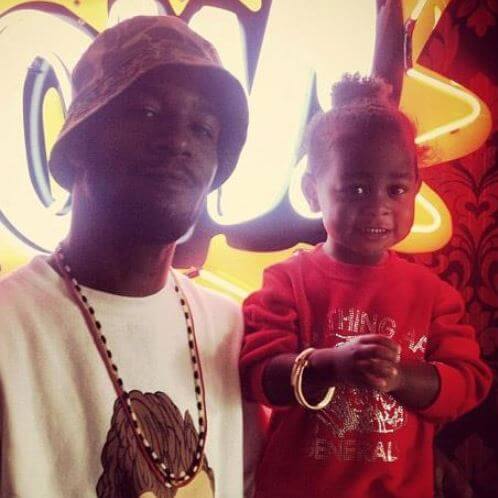 Vada started watching horror movies with her dad at the age of 8
Cudi revealed he is a big horror fan and watches horror movies with Vada.
He stopped by Late Night with Seth Meyers to talk about his movie X, where he said he is a huge horror movie fan and started watching it at the age of seven years old.
His first horror movie was "Night of the Living Dead," then "Evil Dead," and so on.
Talking about his experience, he said he used to have nightmares after watching it and enjoyed being scared.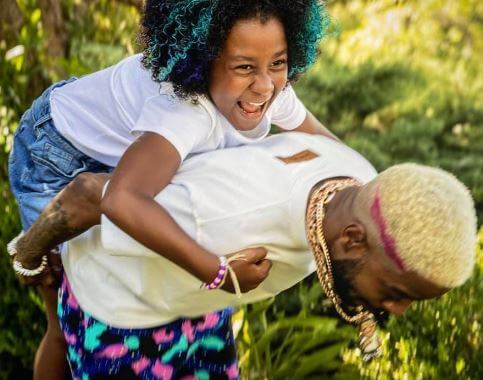 When asked if he let Vada watch horror movies, he went on to say that when he had his child (Vada), he thought about all the things he could mold her to be, so he had her watch horror movie at 8.
At the time, the horror movie "IT" had just come out. He said she was curious about it, and he was like she was old enough to watch something right.
He recalled watching her reaction when Pennywise came out, and she was like, "Why are they following that clown"? "Why are they following the balloon"? "They are stupid."
He added to say that he loves watching with her because of the commentaries she has during the movies.
Vada and her father have a secret language
While appearing on The Tonight Show Starring Jimmy Fallon, her father revealed inventing a secret language with her.
When Fallon asks him about the secret language that he had with Vada while backstage and if he has a name for the secret language, her father replies by saying that they have just started, so they have no name yet and that it's like a road runner.
He then went on to explain that he keeps sending Vada silly messages all the time, and sometimes he just sends her voice notes that are just random sounds for no reason.
He then just wanted to send her something just to play with her and know if she could pick up on it.
So he sent her, "meep meep," after which she responded, "meep," and that was how it all started.
He kept on going, texting, "meep meep morphus," and Vada responded, "meep meep, morpus morpus."
Then spicing up a little bit, he continued, "meep meeps poos. Meeps Poopis Morpus, meaning like he (bleeps) his pants.
Her father hinted at retiring from music so that he could spend more time with her
Her father, during an interview with Zane Lowe of Apple Music, while talking about his musical project "Entergalactic," also hinted at retiring from music.
He said that the goal for Entergalactic was because he was bored of making albums.
He was into wanting to do something epic and different, and now he has done that. He has other desires and other things to do.
He added to say that he has always been around the studio working on albums and touring them, but he no longer has the desire stating the reason that there are many things he wants to spend his time on most importantly, he wants to spend more time with Vada.
According to him, Vada is growing up, and their relationship is super tight.
It's the relationship he has always dreamt of, and he wants to nurture that relationship and be there for her a little bit more like he wants to be there for her while she finishes high school and then sees what else she wants to do in her life so that he could help her focus on her career.
He said he just wants to be the coach of Vada.
Net Worth
Since Vada is yet to start her career, we have the net worth of her father, Kid Cudi, one of the most decorated hip-hop artists and a musician.
His net worth as of 2022 is $16 million. He purchased a 9,000-square-foot home worth $7.7 million in Calabasas, California, in July 2021.
Age
Vada was born on 26 March 2010. She is currently 12 years old.
For Amazing Articles Of Your Favorite Celebrities,
Stay Tuned To vergewiki
Updated On Sat Jan 21 2023 Published On Tue Sep 13 2022 By Sabina