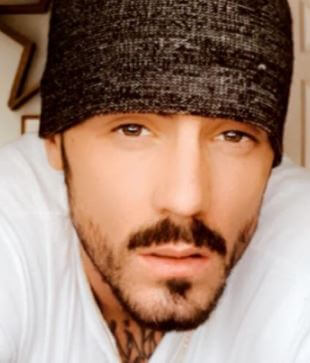 Facts of Troy Allen
| | |
| --- | --- |
| Full Name | Troy Allen |
| First Name | Troy |
| Last Name | Allen |
| Profession | Social Media Influencer |
| Nationality | American |
| Birth Country | United States |
| Gender Identity | Male |
| Sexual Orientation | Straight |
| Marital Status | Married |
| Spouse | Skyler |
| No Of Children | 2 |
Troy Allen is a TikTok celebrity who is more famous for his real talks on his real life. He is a motivational speaker who believes in motivating others with "normal people noticing people."
Thanking Grandma for a Big Reason
Allen just got caught trash to his face six times this morning. You want to know WHOM? By his grandmother.
A woman that helped raise him.
The world revolves around judging people by how they look, sometimes some people do that.
In a video, he said,
Guess what I am, besides the man that I am covered with the tattoos. I am a hard worker; I am a great father and a great man in the relationship that you should be judging on and not how they look. You should be judging on how they act, how they treat others. Some of the best and most amazing people I have met don't have dollars in their name, and some of the pathetic people in the world go to church every Sunday, so they call me trash because I have tattoos. Words hurt people, REMEMBER THAT. Thanks, Grandma, for your painful words.
Does his family hate him for his honesty?
Troy Allen is a TikToker who doesn't have a luxurious lifestyle. He grew up in Flint, Mi. Just like any other kid whose dreamt was to become a great man by his heart and give his family a life he couldn't live.
Following the path, he now has 1.1 M followers on Tiktok with 18.1 M likes. He loves tattoos.
Throwback to his childhood life was very miserable. He mentioned that I grew up with a single Mom.
My mom and I are best friends. I was a troublemaker, and I was locked up as a teen. I sold drugs. I buried my best friend at 16. I was thrown in between home. Always picked up last. I had a father in my life, but I didn't have him when I needed him. I was judged, pushed between parents. My brother's wife told all that my father bailed me out of jail when I was a teen, that was a lie, and it was my mother's husband at a time. In my view, what is important is the truth, and I ain't scared to say it. My family hates me because I am honest. My mother thinks that she is high class and my grandmother; she just lost her love for me."NO MATTER WHAT THEY SAY ABOUT YOU, BE TRUE TO YOURSELF AND BE THE BEST YOU POSSIBLE."
Sometimes having a family isn't always a blessing, according to Troy Allen.
Won't believe what Allen's Grandfather asked him to return; BIG TRUTH
Troy Allen has had a tough life from his younger age, but he isn't afraid of facing his life obstacles.
He has a beautiful family with a wife named Skyler, who works in the medical field. He is blessed with two beautiful kids, one is adopted.
Still, he struggles a lot with his expenses. His grandfather recently asked him back the house he had bought for him, the trailblazer he bought four years ago.
Troy wasn't surprised by his grandfather's words, but he replied by him saying:
I have something you can never take; My Family! Something money will never buy.
He also included that every bill he has paid is paid by him, every problem he faced is faced by him, and you neither love me nor hate me.
Troy Allen and his Mother Broke up their relations
In a recent interview, he had cried for his mother. What has happened between both that forced them to break their mother-son relationships? He always has said that he and his mother have shared a lot.
They have walked down the road with bags of clothes. They were living in a one-bed apartment and shared a bed.
When he was locked up as a teenager, his mom came and visited him and told him that she couldn't visit me anymore; she doesn't want to see her son like that; when he got out, their relationships were solid, celebrated Christmas and birthdays together.
We have done a lot together, all the time growing up.
He did mention in his recent TikTok videos that the reason for the breakup was his grandmother.
He was trying to call his mom and hadn't talked with her for about eight weeks. They disagreed with the video he just uploaded about his grandmother.
Then he finally got a reply from his mother after trying to call her for three days. The reply was:
Why should I make you important if you don't make me a priority.
Is AJ from the backstreet boy's dad of Troy Allen?
Everyone keeps saying that AJ from backstreet boys looks similar to him to be my dad. Allen reacts to this by saying
it's a huge compliment for me, and I am grateful for it.
He also said in a joke that
he looks better than him...HAHA!
Did Troy Allen get trolled for his body?
In recent videos, Troy got trolled for his body and has been body-shamed by many viewers comment him as:
LMAO, you have got the body of a 12-year-old vegan girl on a diet.
Troy reacted to the comment saying that he doesn't pull out. And he said that
Should I take that comment as a compliment? Definitely "NO."
Instead, he replied, saying that he will eat anything he wants to eat and stay looking like this.
He can't help it, but he is happy with himself for who he is and how God had created him.
Troy and Tattoos: Are tattoos affecting his character in front of the public?
Troy Allen is famous for his tattoos. But do these tattoos affect his character? In a recent video, the audience slams him by saying,
"Wow, your tattoos are so ugly. Keep getting more, and you will look even worse. Girls don't like guys with tattoos.
Most of them said that
People only like you because of your tattoos; you have so many.
Four years ago, he had a breakup with his girlfriend, whose lips are tattooed on his neck.
People slammed those photos, too, which later on he erased it with treatment. He reacted to the audience by commenting that who they think they are, and at last, he mentioned,
HA HA! Bless your soul.
Domestic Violence and Troy Allen Related?
Troy Allen is known for his honesty, and he doesn't skip back in any of the serious matters raised around him.
He had told that someone had tagged him in a domestic violence video. The thing he noticed first was the children in the background, which pissed him.
He advised people that
It should never be done; if you ever get into an argument with your loved one or family, it doesn't matter. Don't do it in front of your children. It doesn't matter with age.

Even though they are age 1, people will say they won't remember; yes, they are. Children get traumatized; their brain is like a sponge. They soak in everything that's around them.
He also said that
if you guys ever want to argue that might create hostility, do it in private, but don't just do it in front of your kids.
Everyone respected him for saying that
"YOUR CHILDREN, YOU SHOULD SET A GOOD EXAMPLE."
Allen's Beautiful Blended family
Troy Allen is blessed with a beautiful family. His family is everything to him. They have completed their five years of togetherness.
He always mentioned how difficult it was for them to reach here. They break a record of the increment in the followers from 17 k to 150 k in just 30 days.
His journey was a tough one, and he had gone through rough times a lot.
They fell up the path and hit the rocky road, and he promised that he would keep pushing forward and keep moving and keep progressing their life every day farther than yesterday.
Being in a relationship for this long, he wouldn't change a thing in his partner.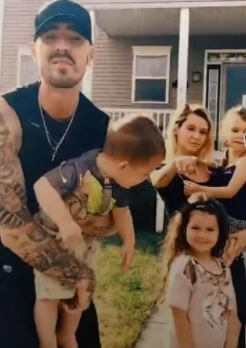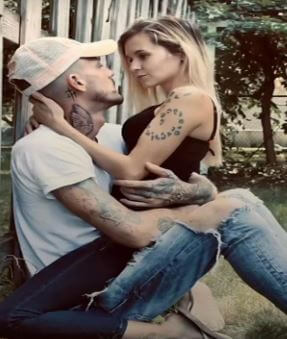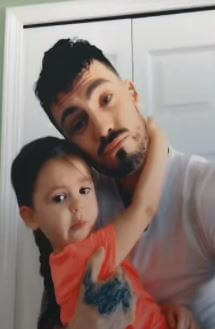 They both had decided on a tough journey, faced ups and downs all around. But they did survive.
And coming to their kids, they have beautiful daughters, and one is adopted and with a son. Their bond is a bond no better than anything else.
Though Allen's childhood memories aren't that great, he always reminds her daughters that
Even though daddy isn't there every day, the times they need me, daddy will always come running, NO MATTER WHAT.

I will never forget the best thing that ever happened to me to be your daddy every single day.
Can a dad love her Stepdaughter like his own?
Troy Allen is blessed with a daughter of his own and has one Stepdaughter who is extremely lovely and beautiful.
He gave a beautiful message to his stepchild on the Tik Tok video, saying that
No matter what, even though you don't have my blood in that lovely little heart, you will always mean the world to me, and I will always protect you.
Net Worth And Shocking story behind their income taxes
As we all know, Troy Allen, a TikToker, came from poor family background. But he is blessed with a good heart.
But the government doesn't count on a good heart to pay your income taxes. But the good words to your honest followers can change your life.
He thanked the people who had helped them to pay their income taxes throughout the year. The recent tax they had paid was $500 on August 27, 2020. The rest of the income is earned by their profession.
Sources of Income
Charity from the viewers of Tik Tok
Maximum 500 $
Gas Station
Unrevealed
Medical field
Unrevealed
His net worth is under review.
Adopting 5 for Christmas…Really?
Troy Allen announced that he was going to adopt 5 for Christmas. Skyler and his wife have decided to adopt the kids for the holiday season.
Their plan is to spoil them with nothing but Christmas gifts because the world needs something positive to look at in 2020. He also thanked @cali-girl-steph for sponsoring the gifts for him for Christmas.
Using their Children's Tik Tok money to buy gifts
Troy Allen's financial background is very poor. He could not afford gifts. The recent Tik Tok videos of him are in highlight and have got some million views than any other.
Allen clearly said that he had promised his child to buy toys. And had thanked and given credit to the people like @jamiejamison143 and @keypitsimple425 that made this possible.
And had thanked everyone for donations for his birthday.
Age & Height
Age: 27 years old
His height is 6 ft 2 inches.

For Amazing Articles Of Your Favorite Celebrities,
Stay Tuned To vergewiki
Updated On Sat Feb 20 2021 Published On Mon Dec 21 2020 By paper-boat