Tran Jeong is famously known as the wife of actor Ken Jeong.
Ken is famous for his role of Ben Chang in the sitcom 'Community.'
Her Family
Tran belongs to Vietnamese background with American nationality.
Tran met Ken when she was working at Kaiser Permanente in West California. Ken was one of her colleagues.
The couple dated for two years before getting married in September 2004.
The pair have been together for 16 years now and is living happily without any rumors of divorce or extra-marital affairs.
Tran shares twin daughters from his husband, Ken. They are Zooey Jeong and Alexa Jeong, born in 2007.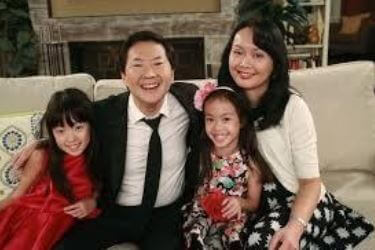 Her Brea*t Cancer
Tran was diagnosed with stage three cancer in 2008 right after a year of the birth of her children.
She subsequently underwent chemotherapy sessions.
She was later treated with radiation therapy as well.
Almost after two years, in 2010, her doctors told her that she was cancer-free.
In this entire journey, her husband, Ken, was by her side and served as her caregiver.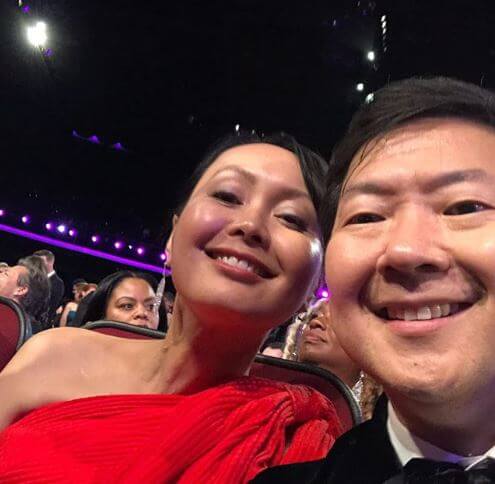 The above picture is posted by Ken with Tran in 2019 at an Emmy Award. The picture is captioned as
'You complete me, Ho.'
Ken Jeong's first animated movie
Ellen talks about Ken Jeong's first animated movie named "Over the Moon" and his two on-air shows on Fox.
They then talked about tattoos people have of Ken and the places they usually get tatted upon.
Ken says that he doesn't like him being tattooed on the back of the legs i.e. on the calves although he appreciates them.
Ellen asked Ken about his and Tran Jeong's twin daughters, who were thirteen at the time of this interview, whether they find their father cool.
Ken instantly said they don't, as they have blocked him on social media.
On the query about whether they watch his shows or like them, Ken mentioned that they do watch his shows but for other aspects of the show rather than him.
They further talked about his dog named "Moca" who is 11 months old and is a golden doodle.
Tran husband Ken is not popular in Korea?
Her husband Ken was spotted giving an interview on CONAN on TBS. The host of that show questioned Ken whether he was popular in Korea or was he recognized being a national hero there in his home country?
The artist replied, saying he visited Korea for the promotion of his movie "Hangover 2". He shared how one of the people from the studio executive told him No one knows him there, You Not popular.
Ken then replied to that reaction stating: man, it's fine, it will be nice to be anonymous. Further, the man in front of him again repeated that No one likes you, later adding the executive himself doesn't like Ken; he added.
On the very same day, Ken was roaming around the mall where he got mobbed. He said that social media and Twitter have fully become globalized entertainment.
The artist then funnily acted out the reaction of one of the audiences from the mall. One of the audience said, oh my god, there is Ken Jeong, the self-aware annoying guy.
Later on, in the show, the clip of Hangover 2 was shown. To catch Ken's cool expression, click the link below.
Ken dedicated one of his recent comedy specials to his partner
Ken was seen going back to his comic roots. "You Complete Me, Ho" parts were the title where he performed stand-up on Netflix.
As the title resembles, the act was solely dedicated to his wife, Tran. The shoot was done at The Ice House Comedy Club, located in Pasadena, California.
For your information, that was the place where Ken started his comic career. Interestingly, the show was published on Valentine's Day back in 2019.
Ken romantically stated Tran as his muse and revealed many other interesting facts about relationships and careers.
Other than that, in one of the scenes in the film, The Hangover, the actor himself proposed to perform the naked scene.
Not only this, his spouse Tran had encouraged Ken to do the scene too by convincing him that shot would be the feel-good film of the summer season.
Net Worth
Tran net worth has not been estimated yet. She is a Vietnamese American Family Physician.
She has practiced medicine for nearly two decades now. She is currently practicing in Woodland Hills, California.
She also has a second practice in Thousand Oaks, California.
As per Glassdoor, the average annual salary of a Physician is $246,291.
She also shares her husband, Ken Jeong's net worth, which is estimated to be $14 Million.
He has added it to his fortune through his successful career as a comedian and an actor.
How Does Her Husband Earn Money?
Tran spouse, Ken is an actor, producer, writer, comedian, and a licensed physician.
He still has his license to practice medicine in California.
He earned his fame from the television sitcom 'Community' and 'The Hangover' film series.
He has worked in several television series and movies like 'Knocked Up,' 'Role Models,' 'Furry,' 'Crazy Rich Asians,' 'Dr. Ken' and so on.
He appears as a panelist on both the American and British versions of the singing competition show 'The Masked Singer.'
Below is the list of the cast of 'The Hangover' along with their net worth
| | |
| --- | --- |
| Name | Net Worth |
| Todd Phillips | $200 Million |
| Bradley Cooper | $100 Million |
| Zach Galifianakis | $30 Million |
| Heather Graham | $25 Million |
| Justin Bartha | $22 Million |
| Ed Helms | $20 Million |
| Jeffrey Tambor | $16 Million |
| Mike Vallely | $10 Million |
| Rob Riggle | $10 Million |
| Mike Epps | $5 Million |
| Rachael Harris | $4 Million |
| Sasha Barrese | $4 Million |
| Mike Tyson | $3 Million |
| Cleo King | $3 Million |
| Bryan Callen | $2.5 Million |
| Dan Finnerty | $2 Million |
| Matt Walsh | $1.5 Million |
| Sondra Currie | $1 Million |
| Gillian Vigman | $500 Thousand |
| Brody Stevens | $500 Thousand |
Trivia
Tran is born on February 24, 1972, which makes her age 48 as of 2020.
Her husband was born to parents Young Jeong and D.K. Jeong.
She stands tall with a height of 5 feet and 4 inches.
We collect most of the information about Tran Jeong as it is difficult to find on other wiki sites.
For Amazing Biographies Of Your Favorite Celebrities,
Stay Tuned To vergewiki
Updated On Fri Jan 14 2022 Published On Wed Jul 08 2020 By shaumya