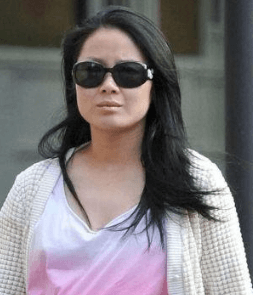 Tinglan Hong is well known as the ex-girlfriend of English actor and film producer Hugh Grant.
Love Affairs
She became well known after having a love affair with Hugh Grant. She met with her then-boyfriend at a restaurant in London.
She worked as a receptionist in that restaurant. After some time, they fell in love with each other and began dating in 2011.
The couple tried to keep their relationship undercover but did not succeed. They were first seen together while kissing in front of a restaurant in London.
She was unaware of Hugh's playboy character before she began her love relationship with him. Their relationship ended without getting married. They have two children together.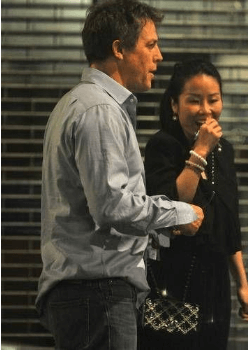 Her Ex-boyfriend Hugh Grant
Hugh Grant's full name Hugh John Mungo Grant came to prominence after appearing in the role of Charles in the British romantic comedy film 'Four Weddings and a Funeral.'
He was born on 9 September 1960 in Hammersmith, London, England to Fynvola Susan MacLean and James Murray Grant.
He began his career in acting in 1982. His debuted film is Privileged.
Her First Baby
She became pregnant for the first time with her then-boyfriend Hugh Grant. After they fell in love with each other, the couple had gone on an extended vacation.
After that, she became pregnant.
The couple's first baby was their baby girl, and they named her Tabitha Xaio Xi Hong Grant. She was born in September 2011 at London's Portland Hospital.
They broke up with each other than after.
Her Second Baby
The couple reunited for some time, and the result was she became pregnant for the second time.
She became a mother for the second time with her first son. He was born in December 2012 at St. Mary's Hospital in Paddington, West London. The couple named him Felix Chang Hong Grant.
Only three months before Felix's birth, Hugh Grant became the father of a boy from his Swedish girlfriend.
That incident caught media attention and had arisen several questions about Hugh.
Her Ex-Boyfriend Wedding
Hugh had been involved in several love relationships before marriage.
Finally, on 25 May 2018, he got married to his longtime partner Anna Elisabet Eberstein at the Chelsea register office. His wife is a Swedish television producer and businesswoman.
They have three children together.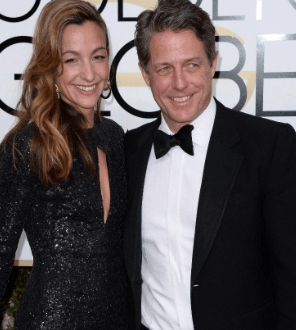 Before that, he has 13 years long love relationship with actress Elizabeth Hurley.
Moment With Celebrity Former Boyfriend
Though she is the mother of two children of Hugh Grant, their relationship didn't last long.
But in that short time, they were often seen in several places such as restaurants, shopping malls, and many more.
Once they were spotted in the street, both the couple were wearing a black jacket, and Hong is wearing a scarf also. Hong is smiling. The couple used to look perfect together.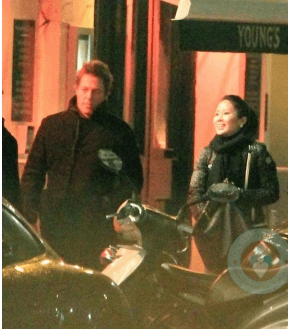 In An Interview With Former Partner
The host talked about the actor, Hugh Grant hit, and the fantastic movie 'Nine Month' and the bitter experience he encountered when arrested for picking up an unknown prostitute from Los Angeles.
However, people adored the way he accepted his mistake without making any excuses to handle the situation.
Luckily, his career also remained unaffected and was poured with roles.
During that harsh time, actress Elizabeth supported him, and they used to be an extraordinary couple.
But now their relationship has shifted to best friends, and the host asked more about their current relationship.
The actor revealed that they are alike siblings and amuse each other with silly messages until now.
He further shared that struggle they made and the terrible situation they endured together in the journey from zero to one made their bonding stronger.
He considered her a good egg and wished for her happiness.
Hugh On Being A Dad
Ellen congratulated Hugh Grant on being a brand new dad. The baby's name is 'Xiao Xi', which is in Chinese as her mother is Chinese.
The name means happy surprise. He shared his experience of how a baby changed his life and even recommended Ellen to get some.
Ellen shared her thoughts on having kids as for some people, it is just better not to have kids.
Ellen further explained that she like her time and like being able to have a conversation without being interrupted although they have a niece, and she understands about the fun and cuteness factor about a kid people talk about.
Hugh further mentioned about being Portia a little high maintenance to which Ellen gracefully accepted that she is.
Talking about the movie Ellen was surprised by the voice of his character, saying that she barely recognized it was him.
Hugh portrayed a different voice, which he mentioned that he got inspired by seeing the character.
Talking about his role, he said that the word 'Beard' was incredibly important as it helped him to be in character.
He mentioned that his child's mother, Tinglan Hong's other name, is Ting Ting.
He mentioned that she is a brilliant mother, and he has to say it because the whole Chinese press has decided she has abandoned a baby, so she texted him to say that she is a wonderful mother on a National American television.
We can see the entire interview from the link below
She was granted an injunction to prevent press intrusion
Hong was in a state where her life became unbearable, and she had to seek help.
Despite trying hard to keep her relationship with Grant private, it was revealed later with the news entitled "Hugh's secret Girl," which speculated if she was pregnant.
Soon after, she was constantly followed by the paparazzi and was photographed without her consent.
When she was seven months pregnant with her first child, daughter Tabitha, she started receiving a call on her mobile and landlines from callers who withheld their numbers.
She later had to change her number to stop herself from receiving calls and messages from journalists.
After she gave birth to her first child, daughter Tabitha, her every move was tracked by paparazzi.
She was once so distracted by the black Audi that she knew was following her on multiple occasions she had an accident colliding with the car in front of her.
She was not able to take her daughter outside or take care of her as in every step she would go, there would be journalists waiting with the cameras.
She was so frightened that she had to cancel many appointments at the time that included the appointment for her daughter because the distraction would make everything unsafe.
The Judge, Justice Tugendhat, granted the injunction forbidding harassment by the unnamed photographers of Hong and her baby.
The order was against XYZ and others whose identities were unknown.
She has a good relationship with Huge, and he is very protective of her
In 2018, talking to People, Grant said the nicest thing that ever happened to him was the birth of his daughter, Tabitha, though the birth of her was a surprise.
He said he could not help enjoying being a father. When he was asked what his relationship was with their moms these days, he said being on good terms.
Talking to People in 2011 after the birth of Tabitha, he had said that he liked his daughter very much, having said that he is thrilled to have had her that have made him feel a better person.
Though they had separated from one another, he remained protective towards Hong where he said of Hong to be a good person, a nice person, funny, clever, great mother.
And she has been very badly treated by the media, he added.
While choosing their daughter's name, it was Grant who chose her English first name, and the middle name Xiao Xi Hong was chosen by Hong.
Net Worth
She worked as a receptionist at a Chinese restaurant in London.
Her former boyfriend and father of her children have a hefty amount of net worth. He has a net worth of 150 million dollars.
He accumulates that sum of money from his long acting career.
He has already appeared in several movies and television series so far. He has received the prestigious Golden Globe Award and a British Academy Film Award.
Some of his television series with their IMDb ratings and Rotten Tomatoes ratings are as follows.
He has played the role of James Grant in the drama series 'Our Sons.' That series got 7.3 IMDb ratings and 93% Rotten Tomatoes ratings.
He has appeared in the role of Richard Neville in the drama 'The Trials of OZ.' It has got 8.1 IMDb ratings.
He played the role of Jeremy Thorpe in the comedy-drama series 'A Very English Scandal.' It has got 7.7 IMDb ratings and 97% Rotten Tomatoes ratings.
| | | |
| --- | --- | --- |
| Name of the Series | Role | IMDb ratings |
| Our Sons | James Grant | 7.3 |
| The Trials of OZ | Richard Neville | 8.1 |
| A Very English Scandal | Jeremy Thorpe | 7.7 |
Trivia
She was born in 1979 in China and raised in Lishui, Zhejiang, China.
She is Chinese-British by nationality.
She moved to England in 2003.
She is still single and lives in London with her children.
Stay tuned to vergewiki
Updated On Sun Mar 06 2022 Published On Sat Mar 14 2020 By paper-boat