Tess Sanchez is a casting director of Fox Studio who has worked on shows like Do Not Disturb, the TV remake of the teen romantic comedy-drama film, TV reboot of 10 Things I Hate About You and Melrose Place.
She is the wife of famous actor Max Greenfield.
A Message To The Fans From Her And Her Husband
The coronavirus has changed the world. She, alongside her husband, has decided to use their social media to convey a message to their fans.
The couple has requested everyone to remain home and not to out to remain safe.
She has uploaded this picture of her kissing on her husband on her Instagram account. She has explained in her caption that they are full of gratitude and has asked their fans to stay bright and stay home.
This picture was uploaded on her Instagram account on 26th March.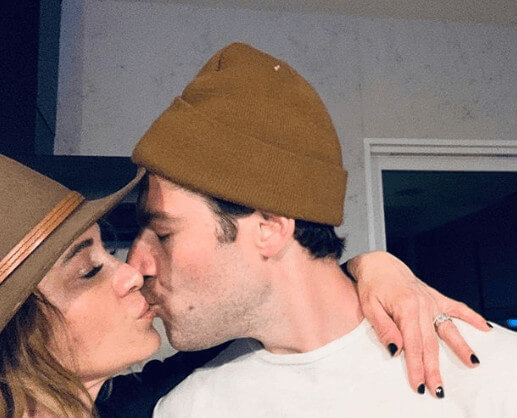 Adorable Children
They have the cutest children on the planet, and this picture will bring a smile to your face.
Her son has a t-shirt in which it has been written; I still live with my parents."
It is kind of funny and hilarious as he is very small.
Tess uploaded this cute picture of her son and her husband on Instagram account on 4th April 2020.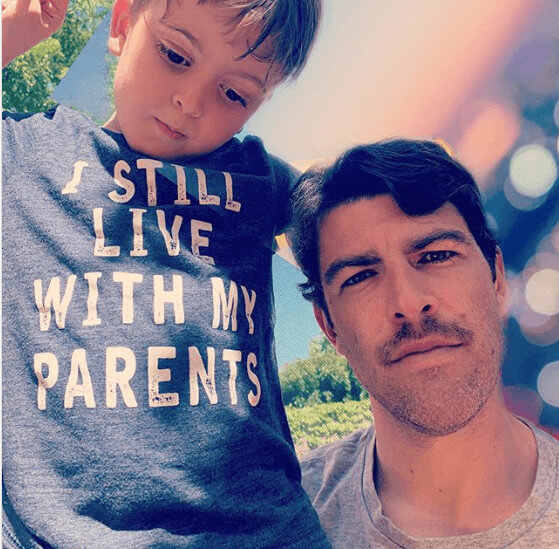 Adorable Tiktok with children
This Tik Tok video will make your soul smile. Her husband and her kids have created one of the cutest Tik Tok videos of all time.
They are musing to the beat, and all three of them are looking adorable.
Family, Married, Husband
Tess is married to Max Greenfield, the lead character of the series New Girl. The couple exchanged the wedding vows in 2008 after dating for five years.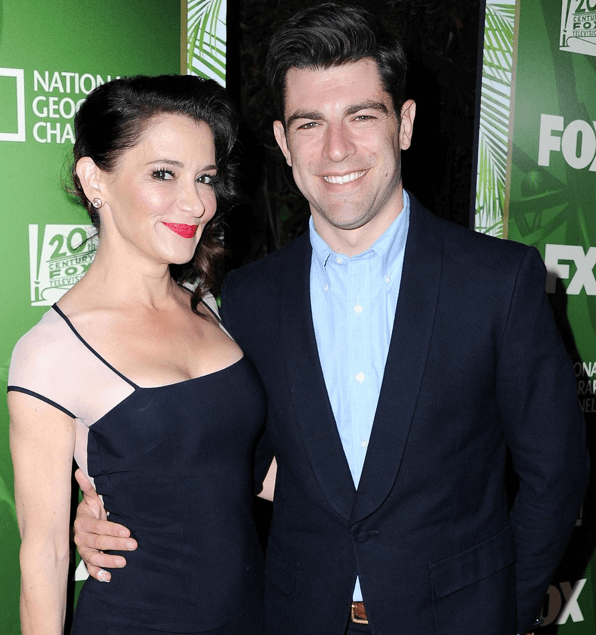 She has been supportive of her husband from the very beginning of their relationship.
In an interview with Elle her husband said that she was in charge of running the household, describing her as the greatest director he has ever worked with.
The couple is blessed with two children one daughter and one son. They had their first baby, Lily Greenfield, on 27 January 2010.
The second baby, Ozzie James Greenfield, was born on 24 August 2015.
Here is an adorable picture of their little children shared by her on Instagram with a caption,
'Happy Holidays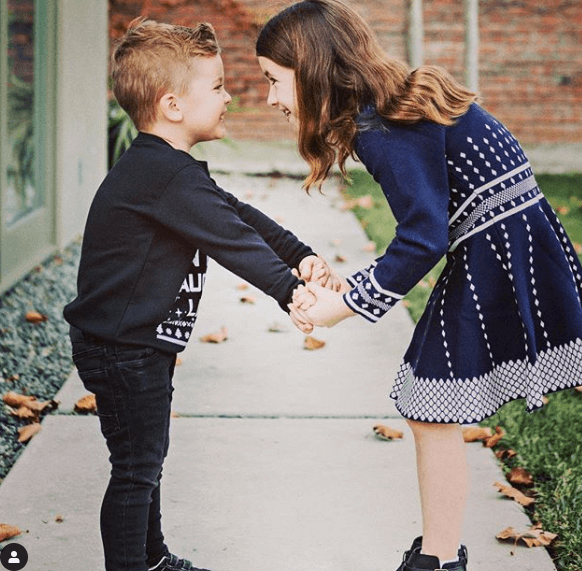 She keeps sharing pictures of her family members on her social media networks.
How New Girl Changed Her Husband's Life
He explains that Max was already done acting, but New Girl, a TV series, changed his life.
He adds he did not go to school, had no education, and had no skills, and he was trying to figure out what he was going to do with his life.
The response he got from his fans was validating, he explains, and this turned the direction of his life.
It set everything, he explains. He is very grateful for the role in the series, and this set everything for his career.
His character was amazing, and it was hilarious.
The role he describes as was tailored for him. It was a perfect character, perfect comedy, and an ideal role for him and was like a tailored fit for him.
Did Max Greenfield bring their kid to Work?
As there needs no introduction about Tess's spouse. Let us look at one of his most casual interviews. It was an interview with Stephen Colbert in his show.
Did Max mention that he brought his child to work there? Max was there in New York after leaving his hometown Los Angeles for few days.
Stephen, the host, cracked up the joke that the actor was there only for the Late-January weather. In reply, Max himself accepted that was the main reason.
Also, he added that he was not there alone. But Max was present with his daughter too. He giggles and told that she is staying backstage, praising her for being the most adorable.
Both father and daughter were happy to make their journey there. Max also shared what his daughter said to him before leaving their place. Well, Stephen was speechless and just said his kid is one of the dead-end kids.
Tess and Max opened up about their parenthood experience and duties
From a romantic couple, they are now parents. Besides their professional life, let us look at their parenthood duties and how they carried out.
Max shared how he was all set to quit his job after being a dad and was searching for regular jobs that would feed and give maximum time for the family.
But that didn't happen. Max also shared of them having sleepless nights, weeping in their laundry room, etc.
Moreover, her spouse told her that he would take the children to the playground and Tess would make a map for him.
Max mentioned that being a parent is just more emotional. Lastly, he also said that he doesn't trust his six senses more.
So, he tried to solve the obstacle taking more time, but his wife Tess would already solve it.
Tess Sanchez with hubby played a fun game, "I Wish Someone Told Me."
Tess and her husband were captured playing a game with People + Parents. The game began by asking about their kids and stating, has anything between the pair changed with the arrival of the first and second children?
They said they had become more relaxed with their child but stressed in general. They both agreed and wished someone had told them that two complicate your life so much.
Later, they talk about how they wish someone had told them that some of their buddies no longer want to hang out with them.
Her husband explained that their buddies know that after some time, the kids are going to be around. The couple also shared how it was tough for them when they had their first child.
They thought that the habit they have in them now would remain forever. However, they got to know that things pass, habits change.
Max then wishes someone would have told him that there is no amount of sleep one can get before you have kids.
He elaborated that they prepare you for devastation. He added that he is still recovering from his experience after the birth of their first daughter, which they faced for a year and a half.
Max told how Lily was not a good sleeper at that period. Also, Tess opened up, saying she wished someone told her that a California King Bed was not big enough for four humans and a dog.
Other than that, the lady accepted the fact that she had good deliveries at both times. At last, they said they think that the pair inspired others to have kids, and everyone sees them with good ease with their children.
There were other talks they mentioned at the show. To know full detail, visit the link below.
What did they say when asked if they both always wanted kids?
Tess elaborated that she has always been career-driven and has the thought in her mind that if it's meant to happen, it will one day.
While on the other side, her spouse said that he thought he wasn't ready for the first kid as they had Lilly sooner.
He confronted that one is a psychopath if you think you are ready enough for the first child. However, after Lilly came, he knew that he wanted a sibling for her.
The most unattractive version of her husband is having to help kids with their homework
Max had a pretty hard time homeschooling his daughter Lily during the pandemic, but now Lily is back to school, and he is happy, but at the same time, he still finds it humiliating having to help her with her homework.
Max stopped by Kelly Clarkson's show to talk about his new children's book, "I don't want to read this book," where he revealed his most unattractive version is trying to help his daughter with her homework.
He said Lily still asks him if he could help her with her homework, and he walks in confidently but then when Lily says, "yeah, we are doing ratios," he will be like, "what."
The most humiliating part besides converting the ratio is word problems, and when I try to break down the word problem, it's the most unattractive version of myself that you could ever imagine, he added.
He said he goes like Catherine has five nickels, so let's take those five nickels and put them over here where Lily would be like, "Is he"?" He can't be serious with this"?
And then again, he will be like, want to take Damien's dimes and put them over here, which according to him, is hard.
After which he gets frustrated and takes that frustration on Lily and when she will be like, "why is he upset"? He will be like, "because I can't do the problem."
When asked if his kids know what their dad does, he said that his son has just started figuring it out but is still like, "what?" While Lily is aware as she went to Daycare that was on the Fox lot when they did New Girl and got to see the filming of the show long before she saw the show, it's a little weird for her to see her dad in the front of the building and asks "why is dad in the front of the building'? he continued.
Talking about his book, he said that the idea of writing a book came from his kid's not wanting to read books which were the daily conversation they had every time he went to read to them, and it always took them half an hour of discussion about what book they are not going to read.
Net Worth
Her net worth is under review, but we can assume that she has accumulated a lot of wealth through her career as a casting director.
A report by the Bureau of Labor Statistics' Occupational Employment and Wages revealed that as of 2011, casting directors received an average salary of $70,660 per year.
According to the report, 10% of those directors who are at bottom made $32010 on the average every year while those in the top 10% where Tess belongs earn about $187000 per year.
The net worth of her husband is estimated to be $3 million. His primary source of income is his acting career. He has appeared in Veronica Mars, Modern Men and Ugly Betty.
It was Fox series New Girl that skyrocketed his career.
His earnings, as well as a fan, increased. He was nominated for Golden Globe, Emmy and Critics Choice awards for the role of Winston Schmidt in the series.
Below is the list of TV series and TV movies that she worked on as a casting director:
| | |
| --- | --- |
| Title | IMDb Rating |
| Melrose Place | 6 |
| 10 Things I Hate About You | 7.3 |
| Kath & Kim | 4.9 |
| Do Not Disturb | 3.8 |
| Man Stroke Woman | 5.9 |
| Knight Rider | 5.6 |
| Revenge | 6.8 |
There is no information available about her house and car. She prefers to maintain a low exposed lifestyle and thus has not disclosed any information to the media.
She is a happy mother of two children and a supportive wife who knows how to balance her personal and professional lives.
Her love for husband and children can be seen in the pictures shared by her on Instagram.
For Amazing Biographies Of Your Favorite Celebrities,
Stay Tuned To vergewiki
Info and Highlights (Age, Birthday, Height)
Since her exact birth year is unknown, her real age cannot be determined.
She celebrates her birthday on September 4.
She is a beautiful lady with a height of 5 feet and 9 inches.
She is American.
She belongs to White ethnicity.
She has black hair and brown eyes.
She has active on Twitter and Instagram. She has more than 7K followers.
Her zodiac sign is Capricorn.
We cover most of the details about Tess Sanchez as it is difficult to find on other wiki sites.
She was born in the United States where she earned a degree in Business Management, Marketing and Related Support Services from Woodbury University.
Her exact year of birth is still not known.
Wiki sites have covered information on her but we got in detail.
For Amazing Biographies Of Your Favorite Celebrities,
Stay Tuned To vergewiki
Updated On Sat Jun 25 2022 Published On Mon Sep 23 2019 By paper-boat