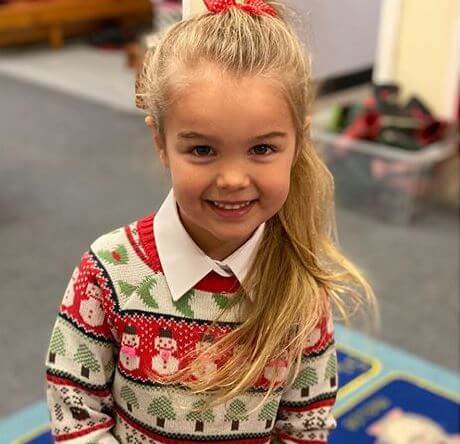 Sofia Vardy is the daughter of a famous English professional footballer, Jamie Vardy, currently playing for Premier League Club, Leicester City, and the English national team.
Jamie Vardy, oldest player to win Golden Boot Award
Jamie Vardy started playing senior player at the age of sixteen from Stocksbridge Park Steels.
He then played for National Premier League Club, FC Halifax Town in 2010, and successfully made 25 goals and won the club's 'Player of the Year' award during his debut tenure.
In May 2012, he joined Leicester City in the championship and contributed the team to win the championship in 2014.
During the 2019-20 season, he even won the Premier League Golden Boot and eventually became the oldest player to win the award.
However, before reaching that height of success, he had to surpass his demon behavior of drinking addiction.
As per the vice-chairperson of Leicester, Aiyawatt Srivaddhanaprabha, he used to be in the club in heavy drinking conditions and got trained in his hangover condition during his early days at the club.
But when the chairperson made him realized his expectation from his life then he gave up drinking and become focused on achieving the target.
Twice unsuccessful married life
Sofia's mother was married twice before she got married to Jamie.
As per The Sun, due to her terrible childhood, she made some mistakes and went out with some real snakes before meeting Jamie.
At first, she got married to an electrician, Mark Godden, but the relationship lasts only for six months. She is blessed with one child Megan before splitting from him.
After that, she lived with Luke Foster, a former Oxford United Player, for six-year. But she got divorced when he was in jail for killing two people in a car crash.
She has a son, Taylor, from him. Her current husband, Jamie, was also in a relationship with Emma Daggett and has a child Ella Vardy from the relationship.
Now the Rebekah and Jamie are blessed with three children from their togetherness, including Sofia.
The couple is living a delightful married life with their children in an eight-bedroom mansion in Lincolnshire.
Classy wedding with the presence of famous musical stars
The wedding of her parents, Jamie and Rebekah Vardy, happened on May 25, 2016. Jamie met Rebekah in a night club, where she was working as a club promoter.
After meeting her, Jamie hired her to organize his birthday party in 2014.
After dating for two years and having their first daughter, Sofia, the couple held their wedding.
The couple organized their wedding in a classy way at Peckforton Castle in Cheshire. The venue was chosen by the US singer Clara and her husband, Russell Wilson.
The couple exchanges their wedding vows in the presence of famous musical stars such as One Direction's singer, Louis Tomlinson, rapper, Tinchy Stryde, and Kasabian frontman, Sergio Pizzorno.
Wife nearly commits suicide
Jamie's wife, Rebekah traumatic childhood life, lead her to live in depression and medication for years. She was sexually abused when she was only 12 years old.
It was intolerable for such a young girl. Rebekah was assaulted and became a victim of such ferocious activity by her closed ones.
She was devastated when her own family did not support her to get justice.
Her mother made her withdraw the police statement and persuaded her not to take the matter besides the home.
Jamie's wife had nearly committed suicide because of this dreadful incident.
Peppa-Dig themed birthday party
Sofia's parents had organized a wonderful birthday party, which was themed as Peppa-Pig on her second birthday.
The well-decorated cake amid different cartoon characters was amazing. The party was organized by party planner Julie Perry and cost thousands of pounds.
Now, in the coming November 5, she will be celebrating her 6th birthday.
Sexual threats were aimed at her while she was just one year old
The world consists of some people who sometimes go beyond crossing their limits, which is too pathetic.
Sofia was just one year old when sexual threats were aimed at her. Her mother captured the moment in the picture where Sofia was seen wearing a Leicester City shirt to support her dad.
The threats began to flow after sharing the two images before and after the game. Before the game, she shared the picture with the caption, "Game day! Come On Daddy,"
After the 1-0 win, she again shared the picture of Sofia wearing a no. 9 t-shirt with "Daddy" on the back via her Twitter.
It was unacceptable and intolerable, so her father Jamie took the screenshots and shared them in his Twitter account, exposing them where he wrote "Shocking and Vile."
Her mother also could not stand and tweeted that there is a need for locking off for those people stating that there are no words for people like them.
According to the sources, it was later reported that the users claimed to be Manchester United supporters, which were later no longer active.
Many fans came out in support, calling such an act to be disgusting and sick.
The support also came from Manchester United fans where one wrote claiming that not all Manchester United fans are like that and also apologized if they got offended by such idiots.
Sofia is probably going to have more siblings in the coming days
It seems that Sofia will have more siblings in the coming days, as her father hinted of not ruling out having more children with the statement he gave.
Her father, Jamie, is a complete family man, and there is no doubt in it. According to him, his family is everything, and he said he was not looking forward to seeing his kids going back to school as he loves having them at home.
When asked if there are any plans to add to his family, he replied,
"Possibly, maybe another four legged friend. Who knows what the future holds?"
Speaking about the quality time together, he said spending time with his family is everything to him, and as a parent, there is nothing more rewarding than seeing the happy faces of kids and spring in their step.
He added as parents, he and his beloved wife love having kids at home with them, and he loves walking through the door from training to absolute mayhem with them all.
Net Worth
The net worth of Sofia's father, Jamie, is as follows:
Net worth
$12 Million
Salary
$ 9245600
Source: Football contract
Age and School
Sofia was born on November 5, 2014, which makes her five years of age currently.
There is no information about the school she is currently attending.
The names of her grandparents (Jamie's Parents) are Richard Gill and Lisa Vardy.
For Amazing Articles Of Your Favorite Celebrities,
Stay Tuned To vergewiki
Updated On Fri Feb 25 2022 Published On Sat Sep 26 2020 By shaumya