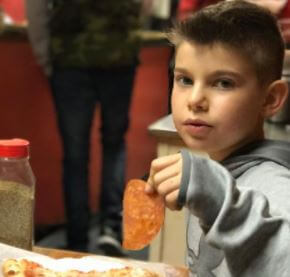 Facts of Shepherd Kellen Seinfeld
Shepherd Kellen Seinfeld is famous as the son of an Emmy-winning American stand-up comedian as well as an actor and producer, Jerry Seinfeld.
Shepherd is currently studying at high school. He usually remains out of the spotlight, and he is not using any social media to date.
Married at the age of 45
His father was 45 when he married his mother, Jessica Sklar (now Seinfeld). They first met in the year 1998 at the Reebok Sports Club.
It took no time for them to get along and start dating and exchange wedding vows on Christmas day in 1999.
It was the second marriage for his mother as she was married to Eric Nederlander, a theatre producer, and just returned from the honeymoon when she met her now-husband.
Her first marriage could not last more than a year.
How did his mother save his father's life?
During an interview with Oprah Winfrey, Jerry confessed to his life being saved by his wife, Jessica.
According to him, at the age of 44, he had accomplished everything he wanted career-wise.
He added humorously that he didn't want to get married and, at the same time, was also getting tired of being single.
He dated around a few girls but had not felt for anyone in a way that made him go forward until he met Jessica.
After he met Jessica, he felt that they could have a life together, which gave him a life to live. It was like saving his life.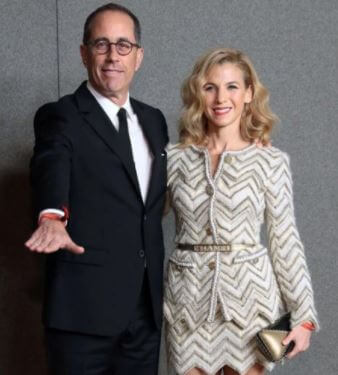 He has two older siblings
Shepherd is the younger brother to his two siblings, sister Sascha Seinfeld and brother Julian Kal Seinfeld born in 2000 and 2003.
His elder sister Sacha is studying at Duke University, while his brother Julian recently graduated from high school.
He will be attending Duke University in the fall. The Seinfeld family is pet lovers. They have two cats and two dachshunds.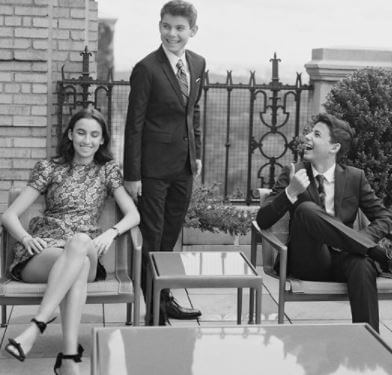 Their father does not want them to watch reality TV
They are the lucky kids whose father never loses his temper around them, but one time he got upset seeing Sascha watching the Kardashians on her phone because he could not take that scene.
That was the only time he lost his temper because he gets offended by a reality show and feels they are doing nothing interesting.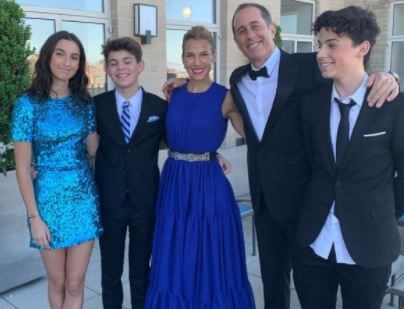 His mom is famous as a cookbook author
His mother is famous not only for being a celebrity wife but also as a cookbook author with four best-selling cookbooks.
Besides that, she is a philanthropist. Just after the birth of Sascha, she founded Baby Buggy, a non-profit organization that focused on getting gently used clothing to the young families in need.
Later, she started with a new name, Good+ Foundation, which focuses on helping families in need.
Is he dating anyone?
He is currently enjoying his time with his family and not dating anyone.
Jerry finds New York City irritating?
Jerry was captured on Conan's show, where at first only he stated saying what in the world was happening that he was on the Conan O'Brien show.
Jerry feels like it's a crack in the comedy space-time continuum. He giggled and said that he used to own that network.
When asked if New York City, Manhattan is good for comedians? Instantly, Jerry replies, saying Irritation is good for comedy. And everything in New York is irritating.
Also, Jerry says that he used to do this thing, and he used to love the thing about when you are in New York and you are sitting in the back of a cab and looking through the glass, it seems like it is happening on TV.
He also accepted that comedians are all cranky and a little bit irritable. Jerry added, if you name anybody now, he can't stand it.
He says that he doesn't like things. Not only this, Jerry says that everything irritates him. Further, on the show, the host mentioned the "Seinfeld The Complete Series" boxed set.
Jerry claimed it was the nine years of his life on that box. No doubt, it was a phenomenally successful show.
Jerry mentioned for three and a half years, Seinfeld struggled and was on the borderline. He continued saying that people at NBC were not excited about the show when they did the pilot.
There was only a guy at NBC who believed and liked the idea, and he was Rick Ludwin, Jerry added. To know more, visit the link below.
Is his mom involved in a plagiarism lawsuit?
Jessica, with the entire Seinfeld family, indeed faced a stressful ordeal after Jessica got sued by a fellow cookbook writer named Missy Chase Lapine back in the year 2008.
It was pointed out that Jessica had plagiarized Ms. Lapine's book titled "The Sneaky Chef: Simple Strategies for Hiding Healthy Foods in Kids' Meals."
Later, Missy also put allegations against Jessica of copying her cover art too.
However, the situation got even worse when Jessica was there on David Letterman's show and claimed Missy was insinuated and hysterical.
And also tells that Missy must be planning on becoming an assassin. Nevertheless, Jessica won the lawsuit in the end.
Are Shepherd and his siblings impressed with their dad's iconic status?
During an interview with Access, Jerry revealed his kids aren't too impressed by his status.
When asked if his kids are interested in the show, Jerry said they don't seem to be and that it sounds weird because Jerry would be interested in it if his dad had a show.
Besides that, he also said that maybe his kids watch it secretly, and they don't tell him, but they never ask him anything about it.
In another interview, Seinfeld said his kids almost don't laugh at his jokes which makes it even funnier for the audience.
Jerry on fatherhood
While talking about fatherhood back in 2015 while hosting Baby Buggy, a nonprofit founded by his wife Jessica, Seinfeld said that for a father in a challenging economic environment, it's harder to figure out what they are supposed to do.
According to him, he realized all dads, whether rich or poor, need a support system after the birth of his three kids, Sascha, Julian, and Shepherd.
He said he wasn't surprised that he loved fatherhood as much as he did but was surprised by what he needed to learn that he didn't know.
He added that being a husband and a father, you don't get any training, and people need training.
When asked about Jerry Seinfeld as a dad, Jessica Seinfeld said he is an incredible father, but at the same time, she revealed that he wasn't a natural when their kids were born.
He wasn't immediately pushing the strollers and carrying babies, which he still makes fun of, saying it took him a good ten years to warm up.
Since Seinfeld had a busy schedule and, as a TV icon, had to travel a lot, mostly over the weekends, it was Jessica who took responsibility for a lot of early caretaking, sports, and activities.
She now says Jerry's strength is currently with their three teenagers and is patient with them.
She continued that where she is weaker, her husband is stronger, and in that way, they complete each other and wouldn't change anything.
Net Worth
Jerry is one of the highest-paid as well as the most decorated comedians in the world.
His sitcom Seinfeld is one of the high-rated and profitable shows in the history of television. He has amassed hundreds of millions from his successful career.
As of 2021, he has a jaw-dropping net worth:
| | |
| --- | --- |
| Net Worth | Source |
| $950 million | Stand-up Comedian, Actor, Television and Film Producer, Screenwriter, Voice actor |
Age
Born in August 2005, he is sixteen years old.
For Amazing Articles Of Your Favorite Celebrities,
Stay Tuned To vergewiki
Updated On Mon Jan 16 2023 Published On Thu Feb 03 2022 By shaumya