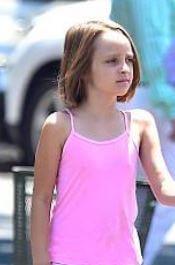 Facts of Ruby Sweetheart Maguire
Ruby Sweetheart Maguire was born to Famous Parents Tobey Maguire and Jennifer Meyer.
She was born in 2006 on November 10 and will be of age 13 years old in 2020.
Who Is Her Father?
Tobey Maguire is a brilliant American actor and film producer as well. He was born in California.
When Tobey was born, his parents were only 18 and 20 years old and unmarried too.
His parents got married and subsequently divorced also when he was only two years old.
He spent his childhood moving from one place to another as he had to live with both his parents.
Tobey wanted to be a chef when he was in sixth grade, but his mom enrolled him in drama class and also offered him $100 to take a drama class.
He began his acting career in 1989 with a feature film named The Wizard.
Soon the Maguire got offered a movie that also starred Leonardo Di Caprio.
Working together in a movie brings them closer, and it results in a genuine friendship.
They are still close friends and are often seen going out on vacation as well.
In 2002, he was roped into playing a Spider-Man based on a popular Marvel Comic Superhero.
This film got huge success at the box office and made him Superstar overnight.
He also acted in the sequel of Spider-Man 2 (2004) and Spider-Man 3 (2007).
All three films were the highest-grossing film each year.
However, he did not act in a proposed fourth Spider-Man because of script and production complications and the movie did not materialize.
Later they decided to reboot the franchise with another actor in the leading role, Andrew Garfield, titled The Amazing Spider-Man, which got released in 2012.
Parents Love Story.
Tobey Maguire met Jennifer Meyer in 2003 at that time he was shooting for a movie Seabiscuit at Universal Studios, soon after spending some time together, they got engaged in April 2006.
By the way, Jennifer Meyer is a jewelry designer by profession.
She also has her company site online, named jennifermeyer.com, where she sells her jewelry through online transactions.
After the sixth month, she gave birth to a beautiful daughter in 2006.
Soon after their daughter's birth, they tied the knot to each other on September 3, 2007, in Kailua Kona, Hawaii.
They both had two children together with a daughter and a son.
Their second child, who is a boy, was born in May 2009. His name is Otis.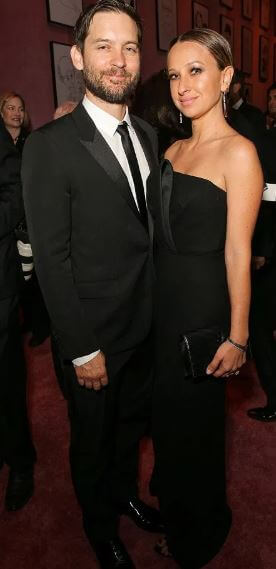 Divorce (Tragedy)
Unfortunately, that relationship did not last long, and the power couple announced their separation on October 18, 2016, after nine years of living together.
The couple got officially divorced in 2017. These were hard times for the kid as no one wants to see their parents split. However, with time everyone has moved on.
Jennifer Meyer is found love all over again. Currently, she is dating NBA agent Rich Paul.
It's been six months already since they are dating; they were keeping spotting together going out.
Reportedly rich also met her loved ones; they were even together on Mother's Day as well.
They were spotted together by the media while going out.
It seems like the couple is all ready to make the dating rumors official.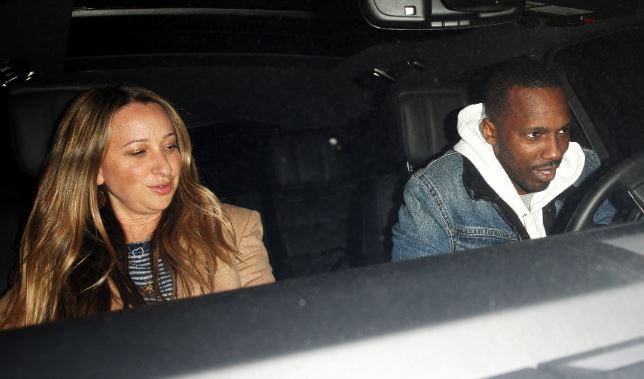 This is a really cute picture shared by Jennifer Meyer on her Instagram on the occasion of Mother's Day.
She captioned it,
'Always my babies…..'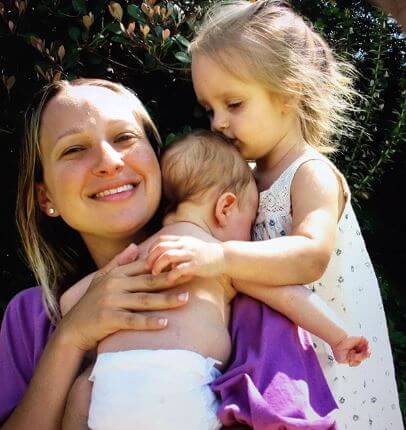 This picture is also shared by Jennifer on the occasion of her son's birthday. He turned 11 this year.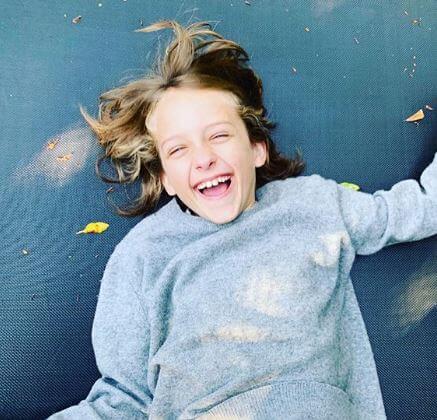 Ruby Sweetheart Maguire's father, Tobey Maguire, who is a great poker player
Jimmy started with Ruby Sweetheart Maguire's father, Tobey Maguire, who is a great poker player. When asked about does he still plays poker, Tobey mentioned that he used to play a lot but not much now.
Tobey played in real tournaments with real poker players and also with a group of guys in Hollywood. They used to have an impromptu poker game or schedule games with a lot of money being bet upon. When entreated about his taxes and payments by Jimmy, he sarcastically commented that he had filed and paid all his taxes.
Jimmy then further questioned him about his biggest pot as a poker he played, whether it be at home or tournaments or casinos, to which Toby responded he would prefer to write it down rather than saying the amount on the camera.
While playing Connect Four with Jimmy upon a hundred-dollar bet, he discussed his college life. Tobey mentioned that he didn't go to college, although he went through his ninth grade.
Tobey Maguire dating Tatiana Dieteman
Tobey and Tatiana have been dating for almost two years now. Tatiana is a model, and the rumor about their affair first started when Tobey took Tatiana along with him at a bash in his friend Leonardo DiCaprio's house in August 2018.
Since then, the couple has been going strong. Both Tobey's kids Ruby and Otis, are very fond of Tatiana, and they love her.
Tobey's ex-wife Jennifer too, gets along with her.
Tobey and Tatiana have been in a live-in relationship for quite some time now. Tatiana is 15 years younger than the spider-man actor, but the age factor does not affect their relationship. The couple kept a low profile and did not make any public appearances.
Her Unique Middle Name
She has a unique middle name, Sweetheart, which has an interesting story. Her grandmother used to call her mother Jennifer, Sweetheart during her childhood.
Jennifer gave her this unique middle name in honor of her mother, who died just a few months before her granddaughter's birth. This is one of the saddest moments of Jennifer's life.
Her Mother's Journey of Being a Jewelry Designer
Her mother, Jennifer, owns a jewelry line called Jennifer Meyer. She started working on her passion at the early age of six.
With the help of her grandmother, Edith, she started designing jewelry.
Here's a video of her talking about her passion for designing jewelry.
She got a chance to show her designs to Jennifer Aniston as her friends were about to style the beautiful actress for The Break-Up.
Her friends liked her samples, and they wanted her to show them to Jen.
To her surprise, she got a call from The Break-Up for her pieces of jewelry. They asked her for three of each sleeve necklace and leaf earrings.
She knew she had to give her all effort if she had to start her own company. She called everybody she knew.
She was surprised when she saw that they had made a nameplate for her jewelry.
She has worked for celebrities like Giorgio Armani and Ralph Lauren.
One of the most loved designs of her is a wishbone.
She remembers how her mother used to save the wishbone for her and her sister on Thanksgiving. They would pull apart and make a wish.
Later she started to design all her good luck charms. For her, good luck is anything that someone believes.
The source of inspiration for her pieces of jewelry is her stylish friends.
She loves her job because it gives her happiness when she sees people wearing her designs or jewelry.
Her mother broke up with her then-boyfriend Rich Paul
According to the sources, her mother had been dating Rich Paul. The ex-couple first sparked dating rumors in January 2019 after they were spotted together in Beverly Hills.
In 2019, the Insider had confirmed that Meyer and Paul are six months in, and it's on, and they are super happy and super in love.
It's a very unexpected and incredible relationship. And all Meyer's family and friends embrace Paul and are supportive of their relationship, the Insider added.
But the relationship was short-lived as Paul is currently dating "Easy on Me" singer Adele.
The pair first sparked romance rumors in July 2021 after they were seen together sitting close to one another and cheering at the NBA finals in Arizona.
Amid the romance rumors, ESPN's Brian Windhorst on The Lowe Post confirmed the news saying Paul brought his girlfriend to the game to sit next to LeBron.
In August, Paul started following Adele on her Instagram and in November, Adele posted the picture of them together in black and white selfies with a heart emoji.
In an interview with Vogue and British Vogue, Adele confessed to meeting Paul at a party a couple of years back when Adele was pretty drunk and did hilarious stuff.
She even asked Paul if he wanted to sign her, saying she is an athelete now. She also gushed about him, saying Paul is a great person with a lot of humor. She told Paul is f***ing funny and smart.
Tobey is the greatest ex-husband a girl could ever have, says Jennifer Meyer
Though Tobey and Jennifer Meyer parted their ways in 2016, with Meyer filing for divorce in 2020, they are sharing an extremely close bond and are successfully co-parenting their two children as they have always said that as devoted parents, their first priority remains to raise their children together with enduring love, respect and friendship.
In 2018, Meyer told US Weekly that Tobey is the greatest ex-husband a girl could ever have and that Tobey is her best friend.
Talking about co-parenting, she said that the day begins with the kids and ends with the kids, and they manage to get their time in and work hard in the middle.
In November 2021, Tobey attended the party at Sunset Tower in West Hollywood to honor his ex-wife Meyer's new collection with luxury fashion brand Moose Knuckles, where Meyer was seen with her arm around him.
Her father is single again after breaking up with his model girlfriend
Her father, Tobey, is currently single following his break-up with his model girlfriend, Tatiana Dieteman.
McGuire and Dieteman dated for nearly three years before they parted ways at the end of 2021. Dieteman soon moved on with her life. She is currently dating Koa Smith.
She confirmed the news via her Instagram post in February, responding to his posts and calling him her valentine after he shared the pictures of them kissing on the beach.
As reported by Daily Mail, Tobey was spotted with a group of friends in LA leaving out of the bar and heading towards a liquor store in February.
Tobey, on returning to his iconic character
Tobey returned to his most iconic characters as Peter Parker with Spider-man: No Way Home alongside Tom Holland and Andrew Garfield.
Tobey, in an interview, shared what made him return to his Peter Parker character.
According to him, he had a meeting with Kevin Feige, and Amy Pascal and had sort of talked about it and was intrigued right away.
He said in that conversation the intention, the kind of love, and what it meant to them were apparent in both Amy and Kevin.
The authentic creative process and the genuine intent of celebration and love were so apparent in them that it made him want to join that.
Also, being a huge fan of Tom and Andrew was intriguing to him, but he was like, "what are we going to do"? But he did appreciate what was shared, he added.
Besides that, It was really about getting together with these people, revisiting what was part of his history, and getting a chance to come together.
There is sort of personal things too, which are sort of resolutions or way to revisit.
It's just to get back into that, revisit, have certain resolutions, and join in the loving, creative process.
When asked if he thinks the movie is the end of one thing may be the beginning of another in the same way as it is the culmination of 20 years that begin with him and going full circle and the end of what he had started, he said he had an awareness of the 20 years history but looking at Kevin and realizing that they have been through all different iterations was personally more powerful as well as to witness their journey through all the films was impactful.
He also said he was grateful every day for such a rich and emotional experience.
Though it's not like sitting there conceptually thinking about it all the time, he would have moments where the sort of kinds of stuff would hit him.
It was a kind of unfolding of the story and the relationships, so he was more like in that on the day-to-day, but he would have the reflection moments which were quite powerful, he admitted.
Net Worth
| | | |
| --- | --- | --- |
| Year | Net worth | Salary |
| 2020 | $75 Million | Per movie rates $4Million |
There is no information available on Ruby Sweetheart Maguire's net worth, but her Father, Tobey Maguire is estimated to have a net worth of $75 Million, which is massive.
Spider-Man: Far from home has a budget of $160 Million, but the movie went far in terms of collection by earning a whopping amount, which is $1.132 billion.
How Did Tobey Earn Money?
Tobey Maguire accumulated his wealth and fortunes primarily from acting and producing films.
Trivia.
Her Grand Dad, Vincent Maguire, worked as a laborer and her Grandmom, Wendy Brown as Secretary.
Her father, Tobey Maguire, was awarded two Saturn Awards. One of them was for Best Actor.
For Amazing Biographies Of Your Favorite Celebrities,
Stay Tuned To vergewiki
Updated On Sun Aug 28 2022 Published On Sun May 24 2020 By shaumya