Rosmari Rizzi Bachi is the celebrity spouse of Brazilian football manager Adenor Leonardo Bacchi, who mainly goes by Tite.
He is the current manager of the Brazil national team.
Her marriage to Tite gave birth to their two beautiful children
Rosmari married her husband a long time back. From their marriage union, they gave birth to two beautiful children, a son Matheus and a daughter, Gabriele Rizzi Bachi.
Related: Gabrielle Esther Nnomo Mballa- Shocking Claims From Cameroon Manager Rigobert Song's Wife
Matheus admires Rosmari not only for being his mom but also for being his example, his guide, his friend, his encourager, and his idol.
Matheus is following in his father's footsteps and currently working under his father as an assistant manager.
He previously played NCAA Division II Soccer at Carson-Newman University.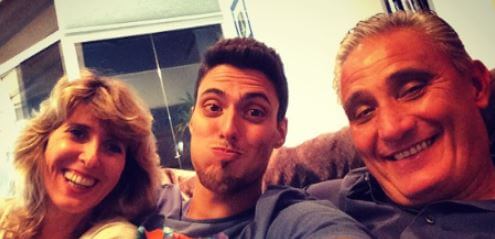 Her son's grand wedding ceremony
Her son Matheus Rizzi Bachi got hitched to his long-term girlfriend Fernanda Silva back in 2016 in a grand ceremony.
The wedding took place in their hometown Caxias do Sul, RS, in attendance of 300 guests.
Matheus said when he saw his bride entering the church dressed in a wedding gown as beautiful as ever, he looked at the ceiling to avoid tears.
They wanted to celebrate their big day with everyone, family, friends, and loved ones.
After the ceremony, they headed towards the hall of club Recreio da Juventude and celebrated their big day.
More: Snezana Stojkovic, Wife Of Serbia Manager Dragan Stojkovi Is Stunning
She is very attached to her grandkids
Rosmari and Tite are now the grandparents of their two grandsons, Luca and Leonardo, born to their son Matheus with his wife, Fernanda Silva Bachi.
Rosmari is very attached to her grandsons, which is purely reflected through pictures her son keeps on posting via his Instagram.
She is often seen spending quality time with them and is always into something.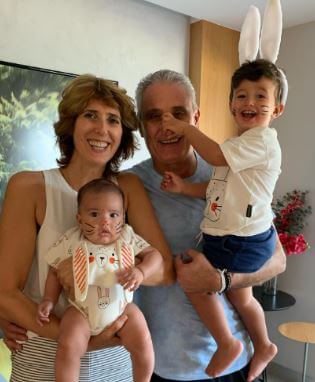 Her husband wants to go on sabbatical after the World Cup
Coaching the national team became his ambition after he managed several Brazilian clubs, which became fulfilled in 2016.
Since his arrival, he has led the team to its seven consecutive victories in qualifying matches, made a spot at the World Cup in Russia, and experienced a 2019 Copa America victory.
Now his next target is reaching the final and becoming the champions in the 2022 FIFA World Cup since he has had the opportunity to do the full four-year cycle, he says.
According to him, when he replaced Dunga in 2016, he became the manager because of other circumstances.
Adenor credits his staff with great values and credentials and his incredibly supportive family for coping with the anxiety he is facing a few months ahead of the World Cup.
Expectations are high, but the focus is on work, he says.
He credits his wife for who he is today since she has been a constant supporter anytime when he loses his temper, hits the roof, or spends sleepless nights and he draws strength and motivation from his family.
After the World Cup, Adenor is planning to go on a sabbatical. He said,
If you win the World Cup, you get an open market. You can choose.
His idea is not to work in Brazil.
He wants to spend quality time with his family, take a sabbatical year, study, as well as to be free from responsibility as he says responsibility is too great.
More: Anja Muller Love Story With Husband Murat Yakin (Switzerland Manager)
He also said he likes to be with Rosi, walking with her, with his children and grandchildren. He is fond of coffee, books, and movies.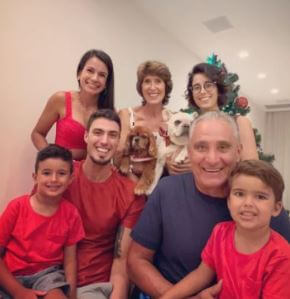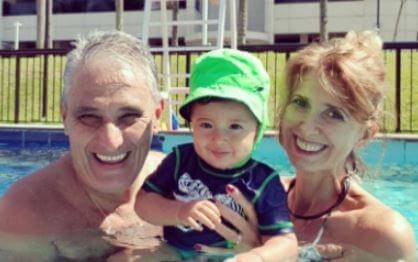 Rosmari admitted to saying there has never been a sex strike
Rosemary(Rose) and Tite have been married for nearly four decades, and their relationship has grown stronger with the increasing years.
She has been the woman behind her husband's success, and her spouse has admitted in interviews that he listens to his wife and her advice.
Rose as a wife, also understands her husband's passion for football and what it means to him.
During an interview back in 2013, she admitted that her husband pays full attention to football during championship decision-making periods and that there has never been a sex strike as she knows how important it is for him.
While receiving the Campeonato Brasileiro title with Corinthians in 2015, Tite dedicated the trophy to Rose.
He said his wife deserved the trophy and recalled the moment when they were going with negative results after Guerrero and other players left.
He went home feeling sad and low, and it was his wife who was the first person to say,
"Raise your head, give strength, the team is good."
He admitted to saying that whether it was "feeling" premonition, love, or if it was just to give him strength, but she was right.
She said to work because they needed him. While Rose, in an interview, expressed how she felt when she saw her husband dedicating the title to her.
She said she was surprised and happy at the same time and felt a lot of emotion when she saw his message on T.V., "Pure emotion." I love him with all my heart, and we know everything we went through to get where we are.
Love and companionship that's very important. That title is ours. It's mine, his, Matheus's, Gabriele's, and our families", she added.
Here is why Tite turned down the offer from Real Madrid, Sporting, and PSG
In an interview with Guardian, Tite revealed that top European clubs Real Madrid, Sporting, and PSG wanted him and approached him ahead of the 2018 World Cup in Russia.
The reason behind turning down such a huge offer was his country.
He said his priority is winning the World Cup with his country and ending their two decades of wait for their record-breaking sixth World Cup victory.
According to Tite, after Unai Emery left PSG in May 2018, PSG wanted to talk to him, but he said he won't.
And again, ahead of the 2018 tournament, Real Madrid wanted to talk to him, but he was unwilling to, so he said no, he wouldn't talk and wanted to be at peace with himself and his work.
He said he couldn't do something in parallel because that's not doing it to the fullest, and he didn't want to accept the offers because he wanted to win the World Cup with Brazil. After the World Cup, I will decide my future, he added.
Net Worth
The net worth of Rosmari is under review.
As of now, we have the net worth of her husband, who has amassed a hefty amount from his stunning coaching career which is estimated to be around $12 million.
Age
Rosmari was born on the 31st of May, 1964. She is currently 58 years old.
For Amazing Articles Of Your Favorite Celebrities,
Stay Tuned To vergewiki
Updated On Thu Nov 10 2022 Published On Thu Jul 21 2022 By Sabina