Rike Nooitgedagt is a gorgeous woman, and she is famous for being the wife of Liverpool star defender and the best defender in the world, Virgil van Dijk.
She was a sales manager, and she used to sell different fashion brands.
She was doing brilliantly well in the fashion industry but something she did inspire Van Dijk and we will cover it in this article.
She is a brilliant lady and the backbone of the success of Liverpool Number 4.
How Did Her Love Story start With Husband Virgil Van Dijk And Her Sacrifices?
It has been all adventures in their relationship. The couple started dating from childhood days, and it has been a rollercoaster ride till now.
She started dating her partner Virgil from school days, and to be with him; she has had to make a lot of sacrifices.
She was very successful as a sales manager and her job was located in Holland.
When her husband got a call from Celtic, she had two choices, stay with Virgil and leave the job or take the job and leave Virgil alone in his new adventure.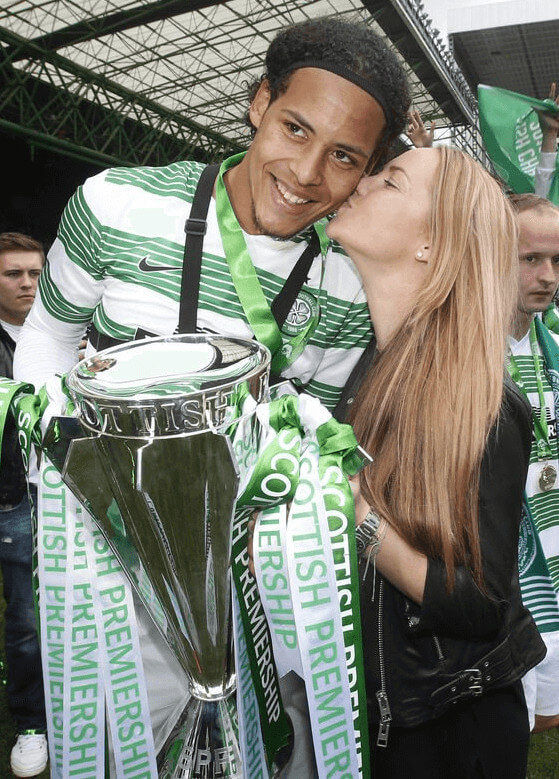 She chose the hard one, and she left her job and career for the man. It paid back and Van Dijk is the best defender in the right world one.
It would not have been possible without the sacrifices made by his life partner and wife.
Unusual Request during Pregnancy by Husband
She was pregnant, and she got a very unusual request from her partner. It was shocking for her when she heard it but she agreed on it for the dreams of her husband.
It was when her husband got a call to be a part of the Netherlands squad and she was pregnant at that time.
Virgil asked her to have the birth of the child induced. She could not be reluctant as it was for the dream of her husband and she agreed to the call.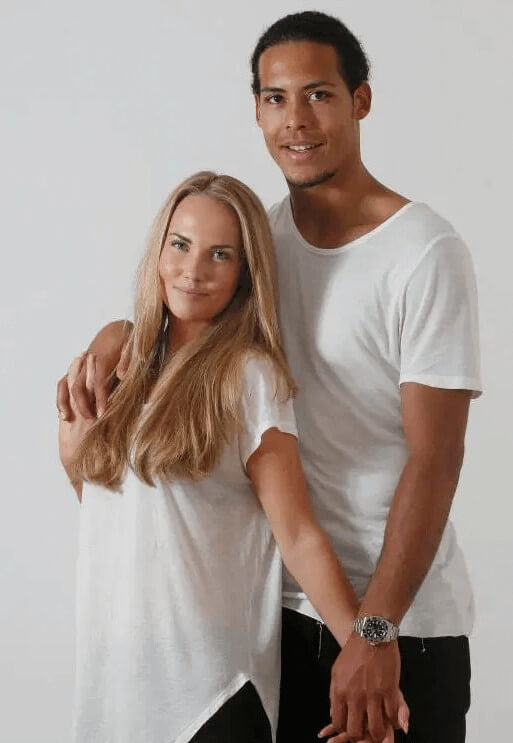 However, Virgil still had to wait one more year to get into the international squad of The Flying Dutchmen.
Enjoying Success with Husband Now
After all the worries and sacrifices, it's her time to experience success and luxury with her husband now.
Van Dijk has uploaded this picture of his Ballon D'Or experience with her on his Instagram account. He finished second the Lionel Messi but many said he deserved it more.
However, as humble as he is, he denied and said the greatest of all time always deserve it until he plays the game.
He has captioned this picture uploaded on 3rd December 2019 as,
"Ballon d'Or 2019
and he is looking very handsome in his black velvet suit and bow tie. Rike is looking gorgeous in her black one-piece dress.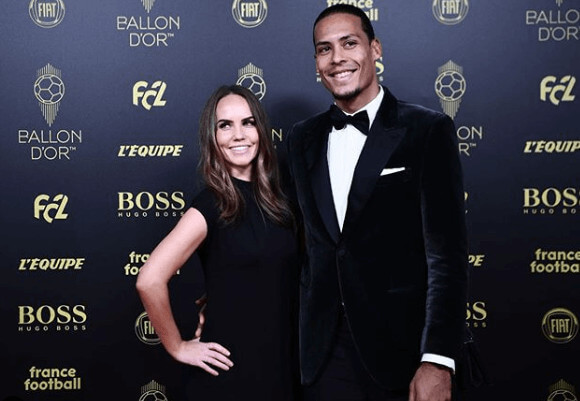 Her Adorable Daughter
She has one daughter with Van, and her daughter's name is Nila Van Dijk.
Nila was born in 2014. She is an adorable child and is the heart of the couple.
Interesting Interview
Rike Nooitgedagt spouse, Virgil van Dijk is a big music fan, mentioned that he loves the song by Cold Play 'Viva la Vida.'
He heard it when he was in the hospital after his surgery, and he still loves it.
He shared his experience with the critical surgery, tongue, and stomach infection, which made him stay in the hospital for 13 nights and how it affected him and his career at that moment.
When asked about his leadership techniques, Virgil stated that he is very relaxed and easy outside the pitch, but inside, he looks after everything and wants everyone to be organized and do their work.
Talking about his best friend, he mentioned his name is Liddy, and he has been there by his side since day one.
Talking about the friend circles, he keeps his circle very very, very small, and is glad that he can see through the people's intentions, and so does his wife.
Virgil further shared about his favorite series to be 'Prison break,' which he has watched eight times and Game of Thrones.
Talking about his past before signing a contract when he was around 15-16, he worked as a dishwasher in the local restaurant, which used to pay him three euros an hour.
He used to get 300-350 euros, and he would spend it on friends and McDonald's.
When asked about his favorite celebrity to whom he would like to meet in the future, he mentioned it to be Will Smith.
Virgil shared his best childhood memory would be going to Disneyland and how he and his kids are a big fan of Disney movies.
He further explained his experience out there and how and his wife at the beginning of their relationship went there and had a great time together.
On the query about how he would like to be remembered, he stated it to be as a legend of Liverpool.
He is glad of everything he has and wanted to give everything for this club as they went all out to get him.
We can see the entire interview from the link below
Husband Not Getting Contract In Holland
When Rike Nooitgedagt spouse Van Dijk was asked about when he knew that he is going to be an excellent footballer.
Van replied he was eighteen when he was playing for William Trey in Holland, and they didn't offer him a contract at the time.
After his first full season, everything started to click, and he started feeling that he could be something special on the query about joining Liverpool and has it been the Pinnacle to his career.
Van responded it has. He further explained that it made him enjoy the same way when he started playing football.
There is a lot of pressure, but without pressure, there is not something to play, and he is enjoying every bit of it.
About being a calm individual on the field, Van mentioned that as per his position of Centre-back player, sometimes he needs to slow the game, and sometimes he needs to make sure that how is it speeded up and how they play.
Hence, at all the chaos, it is necessary to be someone calm.
When asked what he would prefer to choose The Champions League or The Premier League, he chose to go with Premier League as per him this year, the race is tight, and the league will show the quality of the team.
Van discussed how driven he is.
He wanted to achieve everything possible in football and get everything out of himself and not have any regrets when he retires.
He mentioned his dream is to win trophies with Liverpool.
Congratulated For
Rike Nooitgedagt's spouse Virgil Van Dijk was congratulated for being a 'Premier League Champion.'
It was a dream come true for team members and the supporters and fans of Liverpool worldwide after quite a long break.
The anchor candidly asked Virgil did he ever get a sweat, to which he responded yes.
The anchor then sarcastically commented where in Sauna.
Further discussing the last year's performances where the team got 97 points, won the Champions League but didn't win the League and was it difficult for them to maintain the consistency.
Virgil said it was disappointing, but everyone had the feeling to get the game next year.
According to him, the manager's focus and the lessons he gave about the game that each game ahead was the most important, that mentality helped them a lot, and they always find a way to win.
During the whole season, they had massive results. Virgil further talked about the group of players, their bond, and the hard work they give to the game.
Virgil's knee injury and his expected comeback in March 2021
Virgil was in long-term rehabilitation following a knee injury he suffered in October 2020.
He underwent surgery on his ruptured anterior cruciate ligament.
Despite his surgery, he has been believed to come back to the team in the next or two months as per his progress documented on his Twitter Page.
According to former England international Carlton Palmer, he is an exceptional athlete and a consummate pro, and the updates show that he will be back in the game soon.
Staggering Net Worth of Husband
Her husband has a tremendous net worth of 19 million Euros which is around 17 million pounds. It amounts to 20.9 million dollars.
His current market value is 110 million Euros, which is around 98 million pounds and even that figure won't stop the most prominent clubs from going for him. The question is, will Liverpool sell their ace, we don't think so.
How Did He Earn It?
He earns a sensational salary from big Reds, Liverpool Football Club. He earns 10,300,000 Euros per year, and it amounts to 0.33 Euros per second.
His income is 1,173 Euros per hour and 28,142 Euros per day. Let's break it down, and let's look into it in a table.
| | | |
| --- | --- | --- |
| S.N | Time Frame | Salary |
| 1. | Second | 0.33 |
| 2. | Minute | 19.54 |
| 3. | Hour | 1,173 |
| 4. | Day | 28,142 |
| 5. | Week | 209,350 |
| 6. | Month | 858,333 |
Lifestyle
The family lives in a serene place, and their house is as big as it gets. It is a pure mansion and has everything.
Here is a picture of him posing in the house with his Liverpool jersey, and it looks fantastic. The interiors, the mega TV and the sofas look fantastic.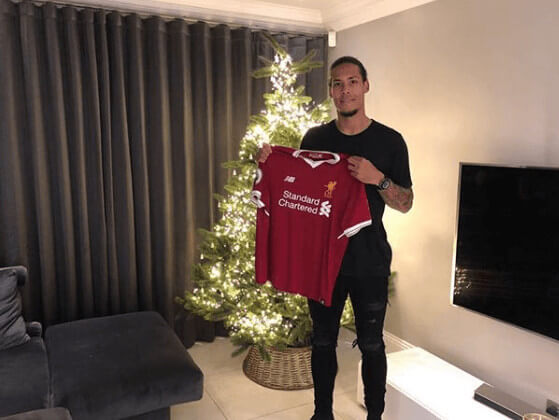 He loves his cars, and here is one from his collection. It is a black vintage Mercedes AMG G63, and he loves it.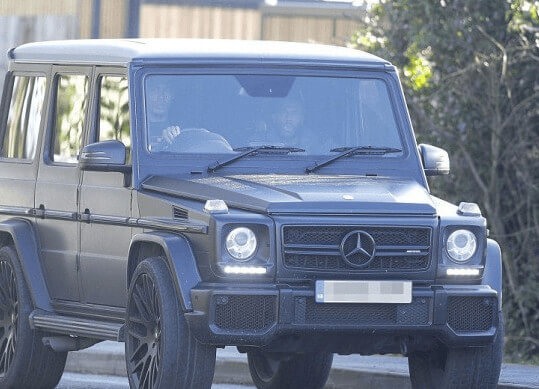 Trivia
Her husband's age is 28 years. Her age is under review, but as they were childhood sweethearts, she is around 26.
Her husband Virgil's parents are Hellen Fo Sieeuw and Ron van Dijk.
This is not confirmed though and our research team is digging into it. So stay tuned to vergewiki.com.
Updated On Wed Feb 17 2021 Published On Wed Jan 29 2020 By paper-boat