Rich Post is the father of an American rapper, Austin Richard Post, aka Post Malone. He was previously married to Nicole Frazier Lake but the couple got divorced.
His Family
Rich is married to Jodie Post. The pair tied the knot on October 17 around the early '90s.
The pair have two children. They are Mitchell Larson and Austin Richard Post, aka Post Malone.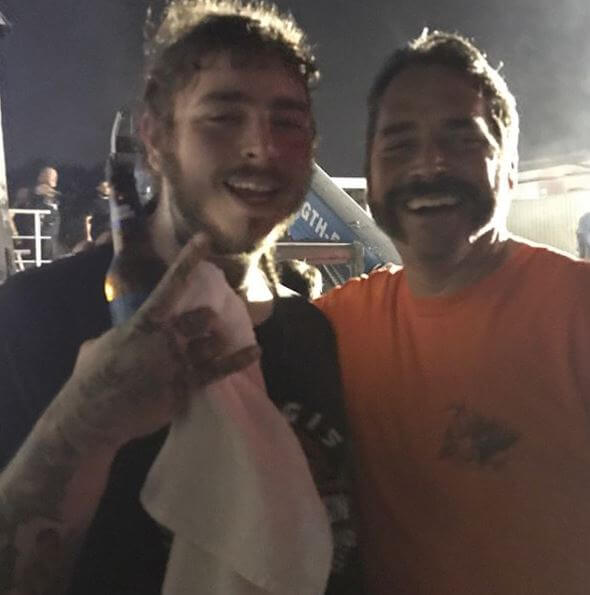 The above picture consists of Rich and his family at Eleanor Tinsley Park. It is posted by Rich's wife, Jodie, with a caption
'Had so much fun...
His Son Interest in Music
It was Rich taste in music which has influenced his son the most.
He used to work as a DJ for the wedding, which made him play a different type of music.
Rich son, Post learned to play guitar on the popular video game Guitar Hero and then figured out how to play the real guitar.
Soon he performed for his first crowds at Napoli's Italian Café on Main Street in Grapevine.
He used to play a lot of southern rock and country. At 16, he created his first mix-tape and passed it to friends.
He was then voted 'Most Likely to Become Famous' by his classmates.
Post Malone is Pumped beyond belief about becoming a dad
It has been Malone's dream to be a father, and his dream has come true as he is soon becoming a dad.
During an interview with Apple Music's Zane Lowe, Malone shared that he is pumped beyond belief about becoming a dad.
Recalling his childhood, he said he had a baby doll while he was four or five, and he used to carry that with him everywhere.
He could not recall how long it lasted, but he said his mom still had that baby doll. About becoming a father, he added to say he is pumped up and that he is going to be a hot dad.
When asked about how his parents felt about the news, he said that his parents were super excited, and also the message he has learned so far is that help is good.
When the father of two teens, Lowe, expressed how important it is to save all the hugs, Malone replied, saying he was ready.
I have so many hugs. I have literally infinite hugs, infinite hugs, guys, he added.
However, Malone has not shared the identity of his girlfriend with whom he is having a baby and kept the detail of his girlfriend under wrap.
With the baby along the way, he can't wait any longer to start a new chapter in his Life.
In the same interview, Malone also talked about his new album Twelve Carat Toothache where he said it was a 12 hour in Malibu that he sat by himself in the dark room with his laptop and made beats for 12 hours, made a bunch of shrooms and was like "Whoa this is awesome."
It was sort of an insane experience for him because he went through everything and stood by the water, and it felt like he was getting pushed back and was like, Okay, Something weird's going on.
So he stayed up the whole night and wrote a bunch of the album that night.
While appearing on the Jimmy Fallon show, talking about his album, he confessed to losing his passion for making music for the longest time until one moment he snapped and said,
"You know what, this is why I am here. This is what I want to do. This is what I meant to do. This is what I was meant to do was make medium music for people to enjoy."
His son writes his song lyrics while on the toilet
His son Malone while appearing on "The Howard Stern Show," confessed that he writes his song lyrics while on the toilet.
He said that 30% of his album and 60% of his lyrics had been written while shi**ing, where he normally spends 1 to 2 hours.
He says he has a special notepad off to the side where he can work.
He says the toilet is his special zone because no one wants to come to talk to you when you are taking a sh*t.
And disappearing in the toilet for hours is not a hideaway but an oasis for him, he added.
Post opened up about the most heartbreaking challenge of being a dad
Post became a father for the first time by welcoming his baby girl last summer with his fiancée, whose identity he still hasn't disclosed.
Malone, during an interview with GQ magazine, opened up about the challenges of fatherhood, his daughter's love for music, and the craziest thing about being a dad.
Malone expressed it's been tough for him not being able to see his daughter while on the road.
He admitted that having to leave and being unable to be with his daughter all the time is heartbreaking.
But as she gets older, she is coming out more often now, he continued. Besides that, he also talked about his daughter's love for music.
He said that his daughter hasn't cried whenever he puts his music on so far, which he thinks is a good sign, but at the same time, he also wants to wait and find out because he got to let her decide.
According to him, he tried to play her some stuff, but he couldn't really tell what she was doing right now as she was just a little girl.
He thinks his daughter is going to have to like his music. When asked about the craziest thing about being a dad so far, his answer was blowouts.
He said his daughter would blow out sometimes that would come right outside of her pants, and the poop will just drip out, and he would be like, "What the hell happened"?
Net Worth
Rich is the Assistant Director of Food and Beverage at Dallas Cowboys. His net worth has not been estimated yet.
However, his son, Post Malone's net worth is estimated to be around $14 Million.
He has added it to his fortune through his hugely successful career as an artist.
How Does His Son Earn Money?
Post Malone is a rapper, singer, songwriter, record producer, and actor.
He gained popularity in 2015, with his debut single 'White Iverson.' He has a recording contract with 'Republic Records.'
He makes his money through different endorsement deals and performances on various tours and concerts.
He has performed in 'Bud Live Dive Bar Tour' and had an opening act in the 'Purpose World Tour.'
His Son's Achievements
Rich son, Post, is nominated in four nominations, including album and record of the year in 2019 Grammys.
He has different prestigious awards under his name, such as 'American Music Award,' 'Billboard Music Award,' and 'MTV Video Music Award.'
He has even received a Diamond certification by the Recording Industry Association of America (RIAA).
Below is the list of American Rappers with their net worth
| | | |
| --- | --- | --- |
| S.N | Name | Net Worth |
| 1 | Jay Z | $1 Billion |
| 2 | Kanye West | $240 Million |
| 3 | Eminem | $210 Million |
| 4 | Snoop Dog | $135 Million |
| 5 | Lil Wayne | $120 Million |
| 6 | Nicki Minaj | $85 Million |
| 7 | Nas | $70 Million |
| 8 | Chris Brown | $50 Million |
| 9 | Wiz Khalifa | $45 Million |
| 10 | Tupac Shakur | $40 Million |
| 11 | Future | $40 Million |
| 12 | Travis Scott | $40 Million |
| 13 | J. Cole | $35 Million |
| 14 | 50 Cent | $30 Million |
| 15 | Cardi B | $24 Million |
The bond between Rich and his Son
Rich is very proud of his son and has a fantastic relationship with him.
He has even stated in interviews that his son is genuine and is always true to himself.
He has also congratulated his son on whatever he has done and whatever he is at present.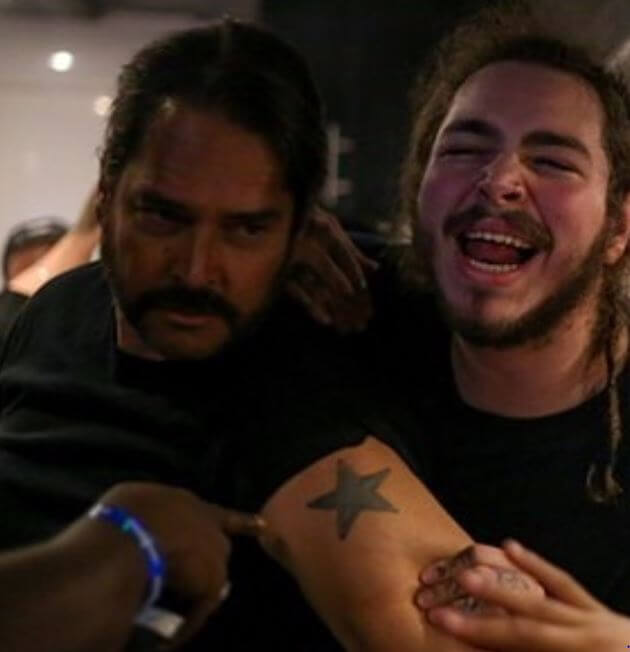 The picture shows the bond between them. The picture is posted by Rich's wife Jodie with a caption
'Two of a kind...
Trivia
Rich Post celebrates his birthday on 11th May.
He has three pets. They are two dogs named Grizzy and Bobo and a cat named Apilly.
We collect most of the information about Rich Post as it is difficult to find on other wiki sites.
For Amazing Biographies Of Your Favorite Celebrities,
Stay Tuned To vergewiki
Updated On Sat Jan 14 2023 Published On Mon Apr 20 2020 By paper-boat