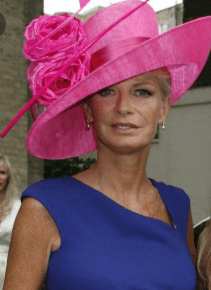 Facts of Pandora Delevingne
| | |
| --- | --- |
| Full Name | Pandora Delevingne |
| First Name | Pandora |
| Last Name | Delevingne |
| Nationality | British |
| Gender Identity | Female |
| Sexual Orientation | Straight |
| Horoscope | Cancer |
| Marital Status | Married |
| Spouse | Charles Hamar Delevingne |
| No Of Children | 5 |
| Sibilings | Charles Greville, Vincent Stevens, Melinda Armyne Stevens and Rupert Sebastian Jocelyn Stevens |
| Date of Birth | June 28,1959 |
| Age | 64 years |
| Married Date | 1983 |
Pandora Delevingne is a former Selfridges personal shopper who is best known to the world as the mother of supermodels Cara and Poppy.
Her Husband and Children
She is married to a property developer named Charles Hamar Delevingne. She met her husband at Royal Ascot when she was a young girl of 22 years.
It did not take long for her to fall for him. The couple tied the wedding knot in 1983.
The husband and wife share four children together. Their names are Cara Delevingne, Poppy Delevingne, Chloe Delevingne, and Alexander Jaffe.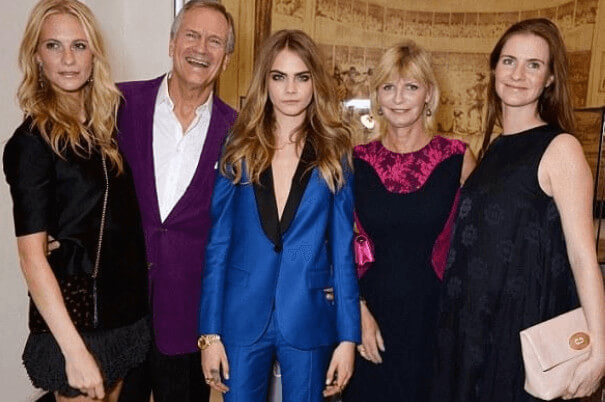 Relationship With Her Daughters
She shares an intimate relationship with all her daughters. Although all of her daughters are grown up and well-established, they are still little girls to their mother.
Going down to memory lane, she remembers how her eldest daughter Chloe preferred to sit quietly and look at a book.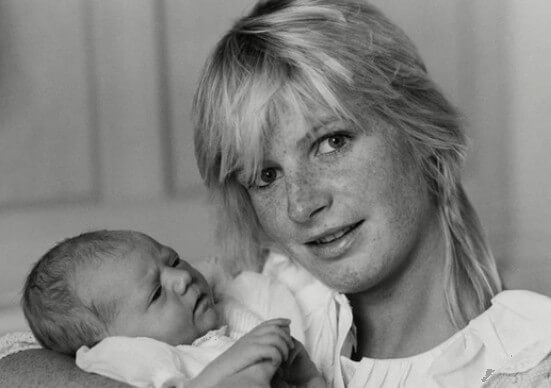 Her other daughter, Poppy, was quick at making friends. She was the ultimate girls' girl.
Her youngest daughter, Cara, was the fearless one. She never turned back while marching through the school gates.
Where are her children now?
Her eldest daughter, Chloe, is a socialite and a philanthropist. She is married to Edward Grant. The duo has been together for six years now.
Her other daughter, Poppy, is an English model and actress. She has been married to James Cook since 2014.
Her youngest daughter, Cara, is a model, actress, and singer. She is not married yet. However, she is in a relationship with her girlfriend, Ashley Benson.
She confirmed her relationship with Benson in June 2019 after dating for a year. Since then, the couple has been inseparable.
Here is a picture of the adorable couple.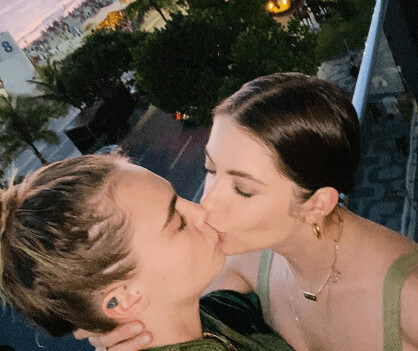 Was She a Drug Addict?
She fought a long battle with heroin addiction. Her addiction hampered her relationship with her family to such an extent that she was forced to move out of the family home.
Lately, she has been battling with depression as well. She even considered taking her own life.
In an interview, she said,
"I was lying on a mattress in a room with a swinging light bulb above me, and I just wanted to die."
Memories With Her Father
She was born to parents, Sir Jocelyn Stevens and Jane Sheffield. Her father, a hot-tempered person, often used to bewitch and frighten her.
He had two sides. He was either furious or charming.
In furious mode, he threw typewriters out of the window or kicked the sofa, or threw a lamp.
In the charming mode, he used to be charismatic, interesting, and intelligent.
She still remembers her 18th birthday when her father gave her dinner at Tramp for 12 people.
As her father walked in to see how the dinner was going, he was amazed to see that the 11 people, excluding her, were all men.
Cara's Depression
It's not only Pandora who suffered depression, but her daughter Cara too went through the same.
She was at such a point that she didn't want to live anymore. She had suicidal thoughts in her mind.
To ensure her wellness, she was taken out of school and sent to therapy. She was put on antidepressants.
She knew she had to do something to get out of depression, and this is when she started modeling.
Cara ate a rat?
Pandora's daughter Cara was captured in the show where she shared that having older sisters, she used to be scared a lot.
Cara also admitted that she has a good unagi. Continuing the conversation, Cara shared her amazing experience of doing the Bear Grylls recently.
Cara says that he did come to her school when she was just nine years old. Cara also shared that she has been obsessed with him since the very beginning.
Cara recalls when he asked her to do the show, she was clear that whatever Bear asked her to do, she had to do it.
Cara also revealed going camping with him. She confronted that at that time, she had eaten a rat as well.
Cara elaborated that the worst part was they were walking. They just traversed down a hill. The lady saw the tail sticking out, so Cara went, is that a rat?
On hearing this, Bear says that the rat is perfect for their dinner. Cara revealed that it was not set up.
The lady says that the rat had been dead for a while, even though it didn't smell bad but wasn't fresh either.
Bear picked that rat up and told Cara to keep that in her bag, claiming that she didn't have a lot of stuff in there.
Facts you never knew of Poppy
Pandora's other daughter, Poppy, has some unique facts. She revealed that her nickname was Froggy because she used to look like a frog.
She claimed herself dreaming of spaghetti only as she eats pasta almost daily.
Other than that, Poppy supports the foundation named Blue Marine, as she believes in saving the oceans and making people aware that they are an important part of the planet.
She also revealed having a weird obsession with hammerhead sharks.
Poppy had a goldfish who had lived for more than a decade as she won goldfish during a circus and named him Moby Dick.
Lastly, do you know that Poppy has a phobia of buttons? It's true that when she was a kid, she cried when someone hugged her wearing a shirt.
Cara opened up about sobriety and healing
After battling with depression, Cara is now recovering and is in a healing process.
She opened up about her commitment to sobriety to Vogue's Chioma Nnadi back in March.
Cara said her commitment to sobriety is some four months and counting.
Cara also recounted the time when she was captured looking disheveled and unrecognizable at the Van Nuys Airport in Los Angeles and later at Paris Fashion Week.
She described the moment to be a source of overwhelming shame and embarrassment and an immediate wake-up call to step away from the substances and the alcohol.
According to Cara, she was just seven years old when she had alcohol at a family wedding and ended up waking up in her grandmother's bed the next day in a bridesmaid's dress.
At 10, she started taking sleeping pills for insomnia and was later diagnosed with dyspraxia.
Then at 15, she started taking antidepressants to cope with isolation. The medication saved her life, she said.
It was in 2020, when the pandemic hit, that she felt at a really low point, and also, she broke up with her then-girlfriend of almost two years.
All of her sense of belonging, all her validation, her identity, everything was so wrapped up in work, and when it was gone, she felt like she had no purpose.
Though she has many friends that are very close to her, she was hesitant to share because she didn't want to be a burden to her friends, but after the photos of her became public, all of her friends whom she had known since she was 13 gathered.
They said she deserved a chance to have joy, she recalled.
Cara said she doesn't want to look far into her future and intents to be careful in her career choice because she wants to prioritize self-work that includes motherhood.
Work is important, but it's secondary, she added.
Cara felt it was the right moment to talk to tell her story because she always believes in being honest and having the platform to talk about sexuality and mental health.
Though she believed that other people should do that, she didn't believe in herself.
Everyone has been affected by the disease of addiction, but it's more complicated than more people make it out when it's themselves or someone they know.
"It was my first sober Christmas and first sober New Year and, honestly, the best she ever had. And that she is glad and happy that she has the opportunity to talk about it. It's scary", she continued.
She also opened up about her self-discovering journey while appearing on the Kelly Clarkson show, where she said no matter what, throughout your whole life, healing plays the most important part.
Mistakes are meant to be made, but the thing about the mistakes is that you learn from them that can be the greatest lesson, she added.
According to Cara, she thought she knew everything about herself until she realized that she didn't after doing her new Hulu documentary series "Planet Sex."
She sort of discovered that she was still so much a student. But learning, she didn't know at all.
Her Net Worth
Her net worth is under review. However, her daughters Cara and Poppy have a net worth of $28 million and $3 million, respectively.
Her daughters have amassed a massive net worth through their respective careers.
How Do Her Daughters Earn Money?
Cara earns money through modeling, acting, and endorsement deals.
She earns around $9 million from endorsement deals with famous companies such as YSL Beauty, Burberry, and Tag Heuer.
As an actress, she has appeared in movies like Suicide Squad, Valerian and the City of a Thousand Planets, Her Smell, Paper Towns, and The Face of an Angel.
Below is the list of designers she has walked the runway for:
| | |
| --- | --- |
| S.N | Name |
| 1 | Stella McCartney |
| 2 | Dolce & Gabbana |
| 3 | Oscar de la Renta |
| 4 | Burberry |
| 5 | Victoria's Secret |
Poppy has appeared in TV series like The Royals and Genius. Besides TV series, she has appeared in movies as well.
Her movie credits include Perfect; She's Funny That Way, The Golden Circle, and The Aspern Papers.
Her Daughters' Lifestyle
Her daughters, Cara and Poppy are living a luxurious life. Both of them often go on vacations to exotic places.
She has uploaded a picture of Poppy from one of her vacations in the Maldives.
Besides vacations, the Delevingne sisters spend their money on designer dresses as well.
Trivia
She was born on June 28, 1959, which makes her age 60 as of February 2020.
She has three siblings, namely Charles, Melinda, and Rupert. However, Rupert is no more in this world.
Stay tuned to vergewiki
Updated On Sat Aug 12 2023 Published On Wed Mar 04 2020 By paper-boat