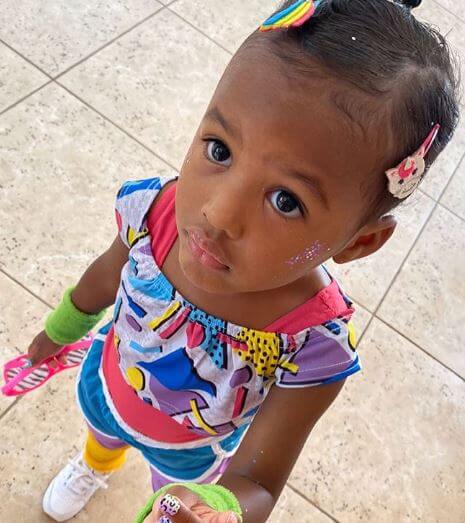 Facts of Nova Whitfield
| | |
| --- | --- |
| Full Name | Nova Whitfield |
| First Name | Nova |
| Last Name | Whitfield |
| Profession | Celebrity Kid |
| Nationality | American |
| Birth City | Atlanta, Georgia |
| Birth Country | United States |
| Father Name | D.C. Young Fly |
| Father Profession | American comedian, rapper, actor, host, singer, songwriter, and internet personality |
| Mother Name | Jacky Oh |
| Mother Profession | actress, model, and television personality |
| Gender Identity | Female |
| Horoscope | Scorpio |
| Date of Birth | October 30,2016 |
| Age | 6 years |
Nova Whitfield is known for being the daughter of D.C. Young Fly.
Nova Whitfield's Parents
Nova is born to parents D.C. Young Fly and Jacky Oh.
Nova's father, D.C. Young Fly, is an American comedian, rapper, actor, host, singer, songwriter, and internet personality.
He was born on 2nd May 1992 on Atlanta, Georgia, United States.
He was born as John Whitfield, but he uses his stage name.
He is better known for his videos "roasting sessions" on Instagram and Vine.
He got a massive following by posting videos on roasting celeb on Instagram and YouTube.
D.C. has experienced very tragic events early on in his life.
His brother was murdered in 2011, and after two years to that, his father died due to suffering several years from Alzheimer's disease.
After his brother was killed, D.C. got his forehead tattooed, which got famous later, and started his career in rap music.
Here you can see the picture of D.C. along with his partner Jacky Oh and daughter Nova Whitfield.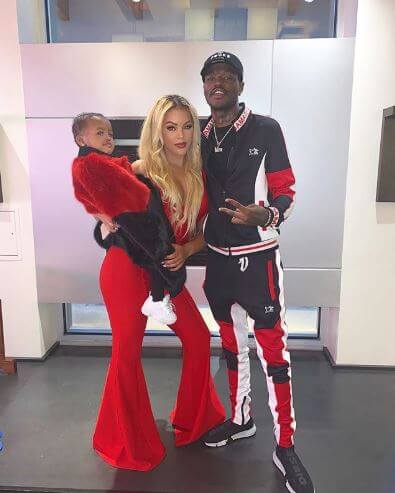 Nova's mother, Jacky Oh, is an actress, model, and television personality.
She was born and raised on California, Berkeley, United States.
She is famous for her appearances on MTV show Wild 'N Out. A single father raised her.
How D.C. Young Fly And Jacky Oh Met
D.C. and Jacky met the first time while filming Wet N' Wild at a lobby of a hotel, and their affair started.
But it was actually after the show was wrapped, they started dating.
After the show was wrapped, D.C. went to Atlanta, and Jacky went to California.
Then Jacky flew to Atlanta within a week or two.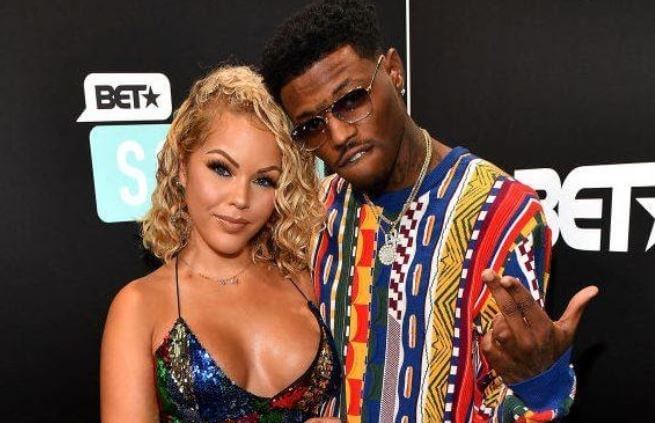 When Jacky saw D.C. for the first time, it was not the love at first sight, but she liked his swag.
Jacky's family loves D.C., especially her father, and D.C. is very respectful around her and her family.
D.C. was in a relationship for about a year and a half when his girlfriend was pregnant.
Jacky was doing modeling and was young when she got pregnant.
She had said in an interview that, at that time, she was lost going for auditions, partying in L.A., when she felt like it was the perfect time to have a baby.
So they had their first child, Nova, in the year 2016. The adorable couple is not married yet.
They have not shared any plans of their wedding.
Now the family of three is soon going to be the family of four.
Jacky is pregnant, she along with her boyfriend, D.C., is expecting their second child.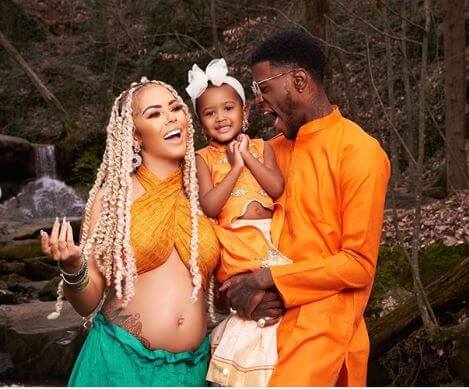 The couple has a YouTube channel, and they share every detail of their life on YouTube.
Jacky has even shared about her pregnancy and her journey throughout her pregnancy on her YouTube channel.
The picture seen below was taken during the 3rd birthday celebration of Nova Whitfield along with D.C. Young Fly and Jacky Oh.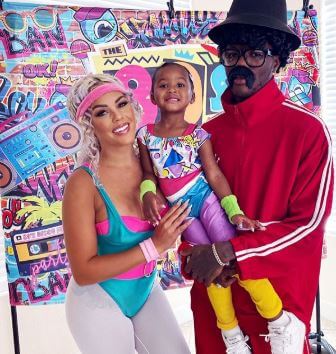 D.C. loves spending time with his family, especially his daughter, Nova.
Back in 2017, when he shared a video of him brushing Nova's head saying he was curling, her hair went viral on the internet and gathered millions of views.
The video can be seen below.
How Father Got Kicked Out Of College
When Nova Whitfield's father, D.C. Young Fly, was questioned did he took his actual entertainment career seriously after he had his face tattooed, he responded it was not really what happened.
As per him, he was still trying to find himself.
D.C. shared his story about how he got his face tattooed and was about to get kicked out of his college just two weeks before graduation in 2010.
He further added that he almost didn't graduate because he was caught gambling. D.C. explained, he got caught at Mays High School with a half an ounce.
Right after the incident, when he went to the principle of his High School, they told him to go to the bathroom and freshen up.
Knowing about the consequences he might face, he ran out from the window and jumped off from the roof, landing in between the library and the cafeteria.
He then ran towards the library door and asked them to open it, but they didn't, and he got caught.
D.C. mentioned he was about to get kicked out but didn't because of his mother as she worked for the school system.
Papa and Jacky Oh, the second child
D.C. and Jacky's second child was born on the 1st of August 2020. They have named her Nala'Honey. Jacky has posted all about her water break to her labor and giving birth in her YouTube channel msjackyoh.
She did her makeup and was fully prepared for her labor. She looked gorgeous during her labor as she thinks she did not look good while giving birth to Nova.
Now on her second time, she wanted to look good. Nova was super excited for the arrival of her little sister.
A day before National Sister Day, Nova's little sister was born. D.C. was happy about the arrival of his second child. He has also said that he wanted more kids.
Here is a picture of Nola'Honey after she turned a month old.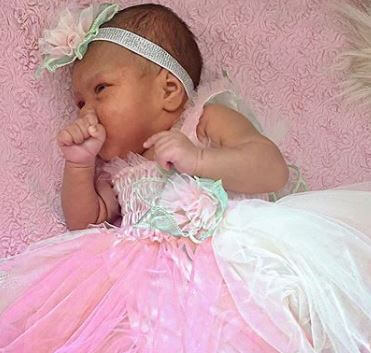 Nova's dad on being compared with Chris Tucker
In one of his interviews, Nova's dad got compared with Chris Tucker. The artist replied he appreciated the compliment.
However, he objected, stating that if people say that he is going to be next Chris Tucker, then he is not okay as he wanted to get recognized as being the next D.C. Young Fly.
Elaborating his reply, he further added that he wants to be compared with somebody, but at the same time, D.C. explains if he follows another person's shadow, then no one would ever find out who the real D.C. is.
It's good to get compared to such a great personality, but somehow D.C. wanted to stay on his own lane and his own zone, he added.
Is D.C. Young Socially Conscious? Other random facts of D.C. Young
D.C. Young is known to be very goofy and considered one of the most entertaining acts out there. But, the artist is also stated to be socially conscious.
Nevertheless, he is known to use the platform for good and better. Other than that, the father of two also keeps reminding people that books are the main key to success.
Back then, D.C. also shared his book collection. Also, this young talent has raised his voice during the George Floyd protest on the topic of the Black Lives Matter movement. It proves that the artist can show compassion and roast at the same time.
Other than that, D.C. Young is crazy about his daughter. D.C. is often captured uploading the adorable picture of Nova on his social media.
No doubt, we can see Nova is everything to him. There is nothing that can replace those feeling, and he is adored by his fans for the love he has for his daughter.
Moreover, he got his nickname as D.C. Young Fly because he was the biggest fan of DC comics. As mentioned earlier, his past life has been very problematic and notorious.
It's because he started shooting dice at age twelve, also began selling w*ed by the age of fifteen, and selling c*ack by the age of seventeen.
Lastly, he was sent to jail for whole 31 days back in May 2015. The artist pledged that he would never go back again.
Net Worth
Nova is a kid to have a net worth, but she enjoys the wealth earned by her parents.
Her father has gathered huge wealth throughout his career, and below, you can see the total net worth of D.C. Young Fly.
| | | |
| --- | --- | --- |
| S.N. | Name | Net Worth |
| 1 | D.C. Young Fly | $2 million |
Trivia
Nova was born in the year 2016 in Atlanta, Georgia, United States.
She celebrates her birthday on 30th October, which makes her three years of age as of August 2020.
For Amazing Articles Of Your Favorite Celebrities,
Stay Tuned To vergewiki
Updated On Mon Jan 17 2022 Published On Sat Aug 08 2020 By paper-boat