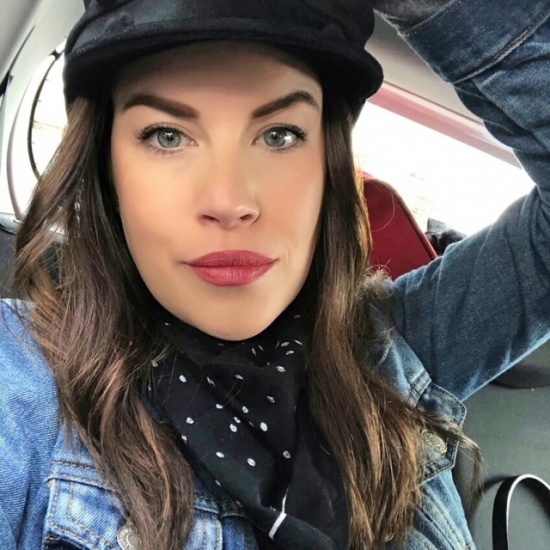 Facts of Nichole Gustafson
Nichole Gustafson is a very talented makeup artist, and she has worked very hard to make her so skillful.
She is currently working from Los Angeles, and she works as a freelancer too.
In the past, she has worked as a trainer as well. She has worked for big brands as a trainer, and one of them is Urban Decay.
She has the experience and the skills to make a prominent artist.
Married, Wedding and Husband
She had a pleasant wedding on the 28th of April, 2019, with her husband, Giacomo Gianniotti.
The couple was engaged, and finally, she decided to marry her long-time fiancé. This match is made in heaven.
Her husband is a successful man. He is an actor, and he is known for his roles in Grey's Anatomy and Acquainted. He has a net worth of 800 thousand dollars.
Their wedding took place in Rome, and it was like a dream for many. The location and place of the wedding were Villa Pocci.
The ceremony was beautiful, and the match was even better.
She has uploaded this picture of her wedding, and she has captioned this one as,
"My husband!
She had the patience to guide me into being a man, says her husband, Giacomo
Nichole and Giacomo have been married for nearly three years. Giacomo, during the "We Are Man Enough" podcast, said that since getting married and taking the role of the man of the house, "Is he being a good husband" is something he thinks about all the time.
He credits Nichole for having the patience to guide him into being the man he always wanted to be.
According to him, he felt like he was just a boy when he first met Nichole and only really became a man with her because he met someone who allowed him to grow into the person that he felt like he was pretending to be the whole time.
They did a lot of work, therapy, books, podcast, and almost everything trying to learn and unpack a lot of things from their childhood.
Every idea she would present to him, his answer would always be in his favor only, and that would be exactly opposite to her.
"No, we are doing this" would be his immediate reaction, and it took him a long to step out from his body and to be able to observe and see things and see what he was doing.
Nichole's one question coming back to those things, "Why do you care" made his blood boil because he was not able to answer that question.
He didn't have the answer to why did he care. A lot of things came in control. Apologizing was a big thing for him, and it took him long to apologize.
If he had to apologize, it would be begrudgingly with his teeth clamped, but now he has come to a place where he is quick at apologizing genuinely.
One of the episodes of Grey's Anatomy saved a baby's life in real?
Here is the story of how one of the mothers saved her baby's life after seeing one of the episodes of famous Grey's Anatomy.
The mother is Dr. Doaa Alsamrae from Dubai, who was 20 weeks pregnant with her second daughter when she found out that her daughter had Hypoplastic right heart syndrome, a condition where there is a lack of blood flow from the right side of the heart to the lungs.
The cardiologists told her that her daughter had a life-threatening condition. As a mom, she was determined to save her unborn baby.
At the time, she recalled one of the heart surgery episodes where then Dr. Arizona Robbins and current star Andrew DeLuca (portrayed by her husband Giacomo Gianniotti) operated on a baby in the mother's womb in a similar procedure.
According to Alsamrae, she could never imagine that a similar procedure would help save the life of her daughter, Nadine.
With the help of Dr. James Strainic and his team in Ohio, they were able to save the baby.
She still remembers how she cried the day when the doctor said they were not looking at the heart and were using ultrasound to guide them, for which they tried to thread a very small needle into a very small procedure.
The procedure took only 20 minutes, using a small balloon to open the passageway allowing the heart to grow, but there was still a 10% chance the baby would not survive.
Her husband Giacomo talked with the parents and said he was touched by their story and happy that their daughter was ok. He also recalled shooting that particular scene, thinking how remarkable it was.
Giacomo appreciates his name and culture
Giacomo, in an interview, talked about his name and culture. Well, the host of the program praised his name, stating that the Italian language is romantic as it is similar to French.
Giacomo, in return, said that now that he is an adult, he totally appreciates his name more than before.
He recalled how back then, when he was young, he shifted to a small town in Canada from Italy, and all he hears are the names of Bill, Bob, Josh, and Nathan.
He confronted not being a fan of it. However, as of the current scenario, he appreciates more of his name and his culture too.
Other than that, when asked how he balanced out his life going and coming back to Italy as Italy has been the main target after the COVID.
The artist said that he has a busy lifestyle but does manage as recently only he came back from his hometown. He is engaged in pre-production for the project in Italy.
He mentioned following some tests there and admitted that he hadn't seen his family for two years because of a pandemic.
He felt the joy of touching his roots, hugging his grandmother, and all those beautiful moments built up with family after a long time.
Giacomo feels like a nomad when people ask him where does he feel like he is from or is a true citizen?
The actor then elaborates that after his birth, his mom and dad separated, and they shifted to Canada.
Moreover, later he moved to Rome to study and work while being 18 years old.
And after finishing, he came back to Canada, then attended theatre school and served as an actor for years, for experimentation, he shifted to America, Los Angeles later.
He admitted that he had moved to numerous places his whole life and spent a lot of time in numerous places where Giacomo definitely felt each place a sort of like home.
The actor also stated that the real home is kind of where his life partner is. He also said that if they are together, he feels good.
Net Worth
Her exact net worth is not known right now. She has worked very hard, and she might have her net worth in thousands of dollars.
She loves traveling, as well. She has uploaded this picture in her Instagram account of Venezia, Italy, and she has captioned this one as,
"#Venice
Wiki of Nichole Gustafson
Her exact date of birth is not available right now, and this makes it difficult to judge the makeup artist's age.
The age of her partner is 30, and she might be around 27. This is yet to be confirmed, though. Her partner celebrates his birthday on 19th July.
She was born in the United States of America, and this makes her nationality American. Her ethnicity is mixed.
For Amazing Biographies Of Your Favorite Celebrities,
Stay Tuned To vergewiki
Updated On Mon Jan 16 2023 Published On Fri Jul 12 2019 By paper-boat