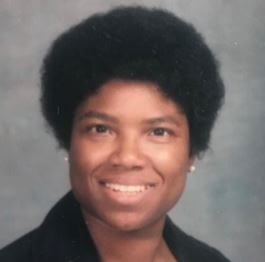 Nancy Hart is the mother of Kevin Hart, one of the biggest names in the world of comedy.
Kevin's journey from a shoe salesman to one of the aspiring comedians
His journey from a shoe salesman to one of an aspiring comedian was not an easy road. His hunger for success became the driving force that kept him moving despite facing struggles, tragedies, and humiliation.
After dropping out of college, he worked as a shoe salesman in Philadelphia and later started performing stand-up comedy.
He struggled even for an audition at the starting phase, was booed off stage quite often, and even was slapped with a piece of chicken.
But he paved his path, taking his struggles as an opportunity, and worked on his weakness till it came to fruition.
An unhealthy marriage
Nancy married Henry Witherspoon a long time back. But her marriage was not a healthy marriage, due to which she suffered a lot. She married a man who was addicted to drugs, which ruined her life completely.
Her husband broke into her house to steal money.
There were never happy years because of her husband's addiction to drugs. He spent most of his years in and out of jail.
His drug addiction became so rampant that he broke into her house to steal money and even robbed his son's barbershop and crashed his car.
He once almost killed Kevin, throwing him into the pool when Kevin did not know how to swim. She estranged herself and her sons from her husband because of his behavior.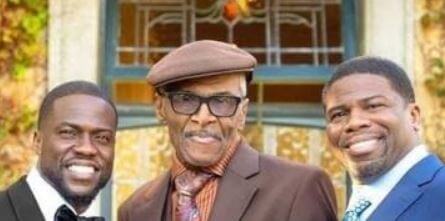 Raised her two children all on her own
Nancy became the single mother to her two sons, Robert Hart and Kevin Hart, and raised them, providing everything she could by working as a System Analyst at the University of Pennsylvania.
She became the role model for her sons. She is indeed a strong woman who kept fighting with her life despite having tumultuous struggles.
Her elder son, Robert, was involved in drug dealing in his early days. She gave him the taste of his own medicine by taking him to court and getting him emancipated after attempting to snatch a purse from an old lady.
The decision she took that day made him a better man today, which Robert still recalls.
When Kevin decided to do stand-up, she supported his decision and agreed to support him financially, giving him a one-year time so that he could push himself for the better.
She hid her cancer diagnosis in fear of derailing her son's career
A brave mother who, despite going through the tough phase of ovarian cancer diagnosis, hid it from her son, Kevin, in fear of derailing his career as he had just landed a role in rom-com "Fool's Gold."
He was completely unaware of her disease until a few weeks before her death.
Though Nancy did not talk about Kevin's career openly, Kevin came to realize how proud she was of his achievements when he saw the box filled with newspaper and article clippings of his interview while he was clearing out her house.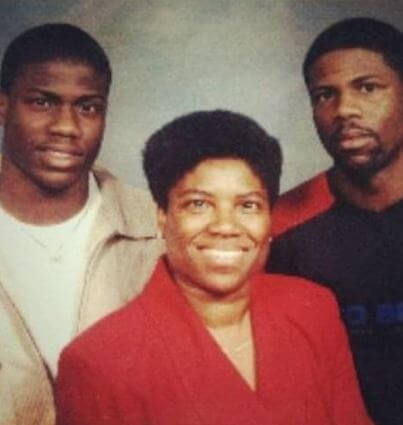 Reconciled with his father
Robert did not want to waste his time on grudges, and he reconciled with his father forgiving him for his past mistakes.
Instead of complaining, he considered his mistakes as his life lesson and applied them to become the best father to his kids.
He gave a chance to his father to become a good grandfather to his grandchildren. His father is a clean and sober person now.
His father survived lung cancer, and he fought chronic obstructive pulmonary disease (COPD), a lung disease that obstructs airflow from the lungs.
How did her son once make her hunt him down?
Her son Kevin recalled a funny incident during Jimmy Kimmel Live where he talked about how he once made her hunt him down.
He shared his story revealing to what extent he went to try out for his high school basketball team.
He said he played four years of varsity, but it was not easy. He desperately wanted to play, but his mom at the time did not want him to try out because their house was a two-hour distance from his school, and they had to use public transportation.
The tryouts for the basketball team was at 6:00 AM, and his mom had clearly said that he was not leaving the house at 4:00 AM just to tryouts for the basketball team because his mom didn't want to send him on public transportation that early where there used to be lots of crazy people at the time.
It was the only way out to be on the team, so he decided to take all the clocks in the house, including her clock and her watches, and set all of the clocks forward.
He set the clock two hours forward. So he woke up his mom, telling her it was time for work. It was like it was still dark, but he succeeded in making out to the tryouts.
He was glad his plan worked, and midway through the day, he was sitting in his classroom when he suddenly saw his mom popping in the window biting her lip.
When the teacher asked him to see his mom, he was like, don't let me go out by myself.
Then he remembered walking out in the hall, and all he heard was, "you had me get to work two hours early."
He remembered being beaten by his mom all the way home. But he was happy in the end because he made it to the team.
How did her word of wisdom make her son Kevin the person he is today?
When Kevin put his word to his mother that he had decided to pursue his career in stand-up, the exact word she said to Kevin at the time was that she was not a dream killer, and if that was what he wanted to do, then she was going to let him do and gave her a one year time to prove himself.
Even after six months, Kevin was not able to make money and had not paid his rent, so he asked his mom to help him with the rent.
Weeks passed by, and whenever he asked his mom to help him, she would ask if he was reading the bible.
Even when he got an eviction notice on the door, she continued if he read the bible. Then he thought of finally opening the bible.
When he opened the bible, six rent cheques fell out from that six months to the rest of that year.
When he called his mom and apologized, she said she wanted him to read the bible so that he could remain faithful throughout his journey, to which Kevin said he will.
Kevin Hart on the comedy writing process, mother's day, and his best parenting advice
While appearing on Jimmy Kimmel Live to promote his book "Marcus Makes It Big," Kevin shared his comedy writing process and his thoughts on the mother's day celebration and gave the best parenting advice.
Hart does not write jokes long-hand. He comes with the premises and puts them on stage.
He says it has always worked for him because he doesn't find the fresh perspective if it's too handwritten, rehearsed, or broken down.
He likes the struggle of not knowing where it's leading. His writing process is just live and in action.
It takes him a year or year and a half to come up with an hour of material because of the way he does it.
He goes from the comedy club to the theater to the smaller side of the arena and then the bigger side.
This is what his system is, and he does not recommend it for everybody, but it has worked for him over the years.
What is more interesting is that when he is memorizing the lines for movies or something like that, he sees it, and it's done all in context.
Humorously he said, the day that goes away, his career is over. Besides that, he also shared his thoughts on mother's day.
As a father of four, Hart says mother's day has to go big, and it's not about going big but about the acknowledgment of acknowledging moms.
In his house, they make a big deal out of it, making sure that they make mom feel special.
Adding humor, he said mother's day to be extremely different from father's day, where he feels like they don't give a s**t as the same effort and energy is not into it.
When asked about any parenting advice he wants to share, he said communicating with kids.
It's all about the conversation, especially today the words, and sharing words between you and your children is so important as there are no bad talks.

The more that my kids understand that, the more we talk. That's the best piece of advice that I got that I have put to use.
My advice that I would give anybody, I am a firm believer with the younger kids and letting the kids do stupid stuff so they learn not to do it anymore. I am not overprotective, dad."
Net worth
Growing up in extreme poverty and having a tough childhood, Kevin has reached a milestone in becoming one of the world's highest-paid entertainers. His net worth is:
| | | |
| --- | --- | --- |
| | Year | Net worth |
| Kevin Hart | 2020 | $200 million |
Age
She was born on 22nd September 1950. She took her last breath on 23rd January 2007.
For Amazing Articles Of Your Favorite Celebrities,
Stay Tuned To vergewiki
Updated On Mon May 23 2022 Published On Sun Jan 03 2021 By paper-boat