Michelle Mulitz is famous as a celebrity wife. She is the wife of American actor and producer Ben Feldman.
According to her LinkedIn profile, she is an interior designer.
For Amazing Articles Of Your Favorite Celebrities,
Stay Tuned To vergewiki
She met her future husband through online
Mulitz has been married to her husband, Ben Feldman, since 2013. She met her husband through online.
Her husband, in an interview with Glamour, shared how they first met.
According to him, it was his step-mom who asked him to call Mulitz, saying to him that so and so's daughter is moving to Los Angeles and that he should call her.
He found out creepy when he heard, but that was one of those times when he told his stem mom to email her information.
Her mother had asked him to take her out and also had promised that she would owe him one if she sucks, he recalled.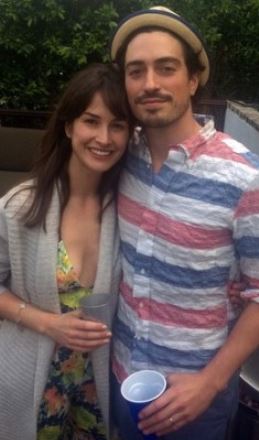 They dated for seven years, but it took Feldman a long time to be OK with someone for the rest of his life.
He was always skeptical about marriage because he hadn't had a good example. His parents got divorced.
His mother divorced thrice, so he always thought it to be an antiquated thing.
But being with Mulitz, he eventually stopped caring that he thought marriage was ridiculous, and then it became, If it's ridiculous, it's ridiculous, we are getting married, he told Glamour.
Her husband explained why he didn't like the wedding photos
Mulitz and Feldman walked down the aisle on the 12th of October, 2013, at Smoky Glen Farm in Gaithersburg, Maryland.
Her husband, while appearing on The Meredith Viera Show back in 2016, admitted to not liking the wedding photos and explained why he didn't.
According to him, they had invited Wolf Blitzer, who is a close family friend, and since he is a Wolf Blitzer, every picture found its way to him.
"When you have Wolf Blitzer at your wedding, just him specifically, I don't know why everyone wants to take a picture. I feel like Justin Bieber could have been there, and Wolf would have done more because he goes up to people", he explained.
"If you look at the pictures, it seems like Wolf married my wife," he added.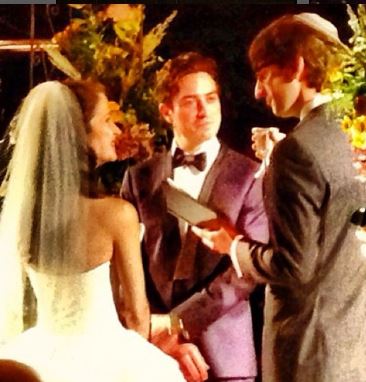 He also talked about how Mulitz framed the note he had written to his mother while he was young.
He said his mother sent him presents for their new home that included the note that he had written for his mom when he was a kid.
Mulitz found it, framed it, and put it on their wall. He was probably 12 years old when he wrote the letter.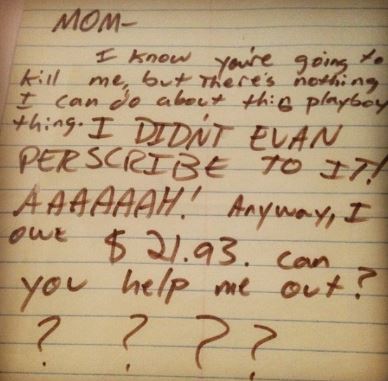 Mother of two
She is the proud mother of two beautiful kids, a son and a daughter, whom she shares with her husband.
They welcomed their first child, son Charlie Milton, on the 24th of October, 2017.
The couple became parents for the second time, welcoming their daughter Effie in 2019.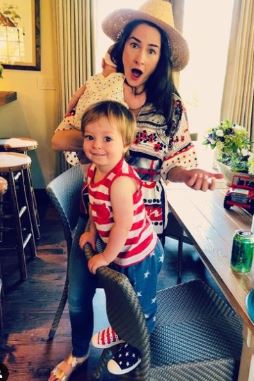 Her husband shared his fatherhood journey
Her husband, in an interview in 2021, talked about being a dad while being an actor and what his fatherhood journey has been like so far.
He said he was sort of fine with having kids at some point but hated the idea of marriage, which he thought was all about properties and dowries, but got over it when he married.
When he got married, he sort of swapped where he was like committing to someone that you love is easy, he said.
"The kid part, that's insane, I don't like kids. I continue to not like kids. I love my kids, but you should hear the awful things I say to our parent friends and their kids. I hate kids," he added.
He also explained how his life has changed since becoming a father.
He used to party a lot before and often jokes with his wife about how on Saturday Nights, he used to come home if like Saturday Night Live was still on TV at its original time, like playing in real-time, and he would be embarrassed like it was a shit night, but now when if he is awake and Saturday Night Live is on, he is having a full-on, breathless panic attack that he is never going to go to sleep, and that tomorrow is going to be awful, and his life is over, he expressed.
He also explained the importance of sleep and how everything is sleep.
The difference between doing it either successfully or happily and doing it miserably is just sleep, he said.
When you are in a comedy, you are not allowed to be in a bad mood. You have to show up, jacked up, excited, and funny, doing bits all day long, he added.
Net Worth
Her net worth is currently under review. As of now, we have the net worth of her husband. Her husband has a net worth of $5 million.
Age
She was born on the 1st of March, 1984. She is currently 39 years old.
Updated On Thu Oct 12 2023 Published On Thu Oct 12 2023 By Sabina