Mary Lee Pfeiffer is the special education teacher known as the mother of renowned and first-rate actor Tom Cruise.
Tom Cruise, from rigs to riches
Mary Lee Pfeiffer has given birth to a gifted child whose acting has captivated massive fans worldwide.
Tom Cruise was raised in near poverty in his early days but is now on the list of richest actors in Hollywood.
This transformation from rags to riches was possible because of the high box office success of the movies he acted in over time.
Some of the breakthrough performances that let him win several awards and made him one of the highest-paid actors were 'Risky Business,' 'Mission: Impossible' film series, 'Edge of Tomorrow', Oblivion, and many others.
Was Tom a problem child to Mary?
Mary's son Tom was spotted giving an interview at James Corden's show, where James asked if he was a well-behaved kid while growing up.
Tom, in response, stated that he was. Tom continued saying at the old days, he used to do stuff where he would leave his house while he was just two years old.
He shared that he would go for walks; confronting, he would just leave. Tom says his mom was very patient with him.
Young Tom would climb trees and go to the top of the tree while he was three-four years old. He enjoyed going to the top and the wind going here and there.
Tom believes his mom is a saint because she would never shout at him and say never do that but instead, Mary would bake a cake and tells him that there is sugar down here for him.
Tom also says he used to perform flips off the roof into the snow claiming once he had broken his legs and arms. Moreover, he shared how he borrowed the car at age twelve.
He even said that at that time, he would sit in the telephone books at night and would climb out his window to go and take the car and roam around the town. For further details, visit the link below.
Attended 15 schools in the USA?
By the time Tom reached 14, he had already attended a total of 15 different schools in Canada and the USA.
While he was in high school, Tom had a keen interest in acting. Due to this, he dropped his plans to become a priest.
Later, he left the school too. Nevertheless, by the age of 18, he went to New York to build his career in acting.
After a while, Tom debuted with a movie named Endless Love by doing a small part in it, followed by several others named Taps and The Outsiders.
Nevertheless, he was once awarded a Star on the Hollywood Walk of Fame, hosted at 6912 Hollywood Boulevard in Hollywood, California, on October 16, 1986.
Her reaction to her son's Mission Impossible plane stunt
Tom performs various crazy stunts in his movies which sometimes include dangerous stunts.
Whenever he performs such jaw-dropping dangerous stunts, he says he never tells his family beforehand.
During an interview back in 2015 with Extra TV, Cruise opened up about performing a dangerous stunt in his movie Mission Impossible-Rogue Nation where he is seen jumping onto an Airbus A400 that continues clinging to the side of a moving plane.
Cruise said he didn't tell anybody about the stunt, not even his mother. He later showed her some cut footage while in San Francisco.
As soon as she saw the footage, she was like, "Oh my Lord, Oh my Lordy, Oh Oh Sweet Jesus, Oh sweet Jesus, Tom is that You?
Panicking honey, honey, "Is That You"? "Is that You"? Oh my Lord, he recalled. She said she was very glad that he didn't tell her.
Cruise performed the stunt above 250, and they were going fast. Also, he had no gloves.
He also said that it took him about two weeks to settle in with it with the temperature of his body.
And there were so many things that could have gone potentially wrong.
Jon Hamm recalls meeting Tom Cruise and Mary for the first time
John Hamm, while appearing on The Tonight Show Starring Jimmy Fallon, recalled his meeting for the first time with Tom and Mary.
When Hamm was asked if he bonded with Cruise in their upcoming movie Top Gun: Maverick, Hamm said he did bond with T.C. You call him T.C once you know him, he added.
Hamm said he had met Cruise a long time before and recalled his first meeting. According to him, he was at Jimmy Kimmel's football party.
While at the party, the rumor of Tom Cruise attending the party got around, and everyone was like, NO, he is not.
It was like a football party before Cruise walked in with his mom. Fallon, in surprise, asked," What"? Mom Cruise, Oh my Gosh, That's genius.
There were 40 dudes with their jaws on the ground like," Is this actually happening"?, Hamm Continued.
Hamm said mom Cruise was excellent, and she could hang out when Fallon asked about her.
Net Worth
As Mary Lee has already left this world, her net worth is not available. Her talented son's net worth is as follows:
| | |
| --- | --- |
| Year | Net Worth |
| 2018 | $ 550 Million |
| 2019-2020 | $ 570 Million |
Tom Cruise is continuing his work, and the next two series of Mission: Impossible movies, which are one of the biggest hit movies of Tom, are waiting to be released in the coming year, 2001 and 2002, respectively.
His next movie 'Top Gun: Maverick' is also set to release in 2021. Thus, it's likely that Tom's net worth is going to increase in the coming days.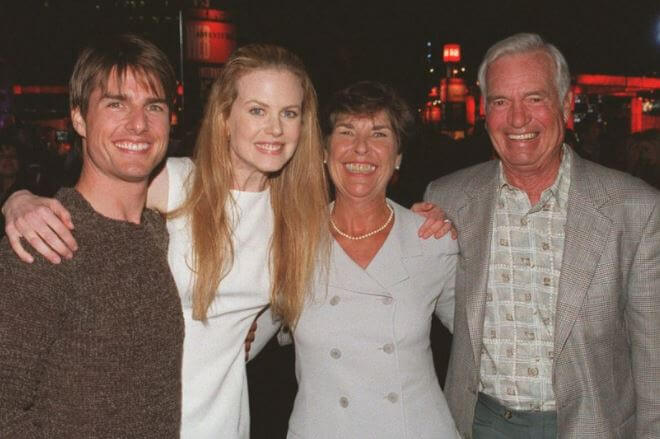 Tumultuous married life
Mary got married to Thomas Cruise Mapother III, who was an electrical engineer, in 1974.
She has not said anything about her husband, but her son Tom has revealed that Mary lived a tumultuous married life with Thomas.
He failed to support his family and fulfill his responsibility toward them. It's far for Thomas to nourish and guide his family; instead, he had made their life harsh.
Mary alone used to work three jobs per day to give a suitable life to her children. That's why Tom kept praising Mary and was very close to her.
Finally, to end one of her sufferings, she separated from him and went through a divorce in 1974. Now, Thomas is no more with them. In 1984, he died because of Cancer.
The husband was a bully
Mary's husband was not there for her when she needed him most. She endures all the sufferings and hardships to raise her four kids without the support of her husband.
She also became a father to their children and gave them the necessary inspiration to fulfill their dream.
Her children, especially Tom, used to consider him an abusive husband who was like a bully. Tom even described him as a merchant of chaos who beat his children.
Wedding with World War II veteran
After separating from her first husband, Mary again found a new man to cherish her life.
Mary held her second wedding with John Jack South, a World War II veteran, in 1978. Unfortunately, this wedding also could last for a long.
She got divorced from him in 2010. However, the reason for this separation is still unknown. After battling chronic pulmonary disease, the South died in July 2015.
But the surprising fact is that both Mary and his son Tom were not present at his funeral.
Cause of death
Mary was 80 years old when she left this world in February 2017 peacefully while she was sleeping in her bed.
Different sources claimed that she had been struggling with health problems for a long time, and the illness became the cause of her death.
However, what type of illness she was suffering from is still unknown. She was honorably farewelled by her family and friends at her local church of Scientology.
After appearing at Golden Globe Awards function in 2009, she did not make public appearances for long.
The media started speculating that she was dead and different news spread out in 2015, claiming that she was dead already.
But all this news was dismissed when she was seen in Clearwater, Florida, at the headquarters of Scientology in 2016.
As per dailymail.co.uk, she was spotted with two nurses using a walker and was seen as much thinner than her last appearance.
Children
Mary has four children altogether. One son, Tom Cruise, and the next three are his daughters, Lee Ann Devette, Marian Henry, and Cass Mapother.
Age
She passed away in 2017 at the age of 81.
For Amazing Articles Of Your Favorite Celebrities,
Stay Tuned To vergewiki
Updated On Fri Dec 30 2022 Published On Thu Sep 24 2020 By shaumya