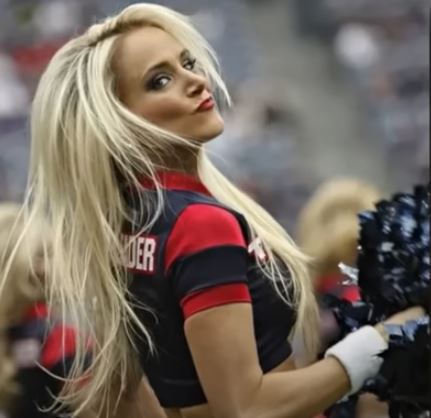 Mariah Bird is famous as the adopted child of NBA legend Larry Bird and his wife, Dina Mattingly. They legally adopted her when she was a child.
Mariah was a cheerleader. She graduated with a degree in Science and Recreation from Boston University. She is currently working as an event manager.
For Amazing Articles Of Your Favorite Celebrities,
Stay Tuned To vergewiki
Her father was a great player but not a great dad
Bird might be a great dad to Mariah but not to his biological daughter, Corrie Bird.
Prior to marrying her mother, Dina Mattingly, her father was married to his high school sweetheart Janet Condra who he dated for a decade before marrying her in 1975.
Their marriage was short-lived, as they got divorced a year later. They reconciled and gave birth to their only daughter Corrie in 1977 but parted ways soon after.
Bird, in an interview, said that though Janet was a nice girl, he knew already they were poles apart from each other to make it a really happy, meaningful relationship.
In another interview, he also said that he regretted getting married too young, as he was just 19, and called it to be the worst decision he ever made and everything that ever happened to him.
Bird also denied being the biological father of their daughter Corrie, but DNA confirmed that he is her biological father and agreed to financially support her until she was 18.
However, they remained estranged for years.
In an interview, Corrie said she would send her father letters, and her mother would send him her school pictures and report cards, but her father would never respond.
The saddest part was he didn't invite her to his Jersey retirement ceremony.
She also recalled going to see the Pacers game and going down to talk to her stepmom Dinah and their kids.
She said her father gave an awkward smile when he saw her holding Mariah.
Bird, later in his autobiography, stated because of the differences with Corrie's mother, he had had too much with Corrie and that he thinks of her all the time but can't do anything because he can't go back and relive five or six years of her life.
She has a brother
She has a brother named Connor Bird. Like her, he is also an adoptive son of Larry Bird and Dina Mattingly.
Both Mariah and Connor live a private life out of the spotlight, but Connor came in the highlight back in 2013 after he got arrested for trying to run over his then-girlfriend.
Then 21-year-old Connor had an argument with his then-girlfriend at his Bloomington, Indiana, apartment.
In the heated argument, he even threw a cell phone at her, eventually trying to hit her twice with his car as she was walking in a parking lot.
He later got arrested by the Indiana University Police not only for attempted murder but also for intimidation with a deadly weapon and possession of marijuana.
He was also arrested in 2011 for underage drinking and disorderly conduct.
How his father got his nickname?
Her father was given three nicknames, Kodak, the Hick from French Lick, and Larry Legend.
The nickname Kodak was given by Celtics coach Bill Fitch because of having a mind-like camera.
Bird, in his autobiography, recalled the time when he was watching a videotape with a television producer who stopped the tape randomly at a point.
Bird was able to code how much exact time was left in the games and also described how the game played out from there by only watching a few seconds.
The other nickname he had was the Hick from French Lick, which he gave to himself.
He grew up nearby French Lick, although he was born in Baden Springs, Indiana.
When Bird entered NBA, the league was already losing traction, but the rivalry between Bird and Magic Johnson fed with media attention awakened the losing interest of people.
He was not outgoing like Magic and pretty much kept to himself and named himself the Hick from French Lick as a joke.
Similarly, he was given the nickname Larry Legend by NY Post's columnist Peter Vecsey because he was doing legendary things in the early 80s, winning 61 games with Celtics after his arrival.
Net Worth
Her net worth is currently under review. As of now, we have the net worth of her father. He has a jaw-dropping net worth of $75 million.
Age
She was born in 1991. She is currently 31 years old.
Updated On Tue May 30 2023 Published On Tue May 30 2023 By Sabina