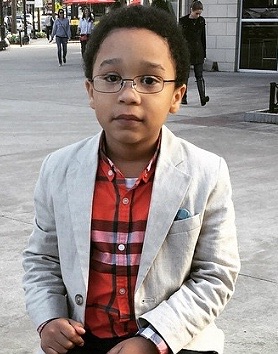 Facts of Major Philant Harris
Major Philant Harris is a star son as he is the son of superstar rapper T.I. His mother name is Tameka Cottle, and she is also in the music industry.
She is a successful singer and songwriter.
His father and mother fame have never shadowed him as he is also a star on his own. He is a TV star and he has appeared in TV reality series on VH1.
The name of the series is T.I. & Tiny: The Family Hustle.
Things his dad can't live without
Major's dad was spotted sharing the things which he can't live without. On top of the list, he mentioned Tea.
He says Tea is an essential part of his day. He almost drinks it three or four times a day. Despite not carrying a tea bag with him every time, he certainly wants a cup of Earl Grey tea and agave for sweetener.
Another one he mentioned is his Jordans or J's. He explained it as Fashion, Fly, and comfort. Specifically, the rapper mentioned his go-to pair are the Air Jordans or the Air Maxes.
T.I. also shared the first pair of Jordans he owned was the number fours, probably it was released while he was attending his second or third grade.
Another thing he shared was Tanks. He compared it with underwear and socks. Other than that, he also included reading material as one of the extremely important things.
He also tries reading in his bi-daily practices. The rest of the things he did mention were the Crossbody messenger bag, Ginger Ale, Cologne, A.K.O.O. hoodie; A.K.O.O is his clothing line and Portable charger.
Major Philant Harris loves playing Football and Badminton
Well, his dad had provided Major with many varieties of options with Sports. Basically, to see with which he would connect naturally.
There were sports which Major immediately showed no interest in. However, he seems to prefer two sports, i.e., Football and Badminton.
It's been stated that Major enjoys these two more than any other myriad of others his whole family members wanted him to participate in.
Other than that, he seems interested in numerical, referring to Math as his favorite subject. He also likes playing over doing assignments, but he gets his work done when told.
Well, he prefers math over any other areas of reading and linguistics. Other than that, the audiences think Major is an older man in a young body.
His adult-like responses are the major thing and also the attractions of his persona.
His mom filed for divorce twice before they finally reconciled
His parents' T.I. and Tameka (Tiny) were together for a decade before marrying in a secret ceremony in 2010.
Their marriage has been a rollercoaster ride, and his mom even filed for divorce twice before they decided to work through it. His father and mother both appeared in the Red Table Talk, where they shared how they saw their relationship from their perspectives and worked through it.
According to Tiny, they were supposed to be married in 2007, but things didn't work out, and also they lost their baby around that time.
The same year his father ended up being in jail. He said while he was in jail for the first time, he felt that if he didn't get married, then he is never going to get married.
And then, his father died without being married. His last word to him was to find somebody to share your life with.
So after he came from prison, they married, but they didn't go on a honeymoon because T.I. was on his way to jail.
When he went to jail for the second time, he believed their relationship from 19 years ago was sort of built on the principle and practice of them being together all the time and being a huge part of one another.
According to his father, when he went to jail for the second time, he guessed Tiny felt that she needed to figure out what she would do because she didn't have him continue the protocols and practices they established in the fundamental stages of their relationship.
So when he returned from prison the second time, his world was upside down. And Tiny was like, "it's my time," he added.
He continued to say that there was an acclimation period where he was left to feel lesser than, so he went out to figure ways to make himself feel properly adequate again, which eventually led things to happen again and again.
On the other hand, Tiny believed that finding her voice was what caused the issue.
His mom said she used to follow every word and instruction of his father, but when he came back from prison and said they were moving this way, she would be like, "No, I got this to do.
She realized when she got on her foot, she should have her voice too, and that voice was a little different from what he was used to.
Tiny said T.I. might have felt that she is not the woman I left, and this is not what I wanted and needed to find another who listens to him.
He went and found somebody, she added. In response to her saying, T.I. said that she must know how to use that voice and may have muted herself.
He added that he never told her she couldn't say but had his list of how he wanted things to go, to which she agreed and that she couldn't use that voice trying to go against him.
Tiny agreed that T.I. stuck to his words and took care of everything as he asked her not to work because he would take care of everything, and Tiny did the same.
But Tiny realized that when a man completely takes control and takes care of you, you don't have of say, and you become dependent on that.
When Tiny could not get him to respond, and since nothing was working, she decided to file for divorce for the first time in December 2016.
But at the time, they couldn't get the papers to him. She filed for divorce for the second time in 2017 after Tiny spent her time with her group Xscape.
But what made Tiny decide to take the divorce papers off the table? It was their love.
According to his father, he has had the best times of his life with Tiny and the jokes and memories, the things they shared no one else are a part of or are involved with.
While Tiny said it was because of T.I., she decided to take the divorce paper off because he came back, and he wanted to work things out.
The couple also went to counseling to work through it and are working things out. Tiny says her husband's effort in trying to work with her keeps her motivated to fight.
Net Worth
He has a net worth of around 100,000 dollars, and he will be a self-made millionaire for sure. His hard in reality shows have made him a star.
His father has a net worth of 50 million dollars.
He is a successful rapper, entrepreneur, and author. His fortune is driven from his albums sales and his ventures.
Get In: Apollo Bowie-Flynn Rossdale's Net Worth And Lifestyle
He has been involved in a lot of albums. He has released a total of 10 studio albums till now. He has more than 110 singles to his name too.
His promotional singles have reached a number of 11 already.
| | |
| --- | --- |
| Discography (Type) | Number |
| Studio Albums | 10 |
| EPs | 4 |
| Singles | 110 |
| Mixtapes | 13 |
| Promotional Singles | 11 |
| Remix Albums | 1 |
His albums have done excellent business in the past and have reached right spot in the billboards.
He released an album called I'm Serious back in the year 2001, and it managed to grab 27th spot in United States R & B charts.
His album Trap Muzik was very successful, and it managed to reach number 4 spot in US billboard and 2 in US R & B.
His album called Urban Legend did pretty well as well as it topped (number 1) spot at the US R & B. Here is the list of remaining albums name that did amazingly well.
| | |
| --- | --- |
| Album | Position |
| I'm Serious | US- 98 |
| Trap Muzik | US- 4 |
| Urban Legend | US R & B- 1 |
Major Philant Harris is a fashion and style icon already, and he has a great fashion sense too. He has uploaded this picture on his Instagram account, and he has captioned this one as,
"Styling in
Death of Parents' Daughter
His parents have suffered losses in their lives.
In the year 2007, his parents had a stillborn daughter, and this is one of the toughest moment of their lives.
It was after six months of his mom's pregnancy and this moment was not only physically torturing but also mentally too.
One Click Away: Christopher Schwarzenegger's Weight Loss
His parents managed to overcome the grief but still the moments hurt.
Age and Birthday
He was born in the year 2008, and this makes his age 11 in 2019.
He celebrates his birthday on 16th of May.
He has siblings, and their names are Domani, Messiah, Zonnique, King, Deyjah, and Heiress.
Updated On Wed Jun 22 2022 Published On Tue Sep 24 2019 By paper-boat