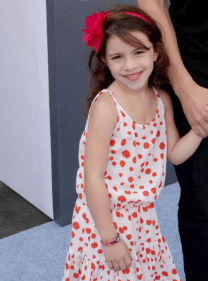 Facts of Lilly Greenfield
Lilly Greenfield is a celebrity kid who is best known as the daughter of Max Greenfield and Tess Sanchez.
Her father is an actor while her mother is a casting director.
Parents And Siblings
Her parents got married on August 8, 2008. The couple dated for five years before taking the wedding vows.
Her parents have been a fantastic couple throughout the years.
Tess has been a wonderful wife as she is in charge of running the household.
In an interview with Elle, her husband said that she was the greatest director he has ever worked with.
Here is a picture of the couple which was shared on their 10th anniversary.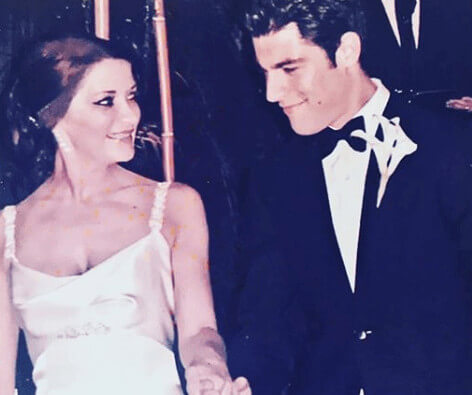 She has only one sibling named Ozzie James Greenfield. Her brother was born on August 24, 2015.
She shares a close relationship with her brother.
On December 23, 2018, her mother shared a picture of the Greenfield siblings, where both could be seen holding hands and smiling at each other.
They looked adorable.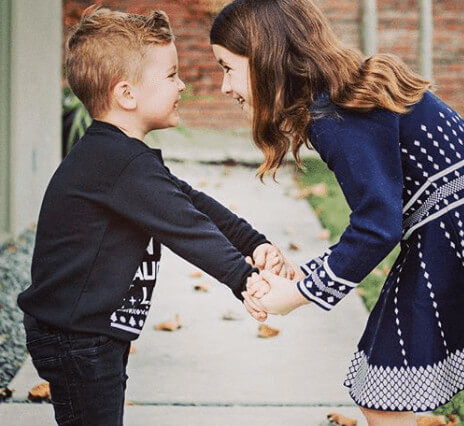 Father Has Started Homeschooling Her
Due to the COVID-19 outbreak, all the schools have been closed, and everyone has been requested to stay at home.
As a result, her father has taken the role of the teacher.
The father and daughter duo has been entertaining the world with their homeschooling videos.
In the videos posted by Max on Instagram, we can clearly see how bad he gets roasted by his daughter.
Max tries to read "The Birchbark House" but fails to do so.
Following this, his daughter sends a text message to her teacher, saying that her dad was having trouble reading the birchbark house, and she was having trouble understanding it.
Here is the message sent by her.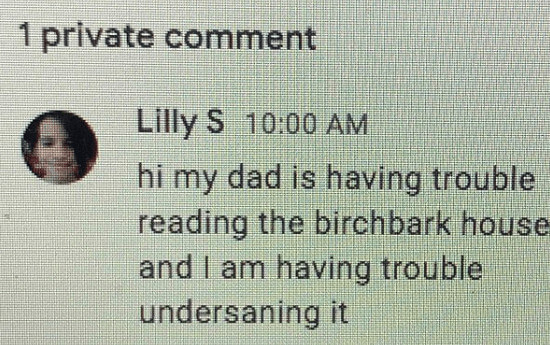 In the previous videos shared by Max, she says that her father has a dog s*** voice, and he has roasted his own school experience.
It involved a lot of puff puff puff and glug glug glug. Here's a video where she starts singing and is later joined by her father.
She then interrupts her dad and says he has a dog s*** voice.
Lilly's Dad Max adores Honest Headlines
Her dad Max Greenfield was spotted in an interview with popular host James Corden in his Late Late Show. Well, the starting of the show was quite interesting.
Unlike any other introduction, James, the interviewer, began reading the news. Suddenly, a loud laugh popped up. It's was none other than Max.
James asked Max what he was doing there. In return, he replied, he was watching the show. He clarified that he often doesn't get a chance to get out a lot to see live comedy.
He says it was a lifetime opportunity. In adding, Max said that Honest Headlines are undoubtedly great.
Furthermore, Max told James to carry on the show. And he is just standing there listening to him, feeling all pumped up and excited.
Lilly's outing with her dad for Ice-cream
Out of the professional activities, let's have a look at father-daughter quality time spent. The two of them were spotted visiting the café on East 60th street, famous for excellent ice-cream desserts, including frozen hot chocolate.
Lilly's dad Max directly blamed her for turning up to that place when temperature got just above zero.
Lilly and Max went to New York City to celebrate her birthday, whereas her mother and brother were back home in LA. However, their trip also adds up going to the Museum of Illusions.
Nevertheless, the duos went straight up to the corner table near vintage Tiffany lamps. Max ordered a burger for him and fries for his daughter, not forgetting frozen hot chocolate.
Lilly then asked Max for his iPhone. She proudly took pictures of her going to the Neighborhood set too.
One rule that her parents are strict about
When it comes to parenting style, there is one thing that Max and Tess are strict about, and that is compassion.
Speaking with Parents for the cover story, Max and Tess opened up about their parenting style and the rules they want their kids to follow.
The couple went on to say that the only thing that they are not relaxed about is how they treat and communicate with other people.
As per Tess, they only get mad about something if they see the kids become thoughtless.
They always tell their kids that everyone they meet has a story to tell, a story to share, and they should be interested in it.
They tell them they always have to be kind and compassionate. Besides that, they also shared how they divide their parenting duties.
According to them, Max goes in the direction of having fun while Tess is the nuts and bolts of the operation.
Gushing about her husband's parenting style, she added to say she hit the jackpot with Max on the dad front.
Since Lilly has turned 11, Max says parenting is more than just making sure they survive but to be more emotional.
He then added that if Lilly goes to her with something he doesn't know how to handle, he will say, Let's go ask mom.
And it is not that he runs away from difficult questions, but it is because he doesn't trust his initial instincts.
He moves slowly but parenting moves at warp speed, so by the time he processes everything, Tess will have solved it, he further added.
During the early pandemic, Max took the reins of Lilly's homeschooling and gave his best shot though it happened abruptly.
During an interview with Today, he said,
"Sunday we were like Oh, this feels like it's getting really bad and then on Monday it's like it's worse than you could have imagined,"
During the pandemic, he was also his kid's chef and made sure they had healthier food by tricking them.
When asked about the parenting advice, he said he did not have the advice, and if he knew, he would have shared it with everyone.
He thinks the best advice is not to act like you know anything and to try to do your best at the moment.
Which co-star name did Max take from the 'New Girl' to be quarantined with?
Lilly's dad Max was asked about his preference on numerous topics. In the interview, he played If you could….
Well, at first, he was asked if he could homeschool one subject for the rest of his life; what could it be? He instantly replied, saying Art subject.
He stated Art is Fun, and it is the only subject he can probably handle. Also the video of him homeschooling his son was also shown.
On the other side, when asked which subject would it be, he doesn't want to homeschool, he giggled and stated all the other subjects.
Moreover, Max said he chose Art and no other subjects because he finds other subjects challenging.
Other than that, when asked if he could be in lockdown with one cast mate of 'New Girl,' he said that it totally depends upon how long the lockdown will go.
So, he stated if it were the forever thing, he would take the name of Jake Johnson. He also mentioned Jake would kill him.
If the lockdown goes for a short time, like 72 hours, he will choose Lamorne Morris as Max claimed him to be the easier.
When it came to choosing a cat or dog and Max chose Dog.
He explained that in comparison to cats, a dog is an animal that has the tendency to find comfort on any surface. And added he could use a nap.
Later, when asked if he could only eat cat or dog food for the rest of his life, he chose dog food. Max also confronted that he had already eaten dog food for real.
He shared that dog food is not at all terrible and only is dense. He also shared how he brought a muffin from the farmer's market, which was very expensive to feed his dog.
As it looked good, Max couldn't hold himself from trying back.
Also, he shared how he and his friend got drunk a long time ago, so they decided to try one dog cookies which looked so big and good.
Max confronted it being a very filling one. Lastly, when asked if he could be Beyoncé for a day, he would probably sing but also claimed they both have similar voices.
Net Worth
Tess, who is a casting director by profession, has not revealed her net worth.
However, we assume she must have a decent amount of fortune.
According to payscale.com, the average salary of a casting director is $69406, which is equal to $37.50 per hour.
Max has an estimated net worth of $3 million, which he has garnered through his career as an actor.
How Did Max Earn Money?
He is popularly known for his role as Schmidt in the Fox series, New Girl.
For his role as Schmidt in the series, he was nominated for awards like Golden Globe, Emmy, and Critics Choice.
The series has been on air since 2011. His co-star Zooey Deschanel makes $125000 per episode from the series.
Below is the list of New Girl cast and their respective net worth:
| | |
| --- | --- |
| Name | Net Worth |
| Zooey Deschanel | $25 million |
| Jake Johnson | $8 million |
| Hannah Simone | $3 million |
| Lamorne Morris | $4 million |
| Megan Fox | $10 million |
He has appeared in several movies and TV series until now.
He has starred in series like Melrose Place, 10 Things I Hate About You, Kath & Kim, Do Not Disturb, and Knight Rider.
Trivia
Lilly was born in the year 2010, which makes her age ten as of 2020.
According to her bio, she celebrates her birthday on January 27 every year.
For Amazing Biographies Of Your Favorite Celebrities,
Stay Tuned To vergewiki
Updated On Thu Sep 15 2022 Published On Sun Apr 12 2020 By paper-boat