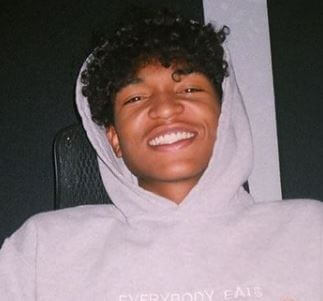 Facts of Koraun Mayweather
| | |
| --- | --- |
| Full Name | Koraun Mayweather |
| First Name | Koraun |
| Last Name | Mayweather |
| Profession | Celebrity Child |
| Nationality | American |
| Birth Country | United States |
| Father Name | Floyd Mayweather Jr. |
| Father Profession | former boxer |
| Mother Name | Josie Harris |
| Gender Identity | Male |
| Sexual Orientation | Straight |
| Marital Status | Dating |
| Sibilings | Zion Shamaree Mayweather, Iyanna Mayweather and Jirah Mayweather |
| Insta Profile | |
| Date of Birth | November,1999 |
| Age | 22 years |
Koraun Mayweather is an American singer, songwriter, and rapper.
Still, he is more popular as a son of undefeated former boxer Floyd Mayweather Jr. Koraun has recently started his musical career.
His parents never married
His parents, father Floyd Mayweather, and mother Josie Harris, never exchanged wedding vows though they were in a loving relationship for fifteen years.
They started dating in 1995. Koraun was delivered while his late mother was in high school.
However, the high school sweethearts parted their ways in 2015.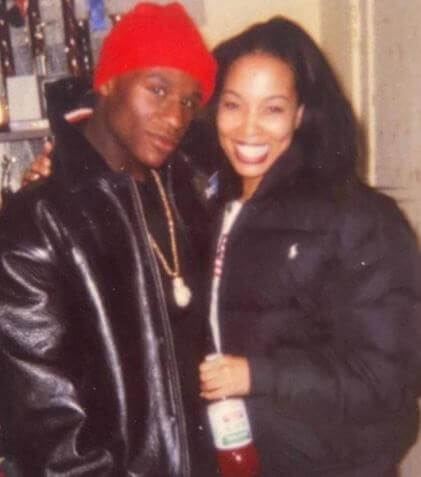 He, along with his siblings, grew up amidst domestic violence
Koraun is the oldest son in the family. He has three siblings with whom he shares an incredible bond.
Out of his three siblings, Brother Zion, sister Iyanna and youngest sister Jirah, Iyanna is a paternal half-sister.
Kouran, along with his siblings, grew up facing a lot of issues of domestic violence. It was never easy but it made him stronger.
His father used to be physically abusive towards his mother. He was behind bars for this.
Koraun was able to call help for his helpless late mom in 2010 when she was beaten up by his father. The memories still remain with the poor kid.
Although he was just 11 years at the time, he had the courage and the guts to go against his father to end the violence.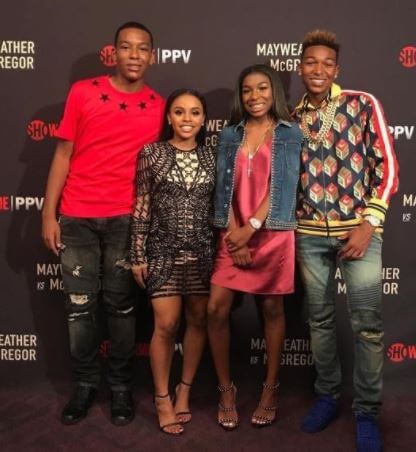 The death of his mother is still a mystery?
His mother, a former actress, author, and entrepreneur, died on 10th March 2020.
Her death is still a mystery. According to the report, the cause of her unexpected death was an accidental drug overdose.
She was found dead in her car, which was parked outside her Valencia, California Home. She was 40.
After his mother's death, his father expressed his grief sharing multiple pictures of her reminiscing the time they have spent.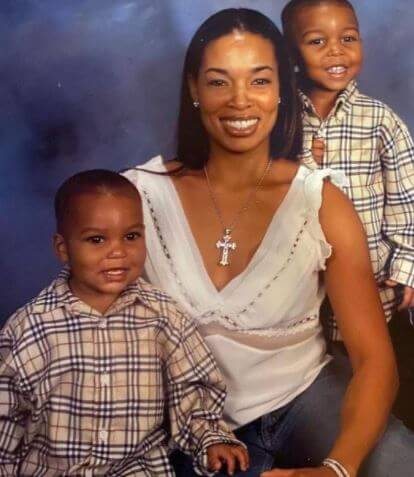 Although he comes from an illustrious boxing background, he finds it boring
His father inherited the boxing talent from his grandfather Floyd Mayweather Sr., a former professional boxer and welterweight contender.
His uncles Jeff Mayweather and late Roger Mayweather were pro-boxers and trainers.
Although Koraun comes from an illustrious boxing background, he confronted boxing to be boring.
However, he was seen getting trained by his father.
The relationship with his father is healing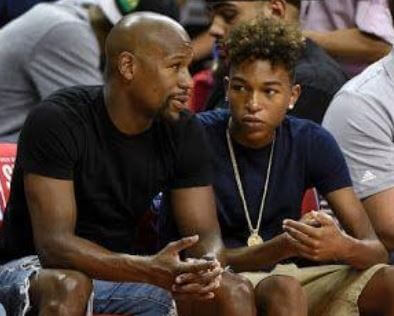 The relationship with his father which deteriorated because of his abusive behavior towards his mother is healing with time.
He even called his father a coward after his father denied the allegations.
After the tragedy of his mother's death, his father is trying every possible way to be a good father.
Is he married?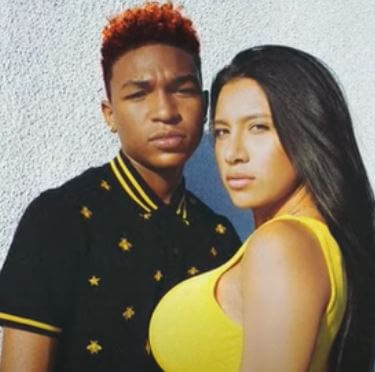 No, Koraun is not married yet. Koraun is often spotted with his girlfriend publicly.
His girlfriend's name is not revealed, but they are often seen together in matches, parties, etc.
However, he is yet to confirm his relationship with his girlfriend.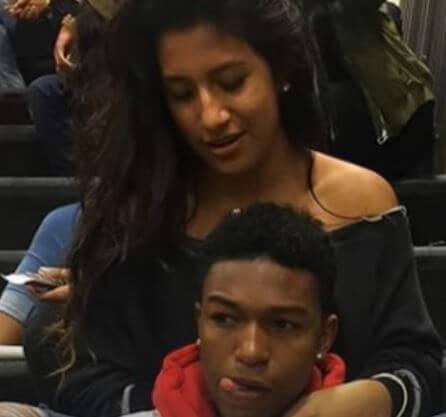 Why did Koraun Mayweather's dad Floyd dedicate his entire life to Boxing
As mentioned above, Koraun feels boxing is boring, and it isn't his cup of tea. On the other side, his dad Floyd dedicated his entire life to this field.
In an interview with Steve on the show named Steve TV Show, he opened up about the actual reason behind it.
Floyd shared that he wanted both his parents to be in a comfortable position. He confronted that his parents have invested entirely not just for their grandkids which are Floyd's kids but also for his grandchildren.
Moreover, many of you might not be aware, but Floyd after 24 hours of his fight was active enough to be a part of a charity basketball game the next day whose main purpose was cancer.
Floyd's childhood has never been an easy journey
No doubt, Floyd is considered one of the wealthiest boxers as of now. However, Floyd's childhood journey has never been so easy.
It's been stated that his dad was jailed for the reason of possession and trafficking c*caine.
Moreover, it's also been told that Floyd's mom suffered from addiction too. Sharing a back story, his dad was involved in a d*ug business where he fought with a dealer.
The dealer showed up at their house with a gun. Floyd Sr. held up Floyd Jr. to use him as a shield. At that time, Floyd was just one year old.
Later, his mom had raised him after shifting to New Jersey.
Floyd shared that during that time, they shared a one-bedroom apartment with seven people in total.
There were also the times they had lived without electricity for days because they had no money to pay.
Lastly, his aunt also died after suffering from AIDS. The lady got AIDS at the time of sharing needles.
Floyd said that while he was young and came back from school to home, he got to see the used needles laying over the front lawn.
His father said he would give up everything, including his stunning boxing career, to have their back
Though his father and mother shared a tumultuous relationship, his father was completely devastated with the death of the mother of his three children and said God gave him everything and took one of the biggest chess pieces off the board for him.
While opening up about the death of her ex-partner Josie Harris, he said that everything he asked for in life, any and everything he thought about in life, he got and he will say every day just for her to come back, he will give it all.
He admitted to replaying over and over and over in his head a thousand times, and then one thing he always says "God doesn't make mistakes, everything happens for a reason." Floyd does not go to funerals, but he went to Josie's funeral.
Koraun seafood Mukbang with sister Jirah while answering relationship questions
Koraun and his sister Jirah did a seafood Mukbang while answering the related relationships questions asked by their sister.
The question was about how they feel about the long-distance relationships, the deal-breakers in relationships, the hardest lessons one has learned in a relationship, about the date nights, a second chance in relationships, red flags in a relationship, etc.
Talking about the long-distance relationships, Koraun said that it depends on how old the guys are and if they have kids together, are they going to make it work.
He emphasized trust. While Jirah said long-distance relationships become difficult when they are younger, she thinks there is a lack of maturity level.
Then they talked about the deal breakers in relationships. Jirah said disrespect towards her family to be the deal-breakers which Koraun agreed and added,
"if you don't like my family, then how can I like you as I am with my family all the time."
For Jirah, as an independent person having to work with somebody has been the hardest lesson, while for Koraun, the hardest lesson is to deal with and accept seeing the loved one has moved on.
Jirah said about date nights that she is not a big fan of dates and would rather watch a T.V. and have pizza, whereas Koraun thinks that there is a limit, so once a month will be cool.
About the second chance, Jirah believes in second chances.
As per her, if someone messes up and you tell them how you feel and if they fix it the second time, then that's ok, but still in second chance does not fix up, then that's not ok, to which Koraun also agreed.
For Jirah, the red flags in relationships are if they are black, got curly hair, and their first name starts from K and last letter the first last name M. For Koraun, if one does not show you the attention, that's the red flag.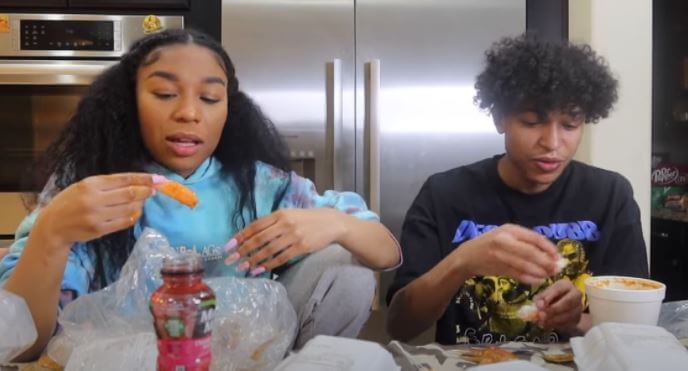 Net worth
He is on his way to his musical career. Therefore, his net worth as of now is not known.
He is the son of the boxing legend, having an incredible record of 50 victories and 0 losses during his fighting career who have amassed an eye-watering amount.
He was one of the sixth athletes to top $1 billion. After spending his earnings in real estate, he has a net worth of:
| | |
| --- | --- |
| Income | Source |
| $450 million | $ 150-$300 million per fight, highest includes $ 300 million in 2017's fight and $250 million in 2015's fight, $10 million per year from endorsements deal, |
Age
He was born in November 1999. He is currently 21 years old.
For Amazing Articles Of Your Favorite Celebrities,
Stay Tuned To vergewiki
Updated On Tue Mar 08 2022 Published On Mon Apr 05 2021 By shaumya