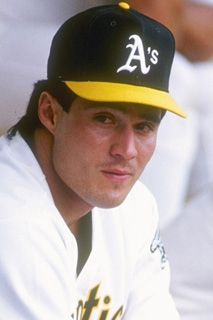 Jose Canseco is a former Major League Baseball (MLB) outfielder and designated hitter.
He had established himself as one of the premier power hitters in the game when he was in Oakland A's (American professional baseball team located in Oakland, California).
Wife, Married
Jose has been married twice. He got married to Esther Haddad in 1988 after dating for sometimes.
Due to Jose's drug addiction problem, the couple started to get involved in domestic fights.
Things got heated when the news broke about Jose hitting with his BMW to the Porsche of his then-wife on February 12, 1992.
As the fight between both the spouses kept on growing, later in 1992, Esther filed for divorce, and the couple got separated.
There is no rumor about Jose having children with his first wife.
After his failed first wedding, he again fell in love with Jessica Canseco, a former waitress at Hooters in Cleveland.
Their affair started, and he had his second marriage on August 27, 1996.
Here is a picture of Jose Canseco and Jessica Canseco from their wedding.
On November 5, 1996, with his second wife, he had a daughter named Josie Canseco.
Get In: Cody Bellinger Dating Hot Girlfriend And Partner
She grew to be a wonderful woman and currently is an American model and internet personality. She also got featured in Playboy for Playmate of the Month issue for June 2016.
Here is a picture of Jose with his ex-wife and their daughter Josie.
Later in 1997, Jose was arrested for hitting on his partner, Jessica.
He has pleaded no contest and was sentenced to one year's probation and required to attend counseling in January 1998.
They parted ways after being married for three years and a parent to a beautiful daughter.
He also accused Alex Rodriguez of cheating on Jennifer Lopez with his ex-wife Jessica. Jose and Alex played for New York Yankees.
Jose even said that he had proof of Alex cheating.
Here is the series of tweets he twitted about Alex cheating on J.Lo. This one was one day after Alex and J.Lo got engaged.
Here is another tweet...
His former wife, Jessica, denied the rumor. A source revealed that J.Lo had heard rumors about A-Rod cheating on him in the past as well, but she does not let that bother her as she trusts her man completely.
Despite all these rumors, J.Lo and A-Rod stands strong and are madly in love with each other. The couple plans their marriage, which is set to take place in 2020, but the date has not been fixed yet.
After two failed marriages, he got into a relationship with Leila Knight in 2008. She is a model and actress and also the owner of Premiere Models and Talent Management.
Amazing: Qimmah Russo Hot BMW Car
There was also a rumor about the couple getting engaged. On May 3, 2013, Jose tweeted about Leila being his ex-girlfriend of 4 and a half years.
Leila dumped him when he made threats about killing her and her mother during a fight.
She got so scared and locked him a room as he was trying to break the door, and she also locked herself in a bathroom and called the police.
He has also made a derogatory comment about her several times in his tweets.
Net Worth
Jose has an estimated net worth of around $500 thousand.
During his days in baseball, he earned $45 million income, including his incentives and fees.
During his peak days, his salary even reached $5.8 million, which he gained from the Boston Red Sox in 1995.
Jose also revealed that he had lost his house in Encino, California (a rumor to be estimated as $2.5 million) to foreclosure.
It had cost him a hefty amount of $7 to $8 million each on his both divorces.
Here is a list of top 10 baseball players and their net worth.
| | | |
| --- | --- | --- |
| S. N | Player Name | Net Worth |
| 1 | Bud Selig | $400 million |
| 2 | Alex Rodriguez | $350 million |
| 3 | Derek Jeter | $185 million |
| 4 | Ichiro Suzuki | $180 million |
| 5 | Albert Pujols | $170 million |
| 6 | Miguel Cabrera | $125 million |
| 7 | Randy Johnson | $115 million |
| 8 | Chipper Jones | $110 million |
| 9 | Joey Votto | $110 million |
| 10 | Manny Ramirez | $110 million |
Bud Selig tops the list of being the richest baseball players. He currently serves the Commissioner Emeritus of Baseball as an American baseball executive. And second is Alex Rodriguez, also as A-Rod, who is an American former baseball shortstop and third baseman.
Info and Highlights
His birth name is Jose Canseco Capas Jr.
He is of 55 years of age as of 2019.
He is tall, about 6 feet 3 inches, which is 1.93 meters.
His nationality is Cuban-American, and he is of white ethnicity.
His birth sign is Cancer.
His hair color is dark brown, and his eyes are brown.
Canseco celebrates his birthday on July 2.
He was born in Havana, Cuba, in 1964. His parents are Jose Sr. (his father) and Barbara Canseco (his mother).
He also has a twin brother named Ozzie Canseco, who is also a former major league player.
His father was a territory manager for an oil and gasoline company.
His family moved to Miami and settled there when Jose was barely one year old.
Updated On Tue Feb 16 2021 Published On Fri Sep 27 2019 By paper-boat