Johnny Carell is famous as a celebrity kid. He is the son of Golden Globe award-winning actor and comedian Steve Carell.
His mother, Nancy Carell, is an actress, comedian, and writer.
For Amazing Articles Of Your Favorite Celebrities,
Stay Tuned To vergewiki
How did his parents meet?
His parents, Steve and Nancy Carell, have been happily married since 1995.
They first met when Nancy was a student in an improv class Steve was teaching at The Second City Training Center.
Nancy, at the time, worked in a bar across the street from Second City, and he used to go over and over and hang out at the bar to talk to her, but both of them were shy and nervous to ask out.
For months their conversation went like, "Hey, if I ever ask someone out, it would be someone like you, and then she would be like, "Boy, If someone like you ever asks me out, I would go out on a date with that someone" until Nancy finally asked him out because someone had to.
Nancy then joined the cast of Saturday Night Live for one season in 1995. They married the same year in a church in Massachusetts.
Steve, in an interview with the Guardian, said he would never forget the moment when he saw Nancy coming down the aisle.
There was an ethereal sense of how right it was all, and more than anything, and it was empowering knowing that person was going to be his partner and have his back that made him feel even more strong, he added.
He has an elder sister
Johnny has an elder sister Elisabeth Anne Carell.
Their father, during an interview with the Guardian, said his career completely changed after he had them and that he will never forget the first audition he gave after the birth of Elisabeth, where he nailed it because he didn't care anymore.
According to him, he hadn't had great success auditioning for TV shows, it was spotty at best, but for that audition, it wasn't a life or death thing.
All he wanted to do was to get home to see his baby, and it changed his perspective on his career and on the world of who he was.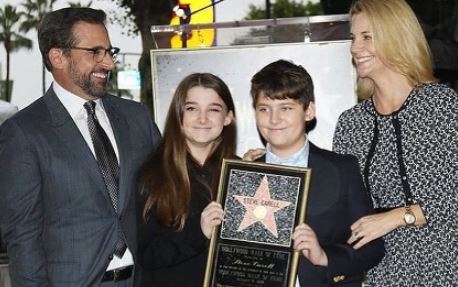 His father never watches himself in The Office
His father is best known for his role in the hit mockumentary sitcom The Office.
Back in 2020, while appearing on The Late Show with Stephen Colbert, he was told that The Office is the most streamed program on Netflix and was asked if it was true that he had never watched it himself.
He admitted to saying he has never, not even when it was on, besides sometimes with the cast together when they got together; otherwise, he tends not to do that.
Not only that, he never tends to watch any of his movies, either.
He then went on to say that if he had been in "Shawshank Redemption,' then he would watch because he always watches that.
How did his father get into acting?
Steve was born to his father, Edwin A. Carell, a mechanical engineer, and Harriett Theresa, a psychiatric nurse.
He was the youngest of four brothers and was raised alongside them in Acton, Massachusetts.
Although he graduated with a double degree in History and Theater, he never thought acting to be his possible career.
As he was applying for law school, still unsure of what to do, he was unable to answer the question on one of the applications, and the question was, "Why do you want to be an attorney"?
His parents then suggested he name something he has always enjoyed, and the very first thing that came into his mind was acting.
He moved to Chicago to chase his dream and eventually landed small parts in shows and commercials.
That was when his acting career started, and the rest is history.
His father shared his most difficult acting challenge
His father is one of the most prolific Hollywood actors. He has done dozens of movies and TV shows.
While appearing on The Ellen Show, he shared the most difficult acting challenge he faced.
According to him, the most challenging and complex acting challenge he faced was while doing the 2018 film "Welcome to Marwin," which involved wearing high heels.
The movie is based on a true story, and it is about a man named Mark Hogancamp who endured a very traumatic beating by white supremacists and, as a result, loses most of his memories.
In order to process and cope with trauma, he creates a fictional miniature town in the backyard.
Hogancamp loved wearing high heels, though he was not gay, so to immerse himself into the character he was playing, he had to learn to wear high heels.
He told Ellen that learning to wear high heels was very tough, which, according to him, was the most challenging thing he ever had to do for a movie.
They sent him the boxes of heels at home. He started months in advance with three-inch heels, which gradually increased to four and five.
He was walking around stilettos eventually, he said.
"And it's one thing, just walking in them, it's another thing looking like you feel comfortable in them, he added.
The first girl his father ever asked out on a date
His parents have been married for nearly decades and are still going strong. But his mother was not the first woman his father asked out for a date.
He recalled his very first date during Ellen's show back in 2015. He said he was in eighth grade when he asked a girl named Lisa Miller out on a date.
It was after his friends in the hockey team encouraged him to do so. "Everyone says Lisa likes you," his friends told him.
He then muster the courage to ask her out and make a call to her. Her father picked up the call.
He tried to be as polite as he could be and asked if Lisa was there. When Lisa got on the phone, he asked if she would like to go to the movie.
Lisa's answer was no, with no excuse or anything. From that time onwards, he never asked another girl out on a date.
He never had the guts to call a girl on the phone after that, he said.
Net Worth
His net worth is currently under review. As of now, we have the net worth of his father.
His father has a jaw-dropping net worth of $80 million, which he has amassed from his successful career in the showbiz industry.
Age
He was born on June 2004. He is currently 19 years old.
Updated On Mon Aug 28 2023 Published On Mon Jun 19 2023 By Sabina