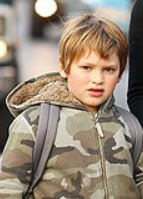 Facts of Joe Alfie Winslet Mendes
Joe Alfie Winslet Mendes is a child celebrity who is best known as the son of a famous Titanic actress, Kate Winslet.
Parents
He was born to parents Kate Winslet and Sam Mendes. His parents first met for a professional meeting.
With time the couple got into a romantic affair with the help of their mutual friend, Emma Thompson.
It was like their marriage was fated. They were born in the same hospital.
In 2002, the couple made their first U.K. public appearance as they attended the premiere of Mendes' film, The Road to Perdition.
They got married in a private wedding ceremony in the West Indies in May 2003.
In March 2010, his parents confirmed the news of them separating through their lawyers.
As per the announcement, the husband and wife had a mutual agreement over the decision of divorce.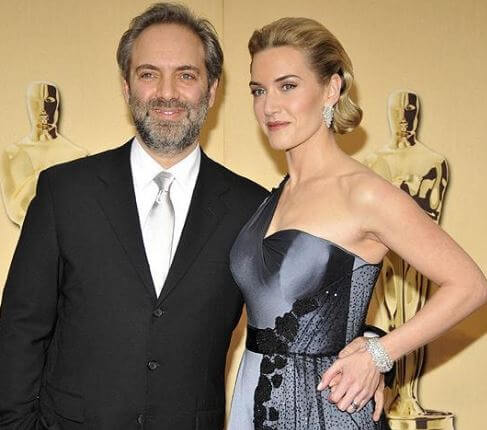 Relationship With His Parents
After the separation of his parents, he stayed with his mother. However, he shares a good relationship with his father.
Despite having a busy schedule, his mother tries to spend time with him. The mother and son are often spotted together.
Here is a picture of the duo where Kate is carrying him on her back.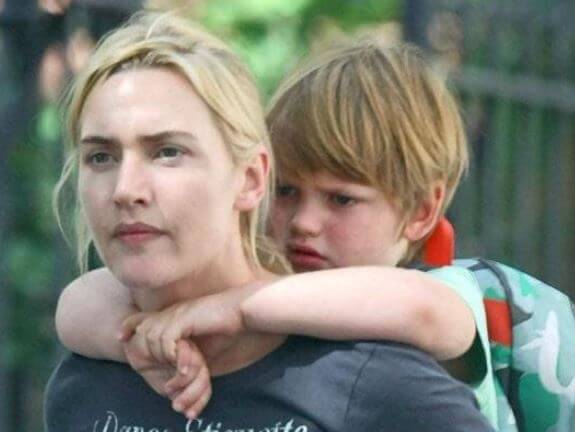 Kate is very caring about her children. In 2006, she took a break from acting in movies to take care of her children.
She made this decision after portraying the character of a mother in the film called Little Children.
The character in the movie is entirely disconnected, both emotionally and physically, from her child.
It was disturbing for her to put into that role, and this made her realize her responsibilities as a mother.
As a result, she decided to take a year off and spend time with her children.
His Siblings
He has two siblings, namely Mia Honey Threapleton and Bear Blaze Winslet. Both of them are his half-siblings.
His half-sister Mia was born to his mother and her first husband, Jim Threapleton.
Mia, whose age is 19 years, is currently studying in high school.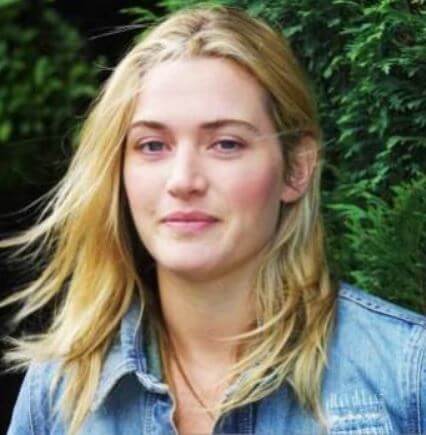 His half-brother Bear was born to his mother and her third husband, Edward Abel Smith.
Bear is the youngest sibling out of all the siblings.
What was the reason behind keeping his brother's unique name Bear Blaze?
His mom, Winslet on The Ellen DeGeneres Show, revealed the reason behind keeping the name of her son Bear Blaze who is now eight years old.
According to her, they settled on choosing Bear quite early on, saying that both her daughter Mia then-13 and Joe-10 insisted on picking a name before the birth.
She went on to explain that the name Bear was a nickname of her friend while she was young, and she very much admired and adored him.
He was very much a bear and everyone's shoulder to cry on. She said of him being a great figure in her life which she always remembered.
That was how the first name was kept, and regarding his middle name, Blaze, it is a reference to a house fire.
In August 2011, while on vacation in the Caribbean, the house was set on fire, and that was the weekend she met her now-husband Ned Smith, who was Ned Rocknroll at the time she met him.
He later changed from Rocnroll to Smith. The house burned down, and luckily they survived, so they wanted something to reference to a fire, so they came up with the middle name Blaze.
Later, in Jimmy Kimmel Live, Winslet talked about her husband changing his last name.
She said when Ned changed his last name to Rocknroll, he might not have anticipated what might happen if he should have a girlfriend whose name was well known Kate Winslet, and the press kind of not react so well to the fact that Winslet had a boyfriend then Rocknroll so it was a little tricky.
After the birth of their son Bear, she was filling in the doctor's form name where she was asked to write mother and father's name, and when she was writing father's name, she said, "uh honey, are we going to keep going like this then he said to write Smith and changed his last name back to Smith.
How did Joe deal with Lockdown?
During Jimmy Kimmel Live in April 2021, Winslet was asked how Joe as a teenager was dealing with the Lockdown, having said that it's hard to deal with Lockdown, especially for teenagers.
She told of Joe being very musical. He was able to make a lot of music with his mates via zoom.
Besides that, she said that Joe was going to take driving lessons from his step-dad, Ned, since in England one can drive to learn at 17.
Further, she also talked about Joe's obsession with Croutons ad anything to do with croutons.
She said that croutons were something she made all the time, not only in Lockdown. Joe has been known to take her croutons in school and share them with his friends, which she claims to be a real thing for her.
Net Worth
Kate is estimated to have a staggering net worth of $45 million.
She has accumulated such a massive net worth through her career as an actress.
Sam is reported to have a whopping net worth of $30 million, which he has accumulated through his career as a film director and producer.
How Did His Parents Make Money?
Kate started acting at an early age of 11. She is known best for her role as Rose in Titanic.
However, she has given other hit movies as well.
Below is the list of some of her blockbuster movies:
| | | |
| --- | --- | --- |
| Title | Budget | Box Office |
| Sense and Sensibility | $16 million | $135 million |
| Titanic | $200 million | $2.187 billion |
| The Holiday | $85 million | $205.1 million |
| The Reader | $32 million | $108.9 million |
She has won several awards, including the Academy Award for Best Actress.
Sam has directed several hit movies, including Skyfall, Spectre, and 1917.
His directional debut, American Beauty, grossed $365.3 million worldwide.
American Beauty also won several awards, including the Academy Award for Best Director.
Trivia
Joe celebrates his birthday on December 22 every year.
His father is currently married to Alison Balsom.
Kate is born to parents Roger Winslet and Sally Bridges-Winslet.
For Amazing Biographies Of Your Favorite Celebrities,
Stay Tuned To vergewiki
Updated On Fri Jun 10 2022 Published On Fri May 01 2020 By shaumya