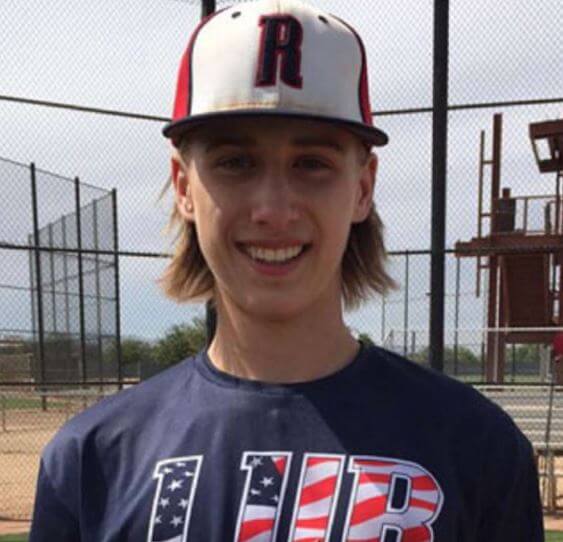 Facts of Jaden Gil Agassi
Jaden Gil Agassi is famously known as the son of Steffi Graf. Steffi is a professional Tennis player.
Both Steffi and her husband Andre Agassi have won 30 Grand Slam titles combined.
Jaden's interest in baseball instead of tennis
Jaden is the firstborn of Andre Agassi and Steffi Graf. He has a sibling named Jaz Elle Agassi.
Despite his parents being known for their tennis profession, Jaden is focused on baseball and is considered to have a great baseball talent.
As per his father, he was five when he picked up a baseball and has not let go of it ever since.
Jaden was home-school in Las Vegas. He left for Los Angeles to play for the Trojans at the famous.
He is one of the top athletes in the class of 2020 and is ranked as No. 66 and No. 2 in Nevada by 'Perfect Game' because of his easy, low-90s velocity as a pitcher, high ceiling with the bat, and good hands in the field.
He is assumed to be starting his career in autumn of 2020.
In the above video, we can see Jaden flaunting some of his baseball skills.
It is posted by his father Andre with a caption
'He gets it from his mom #MarryUp'
His Elbow Operation
Jaden went through an elbow operation in June 2019.
He had a "Tommy John surgery" and was replaced with a torn ligament on the ulna by another tendon, his medical conditions are right, and the healing process is contemplated to be about a year.
His Parents Achievements
Jaden's mother, Steffi, is considered as a wizard on all playing surfaces.
She is the only one who won each of the four major tournaments no less than four times.
She has won a total of 22 Grand Slam in her career.
His father, Andre, is known as the first men's player in history to win a "Golden Slam," which is a Grand Slam title plus an Olympic Gold Medal.
He has won a total of 8 Grand Slam in his entire career. Both Andre and Steffi were ranked World's No. 1 in their respective field.
His Parents Love-Life
Andre was previously married to an actress Brooke Shields. The couple split in 1999 after two years of their marriage.
Andre met Steffi in the tennis-tournament.
He sent a letter to Graf mentioning his feelings towards her, which eventually worked in his favor.
The two met for dinner in California, and the rest is history.
The loving duo tied the wedding knot on October 22, 2001, and have been together ever since.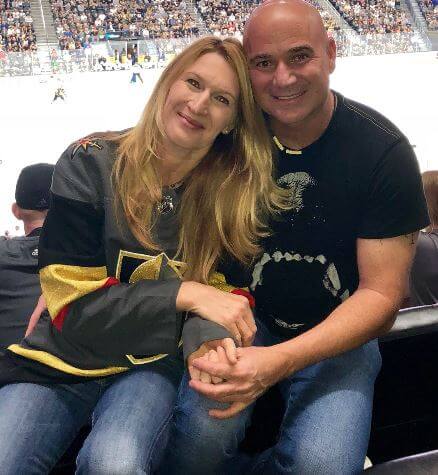 The above picture consists of Andre with his wife with a caption
'The only thing better
His parents' take on COVID, life after tennis, and more
Jaden's mom Steffi and dad Andre was asked about the lifestyle they had been living during this ongoing pandemic.
Andre spoke up, stating that it's been tough across the board, to the entire world, including the sporting world too.
He explained that the time had made them come together but also separated at the same time.
He confronted that the pandemic has also brought positive changes as it made them better cooks at home and made them closer as a family in many ways.
Steffi, on another side also agreed that it has allowed them to spend more time with their kids, going on walks together.
Other than that, they also had a conversation regarding life after tennis. Starting with Andre, he said that there are some disadvantages of not playing tennis as it tricks your body as the body gets older.
Steffi said that we should also focus on health, especially for kids. Later, Steffi shared how she is a reserved personality in real life and doesn't focus much on being in the limelight.
Steffi added that she loved what she did, and she gave it all, and now she is ready for Andre.
Steffi started playing tennis at three years of age?
One of the renowned tennis players, Steffi, originally belongs to Mannheim, Germany. It's been said that the lady fell in love with tennis at three years of age.
Her dad was also a tennis coach who trained his toddler daughter to swing a wooden racket then. Within a year of learning, young Steffi began playing in court and started practicing.
It can be referred to as the modest beginning of a great career. Steffi was unstoppable and started playing actively in junior tournaments.
Despite the young, she was able to grab the title of 1982 European Championships 12s and 18s.
Other than that, her first and foremost professional outing was when she was 13 years old. She attended the 1982 Porsche Grand Prix hosted at Filderstadt, Germany.
Sadly, she lost the game to Tracy Austin, her opponent, which disheartened the young Steffi. Nevertheless, the rest is history.
His handmade necklace is very special to his dad.
Jaden was just five years old when he gifted his father a handmade necklace that read Daddy Rocks.
During an interview, his dad Andre revealed the promise he made to his son. He said to his son that he would always wear the necklace his son gifted him whenever he was away from home.
Recalling the moment he said, Jaden came to him and asked him for help, and when he asked him what he needed the help with to which, he replied he wanted an art project for him.
Andre asked how he could help then Jaden asked him how to spell Daddy Rocks, after which he made the necklace of rope and block letters "Daddy Rocks."
He says if something, God forbid, happened to it, he would be devastated. Andre stills wear the necklace whenever he is away as it is special to him.
His father is proud of him for who is
Andre, during an interview, said he is very proud of his son. He said he is proud of who he is.
Adding to that, he said Jaden was always a measure-twice, cut-once kind of kid who would always size up engagements.
And that he has learned to earn his path, and he will go the extra mile to do that.
As parents, Andre and his wife Steffi didn't feel compelled to enroll their kids in tennis as they did not choose tennis because they had plenty of options in their lives, and they hold them accountable for what they claim, value, and make sure they are living it, Andre said in another interview.
Jaden did try tennis but lost interest after the few balls against the garage wall and then tried football but didn't like the duels, after which he discovered baseball and fell in love with it.
Similarly, Jaden says he is proud of his dad just watching him and that his dad doesn't have to be great for him to enjoy watching his dad.
He says his parents' work ethic rubbed off on him, which is a blessing to him, and he also understands how much it takes to be the best at something.
Net Worth
Jaden's net worth has not been estimated yet. However, his parents combined net worth is around $205 Million.
They are the Global Ambassador of the Swiss watchmaker 'Longines.'
They earn their fortune through several brands and endorsements.
Below is the list of Tennis Players with the highest no. of Grand Slam victories
| | |
| --- | --- |
| Name | Numbers |
| Roger Federer | 20 |
| Rafael Nadal | 20 |
| Novak Djokovic | 17 |
Age and height
Jaden is born in 2001, which makes him age 19 as of 2020.
He celebrates his birthday on October 26 every year.
He stands tall with a height of 6 feet and 3 inches.
His father Andre Agassi was born to parents Emmanuel Agassi and Elizabeth Agassi.
His father has three siblings, Rita Agassi, Tami Agassi and Philip Agassi.
We collect most of the information about Jaden Gil Agassi as it is difficult to find on other wiki sites.
For Amazing Articles Of Your Favorite Celebrities,
Stay Tuned To vergewiki
Updated On Fri May 20 2022 Published On Thu Oct 22 2020 By shaumya