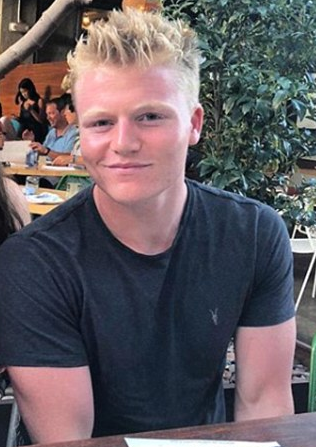 Facts of Jack Scott Ramsay
Jack Scott Ramsay is a British TV personality who is best known as the son of the world-renowned chef, Gordon Ramsay.
Interesting Scenarios And Interviews
When Stephen Colbert shook Jack Scott Ramsay's father, Gordon Ramsay's hand, and gave him a pat on the back, he was surprised by his fitness.
He sarcastically commented,
"It must be hard for the guy who is eating food all the time to stay fit."
Gordon mischievously replied that he assumed him to be fat because he is a chef.
Gordon talked about his love for soccer while Stephen was desperately trying to know the team he was supporting.
He was surprised when he disclosed that despite being Scottish, he roots for England, and his mates give him a hard time back home.
He revealed he grew up in Stratford on Avon, Shakespeare's hometown, and the food there was dreadful.
On the query about Vladimir, Putin Gordon mentioned he was nervous, and he knew if he fucked that he would be in trouble.
However, Vladimir being the tough cookie, liked his food.
When asked about the Master Chef Junior and how he was able to be nice despite being harsh and avenging on someone who he thinks is not doing good, he replied that they were just kids and praised them for their talent.
He further shared his habits in the lightning round. He mentioned that he started his cooking journey at 19.
He does not prefer food while on the plane, and if he is shooting on the road in an unknown location, he would always stick to chicken wings.
He further talked about his show '24 HR to Hell & Back' and shared the experiences he had in the show.
We can see the full interview from the link below
About The Past
Gordon Ramsay talked about his past. He revealed that his parents had a newsagent shop, and that was a hard graph life for him.
He used to wake up at four, unload the paper from his dad, set up the shop, make him a cup of tea, and go on a paper round before going to school.
When Jack Scott Ramsay visited his father's old house, he found there was a 'Direct Pizza' shop. He explained to the owner why he was there and who he was.
Jack then video called his father and showed him the house, Gordon shared how much he loved that place as it was the only form of security he had at that time and the unpaid bills gave him a sense of responsibility.
He then jokes around with his son revealing the room next door is where he lost his virginity. Jack being a mommy's boy, was shy and a little uncomfortable with his talk.
Gordon further discussed how his brother was addicted to drugs at a teenager when they were at Bunbury because his mates used to do it.
Jack visited his father's college and had chitchat with Mrs. Norma, who was his teacher.
After reaching LA, Jack talked with his father and confessed that he would not make it if he had to start it all over now as all the youth centers are closed at present, which helped him in the past.
To which without a budge, Gordon replied he would because of his self-determination and his hunger for success.
Jack concluded he is too adamant about the way he feels.
We can see the entire interview from the link below
Fun with Dad and Son
One thing that his father wished he has known before being a father is Tinder, he says jokingly.
His father loves to spend time and moments with his son, and they do a lot of driving, football, and swimming together.
They share an incredible bond.
His father wished he was not this busy when he became a dad.
He calls his son very energetic and time flies, he says.
Jack shares a day when dad and son sat for 8 hours straight and did not catch a salmon. Gordon uses the term hook up in the interview, and this makes Jack laugh out loud.
One thing Gordon wants his son to do is, have respect for every female he talks to and everyone he shares time with. He is an incredible father.
Jack is a very expensive kid, his father adds.
Jack says his bed is a single bed, and he cannot fit girls in it. His dad says he is too young for that. His father asks him does he message the girls back to what he answers; if they do, yes, he replies.
Jack says he is nineteen years old, and if hot girls message him, he will surely reply. To this, Gordon replies, that might be your mom's friend in disguise, incredible sense of humor.
Winner By Heart
He is a young lad, and he is very active in sports and athletics. He was a part of a rugby team in his high school days.
He loves other sports as well and has played water polo and also is trained in martial arts.
It does not stop there as he never misses the opportunity o run the London Marathon every year. The sole purpose of this competition is to raise money for Great Ormond Street Hospital.
Bond With Father
Jack loves to spend time with his father. Here is an adorable picture of him with his father and both of them look alike with their blonde color hair.
Both of them are smiling in this picture.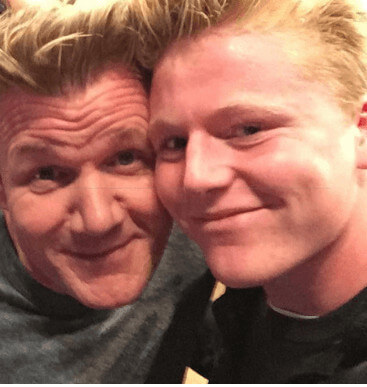 He has been very close with his father since his childhood. Here is one that will bring a smile to your face.
Jack was very young during this time, and he is with his father, not wearing a t-shirt, all so adorable.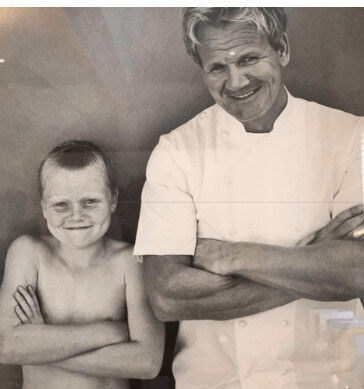 Is He Dating His Girlfriend?
He is one of those celebrities who prefer to keep dating life a secret. He has not revealed much information about his affair.
However, according to sources, he was once in a relationship with his ex-girlfriend named Martha.
There is no information available about their first meeting, but what is known is that he fell in love with her at the young age of 16.
The loving duo celebrated the 2016 Christmas together and shared a kissing photo with a heart emoji on Instagram.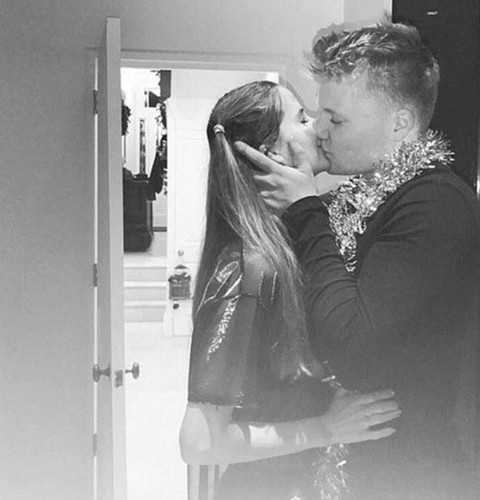 The adorable-looking couple seemed to have a blissful romantic life.
In 2017 they went for a dinner date in Tao Hollywood and enjoyed each other's company. However, after a year, things got bitter, and they separated ways.
As of now, he seems to be single. He has previously been linked with no one except his ex-girlfriend.
He may not have a girlfriend right now, but he has his friends and family with whom he shares a strong bond.
Joining The Marines
The celebrity son has his career and has already made the first step. Yes, you have heard it right. Jack has decided to join the Marines and has already kick-started his role. This will pay him 18,000 pounds per year.
He will start his training at Marines Commando Training Centre, which is located in Lympstone, Devon.
It was last year when he started a basic course. It was a 32 week course, and if he completes it, he will get a coveted green beret.
Not much alike, like his father, he will get military skills rather than cooking skills. He will be facing tough situations and backgrounds.
He will not favor being a star kid and will be treated like everyone else.
The Expensive Birthday Gift that turned heads was a watch.
His father loves him a lot. On his 19th birthday, he gifted Jack a Rolex watch, and the worth of that watch was a jaw-dropping 10,000 pounds.
Gordan Love Story
Gordan and Tana Ramsey have been married for 24 years now. But when they first met, Tana was only 18 years and was dating one of Gordan's friends.
Gordan was immediately attracted to her when he first saw her, but he took a step back as she was his friend's girlfriend.
But when Gordan heard about their breakup, he wasted no time making a move on Tana. It was difficult for them to meet because Gordan was working 16-hour shifts, and they used to meet for only small hours.
But both of them made their relationship work as they both wanted to be with each other and got married before Christmas in 1996.
Gordon Ramsay, "My Kids Yell at me more than I Yell at them."
Gordon Ramsay, the dad of Jack Scott Ramsay, was spotted in a fun interview with Jimmy Fallon on his show.
The host started the conversation by pointing out that Gordon now doesn't yell as much anymore, stating that trait of his has currently become the old impression.
However, Gordon had a funny reply, saying that his children yell at him more than he yells at them.
He continues, it is the other way around. Following the talk, he shared all of his kids are doing well.
Also, confronting the last 12 months has been tough enough for everyone because of the pandemic, especially for youngsters ranging from age 16 to 22.
Nevertheless, Gordon stated that they would get through, he believes. Other than that, Gordon describes all children's work starting with his elder daughter who is working in PR, Holly, his middle daughter, is doing fashion, Tilly is taking a gap year, and Jack has now become a Royal Marine.
He giggled and told all his kids had left the nest, and nobody wanted to cook. There is other stuff too he shared in detail, to know, click the link below.
His mom Tana had a miscarriage (tragedy)
It's true that Jack's mom Tana Ramsay had a miscarriage while she was five months pregnant back in the year 2016.
Tana lost her son Rocky whereas Jack lost his brother. The news was out through Gordon as he announced the horrible news on Facebook.
The chef had a heartbreaking caption, on behalf of his wife, he and Tana thanked all of the audience who supported them over the past couple of weeks.
Gordon revealed how they had a devastating weekend as his spouse miscarried their son at just five months.
Nevertheless, after a year, one of Gordon's daughters, Megan, attended London Marathon to honor his late brother.
Moreover, Megan shared how she misses him each passing day and is especially running in his loving memory.
Further adding that Great Ormond Street is a charity that is close to the whole family. Therefore, her main motive to run is to raise funds for the equipment and treatment, which would help many kids around.
Jack discovered what life could have been if his father would not have become a world-class chef
Jack discovered what his life could have been going back to his father's working-class teen home in Oxfordshire in 2019.
The place where his father and grandfather had worked for ages, the council was replacing the youth center, but in just four years, more than 600 youth clubs were closed, and as a result, anti-social crimes were rampant.
According to his dad, his uncle started smoking d*ugs in Banbury as a young teenager because his mates were doing it.
He said that having seen his brother's addiction to h*roin for 25 years was grim, and it is the scares that would live with him daily if he didn't make it.
Jack facetime with his father when he went to his old flat and asked his dad how it made him feel.
His dad replied he loved being there because it was the only form of security he had at the time, and it was his first step on the ladder while growing up.
He also went to his dad's college Bunbury College which would be Jack's college if he lived there and met retired chef lecturer Norma.
Then he went to his family's second home in Los Angeles and asked his dad what if he told him that the youth club that offered him support and guidance in the formative years of his life was not there anymore and how would he feel if he told him that he does not believe that he can make it out if he was to go there as a teenager?
For his father, it depends on the level of determination and hunger. Hunger is a massive thing for him.
He said to Jack that he could get out of the scenario depending on how hungry he was.
His dad missed him so badly that after he left home for University, he wore his under-pants
During The Late Late Show with James Corden, his dad revealed of wearing his underpants after he and his twin brother Holly left home for Exeter University.
Back in 2018, when Corden asked Gordon about his experience of dropping his then-18 year twin sons off to University for their freshman, Gordon, in his reply, said it was tough for him and his wife Tana to see them leaving.
He said he felt gutted when he dropped them off to college. He then revealed wearing Jack's socks and underpants as both wore the same size.
He continued saying that all of his pants were in the bloody wash and thought Jack had stolen his pants again and put them on; he sat on the bed thinking he missed Jack seriously.
What Is His Net Worth?
His net worth is under review. However, he must have an incredible net worth as a TV personality.
In 2015 he appeared in a family cooking show named Matilda and the Ramsay Bunch.
In the play, the daughter of famous Chef Gordon Ramsay, Matilda Ramsay prepares a host of delicious dishes in her unique style for the members of her family.
He also appeared in his father's show, Masterchef, where passionate cooks from various parts of the US compete against each other in culinary challenges to showcase their cooking skills and ultimately win the title of the best chef.
Besides cooking shows, he has showcased his talent in theatrical plays as well. He made his debut on stage with the play, The Curse of Granholme.
He also worked at a well-known playhouse, Edward Alleyn's theatre, which is located in London.
His father, Gordon Ramsay, who is a renowned chef, has an estimated net worth of $220 million with an annual salary of $60 million.
Below is the list of top chefs around the world and their own net worth:
| | |
| --- | --- |
| Chef Name | Net Worth |
| Gordon James Ramsay | $220 million |
| Jamie Oliver | $240 million |
| Wolfgang Puck | $75 million |
| Marco Pierre White | $40 million |
| Sanjeev Kapoor | $2 million |
| Thomas Keller | $130 million |
| Emeril Lagasse | $70 million |
| Charlie Trotter | $2 million |
| Paul Bocuse | $185 million |
| Anthony Bourdain | $1.2 million |
He earns an average salary of $225000 per episode. His earnings of around $45 million a year from his media and restaurant empire add to his net worth.
He is the owner of several high-end restaurants and has starred in and produced a range of reality TV shows.
He was the first Scotsman to win three Michelin stars, a system used by Michelin Guides to showcase restaurant quality.
In 2012 he launched a show called Hotel Hell, where he tours hotels, motels, resorts, and bed and breakfasts to help them with their restaurants, as well as other aspects of their business.
Trivia
Born in the year 2000, Jack celebrates his birthday on January 1 every year.
He has four siblings and they are Oscar Ramsay, Megan Ramsay, Holly Anna Ramsay, and Matilda Ramsay.
He stands tall at a height of 6 feet 2 inches.
We cover most of the information about Jack Scott Ramsay as it is difficult to find on other wiki sites.
For amazing biographies of your favorite celebrity, tune into vergewiki.com
Updated On Thu Apr 21 2022 Published On Tue Nov 19 2019 By paper-boat