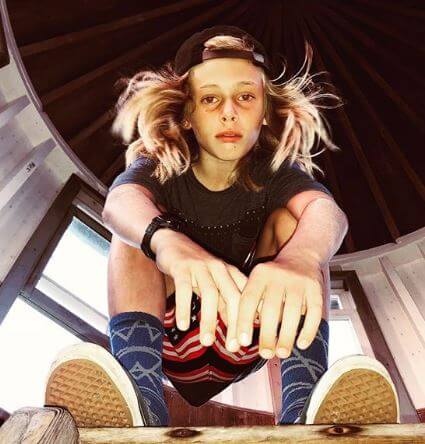 Facts of Henry Daniel Moder
Henry Daniel Moder is best known as son of celebrity parents.
He is the youngest child of actress and producer Julia Roberts and cinematographer Daniel Moder.
Mother, Julia Roberts.
Julia Roberts full name Julia Fiona Roberts came to prominence after appearing in the role of Vivian Ward in the romantic comedy film 'Pretty Woman' in 1990.
She was born on 28 October 1967 in Smyrna, Georgia, the United States to Betty Lou Bredemus and Walter Grady Roberts.
She was raised in a Catholic family, and in 2010 she said she was Hindu.
Her parents got divorced when she was young. Her father died when she was ten years old due to cancer.
She began her professional acting career in 1987.
Father, Daniel Moder
Daniel Moder full name Daniel Richard Moder was born on 31 January 1969 in Los Angeles, California, United States.
His parents are Mike Moder, a producer, and Patricia Ann Watz. He was raised with his four siblings.
He began his career as a production assistant from the movie 'Crimson Tide' in 1995.
He is best known for his work, such as 'The Normal Heart,' 'Spider-Man 3', 'Ibiza,' among others.
Parents Married Life
Julia and Daniel met for the first time in the set of the movie 'The Mexican' that was in 2000.
At that time, Daniel was married to his first wife, Vera Steimberg.
After two years of their first met, Daniel divorce was finalized on 16 May 2002.
The couple got married on 4 July 2002 after having love affairs for some time in Taos, New Mexico.
They tied the knot in a small wedding ceremony with close friends and family.
Prior, Julia had married to singer Lyle Lovett.
They are still together and spending blissful married life without any disputes to date.
They have three children together.
Twin Siblings
He had two older twin siblings, a sister, and a brother.
Their names are Hazel Patricia Moder and Phinnaeus Walter Moder.
They were born on 28 November 2004, and their current age is 15 years old.
They are spotted in many places together with their celebrity parents.
They have already gone on adventurous trips and vacations. The bonding between them is so sweet.
They play and study together.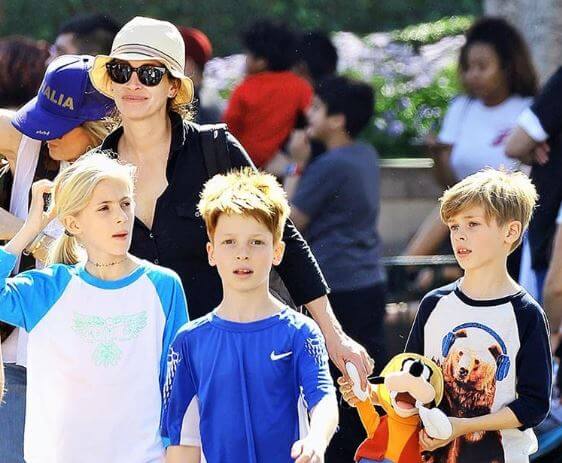 Family Time
His parents are so sensible and caring. Despite their busy schedule, they never forget to make time for their children.
They celebrate all festivals together, and the family is too adorable.
His father shared a beautiful family picture, where his wife and kids are enjoying their family moment, and that was on 13 May 2019.
The photo is so cute. The caption of that photo is
'That Pretty mama in …'.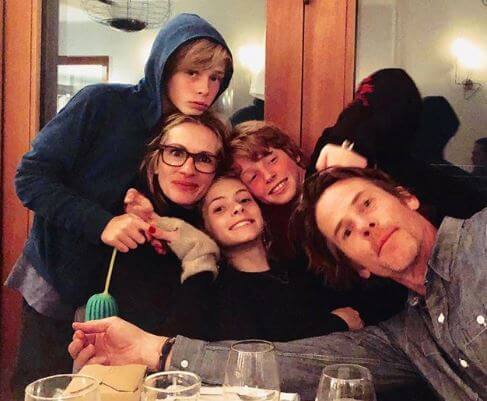 About Home Coming
Julia Roberts talks about her show' Home Coming' with NBC's Harry Smith.
In the show, she plays the role of counselor and mysterious rehab center military vets.
Talking about her work since the past decade and looking back to it, Harry asked her what advice she would have given to her younger self, to which she responded none as she would not have listened to any.
Despite being an Oscar winner and Mega Star, she stays grounded and thanks to her husband of sixteen years, Daniel Moder, a cinematographer.
She gives him a lot of credit as he has helped to protect her person. At home, she is a soccer mom for her three children where all of them are almost teenager except for Henry Daniel Moder as he was 11 then.
On the query about what it's like to raise three children at this age. Julia says it is interesting as it's also new, the opportunity, the pressure, and the resources.
She tries to keep her children away from social media as she doesn't think it's necessary at this age. She joined social media in 2018.
Julia Roberts and her most painful criticism
Julia is the most famous woman in Hollywood, and she always has been in the news for her work and critics and a hell lot of criticism. Among them, the one who hurt her the most was when she was nicknamed 'Tinkerhell.'
This happened when she was shooting for Steven Spielberg's 'Hook' in 1991.
When Steven commented about Julia's professionalism, labeling it an unfortunate time for them to work together, Julia was shocked.
She couldn't believe that the one she knew and trusted hesitated to come to her defense.
Sarcasm
Ellen sarcastically asked Julia Roberts whether she has five children, to which she responded that sometimes it feels like five.
Julia has twins named Hazel and Phinnaeus and a son Henry.
Although they are three years apart, Julia revealed that her youngest, Henry Daniel Moder, prefers saying to everyone that they all are twins as he doesn't feel any age gap between his siblings.
Talking about scaring her children, Julia admitted that she had scared her children to such an extent that she got addicted.
Julia further added that she has to stop herself as it would be potentially abusive and long-lasting.
She shared an incident when she was coming downstairs, and her oldest son was coming down the hall, and she went "Boo," and he sprung out.
Emma Roberts pays tribute to her aunt Julia Roberts
Emma Roberts was entitled as the new face of 'Pretty Women' for Fred Jewelry.
She announced on her Instagram handle with a video showing the range of jewels to the movie's title track, "Oh, Pretty Woman."
The collection also includes a piece of necklace that Julia Roberts's character wore in the film for her first visit to the Opera.
Julia shared her bond with her niece in an interview with Los Angeles Times in 2013, mentioning that Emma is still the same magical girl she used to be.
His mom says she has great pride in being home with family and considering herself a homemaker
Academy Award winner Julia Robert returned to the big screen with her new Starz series "Gaslit" after a long hiatus from acting.
She was a homemaker during the time away from acting.
In an interview with The New York Times, Julia said her time away from acting wasn't by design and was surprised how quickly the years flew.
She said in those years, and she didn't see any compelling roles that were able to her steal her heart and would have done it if they were compelling.
The next thing was that she had three kids in the last 18 years and had a responsibility to play the role of a mom and a wife.
Having kids raises the bar even more because then it's not only Is This Material Good? she added.
Besides that, it was the math equation of her husband's work schedule and her kid's school schedule, and summer vacation, which was not just thinking that Oh, she wanted to do this.
She admitted to having a sense of great pride in being home with her family and considering herself a homemaker.
For so much of their younger life, their kids would see their dad go off, and she would work a little, but they almost didn't notice, which seemed like she was only gone when they were napping or something.
But when they grew older, especially with their daughter, she did have a sense of responsibility for showing her children that she could be creative, and that was meaningful to her.
So meaningful that for periods I will choose to focus on that almost more than my family, which has been hard for me to come to terms with.
She also said that she almost didn't do "August: Osage County " because they were going to start filming at the time when Henry was starting Kindergarten, and she was like, how could she miss that.
She recounted telling her husband about the feelings where Danny pushed her on doing it, saying that at some point, she was going to have to leave them to work and wouldn't she roll those dice in a situation like those where she has a good understanding of what she is going to be doing and the people she is going to be working with.
His uncle, Eric Roberts, on his relationship with his mom, said they have always been fine
His uncle Eric Roberts while appearing on the "Behind the Velvet Rope with David Yontef" podcast, cleared he and Julia have always been fine amidst the speculation over the years of the siblings having a rift.
He recounted the moment when he was doing a press tour for some movie years back then when Pretty Woman had just been released.
He was asked a bunch of questions about Julia, after which he responded by asking if they could talk about him. It was said funnily, but they misinterpreted it.
Then he started hearing about those issues he had with his sister, which he didn't have, and the news began to circulate.
The Paparazzi followed him everywhere and asked if they were real issues. They were asking such questions he was unaware of.
It was they who made such stories that grew up over the years and eventually became all these things.
Still, the truth was that though they do not agree on a lot of matters, he and Julia have always talked, they have always bitched and have always had fun knowing each other, he said while explaining the real matter.
Eric further humorously added that Julia has three adolescent children now, so her life is not like a day at the beach, and she has a lot of S*** she has to deal with.
Eric lived with his father, Walter, while his sisters Julia and Lisa lived with their mom, Betty following their parents' divorce after 16 years of marriage.
In an interview back in 2018 with Vanity Fair, Eric said he suffered from horrible stuttering but acting saved him.
While talking about his relationship with Julia, he said he was crazy about his sisters and loved and adored them. They were all protective of each other.
When Julia had twins in 2004, he and Eliza went to drop off gifts but instead, he ushered her into their room and immediately was submerged in brotherly and uncle-ly love.
Since then, everything changed, and he said they have since enjoyed special occasions together.
Net Worth
He is a child of celebrity parents. His father has a net worth of 10 million dollars.
He manages to earn that sum of money from his career as a cinematographer.
He has worked in several movies and television series so far, such as 'The Animal Kingdom,' 'Highland Park,' and many more.
His mother has a net worth of 250 million dollars.
She earns that sum of income from her long professional acting career.
She was the highest-paid actress of the 1990s. She is one of the richest actress of Hollywood.
She has won several awards so far, such as three Golden Globe Awards, an Academy Awards.
She has appeared in several movies and television series so far.
Some of her brilliant movies with their box office collection and budget are shown below.
| | | |
| --- | --- | --- |
| Name of the movie | Budget | Box Office |
| Pretty Woman | 14 million | 463.4 million |
| My Best Friend's Wedding | 38 million | 299.3 million |
| Valentine's Day | 52 million | 216.5 million |
Trivia
He was born in 2007 in Los Angeles, United States. He celebrates his birthday on 18 June every year.
He is American by nationality.
His mom gave his Hindu name Krishna Balram.
For Amazing Biographies Of Your Favorite Celebrities,
Stay Tuned To vergewiki
Updated On Sun Aug 28 2022 Published On Thu May 14 2020 By shaumya