Helene Godin is a self-made woman, Entrepreneur, and founder of By the Way Bakery.
By the Way Bakery is a gluten-free, dairy-free, kosher bakery with footprints in New York and Connecticut.
Who Is Her Husband?
Her husband's name is Seth Godin, who is an American Author, Public Speaker, Marketer, and Entrepreneur by Profession.
He is author of more than 18 books, including a series of ten children's books named 'Worlds of Power.'
Godin is also a daily blogger; He posts all his daily blog on his site.
He has done MBA from Stanford Graduate School of Business.
Before starting his own company, 'Yoyodyne,' one of the first internet-based marketing firms, has worked in a software company.
He's written books are critically acclaimed and also became best-selling books, including Purple cow and All Marketers are Liars.
He spends 16 hours of daily writing and researching.
There is no information about how they met and when did both got married in the media as of now.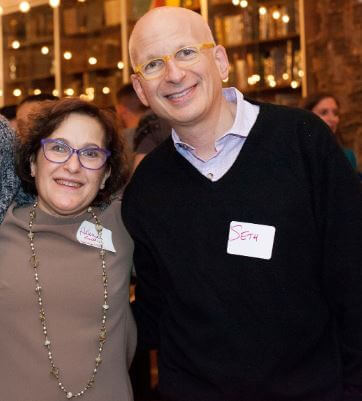 In the above picture, Helene Godin is with her husband, posing for the camera.
Children
She has two sons.
The younger one is a 19-year-old who just finished freshman year at Northeastern and now is a part student-run advertising agency.
The older one is 21-year-old, whose name is Alex Godin, who is good at technology.
He is doing good and supporting all by himself in New York City.
How She Started Her Company?
She was working in Bloomberg as an in-house position, and she worked for two years.
One fine day she said to herself that you know what I am done.
I can't be doing this anymore, have to try something different than this, and when she told the general counsel that she wants to quit the job.
At first, her counsel tries to convince her, saying I know you are doing so much work; you are doing work of two people, so let's settle it down. We don't want to lose you.
He offered her to choose whichever client she wants to work with so that she won't quit the job.
But in her mind, she decided that she was done with corporates job.
So, then she started to experiment with the things to keep herself busy.
She took the Vegan Baking Boot Camp at Natural Gourmet Institute, which was the first cooking class she has ever taken.
The instructor told her that Vegan is not in the trend right now; rather, its Gluten-free.
As she has so much free time, she observed in the Supermarket that the gluten-free section was expanding.
And that's when she got the idea of opening A gluten-free bakery, but since she knows nothing about baking, her family gets worried about this idea.
But for her, this was not the end rather than the beginning.
She indulges herself deeply in baking, wasn't afraid of failing but working relentlessly to make her idea work.
One of her chocolate cookies took 52 tries to get approved.
So, in 2011, she opened By the Way Bakery and had 25 recipes on the menu to serve the customers.
Now it's very successful and has four outlets in the United States.
This picture is of her and her bakery store.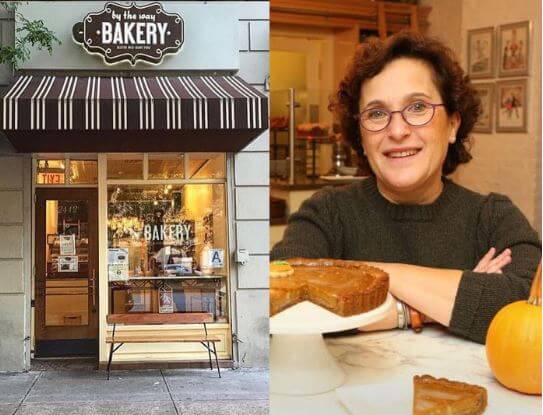 Helene Godin and with her baked muffins in her hand posing for a picture.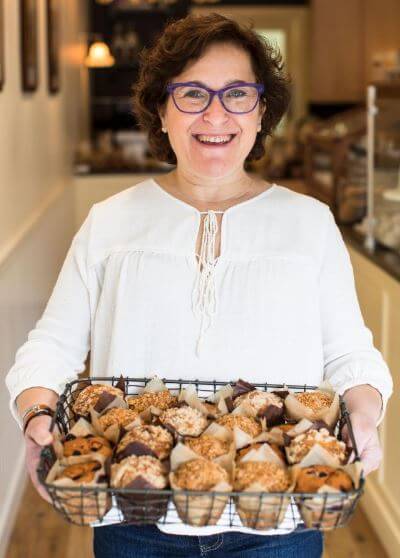 Net Worth
There is no information available of Helene net worth, but her husband Seth Godin is estimated to have a net worth of $60 Million, which is massive.
How Did Seth Godin Earn Money?
His primary source of earning writing, Public speaker and also has its own company named 'Seth Godin Production,' and it provides book packaging services to clients like Microsoft, AQL, CompuServe Simon, Penguin, and others.
Some of the books he publishes in recent years are given below:
Book's Name
Survival is not enough
Purple Cow
All Marketers Are Liars
We All Are Weird: The Domino Project
V is for Vulnerable: Life Outside the Comfort Zone
What to Do When It's Your turn (it's always your turn)
This is Marketing: You can't be seen until you learn to see
Trivia
She left the twenty-two-year career in the law to open a bakery.
Yoyodyne was sold to Yahoo in 1998, and Seth Godin worked as Vice president of direct marketing from the year 1998 to 2000.
For Amazing Biographies Of Your Favorite Celebrities,
Stay Tuned To vergewiki
Updated On Fri Feb 19 2021 Published On Fri May 22 2020 By shaumya