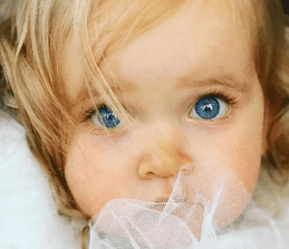 Facts of Haven Mae Herjavec
Haven Mae Herjavec is daughter of an Australian ballroom dancer and television personality Kym Johnson Herjavec and Canadian businessman and investor Robert Herjavec.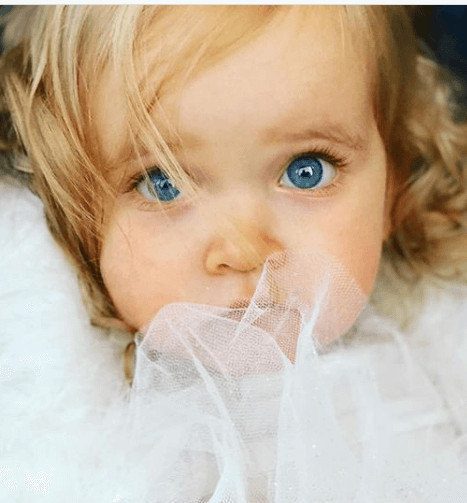 Her Parents
Her mother, Kym Herjavec full name Kym Johnson Herjavec was born on 4 August 1976 in Sydney, New South Wales, Australia.
She is well known after appearing in the first three seasons of the Australian version of 'Dancing with the Stars.'
She began to dance when she was only 3.
Robert Herjavec was born on 14 September 1962 in Varazdin, SR Croatia, Yugoslavia, to Vladimir and Katica.
His family moved to Canada from their home country in 1971.
He came to prominence after appearing in television reality show Shark Tank, where he is an investor as well.
Her Parent's Marriage
Her father confirmed his love relationship with Kym Johnson in September 2015. They dated for several years before marriage.
They wanted to take their relationship one step ahead, so they decided to get engaged, and they did so on 27 February 2016.
They tied the knot on 31 July 2016 in Los Angeles, California, in front of their family members and close friends.
They are still together and have two children together.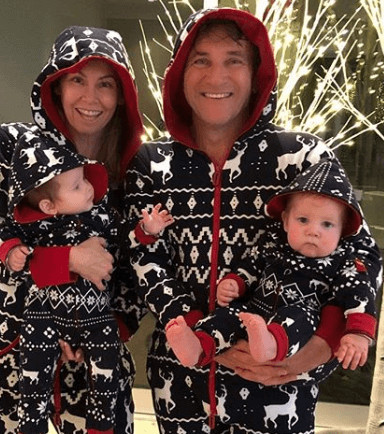 Her Twin's Brother
She has one twin brother. He is one minute older than her. He was born on 23 April 2018 at 7:44 am.
His name is Hudson Herjavec. He is so cute, like her.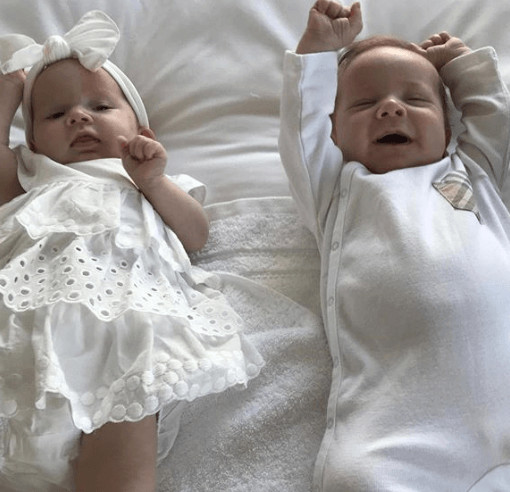 Celebration Of Her First Birthday
She turned one on 23 April 2019. Her parents were very excited to share their child's first birthday.
Her mother has posted a family picture on her kid's birthday. The photo is full of joy.
In the photo, her mother is kissing her, and she looks so pretty in a blue dress.
Her father is carrying her brother with one hand, and with another hand, he is carrying number 1 balloon.
She wrote the caption on it, and the caption of that photo is
"So special…"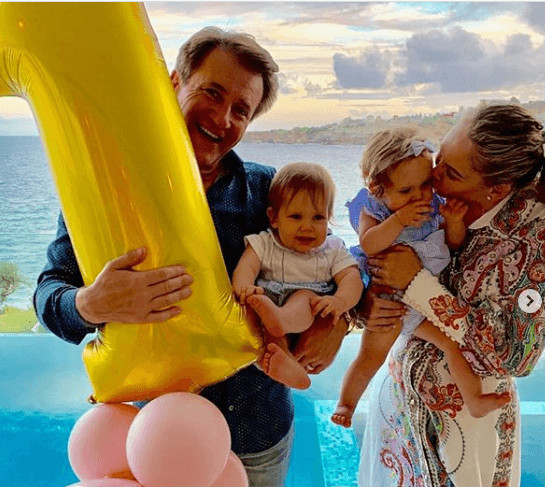 Aww!! A Cute Moment With A Mini Horse
She is so adorable. Her father had clicked a picture of her with a white mini horse, which he sent to his wife.
Her mom posted that photo on her Instagram on 18 November 2019.
In the picture, she is wearing a white dress with silver color cute shoes. She is looking like a doll.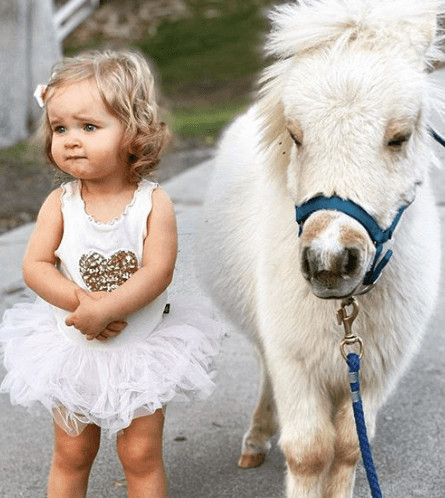 Did her mom want to have more kids with her dad Robert Herjavec?
In an interview, Kym and Robert stated that they are not planning for a quarantine baby.
Kym then mentioned that she would love to have more kids, but in the middle, Robert stated that they could even get a dog perhaps.
Robert shared how they were planning to get a puppy as it was the perfect timing. When asked about their kids, whether they were in wonderful twos or terrible twos?
Kym then replied they had their moments and said that the two started before they were actually two.
Also, regarding the challenge and rewards of raising twins, Kym says that now it's a bit easier now as they are older, but the first three months were a total job.
Kym also said that it was crazy. However, now they are talking more, and also the lady stated that if the kids are of the same age, then it's easier as they are doing things at the same time.
They also say that, as of now, there are no twin languages for their kids, but they both shares a very close bond.
Lastly, also when asked how they are managing their time for the romance, Robert laughed and said we have nothing but time.
They were not going anywhere. Also, he added that one of the reasons he fell in love with Kym was she is so much fun to be with.
And Robert also shared that they are having a lot of fun times hanging out and appreciating the time together.
Coming back to their hometown?
It's been stated that Kym and Robert were planning to return to Australia after the COVID ends.
Kym even mentioned that she wished she was there in Australia during the COVID times.
She also said that it would be perfect timing to be back with their family and friends at this tough time. However, she also added that they FaceTime every day.
Kym also says that she and her husband most of the time talk about shifting back there, so fingers crossed.
The pair talked about it, but Robert's business is there in America, which makes it difficult to move despite they would love to.
Lastly, she said they were planning to come back for Christmas, but she can't be in quarantine with two kids in a hotel room for two weeks.
Net Worth
She is a child born with a silver spoon. Her parents are wealthy people.
According to celebrity net worth, her mother has a net worth of 1 million dollars.
She manages to earn that sum of income from her dancing career.
She has appeared in several seasons of 'Dancing with the Stars' of Australian and American versions.
Her father has a net worth of 200 million.
He manages to earn that sum of money from his different business ventures, reality television series, and many more.
He was a founder of BRAK systems and sold to AT&T Canada in 30.2 million dollars in 2000.
He won three Gemini Awards for the Outstanding reality show in Canada.
He is an author too, and his books also help him to accumulate some amount.
He has a luxurious house in Canada and has several other homes in different places.
Her mother's 'Dancing with star' United States results for 9, 11, 12, 13 & 14 seasons are shown below.
| | | |
| --- | --- | --- |
| Season | Partner | Place |
| 9 | Donny Osmond | 1st |
| 11 | David Hasselhoff | 12th |
| 12 | Hines Ward | 1st |
| 13 | David Arquette | 6th |
| 14 | Jaleel White | 7th |
Trivia
She was born on 23 April 2018 at 7:45 am. She is 6.3 lbs at the time of her birth.
She is Canadian by nationality.
She has three half-siblings from her father's side.
Stay tuned to vergewiki
Updated On Mon May 30 2022 Published On Tue Mar 17 2020 By paper-boat