Facts of Hal Auden Cumberbatch
Hal Auden Cumberbatch is recognized as being the second son of actor Benedict Cumberbatch and theater and opera director Sophie Hunter.
Papa Reveals
Ellen talked with Hal Auden Cumberbatch's father, Benedict Cumberbatch, about his significant fans and what do they call themselves; Benedict stated that they call themselves a lot of things but mainly 'Cumberbitches' which he even mentioned that he doesn't like and Tweeted.
He said,
"Ladies, has this not set feminism back a little bit, but then they were very sweet and wrote back to him saying, they didn't mean any harm to feminism they are just having a bit of fun with his name."
Ellen then recalled about her hosting last year, sharing a clip of the meeting at a very tight backstage, and she was in her Good Witch Costume.
Benedict later appreciated her for her performance on stage as she made it seamless, flawless, and funny as hell as everyone was having fun.
When Ellen mentioned him being a little tipsy at the event, Benedict thanked her team as they gave him some vodka on the red carpet.
Ellen titled him as an award show professional because he was photo-bombing everybody in sight then.
He then shared the whole story behind photo-bombing and how Meryl Stereo and someone from North Korea stood in front of him for about five minutes trying to take photographs which he finds ridiculous, so he just jumped up.
They further talked about his baby, and Ellen suggested a few names like Engel Bert, Harpsichord, Glockenspiel, and Carl to match his last name, Cumberbatch.
We can see the entire interview from the link below
Father Benedict Cumberbatch
Benedict Cumberbatch's full name Benedict Timothy Carlton Cumberbatch came to prominence after appearing in the role of Sherlock Holmes in the British crime television series 'Sherlock.'
He was born on 19 July 1976 in London, England. He is the son of actor Timothy Carlton and actress Wanda Ventham.
He has one half-sister Tracy Peacock from his maternal side.
He studied drama at Manchester University. He has worked in theater, film, television, and radio.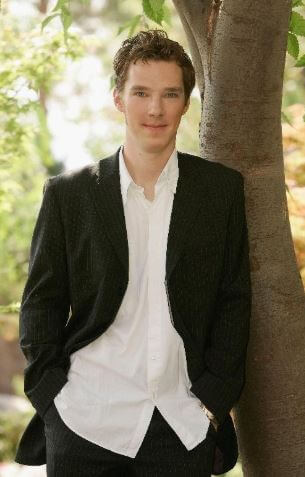 Mother Sophie Hunter
Sophie Hunter's full name Sophie Irene Hunter was born on 16 March 1978 in London, the United Kingdom to Anna Katharine and Charles Rupert.
She has two brothers.
She debuted in the field of direction in 2007. She co-founded Lacuna Theater Company.
She is the co-founder and artistic director of a Theater Company named Boileroom.
She has directed several Off-Broadway such as Henrik Ibsen's Ghosts, 'Lucretia', and many more.
She has acted in several movies and television series also such as 'Keen Eddie,' 'Mumbai Calling,' 'Burlesque Fairytales', and many more.
She dated the sculpture Conrad Shawcross for several years. They separated in early 2010.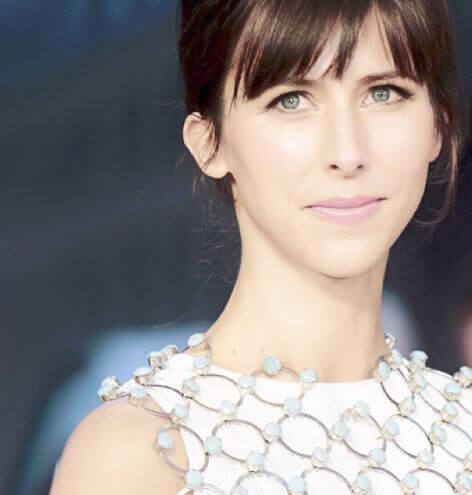 Parent's Marriage
Benedict Cumberbatch and Sophie Hunter were friends for a long time. They were friends for 17 years before marriage.
After Sophie broke up with Conrad Shawcross, she began dating Benedict.
Their engagement was announced in the 'Forthcoming Marriages' of 'The Times' on 5 November 2014.
They got married on 14 February 2015 at St. Peter and St. Paul Church. Their reception was held at Mottistone Manor.
They invited their close friends and family on their big wedding day.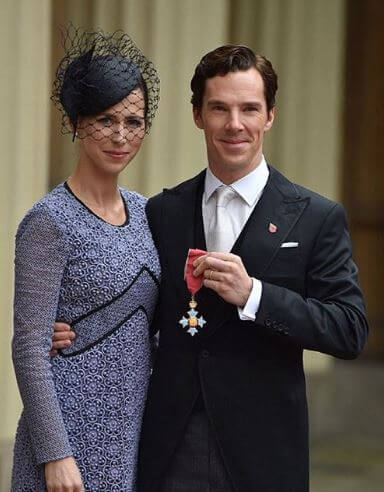 They look good together and enjoy their marital life. They have three children together.
There are no rumors of their separation to date.
Moment With Parents
His parents maintain his life far away from the media.
Even his clear photo is not available on the internet and his parent's social media sites.
There is one photo on the internet in which his father is carrying him in his hand, and his mother is sitting side by his father.
The picture is so cute that his father is playing with him.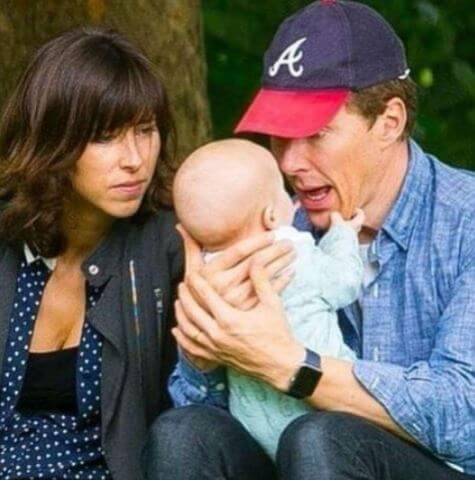 Siblings
His older brother's name is Christopher Carlton. He was born on 1 June 2015. He is five years old.
His parents were spotted with him a lot when he was young.
He has one more sibling, but the identity of his/ her is unknown to date.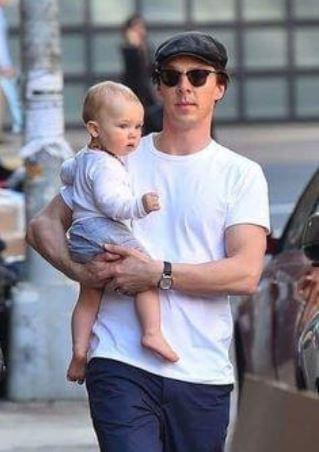 His father didn't clean himself for several weeks
His father Benedict didn't clean himself for several months to soak himself into the character he was playing for Netflix's The Power of the Dog.
For his character as a 1920s ranch owner Phil Burbank in Montana, the film director Jane Campion encouraged him to live the life he might have lived.
He was told that whatever he needed to sort of feel that he had ownership of very different lived experiences to his own.
Since the character he was playing was masterful, having a brilliant sensitivity and craftsmanship about him and to feel his character in depth and experience it, he went to Montana for a couple of months to learn what it's like to live on a ranch.
He learned ironmongery, making horseshoes, and woodworking.
According to Benedict, the character reportedly in the book wears work on him with great pride and doesn't wash for three or four months at a time, so like the character in the book, he wanted the same feel in his skin and the layer of stink on him.
He wanted people in the room to know what he smelled like, for which he didn't wash himself up, and it was not just in rehearsals.
Jane would be inviting him out for sushi or a walk where he had a biohazard zone around him.
To immerse into the character, he even asked the wardrobe department not to wash his clothes, and they would sprinkle alcohol to avoid lice-ridden, but he said he was peeling them off and on in all kinds of weather.
And also, he stopped answering his real name, and if anyone called him by his name, he would not move. Benedict is a true masterpiece.
A reel and real-life hero
Benedict is a reel and real-life hero, and here is the reason why. During The Ellen Show, Benedict explained how he once saved a man from getting robbed after Ellen asked him about the incident.
According to him, he discovered a bike delivery guy on a cold November night surrounded by some guys.
He stopped the Uber he was in and attempted to intervene and tried to calm down the riling up kids.
The delivery guy, as per him, seemed like he was going to fight for his life without thinking about the circumstances.
Benedict got in the way and also tried to stop traffic so that they could witness what was going to happen.
He confessed to being embarrassed because of the story shared by an Uber driver where he said that he was there and Benedict was fighting and jumping, and it's all been a bit exaggerated.
His dad almost considered ditching his last name
Benedict was born Benedict Timothy Carlton Cumberbatch. He almost considered ditching his last name, but what did he consider his name to change to?
Cumberbatch, alongside his co-star Elizabeth Olsen from Doctor Strange in the Multiverse of Madness, appeared on The Late Late Show with James Corden and revealed both of them almost considered changing their last name.
According to Cumberbatch, he opted to change his name to Ben Carlton because he felt his last name Cumberbatch "sounds like a fart in the bath" and that he found difficult to say on Monday morning.
It's a great scrabble score, but apart from that, it's a bit clumsy. But then his sensible agents with who he worked were like,
"You got a great surname. Why you are calling yourself by your middle name"?
They told him Cumberbatch is very great and unique and that people might remember it because it's different and suggested not to change it.
So he dismissed his thoughts of changing it.
Olsen said when she was nine, she thought if she became an actress, she would change it to Elizabeth Chase, but when he started working as an actress, she didn't think of it and was like, "whatever."
Benedict on growing up with actor parents
Benedict was born to his parents, Timothy Carlton and Wanda Ventham, who are both phenomenal actors.
During an interview with Variety, Cumberbatch recalled what it was like growing up with actor parents.
He said, having been born to celebrity parents gave him the privilege to tour with them and be on the sets, backstage which provided him the early insight into what it was they did for a living very early on.
Seeing his mom perform, he had in his mind acting, is what he wanted to do. His actor parents initially discouraged it.
His dad was working 24/7 to pay for his education to pull him into the idea that it was peripatetic, not being able to plan your family holidays, not knowing where your next income is going to come from.
But then there was one moment when his dad realized acting was something meant for him.
Cumberbatch was a University student, and his father had come to watch him perform Salieri in "Amadeus."
At night after wishing his parents goodnight, he was about to go when his dad got ahold of him and praised his performance.
He said to him,
"Look, you are better at this now than I ever was or will be. Half of the reason I am doing it is just to go, It's going to be alright".
And then the rest is history.
Net Worth
He is a child of celebrity parents. His parents have a hefty amount of net worth and salary.
His father is a successful actor and has earned a massive amount from his acting skills.
He has a net worth of 30 million dollars. His fortune is gradually increasing.
He has won several awards for his several performances, such as 'Hollywood Film Awards,' 'BAFTA Awards,' and many more.
He has appeared in several movies and television series to date, such as 'Doctor Strange,' 'War House,' 'The Last Enemy,' and many more.
Some of his hit movies with total budget and box office collection are shown below.
He played the role of Smaug in the fantasy adventure film 'The Hobbit: An Unexpected Journey.'
The total budget of the film was 200-315 million dollars, and the total box office collection of that movie was 1.021 billion dollars.
He has appeared in the role of William Prince Ford in the biographical period-drama film '12 Years a Slaves' in 2013.
The total budget and box office collection of that movie were 20-22 million dollars and 187.7 million dollars, respectively.
He has appeared in the role of Dr. Stephen Strange in the superhero-based film 'Avengers: Infinity War' in 2018.
The total budget of the film was 316-400 million dollars, and the total box office collection of that movie was 2.048 billion dollars.
| | |
| --- | --- |
| Name of the Movie | Box Office (Dollars) |
| The Hobbit: An Unexpected Journey | 1.021 billion |
| 12 Years a Slaves | 187.7 million |
| Avengers: Infinity War | 2.048 billion |
Trivia
He was born on 3 March 2017 in the United Kingdom. He celebrates his third birthday in 2020.
He is British by nationality.
His parents choose the name in honor of Shakespeare.

For Amazing Articles Of Your Favorite Celebrities,
Stay Tuned To vergewiki
Updated On Fri Aug 19 2022 Published On Sun Aug 02 2020 By paper-boat