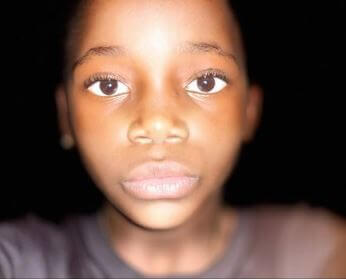 Facts of Estere Ciccone
| | |
| --- | --- |
| Full Name | Estere Ciccone |
| First Name | Estere |
| Last Name | Ciccone |
| Profession | Celebrity Kid |
| Birth Country | Malawi |
| Mother Name | Madonna |
| Mother Profession | singer, songwriter, and actress |
| Gender Identity | Female |
| Horoscope | Virgo |
| Sibilings | Lourdes Leon, Rocco Ritchie, David Banda Mwale Ciccone Ritchie, Mercy James and Stella Ciccone |
| Insta Profile | |
| Date of Birth | August 24,2012 |
| Age | 10 years |
Estere Ciccone is famously known as the daughter of Madonna.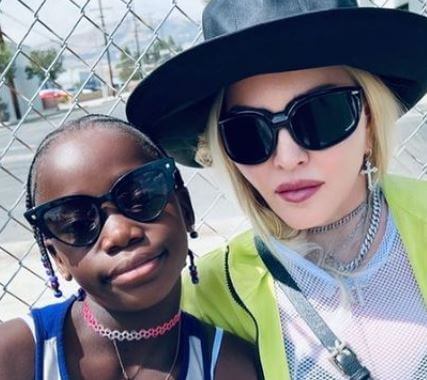 Madonna threw a lavish birthday party for her twins Stella and Estere Ciccone.
Madonna celebrated her twin's 8th birthday bash throwing a lavish party. She posted the video of an impromptu dance party with the twins and Madonna herself in a tennis court.
Madonna's son David Banda and daughter Mercy James who are both 14, also seemed to be joining their mother and younger sisters.
Both of her daughters looked gorgeous with blue and pink hair extensions for their birthday party. Madonna's boyfriend Ahlamalik Williams was also present at the party.
Both the girls were seen enjoying eating cotton candy along with their mother.
Below you can see a glimpse of the Stella and Estere Ciccone birthday bash
Her Family
Estere is the adopted daughter of Madonna. Her biological father is Adam Mwale, and her mother is Patrica Mwale. She has five siblings.
They are Rocco John Ritchie, Lourdes Maria Leon, David Banda, Mercy Ciccone, and Stelle Ciccone.
Stella is her identical twin.
Mercy and David are adopted, whereas Rocco and Lourdes are Madonna's biological children.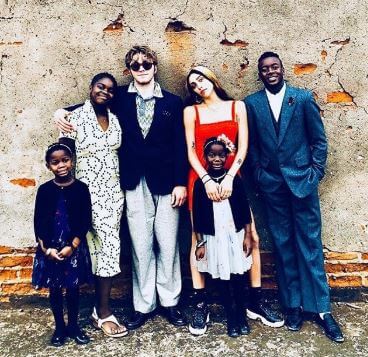 The picture is posted on Estere and Stella's combined Instagram account, which is run by her mother, Madonna.
It consists of her siblings with a caption
'happy thanksgiving'
Her Adoption
Estere and Stella shared the same fate as their older siblings, David and Mercy.
Their mother passed away five days after giving birth due to complications from a cesarean section operation.
Their father could not take care of them as he already had five children and thus handed them over to the orphanage.
They were raised at the Home of Hope Orphanage in Mchinji. They were adopted in 2017 when they were four years old.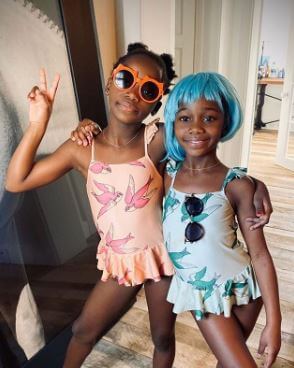 The picture consists of Estere with her identical twin Stella with a caption
'happy week end #stayhome'
Mother Love-Life
Estere mother, Madonna, is in a relationship with her backup dancer, Ahlamalik Williams.
Ahlamalik is also a professional dancer and choreographer. The loving duo has been together since 2019.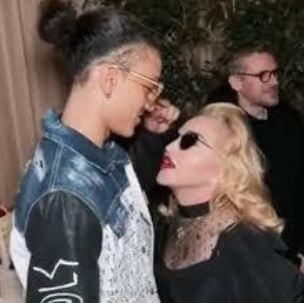 Interview With Mother, Interesting
Singer and songwriter Madonna stated that the success of her upcoming recordings relies upon the audience's understanding and appreciation of the message hidden within her songs.
This time the different flavors in her music were the result of her melodical peripatetic life in Portugal.
She was pleased to be paired up with Phenomenal Maluma for her album.
As per her, a patch on her eye depicting Madame X was her creation to match her personality with her work.
On standing between the high wire of fierce and vulnerability, she said balancing that wire depends upon the demand of the situation.
The days of stabbing pain demand one to present themselves as an open wound, which channels creativity within them and then urges them to present themselves to the world as a ferocious warrior, standing up for their beliefs.
She further said that the desire of not becoming provincial prosaic and her curious nature compelled her to make defiant songs.
She revealed that religious symbolism found in her songs is because of the affinity she felt with god.
She is enthralled and repelled by the god, who always taunts and dares her to be fearless, selfless, challenging, and questioning.
When the host asked her about the situation when creative juices are not churning, she said it rarely happened because being a mother worked to break the spell.
About her further desire, she said she has an unstoppable thrust for knowledge, experience, adventure, and love.
Since it's difficult to gauge people feeling, especially unexpressive ones, she felt ignorance about her value to people.
However, the audience who adores her and considers her a profound person, she said the situation is a paradox.
She felt like walking in between the tightrope between her values and responsibilities. And the risk of becoming impressionable while fulfilling the responsibilities always exist.
Mother Madonna In An Interview Reveals
Estere Ciccone's mother Madonna have received all kind of awards in her life but as per her to receive the Advocate for Change honor at the Glaad Media Award is very personal for her.
She was surprised to know that it was an exceptional Award, and she was the second person after Bill Clinton to have received it.
She considered it meaningful as it's connected to many meaningful events and is a big part of her history.
Curiously Joe Fryer asked why she felt so much attached to it, to which Madonna responded that she had a lot of memories, and it's deeply personal for her.
Joe talked about her lifelong activism and how she was the only one to support them back then. She explained that she always had a feeling that she didn't fit in the first.
Thus, the one who supported her was a gay man. She further explained how she is forged to bond with the gay community in a way and how they have always been there for her.
She talks about the work she is doing in Malawi and about the 50th anniversary of the service Stonewall Riots which she brought on New Year's Eve, and further shared about her first gay friend Christopher Flynn.
On a query about what does the word change mean to her? She responded that change equals a challenge.
She considers herself a baller or, as per Anderson a' Rebel Rouser.' When asked about the one message she hopes people in the hall take away, she replied it would be never to give up hope no matter what.
We can go through the entire interview from the link below
Her Past Affair
Madonna had been married twice.
She was first married to actor Sean Penn in 1985 and decided to separate after four years of infamously contentious relationship in 1989.
She then took the wedding vows with Film Director Guy Ritchie in 2000 but split up after eight years in 2008.
Rocco is the son of Madonna and her ex-husband Guy Ritchie.
Madonna's daughter Lourdes is from her love affair with Carlos Leon.
Madonna's thoughts on Dating Younger Men
Madonna commented on her dating younger men on the popular show "The Ellen Show." On asked by the host, Madonna stated that it depends on how old.
Madonna also shared she dated a 16 years old boy when she moved to New York at 18. However, she denied Ellen's thoughts about always dating a younger man.
But told that she had dated all sorts and all kinds. Adding further, Madonna mentioned Warren Beatty. If she had to choose from the last six years, Madonna dated a 22 years old man counted to be the youngest.
She asked, Why is everyone out there so obsessed? The lady confronted Age as just a number. She also shared one has the right to do whatever they want.
Also, she mentioned that people don't like it when she is having fun around. Nevertheless, she clapped and accepted Ellen's words when she said, What's wrong with women dating a young man, while men, on the other side, are often seen dating a younger woman.
Other than that, the talk came up while she discussed her older daughter had a boyfriend. Madonna shared that her daughter's partner visited their house two weekends ago to spend quality time with them.
The lady praised her daughter's partner as a sensible and intelligent guy.
Madonna wants to be known as a nice mother than a renowned performer
Madonna wasn't wealthy before and came from a middle-class background. However, her dedication and ambition to achieve her goals led her to live this best life.
After being a mom, she prefers to be recognized as a better mom to her kids than being a renowned performer.
She blindly believes in the presence of a supreme entity and also is familiar with numerous faiths, including Buddhism, Taoism, Hinduism, and Kabbalah.
Not only this, the lady has faced several difficulties since her first adoption. She has been constantly attacked by the media.
Despite David's health problems, the lady came forward in hoping to save the kid's life. Well, it's a surprise how one can criticize another for doing a great thing.
Is Madonna a control freak mom?
Estere's 25-year-old eldest sister Lourdes Leon, a model, said that her mom Madonna is a control freak mom and has controlled her throughout her whole life while talking to Debi Mazar for Interview magazine about her upbringing.
Having said that, she grew up with extreme privilege, and she said they didn't get any handouts in the family, and she needed to be completely independent of her mom as soon as she graduated high school.
Sharing her thoughts, she said that her mom has seen all other celebrity kids and might have thought that her kids were not going to be like this and at the same time, Leon also feels if your parents pay for the things, then it gives them leverage over you.
She also said that her mom is insistent on making her think about what she wants to be known for beyond her looks, and that is what Leon does not want people to remember her because it's unreal.
Leon also talked about her bond with her five siblings and said that the only siblings she ever argues with are the boys saying they are just little a**hole sometimes.
She went on to say that she has never fought with her sister Mercy and Mercy always had her back, and she always tried to be the best big sister she could be for her.
It's harder with the twins because she doesn't live at the house anymore.
She, along with her five siblings, were taken to their grandfather's vineyard to celebrate his 90th birthday
Estere, along with her five siblings, visited their grandfather Silvio Ciccone last year to celebrate his 90th birthday.
Their mom took them to visit her dad at Ciccone Vineyard & Winery to make his birthday special.
Madonna shared a video montage via her Instagram that showed the pictures of them visiting her dad and the dad moments with her and his grandkids.
The video included the view of her dad's vineyard, Estere and Stella running and jumping around the vineyard, Lourdes embracing her, and the group photos of the family.
Wishing her dad a warm, happy birthday, she penned a sweet message on her Instagram where she expressed her gratitude to him for teaching her the importance of hard work and earning one's way in life.
She added that it was so special to spend his 90th birthday with him and her children at his vineyard.
Estere has an amazing singing and a dancing skills
The love for music is not that surprising for the daughter of the music icon Madonna. It seems Estere is on the way to following her mother's footsteps as she sings so well.
Madonna, via her Instagram, shared a video of Estere where she was showing off her amazing singing skills while rollerskating inside her mansion.
She was seen singing the song "turn the music up" on a piano tune from the background. Everyone in the comment appreciated her singing talent after watching the video.
Madonna keeps posting clips of her daughter singing on her Instagram.
Likewise, Madonna also shared the video of Estere with her twin sister Stella with amazing dancing moves.
In the video clip, Estere and Stella twinning in black were seen in a studio freestyling to Missy Elliott's song "Pass that Dutch" while showing off their impressive footwork and cartwheels.
Madonna split from her boyfriend of three years.
Madonna and her boyfriend Ahlamalik Williams have reportedly split after dating for three years.
As per the sources, Madonna has thrown herself into her busy social life, hanging out with friends and family following the breakup.
The insider confirmed that the ex-couple split amicably and had been in on and off the relationship.
They are still on good terms with no harsh feelings for one another but living in different places in their lives after Williams moved out of Madonna's house.
Amid the breakup news, Madonna took her Instagram to share a quote that read:
Karma said: when somebody is not right for you…God will continuously use them to hurt you until you become strong enough to let them go.
Madonna and backup dancer Williams (28) first sparked dating rumors back in 2019 after Page Six published a picture of them getting cozy on a balcony of the Miami Hotel.
She later confirmed to TMZ that she had been dating Williams for more than a year.
After making her relationship official, the former duo came even closer, with Madonna bringing Williams to Italy with her kids.
Net Worth
Estere is a child and still goes to school; thus, she does not have a net worth.
However, her mother, Madonna, has a massive net worth of $850 Million, which she has accumulated through her career and several business ventures.
How Does She Earn Money?
Madonna is a pop sensation. She is a singer, actress, songwriter, and successful businesswoman.
She is the owner of the entertainment company 'Maverick' with a joint venture with 'Time Warner.'
She is among the best-selling music artist of all time and has sold more than 250 million records worldwide to date.
In 2019, she earned $10 million from the Brooklyn Theatre Shows as she started the Madam X tour.
She owns an article collection worth over 4100 million, which includes the work of legendary artists such as Pablo Picasso, Diego Rivera, Frida Kahlo, and so on.
Below is the list of Madonna's biggest hits
| | |
| --- | --- |
| S.N | Songs |
| 1 | Borderline |
| 2 | Lucky Star |
| 3 | Like a Virgin |
| 4 | Material Girl |
| 5 | Crazy For You |
| 6 | Angel |
| 7 | Dress You Up |
| 8 | Live To Tell |
| 9 | Papa Don't Preach |
| 10 | True Blue |
Bond With Family
Estere is very close to her mother, Madonna. She loves her and adores her the most.
Being the youngest, she is loved by all her siblings.
We can see the bond they share through their mother's social media handle.
She regularly posts about her children and admires and cheers them up, just like a proud momma.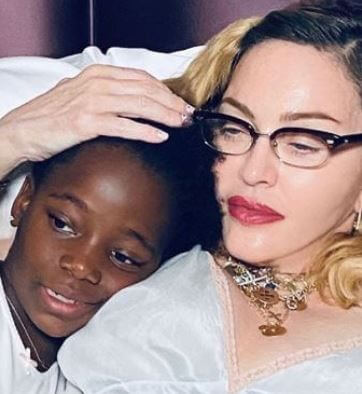 The picture consists of Estere and her mother, Madonna, chilling during the quarantine phase with a caption
'Self Care Sunday...
Trivia
Estere Ciccone is born in which 2012, making her age eight as of 2020.
She cuts her birthday cake on 24 August every year.
We collect most of the information about Estere Ciccone as it is difficult to find on other wiki sites.
For Amazing Biographies Of Your Favorite Celebrities,
Stay Tuned To vergewiki
Updated On Sat Aug 06 2022 Published On Mon May 25 2020 By shaumya