Eileen Williams is a celebrity spouse who is best known as the first wife of singer-songwriter Ray Charles. She worked as a beautician in the past.
Her Married Life
Eileen and Ray got married on July 31, 1951. Their relationship did not last long as they separated after six months of togetherness.
They did not have any children together.
Here is a picture of the husband and wife holding hands.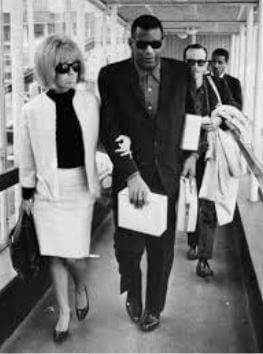 Eileen was not in the spotlight anymore after her separation from Ray.
Who did Charles marry after divorce?
Charles did not stay single after the divorce from his first wife. He met his wife Della Beatrice Howard Robinson, in 1954.
They tied the wedding knot on April 5, 1955. The couple had three children together, namely Ray Charles Robinson Jr., David Robinson, and Reverend Robert Robinson.
The couple lived a happily married life for 22 years. They got divorced in November 1977.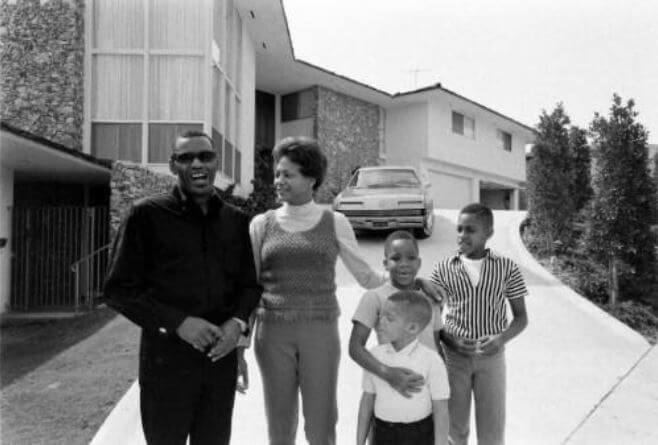 Charles started losing eyesight at an early age
His younger brother died by drowning. It was one of the most traumatic events of his life. Following his brother's death, he gradually starts losing his sight.
By the time he was seven, he was blind. His mother had to send him to a school where he could learn to read and write in Braille.
Charles died of Liver Disease
On June 10, 2004, Charles died of liver disease in Beverly Hills, California. A year before, he had to cancel his tour to undergo hip replacement surgery.
His death was mourned by a lot of people, including his longtime friend, Quincy Jones.
According to Jones, Charles had done a lot to break down the perceived walls of musical genres.
There would never be another musician who would do as much as Charles did. Two months after his death, his last album, "Genius Loves Company" was released.
Charles had 12 children
Charles was a father of 12 children who were born to 10 different women.
In 2002 he called up a meeting with all his children to inform them of what they could expect in inheritance. Charles was ill at the time he called the meeting.
He revealed that a big part of his wealth would be left to Ray Charles's foundation.
However, there would be $500000 in trusts that would be paid out to them in the coming years.
Charles did not clarify the amount each child would receive, which led to a battle over his wealth after his death.
After the foundation won the lawsuit case, the children were prevented from seeking any interest in their father's estate in the future.
Ray gave advice to Young Artists
Eileen's ex-spouse Ray was captured giving advice to young talented artists. Ray started sharing that he was lucky.
He told none of the record companies guided him on what to do or how to do it and who is to do it.
Furthermore, he added unfortunately for today's artists, and the producer tells them what to say and how to say it.
Ray speaks up that today when he hears the young artist, he feels everyone sounds the same.
But back then, every artist had their own way of style, and just by hearing one word, they would distinguish who it was, Ray added.
Now, the record companies want artists to come up with the sound that gave the last hit.
Lastly, Ray advises the young artist stating that if you have faith in yourself, if you know what you know you are doing, and how do you make yourself aware if you are doing good?
Then, you can compare what you hear out there. If you believe in yourself, don't be discouraged or don't let anybody discourage you. Keep it on and above all PRACTICE.
Ray claimed every great musician he knows practices.
Ray Charles suffers from D*ug and Alcohol addiction
It's been found that young Ray has had an addiction to d*ugs since he was 16. In 1961, police found a jar of m*rijuana along with a g*latin capsule with h*roin residue and a h*podermic syringe, which led to the arrest of Ray.
He said he used them to reduce his performance anxiety. First, Ray used m*rijuana and then h*roin after that.
Sooner, he went through another d*ug arrest but instead went to rehab than prison. Nevertheless, later he continued his new life in music.
Shortly, he then became addicted to drinking alcohol. Stopping d*ugs, he had then gone on to consume gin and smoke m*rijuana instead.
Slate said that while Charles was serving for his autobiography, the artist mentioned that just like smack never came into the way of his working, the same also goes with booze and reefer.
Charles added that what he does with his own body is his own business. Charles regretted this declaration because, at last, he suffered from alcoholic liver disease and hepatitis C.
Net Worth
Charles had an estimated net worth of $75 million at the time of his death. He had garnered a staggering net worth through his career as a singer and songwriter.
How did Charles make money?
In his early days, he used to play Piano for the bands at the Ritz Theatre in LaVilla. He earned $4 per night from it.
After signing with Atlantic Records, he scored his first big hit single in 1953. He gave several hits following this. Below is a list of some of his major hits.
| | |
| --- | --- |
| Year | Title |
| 1954 | I've Got a Woman |
| 1955 | This Little Girl of Mine |
| 1959 | What'd I Say |
In 1959 he signed with ABC Paramount. They offered him an annual advance of $50000 and higher royalties than Atlantic.
Age and Height
Charles died at the age of 73.
His height was 1.75 m.
For Amazing Articles Of Your Favorite Celebrities,
Stay Tuned To vergewiki
Updated On Fri Oct 07 2022 Published On Thu Sep 10 2020 By shaumya