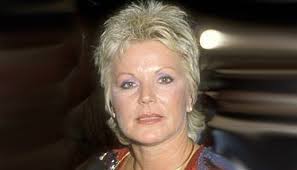 Dianne Holechek used to be a model and actress best known as the ex-wife of famous martial arts champion, award-winning actor, activist, and philanthropist, Chuck Norris.
The Revealing Interview
In an interview with 'Full Measure,' Sharyl Attkisson asked a few candid questions with Dianne Holechek's ex-husband Chuck Norris.
She candidly asked him about who gave him his nickname first. To which Chuck explained it was once when he went to the military and when he was in a boot camp a Hispanic guy asked him if either he know what his name Carlos mean in English.
It meant Charles and the nickname for Charles is Chuck this was what stuck with him.
He further showed her his books which he had written over the years and explained the experienced he had in his visit to Iraq.
On Sharyl's query that either he was famous among the military guys there, he astonishingly responded that one guy had him tattooed on his arms.
The troops there have got his name craved on it hinting he was quite popular there.
Sharyl further talked about his job and he mentioned that he was in an Air Force and that his brother was in the army and was killed in Vietnam.
Chuck has his dress uniform as a memoir in his place. Sheryl curiously asked him about his feeling towards 'Chuck Norris facts' to which he responded he found it hilarious.
Going through his Gallery Sheryl asked him about his interest in law enforcement. Which he was actually passionate about but eventually fell in love with teaching karate.
They further discussed his political wall and his experience with President Bush and sky-diving with him.
When asked about his political view Chuck mentioned that he follows the principle of 'I agree to disagree' in his life.
Watch the whole interview in the link below
Married, Affair, Husband
She met the love of her life, Chuck, in the same high school where she studied. Chuck proposed to her via a letter after he got enlisted in the US Air Force.
The couple dated for a year before getting married on December 29, 1958. They tied the knots in a traditional ceremony surrounded by family and friends.
At the time of marriage, Diane was 17 years old, and Chuck was 18 years old.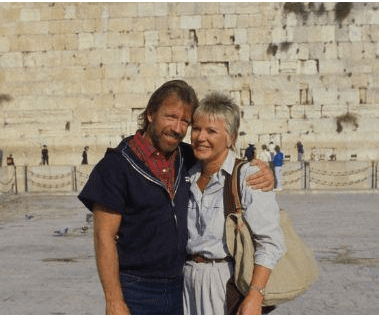 The couple had a four-day long honeymoon in Big Bear, California. They were blessed with their first son Michael Roy Norris on October 4, 1962.
They had their second son Eric Scott Norris on May 20, 1964.
With time her husband became famous and successful in his career, which led to problems in their relationship.
There was a rumor of Chuck having an affair with a woman named Johanna which directly affected their marriage.
They even lived separately for three months in 1988.
Later on, they decided to unite for the sake of their sons, but this did not work and their 31 years of marriage came to an end when they opted for a divorce in 1989.
After this, she has never been in a relationship.
Take A Look: Brittany Baca Husband And Married Life
However, her ex-husband moved on and married former model Gena O'Kelley on November 28, 1998, after nine years of divorce with Dianne.
They had twins Dakota Alan and Danilee Kelly on August 30, 2001. The couple shares a strong bond and is living a happy and peaceful life.
Here is a picture shared by Chuck with her second wife Gena along with a caption,
'Gena and
Dianne's children with Chuck are doing well in their lives. Their first son Michael is an actor who has appeared in Born American, Young Warriors, and Ameriggedon.
Their second son Eric is an accomplished former NASCAR driver and stuntman. In 2002 he won the Nascar Winston West Series Championship.
As a stunt driver, he has worked in Universal Soldier National Treasure and Office Space. The father-son duo has worked together in movies like Texas Ranger and Delta Force.
Dianne has seven grandchildren altogether. Her first son Michael is a father of three children namely Max, Greta, and Hannah. Her second son Eric is a father of four kids namely Camrynn, Chloe, Chantz, and Cash.
Get In: Melia Mcenery Husband And Net Worth
Her husband, Chuck Norris, has 13 grandchildren altogether.
Different types of violence
Dick Cavett asked Dianne Holechek's ex-spouse Chuck Norris about the different types of violence in the movies and whether people still get hurt.
Chuck responded that they rehearse and try to keep it to a minimum without getting anyone hurt.
He mentioned his concern about the stuntmen as their livelihood depends on the movie to movie, and thus he takes extra precautions not to hurt any of his stuntmen.
Dick then discussed Norris's brother, who he lost in Vietnam, and asked him if he knows how he died.
Chuck explained that his brother was a point man on the patrol, and he shows an ambush being set up by the Vietcong; as he saw them getting ready to fire on his patrol, he yelled back to warn them to duck, and when he did well then, they focused their artillery on him.
One of his friends from patrol came to Chuck's family and told them what happened.
They then talked about the war, its main purpose, and it was right or not.
Dick further discussed several martial artists, actors, and Aikido studies, which he stated that he has done for several weeks.
Chuck Norris demise
Recently, Chuck was trending on Twitter because of the false rumors regarding his demise.
As per rumors, the martial-arts action movies star and Air Force veteran Chuck Norris was felled by the novel Coronavirus.
The news was posted on the Facebook page as a joke, but people read only the first part of the joke and reacted to it.
However, this was not the first time Norris was rumored because, in 2012, there was a Facebook scam claiming his death.
The link then directed people to a survey scam that asked them to give out personal information to win a big prize.
Bruce Lee Wanted to kill Chuck Norris?
Chuck was spotted talking about Bruce Lee in one of his interviews.
The artist began claiming that he is very much blessed with his movie career to date. He also pointed out that it all began with Bruce Lee, an American Martial artist.
Recalling back years, Chuck mentioned how Bruce decided to start working in Los Angeles. They worked together for the whole two years.
Chuck added how Bruce decided to leave for Hong Kong for his movie career. They lost contact in the middle.
However, out of the blue, Bruce called him after some passing years to tell him that his career in the movie industry is going great, but he wanted to do a film with a fight scene that will be memorable for everyone.
Bruce Lee wanted him to be his opponent. Chuck smiled and asked if Bruce wanted to beat the World Champion, which Chuck was at that moment.
No doubt, Chuck went on to do that project. As said earlier, Bruce killed Chuck in that movie.
What is Dianne currently doing?
Speaking about Dianne, after her split with Chuck, the lady has kept her personal and professional life updates out from the media spotlight.
Dianne is not active on any social media handle either. Nevertheless, when we look through her kids' social media, it seems that she is happily enjoying her life with her children and grandchildren.
Other than that, it's been stated that the lady had once owned her restaurant located in Newport Beach.
However, Dianne sold that property to someone else for a considerable profit. After that, she embarked on the music business.
Many of you might not know, but she used to produce records at Toluca Lake. Besides that, she portrayed a small role in a short mini TV series named "Hollywood '84".
Nevertheless, in her acting career, Dianne got an opportunity to share the screens with top Hollywood stars starring Liza Minelli, Arnold Schwarzenegger, and Steven Spielberg.
Chuck's secret love child was born in the same year their son Eric was born
It was only four years of their marriage when her ex-husband Norris cheated on her with another woman.
The mystery of his love child with his mistress Johanna was revealed after 26 years.
Norris was unaware of his love child until his love child, daughter Dina wrote him a letter claiming him to be his biological father.
But how did it all happen? Norris, at the time, was newly married to Holechek when the US forces stationed him in California, and since he was away from his home, he had a brief fling with a girl named Johanna.
According to Norris, he never told Johanna that he was married and also later admitted being shameful about that.
Johanna got pregnant and gave birth to baby girl Dina, but she never spoke about their daughter to Norris.
When Dina was 16, she overheard her mother talking about Norris to her friend, but her mother did not want her to reveal it because she did not want to disrupt his life, who at the time was married to Holechek and had children.
Dina could not hold longer, so she wrote a letter to her dad when she was 26. At the time, Norris was almost in three years of his divorce to Holechek.
It was a complete shock for Norris at the time. He arranged a meeting with his daughter Dina.
According to Norris, no DNA tests or blood tests were required to prove that she was his daughter and when he first saw her, he wrapped her in his arms, and both burst out into tears.
He introduced her to his two sons, Michael and Eric, and welcomed her to Norris's family.
Norris proved to be an ideal husband saving his now-wife from almost dying
Norris has been happily married to Gena since 1989, and their relationship is going stronger every passing year.
But there was a time when he almost lost his wife after she suffered from a mysterious disease that even doctors could not define.
In 2013, his wife Gena was diagnosed with rheumatoid arthritis. Gena underwent three MRI.
After the third MRI, she started noticing that there was something wrong which started with intense burning inside her body as if someone had poured acid on her tissues.
She was rushed to the hospital around 1 in the morning. The doctor gave her some pain medicines, GI Cocktail for the burning, but it became a repeated cycle for five or six different ER visits.
With each visit, the burning sensation was spreading throughout her whole body.
On the third trip, she remembered being in her bathroom when she felt like something had hit her lymphatic system, and every time she would ask if it could possibly be related to any of her tests, the doctors would say no.
According to the doctors, her renal function was normal. But later, it continued to get worst, and she had horrible brain damage.
She could not think any more of any type of cognition being able to articulate her memory. On the other hand, Norris was scared to death seeing her condition.
He said he was seeing his wife dying in front of him. Norris then called an integrative doctor and explained the condition, and the doctor asked him to get her right at the moment, saying the condition was critical.
He got his jet and took his wife to Reno, Nevada, where they spent five months.
Gena could not breathe properly and had to breathe from the abdomen, her left arm was drawn up, and she no longer could swallow, due to which she was given baby food through her esophagus.
During the five months, Norris did not leave his wife for a second and even gave up his career to take care of her to bring her back on her feet.
According to Gena, she had IVs every day for five months, and her husband slept on a couch next to her and read 17 books.
He stayed by her side, giving her the nutrition and things like that to get her back to normal.
Chuck shared his words about Martial Arts and philosophies
Chuck started his conversation by sharing that he had been to Russia 12th times, i.e., in the 70s, 80s, and 90s.
He shared his great feeling about being there, as the main purpose for him to be there was to meet the martial artists in Russia.
Not only this, but he also meets with the kids and people who were not in that field but nevertheless became Chuck's friends, he shared.
Other than that, Chuck mentioned that Martial Arts are based on great philosophies. He also shared that the philosophies of Martial Arts had helped him to build a strong moral character as well.
Not only this, he added that any person needs an order to be successful in their life, whether it be the relationship at home, at business, or the relationships in between.
Chuck even claimed that the Martial Arts had taken his whole life around. As we all know, he had mentored many kids and people around, but when asked if he did have a mentor before?
Chuck giggles and replies that he grew up without a real father figure. The artists/ actors on the big screen named John Wayne and Jimmy Steward became Chuck's role models.
Chuck also advised the generation of today must have role models to who they can look up. By doing so, the generation of today can be built up their strong moral character.
Chuck said that is all that their life is all about as to move these people to head in the right direction in life.
Chuck's wife also mentioned how Chuck used to collect money and watch the movies of John Wayne.
Chuck also admitted that John Wayne looked similar to his biological father too. Chuck's spouse also shared how Chuck wanted to be a role model on the screen like them.
Chuck revealed that when he decided to choose his career in acting, he knew what he wanted to do, actually clarifying that he wanted to do movies that anyone could watch.
To know more about it, visit the link given below.
Net Worth
Dianne's net worth is under review.
As of 2019 her ex-husband, Chuck Norris has a net worth of $70 million. He earns an annual salary of around $2 million. He has accumulated wealth from acting and martial arts.
He has worked in movies like The Delta Force, Code of Silence, The Octagon, and the Missing in Action series. He has also written books that have added to his net worth.
In 2013 he sold his ranch home in Dallas, Texas for $1.2 million. The property with an area of 7362 square feet had a resorted pool, four bedrooms, and nine bathrooms.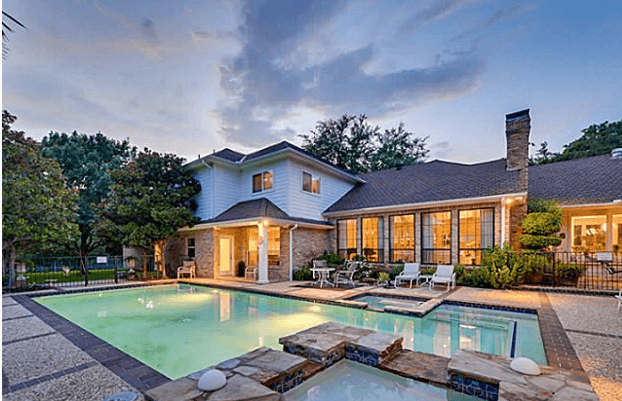 He owns a Ford Mustang worth $33200 and RAM worth around $32540.
Below is the list of movies he has appeared in:
| | |
| --- | --- |
| Movie Name | Box Office Collection |
| The Delta Force | $17.76 million |
| Missing in Action | $22.81 million |
| Sidekicks | $17.18 million |
| The Octagon | N/A |
| The Hitman | $4.654 million |
Info and Highlights (Age, Birthday, Height)
Dianne's age is 77 years.
She had her birthday on November 27, 1941.
Her full name is Diane Kay Holechek.
She appeared in Hollywood '84, a series with a low profile that aired briefly.
She is American.
She belongs to the White ethnicity.
Her height is 5 feet, 7 inches.
There is no information available about her body measurements.
We cover most of the information about Dianne Holechek compared to other wiki sites.
She was born in Los Angeles, California. There is no information available about her parents and siblings in any of her biography.
However, information about her education is available in the bio. She completed her high school in Torrance, California.

For Amazing Biographies Of Your Favorite Celebrities,
Stay Tuned To vergewiki
Updated On Mon Dec 26 2022 Published On Thu Sep 26 2019 By paper-boat