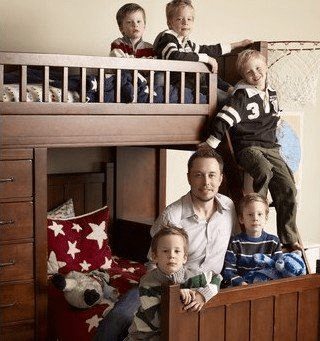 Damian Musk is the son of a famous engineer and entrepreneur, Elon Musk. Elon is the founder of SpaceX, The Boring Company, and co-founder of Paypal and Tesla Inc.
His Adorable Family
Damian Musk's mother, Justine Musk, is a Canadian writer.
His great grandparents are Joshua Haldeman, Wyn Haldeman, WalterHenry James Musk, and Cora Amelia Robinson.
His grandparents are Maye Musk, who is a supermodel and a dietitian, and Errol Musk, who is an engineer, sailor, and pilot.
He is the Nephew of Kimbal Musk and Tosca Musk.
His Siblings, A Lot of Numbers But All Adorables
Damian is not the only child of his parents. He has four brothers Griffin Musk, Saxon Musk, Kai Musk, and Xavier Musk.
Xavier and Griffin are twins, whereas Damian, Kai, and Saxon are triplets.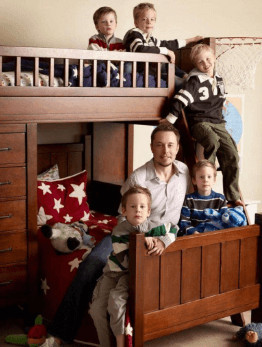 His Parents' Marriage and Love-Story
Elon Musk met Justine Wilson (now Musk) at Queen's University in Ontario, Canada. It was love at first sight for him.
He took the initiative and asked for a date. Justine declined the proposal initially. However, Elon keeps on trying and even organized an ice cream date for her.
She said yes but decided to stay in the study, but he showed up with two chocolate-chip ice cream cones dripping down his hands.
From then, their love story began.
After graduation, both of them walked off to different destinations to pursue their dream. Elon moved to Silicon Valley to build his first dot-com company, Zip2.
On the other hand, Justine was always into books and novels, so she started writing one and also taught ESL in Japan.
Elon used to send her roses, and for the first of many visits, Elon handed her his credit card and said:
"Buy as much book as you want."
This statement wooed her, and she felt it was the sweetest thing any man could have ever said to her.
They dated each other for almost ten years before getting married. They took the wedding vows in 2000.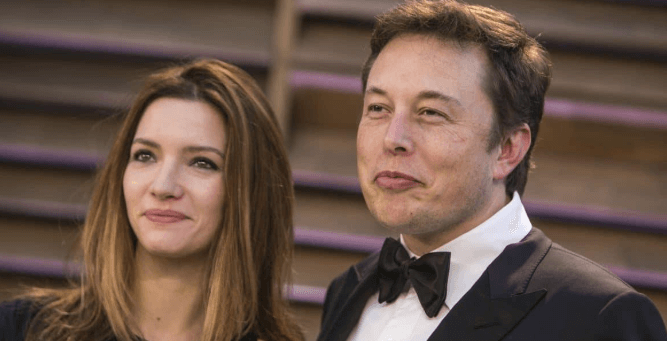 His relationship with his father
Damian shares a fantastic bond with his father. His father, Elon, even affirms his children are his true love.
All of his non-working hours are spent with his kids. He often takes his kids to visit his factories, and he took them with him whenever he goes out of town.
Elon is very passionate and concerned about his children's education.
So much that he even launched a private school for his family in 2015 called Ad Astra, which is a Latin word, and its meaning is
"to the stars."
Damian's dad Elon shared why he fires people daily
We are sure everyone must know Damian's father, Elon, has a great personality. He owns big businesses and lives a luxurious life.
Well, in one of the interviews, Elon elaborated on the reason why he fires people daily.
He stated that the failure to try to innovate always results in a big penalty.
Hence they will be fired for sure, Elon added. He also said that if someone doesn't even try or give their best to innovate or their innovation aspirations are not very good, they will no longer be appointed to work at the company.
Elon said that when they take an interview, they ask for some proof of exceptional ability, which mostly includes innovation.
Further added, making a mistake along the way doesn't include a huge penalty, but failure to try to innovate at all comes with a big penalty for sure.
What other things did he share on the platform? To know more, visit the link below.
Elon calls Thailand Driver a "child rapist"?
Many of you might remember the controversies raised when Elon clashed out a baseless attack against a British diver, pointing him as a child rapist without any strong proof.
The man saved the kids from a cave in Thailand. Not only this, he commented diver Vernon a pedo, in a tweet who was engaged as a part of an international team that let free almost 12 young footballers along with their coach from the Tham Luang cave complex.
However, Elon later apologized to Unsworth for the action. Moreover, BuzzFeed had published new emails from Elon where the man referred to the journalist as a f*cking asshole for writing about the dispute.
Nevertheless, Elon launched an extraordinary claim against Unsworth without the presence of any documentation that would support the allegations.
His dad can do email while he is with him and his siblings
During an interview, Elon revealed not seeing his kids enough. According to him, he can be with his kids and still be on email because they don't need constant interaction except when they are talking directly so that he can be with them and at the same time he can work.
He also confessed to doing email while he is with his children, and that is the reason he tends to have a phone so that he can email in interstitial moments.
In the absence of his phone, he would not be able to get his job done. He also added having a nanny along with them so that they would not kill each other.
His dad never wrote CEO while filling out the occupation form. He always wrote Engineer and wore jeans and a t-shirt to work
His mom Justine Musk while describing her relationship with her then-husband Elon Musk on TEDx Talks, recalled her years with him, where she said she became familiar with a distinct and deeply tribal mentality known as engineers.
Once when she took her dad to visit Elon at his first company at Zip2, seeing the lanty dudes in jeans and t-shirts racing the remote-controlled contraptions around the parking lot and banging them into cars, her dad asked her if they were the kids of the engineers to which she said they were the engineers.
She added to say that whenever she and Elon would travel and they had to fill out the forms of customs that required their occupation, Elon never wrote: "CEO" or "King of the World" or studly international playboy.
He wrote "Engineer" and always wore jeans and a t-shirt to work.
Whenever they went shopping for clothes, he consulted with the stylist that he couldn't look cool because he had to look like an engineer.
According to her, one of the things he told her back then was that engineers could not quite figure out why it was that the suits made the big money when it was the engineers who built the stuff that they were selling, and that was the time when she realized that Elon was somebody who has learned to speak both languages and could move between the tribes because he was the engineer in the suit.
Is Elon Musk dating?
It seems Elon has moved on with his life following his split with his then-girlfriend Grimes in September 2021.
Musk was recently spotted with 29-year-old actress Natasha Bassett. An insider claimed Musk was photographed recently getting off his private jet G65OER in Los Angeles with a mystery woman who was later identified as Natasha Bassett.
Another source claimed that the duo had been seeing each other for a couple of months, and the duo was already in a monogamous relationship.
Bassett is an Australian-born actress. She gave her first audition when she was 13 and landed a lead role in the Australian Theatre for Young People's production of "Romeo and Juliet."
At 19, she was awarded a screenwriting scholarship allowing her to write and direct her short film "Kite" in 2013.
She relocated to New York at 19 to pursue her acting career. She has appeared in the Indie drama Katie Says Goodbye and Hail, Caesar!
She played Britney Spears in the Lifetime biopic Britney Ever After in 2017.
She will play Elvis Presley's first girlfriend, Dixie Locke, in the upcoming biopic about the King of Rock & Roll, starring Austin Butler as Elvis and Tom Hanks as his manager.
Musk was in an on-and-off relationship with his then-girlfriend Grimes, with who they share two children, a son named X Æ A-Xii and a daughter named Exa Dark Sideræl, nicknamed Y.
They first tried to keep their daughter a secret. Still, during an interview with Vanity Fair in March 2022 for the cover story, Grimes revealed that they welcomed the baby girl via surrogacy after the interviewer asked if they had welcomed a second baby, hearing an infant crying upstairs several times.
When asked if they are still together, Grimes responded by saying that she would probably refer to him as her boyfriend but at the same time called her relationship to be very fluid.
She added that despite living in a separate house, they saw each other all the time and were best of friends.
She also said they have their things going on and don't expect other people to understand them.
Grimes, in her tweet, wrote she and Musk have broken up again since the writing of the article.
Having said that, she added Elon to be her best friend and the love of her life and is dedicated to The Mission now. Musk also liked her tweet.
Elon explains the work ethic
Elon shared regarding work ethic. He clearly says that no one ever should give many hours into work, which he claims is not good.
He explains that human beings should not work this hard as he claimed these are very painful. When asked what sort of pain he feels?
To which he replies by saying that it hurts his brain and his heart. Continued with the context, when asked what does 'super-hard' really mean to Elon?
Elon recalls that when he and his brother began their first company, they didn't have an apartment but just rented a small office, and then they just slept on the couch and showered at the YMCA.
He shared how they were so hard up that they just had one computer with them. Due to it, the website was up during the daytime, and Elon was coding at night.
He worked seven days a week, all the time.
He also shared how at that time, he briefly had a partner, and in order to spend time with him, the lady had to sleep in the office.
Elon confronted working very hard every waking hour.
So, the particular thing he would like to say is that if anybody is starting their company, and if you perform simple math, where other is working 50 hours, and you are working 100, you will definitely get twice done in the course of a year as other company.
Elon tells us just work like hell and to put in 80-100 hour weeks every week. He claimed that all those things would for sure improve the odds of success.
He tells of other people around who are giving their 40-hour work weeks, and you are there putting in a total of 100-hour work then, even if you are performing the same thing, then after a year, you will definitely get what they got.
He explained you would get it in four months span of time, and it will take others a whole year to achieve.
Net Worth Of Father, Huge
He is currently a child and has not started his career yet, so he does not have a net worth of his own. However, his parents have a considerable net worth.
His father is a multi-billionaire, and his net worth is $27.5 Billion, which he has amassed through his career as an entrepreneur and engineer.
He is also listed in "The World's Most Powerful People" and "The Richest Person in the World" list.
Here is the list of Richest People in the World along with their net worth:
| | |
| --- | --- |
| Names | Net Worth |
| Jeff Bezos | $113 Billion |
| Bill Gates | $107.1 Billion |
| Bernard Arnault | $106.6 Billion |
| Warren Buffett | $86.9 Billion |
| Mark Zukerberg | $74.9 Billion |
| Larry Ellison | $69.2 Billion |
| Amancio Ortega | $69.1 Billion |
| Larry Page | $61.2 Billion |
| Carlos Slim | $60.4 Billion |
| Mukesh Ambani | $60 Billion |
His Father's Lifestyle
Elon spends most of his time in his factories in California and is not much into vacations. For him, professional life is always higher than his personal life.
Although he manages time for his kids, he is still occupied and focused on his goals.
He spends a lot on mansions. He has roughly spent $72 Million to date on his mansions. He owns one of James Bond's cars.
He is addicted to coffee and diet coke. Elon even mentioned that it keeps him focused and to stay awake during 100-hour workweeks during the launch of his companies and buildings.
Trivia
Damian Musk was born in 2006 and shared his birthday with his brothers Saxon and Kai. He is age 13 as of 2019.
Damian had an elder brother named Nevada, who passed away at the age of 10 weeks due to Sudden Infant Death Syndrome (SIDS).
His parents filed a divorce and got separated in 2008.
We cover most of the information about Damian Musk as it is difficult to find on other wiki sites.
Please stay tuned to vergewiki.com for awesome biographies.
Updated On Mon Dec 26 2022 Published On Wed Jan 08 2020 By paper-boat