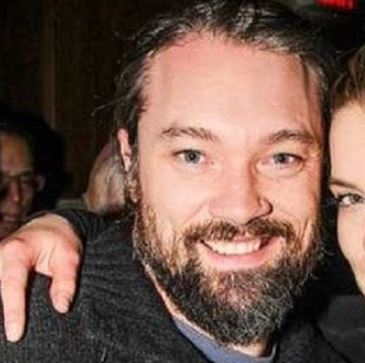 Cosmo Pfeil is well known for being the husband of American actress Betty Gilpin. He was born on December 9, 1977, in Shoreham, Vermont, United States.
He is also an actor and assistant director by profession. He has worked in movies like Take Shelter, Acceptable Limits, and Person of Interest.
For Amazing Articles Of Your Favorite Celebrities,
Stay Tuned To vergewiki
Relationship between Cosmo and Betty
Betty and Cosmo have been married to each other since August 6, 2016. Before getting married, the couple were seen together in February 2015.
Although they have been dating since 2015, they have known each other since 2009, when they met on the set of Gilpin's first movie, "The Northern Kingdom."
Does Cosmo share children with Betty?
Gilpin and Cosmo are parents of a daughter. She was named Mary Babe. Mary was born on November 2020, which was just after the COVID-19 pandemic.
About his wife, Betty
Elizabeth Folan Gilpin was born on July 21, 1986, in New York City, United States, to her father, Jack Gilpin, and mother, Ann McDonough.
She is an actress who is well known for her role in the movie Netflix comedy series "GLOW."
Recently the actress has come up with a role in the science fiction series "Mrs. Davis" with a lead role battling against A.I.
Betty describes "Mrs. Davis" to folks.
In an interview with TODAY, Mrs. Davis star Betty shared that the movie changes genres every minute, but in the general plot, it is a society not unlike our own where a SIRI or Alexa-like algorithm has taken over, purports to be benevolent, and there is a small fraction of us (humans) that do not trust it.
Betty spends time with Nuns
For the leading role in the movie Mrs. Davis, Betty had to spend her time with Nuns for the preparation of her role.
She said that her father is an Episcopalian priest, and he hooked her up with some Nuns.
She said she already had the idea of what a nun was like based on what she saw in movies, but when she met those three multifaceted women, she described them as a living meditation.
Betty's following her parent's legacy.
Betty's father, Jack, and her mother, Ann, are actors by profession. The actress described her parents, saying they were two very different actors.
She calls her father Atticus Finch. He's like a gravitas incarnate, plays solemn butlers, and is the lawyer you can trust or can you.
She describes her mother as Farce Incarnate, like a Lucille Ball.
She said this part is very much a love letter to both of them, and considering herself, she said she is both a gravitas butler and Lucille ball or what she has been striving for.
Had to train wrestling for the series "GLOW"
Betty had also given a performance in the series GLOW as "Liberty Belle" (wrestler).
The actress told in an interview that she had to train for a month with a pro-wrestler for that movie.
Chavo Guerrero Jr. was their wrestling coach.
The actress said that he started coaching them before a month they had started shooting and throughout the shooting.
Chavo had even helped them during their shoots as whenever the casts would come up with their own moves, which they had seen in WWE.
He would say that the move was discovered in a respective year which might not be suitable in movie scenes as the series "GLOW" was a remake of the 1980s GLOW founded by David McLane.
Net Worth
The net worth of Cosmo is estimated to be $200,000. His wife also holds a net worth of $3 million.
She earns a salary of more than $0.2 million per year and $15,000 per month.
Age
The age of Cosmo Pfeil is 45 years old.
Updated On Mon Jul 03 2023 Published On Mon Jul 03 2023 By Smity