Brie Shaffer is a film director, screenwriter, and actress mainly recognized as the wife of American actor Michael Pena.
Shaffer is known for her work in Some Girl and In a Silent Way.
For Amazing Articles Of Your Favorite Celebrities,
Stay Tuned To vergewiki
Happily married since 2006
Shaffer has been happily married to her husband, Michael Pena, since 2006. Together, they share a son Roman whom they welcomed in 2008.
When asked about the secret to their successful marriage, Pena said that one has to give who they are the freedom to be their own person, they should not take anything for granted, and they should not stop going on dates.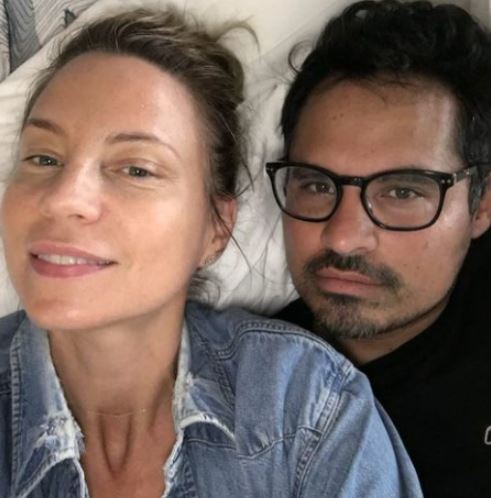 While appearing on the Jimmy Kimmel Show, Pena shared that it was his son that inspired him to make children's movies.
He recalled watching some movie with him, then 10-year old, where his son was constantly laughing watching the movie and laughing at the actors, calling them good.
That was when he immediately called his buddy and said he got to be in kids' movies.
"They change your life, and all of a sudden, you are like, That's your audience. You want to make him happy, he said.
The reason her husband started acting
Her husband started acting not because he loved it from the beginning but because he needed to. He only started loving it after getting paid.
He went into acting ass-backward. Instead of loving it and then getting paid, he got paid and then loved it, he said in an interview with Guardian.
The reason he started going to auditions so to take care of his sick mother.
But unfortunately, his mother passed away before she could see her son becoming successful. He only became successful after her demise.
Pena said he could not afford the acting class, so he started reading acting books. He would work on one technique for probably six months and audition.
He didn't care whether it was an open call until he had a little bit of a grasp on it, he said.
He then moved on to the next things, which took him two years to get through the book. He went through the book three or four times.
"The mentality is different when there is a necessity level that when you need to do it, you need to try to be good at your job," he added.
At the same time, he would bus tables three or four days a week to make end meets.
His first professional gig was My Fellow Americans which was released in 1996.
His breakthrough performance came in 2004 in best picture Oscar-winning Paul Haggis movies Million Dollar Baby and Crash.
Her husband credits Scientology for making him a better actor
Both Shaffer and her husband joined Scientology in 2000 and have been members of it since then.
During an interview with Guardian, he shared that it was his concern about his drinking habits that led him to Scientology.
According to him, he wasn't an alcoholic but was doing it too much and entered the detox program Purification Rundown.
And there was the next thing and the next thing. For him, it's not the religion like belief but practical things one does, he said.
He also credited another Scientology program, Study Tech, for making him a confident reader, which made him a better actor because he felt like it helped his understanding of scripts.
He is aware that Scientology often causes controversy, but he doesn't read that stuff, he added.
Her husband was a wrestler
Her husband was a wrestler.
He was a state qualifier in wrestling and track while at Marist High School before he ended up not being able to wrestle in his senior year because he had a broken nose and dislocated everything.
Net Worth
Her net worth is currently under review. As of now, we have the net worth of her husband. Her husband has a net worth of $12 million.
Age
Her age is under review.
Updated On Mon Jun 26 2023 Published On Mon Jun 26 2023 By Sabina