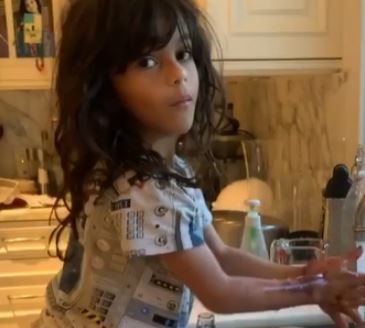 Facts of Bowie Ezio Perego Saldana
Bowie Ezio Perego-Saldana is famous as the son of one of the most prominent Hollywood actresses, Zoe Saldana.
His father, Marco Perego, a producer, and director, is from Italy, and his mother is of Dominican and Puerto Rican Heritage.
For Amazing Articles Of Your Favorite Celebrities,
Stay Tuned To vergewiki
His mother was skeptical about love at first sight until she met his father
His parents first met in 2013 on a flight to New York. His mother instantly fell in love with his father.
Recalling the moment when she first saw her future husband, she told USA TODAY that the time was 6:30 in the morning, and there was instant vibration.
She added that he turned at that moment because he felt that vibration as well.
She also said that she was skeptical about love at first sight until she met him, and being a very logical person, she didn't believe him at first.
She is ok with not having an explanation for it because it's enough that she felt it, and that was it, she added.
The couple married in September 2013 in an intimate ceremony.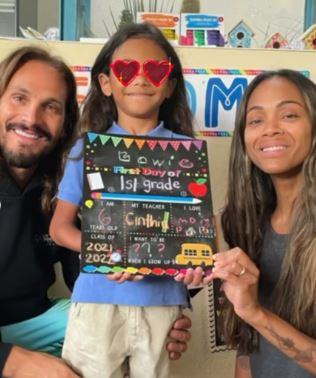 He has an identical twin brother
Bowie has an identical twin brother Cy Aridio. They were born early via emergency C-section in Los Angeles.
In an interview back in 2017, their mother said he and his twin brother have been inseparable since birth and that they do everything together, from sleeping, eating, and even doing poop at the same time.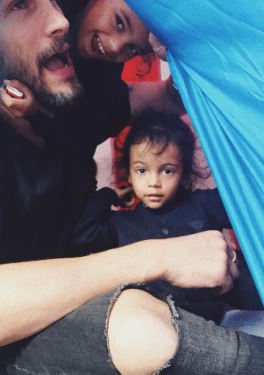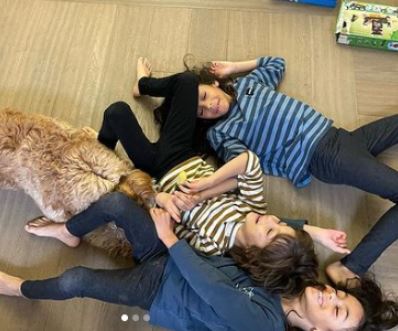 Bowie and Cy welcomed little brother Zen Anto Hilario-Saldana in December 2016. He was also born in Los Angeles.
During an interview with People, their mother said her greatest wish for her three kids is that they never grow up feeling conscious of the color of their skin or where their parents come from and that they can't achieve anything.
His mother's past relationship
Prior to marrying his father, his mother was in a long-term relationship with the actor and CEO of My Fashion Database, Keith Britton.
They got engaged in June 2010, but the following year, they called it quits announcing they had ended their relationship after 11 years of togetherness.
Soon after, she started dating actor Bradley Cooper. They dated from December 2011 to January 2013.
During an interview with Marie Claire, she shared that one of the biggest things she learned about relationships is not to settle and to leave the person you are not happy with.
She suggested taking time until you find the right person who makes you feel good about yourself every single day and is not expecting you to change but to grow.
She also shared that she was disrespected by a man she was in a relationship with. And she has cut him off from her life.
She doesn't want to be the one going, "I am cool because I am friends with all my exes," she said. There's a reason why you are called an ex, she added.
Talking about her relationship with her husband, she said she doesn't do the ABCs. She does what her heart says and what her heart feels.
She said they were together from the moment they met because they knew.
His mother grew up as nobody's favorite child
While appearing on The Late Show with James Corden to talk about the "Avatar" sequel, his mother revealed that she grew up as nobody's favorite child.
She told Corden that as a middle child, she was the mischievous one.
She knew she was nobody's favorite because her grandmother would sometimes tell her, and some of her mom's friends and some of their relatives would recommend her mother not to bring her to the Christmas party.
They would be like bring the older one and the younger one but not the middle one.
Net Worth
Bowie is just a kid, so he is relishing the lavish lifestyle provided by his parents.
As of now, we have the net worth of his mother, who is the second-highest-grossing film actress as of 2023. Her net worth is $40 million.
Age
He was born on the 27th of November 2014. He is currently eight years old.
Updated On Sun May 07 2023 Published On Sun May 07 2023 By Sabina