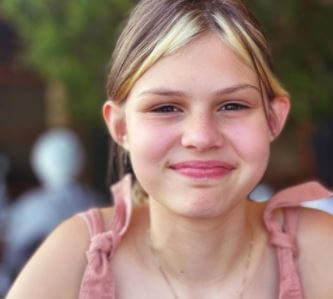 Facts of Birdie Leigh Silverstein
Birdie Leigh Silverstein is the oldest child of an American actress Busy Philipps notable for her appearance in Freaks and Geeks, Dawson's Creek, Cougar Town, etc.
Bridie's father is Marc Silverstein, an American screenwriter, producer, and film writer.
Belongs to nob-binary groups and uses non-binary pronouns
During an episode of her 'Busy Philipps Is Doing Her Best' podcast, Philipps revealed Bridie to be gay.
She said that Birdie came out as gay when Birdie was 10 and wished to be pronounced as they/them.
Birdie was ok with telling the world about her sexuality as she didn't care at all. She told her mom that she could talk about how she was gay and out and talk about her pronouns.
She also went on to share how Bridie's words made her emotional after she found Bridie lying on the floor listening to Harry Styles's Fine Line album.
When Philipps asked her if she wanted to share anything with her, and in her reply, she poured her feeling into being alive but not living.
Philipps explained to Bridie that one gets to build their life however they want to and does not have to look like anything one has ever seen or anything that's ever been modeled for one as it might not exist.
However, there always remains a fear deep down for a mother when it comes to protecting her kids.
Philipps admitted to not being able to control when it comes to her daughter Birdie. She fears that her daughter will be sexually assaulted in her life.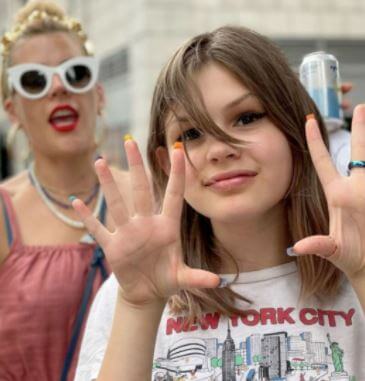 Has a younger sister
Birdie has a younger sister, Cricket Pearl, five years younger than her. Both siblings pitch in where they can to participate in the family's routine.
Cricket picks her outfit for the day while her mom helps her get dressed. According to Philipps, Birdie does her best with her father while getting ready for school in the morning.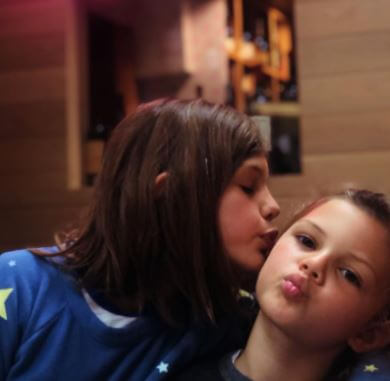 Already into the showbiz industry
Birdie is already into the showbiz industry, following in her parents' footsteps.
With television debut in the episodes of Cougar Town, they landed a big role in the Amazon series With Love in 2021, where they will be playing a non-binary character in a recurring role.
The news was confirmed by writer and producer Gloria Calderon Kellett. Besides that, they have appeared in a music video for Wasted by Tomberlin directed by their mother, Busy Philipps.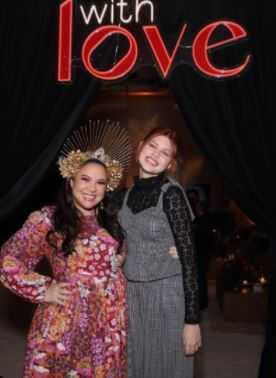 Her first non-binary acting role in With Love created a very emotional scene at home. Their parents were all in tears, and the tears were of happiness and pride.
After watching the video, Philipps took the social media where she wrote they cried with joy and pride and relief and gratitude and Love for the spirit and resilience of their kid after watching kid's acting debut on With Love on prime.
Birdie's parents were on the verge of leaving one another
Birdie's parents have been married for more than a decade, and the relationship between them was not always smooth though Birdie's father had a legal contract of not breaking their mom's heart.
The problem between them started to grow after the birth of their two kids when Philipps felt that she was the only one doing most of the work raising their kids.
She even told her husband that she had had enough but ended up working out their parenting issues.
The 2020 coronavirus pandemic made it possible for the couple to work out their issues. Because of Silverstein's less involvement in raising their kids, the couple decided Silverstein be a stay-at-home dad while Philipps worked, and it worked.
Silverstein is now extremely close with their children and spends more of his time with them. As per Philipps, the secret to their marriage is prioritizing oneself, allowing each other the space to grow, and accepting changes in a partner.
How her name was kept?
Birdie is named after Lady Bird Johnson. According to Busy, Lady Bird Johnson passed away shortly after she and Marc got married.
They were driving in a car and listening to a story about her, and they loved her name and that people in her family called her Birdie.
When she gave birth to her daughter, she looked at her and knew that her name was Birdie.
Her mom played parenting truths games
Her mom played Parenting Truths games in which she answered parenting-related questions without any filter.
Her first question was if she had ever said something inappropriate that her children would not stop mimicking.
In her answer, she said Birdie did use the f-word when she was two years old. According to her, Birdie fell off the bottom of the slide and bumped her tush, after which she got up and very quietly, under her breath, said it.
Her second question was if she has allowed her children to dress for an event, to which her answer was no but said she does sometimes asks their opinion if it's between the two pairs of shoes.
The third question was if she ever had a parenting-related meltdown in public. Her answer was yes.
She explained there is a paparazzi, which is always doubly embarrassing when you have one of those meltdowns, both if your child does or if you are reacting and getting emotional about it.
The fourth question was if she had pulled a prank on her kids to get a laugh.
She said they do crack jokes that drive their children crazy, which is that when they are in the restaurant and if a song comes on the radio, then they will say to Birdie that her dad played the saxophone on that song, and they try to keep that as long as possible and Birdie will be like "I know he didn't, please stop".
Her next question was if she had an acting gig with either of her kids, to which she replied that Birdie came to Cougar Town a few times.
She said Birdie likes to get in on the action. Another question was if she has regretted taking children to work. She said she had regretted it.
She added being difficult when kids have meltdowns, and she is trying to work. The second last question was if she had forgotten one of her kid's events.
Busy replied she had forgotten one of her daughter's events. She had only felt bad about it one time when her daughter said that expect her every mom were present.
Her last question was if she has used being a parent as an excuse to get out of the plans. She said it's the biggest reason to have children.
Her mom talks about her tattoos
Birdie's mother, Busy, was seen sharing her tattoos. She confronted having four tattoos in total. She also revealed how she got it all in the same year.
She mentioned that was the particular year where Busy turned almost 40. Busy said she had waited to get tattoos until she turned 40.
The first ever tattoo she got was on her left wrist where it said, 'aced out in her nudes.
She explained those were the words her mother used to tell about her, so that part had been in her memoir too; a book entitled 'This Will Only Hurt a Little.
So, the second tattoo she showed was the bird on her right wrist. She mentioned she got it for her daughter Birdie.
And also got a tattoo of Cricket for her younger kid, whose name was mentioned as Cricket.
And then, the lady shared when she found out that E! was canceling her late-night talk show, she said feeling unceremonious.
She also had an illustration that her buddy named Geoff McFetridge had done for her book, including F*** em on her foot.
Other than that, when asked what she loves most about her body, she mentioned that it keeps going and is always there for her.
She praised her body, stating that it has performed so many things for these so many passing years.
She also said that despite being 43, her body had gifted her birthed kids, claiming it fed them, and she has gotten injured and undergone numerous surgeries; nevertheless, she is standing fit and fine.
She claimed that just being in her body's resilience. Moreover, she shared having her septum pierced while she was just 18 years old but took it out in her 20s.
So suddenly, she realized if that hole closed up, when she looked it wasn't so she wore a ring in it; Busy shared.
She also recalled how her friend hosted a piercing party where Piercer was also there. And one of her friends was getting a septum piercing too.
She remembered that the piercer once told her that the Septum hole doesn't close up once it is done.
She also shared her ear being pierced and the belly button pierced right after the Aerosmith Crying video when Busy was attending high school.
Net Worth
With their natural acting skills, Birdie is sure to land significant roles in the coming days. Their work in With Love has been appreciated by many, which shows that they have a brilliant acting career.
But as of now, we have the net worth of their mother, one of the prominent actresses of Hollywood. Her net worth as of 2021 is:
| | |
| --- | --- |
| Net Worth | Source |
| $12 million | Acting |
Age
Born in the year 2008, Bridie is currently 13 years old.
For Amazing Articles Of Your Favorite Celebrities,
Stay Tuned To vergewiki
Updated On Thu Sep 15 2022 Published On Thu Jan 06 2022 By shaumya