Besnik Sahatciu is a businessman who is best known to the world because of his daughter, Rita Ora.
Rita is an English singer, songwriter, and actress.
Married Life and Wife
He is a happily married man. He shares an intimate relationship with his wife, Vera Sahatciu.
The couple has been together since they exchanged the wedding vows on May 19, 1988, with no signs of divorce.
They have been supportive throughout these years. In the early days, the couple struggled a lot.
They lived in one single room with their daughters Rita and Elena.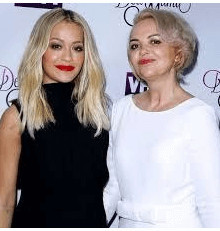 After the birth of their third child, Don, they moved to Kensal Rise. He then purchased the Queen's Arms pub in Kilburn.
His wife, who now is an NHS psychiatrist, worked hard during that time.
To support the family and meet their needs, she used to study during the day and work as a waitress at night.
Wife Was Diagnosed With Breast Cancer
Vera was diagnosed with breast cancer at the age of 39.
It was a tough time for both husband and wife as their children were very young at that time.
However, things got normal after she was cured with chemotherapy and radiotherapy treatment.
As of now, she is an ambassador of a charity named Breast Ca.
Children
He shares three children with his wife. Their names are Rita, Elena, and Don. Rita is a famous singer, songwriter, and actress.
Elena is her sister's manager. Don has completed his graduation. Elena even shared a picture of her brother's graduation day.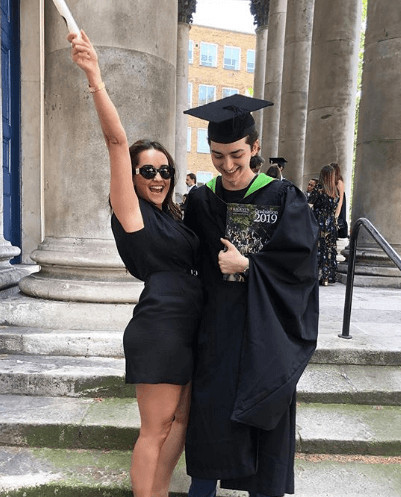 The Ora Family Often Goes on Vacations
On Christmas, the family went on a luxury trip to the Caribbean.
Everyone took out their time from a busy schedule for spending some quality time with family.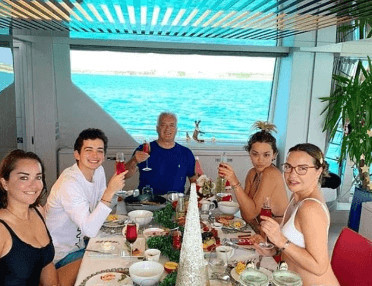 The Ora sisters had a great time as they were pictured flaunting their perfectly toned body on a beach in St Barts.
Daughter In An Interview
His daughter Rita talked about how he has his wife set up a new life for them.
Rita explains that her parents don't know English, but for their children, they moved to London.
Rita adds that her success is because of her parents, and if it were not meant for them and their sacrifice, she would not be here.
Her mother is a psychiatrist. She explains her mother is a hero. Rita's mother dealt with breast cancer and learned English at the same time. She became a psychiatrist too.
Besnik owns a pub, and his wife is a psychiatrist, quite a fantastic combo, the audience cheers.
Watch the interview here.
Daughter Rita Talking About Her Look In Grammy And Secret Crush
Besnik Sahatciu's daughter Rita Ora and Jimmy Falon talked about Rita's appearance on Grammy and how elegant she looked in that attire.
As per her, Grammy is always something one can always have fun with.
It is such an amazing night with music.
When asked about the after-parties she said that they have fun after-party but it's kind of one of those things where one can't really like let loose.
She further explained that it's like a wedding that one wants to go to and really get drunk but the parents are going to look them and be like they are never going to invite them to another wedding again.
They then discussed her Red Carpet look in England on VMAs which was a bathrobe and how she handled it with grace.
Rita shared the story behind the wardrobe telling that she pretended it to be an outfit but the truth was she just ran out of time.
She was hosting a show and then ran out of time so she just put in on one shoulder and matched it with diamond jewelry.
She also met Prince Harry in Landon who she mentions as her secret crush of all time.
Rita went to the Palace for her charity which she has been doing for the last five years with Radio Station back at her home for kids and talked about her dabbing in Kensington Palace.
Promoting her upcoming album "Bang."
Rita was there to promote her upcoming album "Bang," which was a different experience for her as she believes in energy; however, most of her album work has been completed through zoom meetings; thus, she has to be very attached to it to maintain her vibe.
The host then curiously asked her about the hobbies she picked up during the global pandemic.
Besnik Sahatciu's daughter revealed that she wrote poems, diaries, learned cooking, and invest herself in working out and expressing herself.
Talking about the fact that she has been on roads, always traveling and moving for the last 13-14 years, how does she felt during this pandemic.
Rita responded that it was like a blessing in disguise as she focused on herself and took care of her mental, emotional, and physical health.
The host then asked her about her thoughts towards India and Bollywood.
She responded that she has always been fascinated by Bollywood, music, attires, costume, and vivid culture. She hopes to be there and perform any day soon.
Rita apologizes for breaking the Covid-19 restriction
Rita flew to Egypt on November 21 in a private jet to perform at the five-star W Hotel in Cairo.
She returned to England the next day and was required to self-isolate for 14 days as per government quarantine rules.
Despite that, she was seen at the Casa Cruz restaurant in Notting Hills on November 28, celebrating her birthday party, breaking the regulations and restrictions of Covid.
She later apologized and offered to pay a £10,000 fine for hosting the party and further added that she would donate any profit from the engagement to charity.
Rita was all in tears remembering him after the father-daughter performance
Rita, who claims to be daddy's girl, could not hold her tears after the emotional performance by the artist Caitlin and Tim on The Voice Generations during the rehearsals for the father-daughter-themed battle round in February.
Seeing their emotional performance, she got carried away as the performance took back to her dad and her bond with him.
Since she was away from her home for a while to film both The Voice and The Voice Generations, she missed him even more.
Rita said that she hadn't been home for a while, and performance was so strong that she felt her dad's presence.
Talking about the performance after the battle round, she further added saying that the connection and the relationship they have is so special that it reminds her so much of what she has with her dad and thinks that the Universe has sent them on her team to remind her as she had not intended to bring dads and daughters on her team.
It reminded her to call her dad even more.
Rita suffers from panic attacks and anxiety
Rita suffers from panic attacks and anxiety and has a therapist to deal with it. She can't imagine the functioning of her life without therapy and has been going to therapy since the age of 17.
The panic attacks and anxiety started in 2005 after she heard that her mother had been diagnosed with breast cancer.
The news kind of gave a shock to her where she felt helpless thinking what she was going to do without her.
Ora, who is extremely close to her mom, confessed not fathoming a world without her mother, and that period to be confusing to all of them.
Initially, Rita thought she was having a breathing problem and thought it was Asthma until she realized it to be a panic attack.
But luckily, her mother survived cancer as she was diagnosed earlier, and Rita has been channeling her anxiety into excitement.
Even today, when anyone touches sensitive topics, her breathing becomes shallower. But with time, she has learned to deal with it, and therapy helps her a lot.
Answered the most searched interesting questions
Besnik's daughter Rita in the interview, mentioned her mom first as she revealed that her mom would kill her if her posture were bad.
Continuing the conversation, Rita says that she is known for various things and that she gets many of these questions.
The lady mentioned that she does music, film, T.V. shows, and also fashion.
She admitted that she loves doing everything because why not and she added 360 artists and businesswomen.
The lady describes her vocal range as a strong one but also says that it totally varies depending on the record. Coming next, she says her zodiac sign is Sagittarius.
There are a few songs of her that are quite popular that including "Anywhere," "I will never let you down," and "Let you Love Me," and these are songs she loves performing too.
When it comes to what connects her with Jim Belushi, the artist says they are both from the same country Kosovo.
Also, she did say that now there are a lot of incredible artists coming out from her country and feels very proud of it.
Also, when asked what she had done to her hair, the artist says that she has done more looks as she also shaved her head, did a sort of crop do, and done all sorts of colors like platinum, blue, purple, and pink.
Rita then shared that she eats everything and is not strict about it. Further, Rita says that her fans are called Rita Bots.
She also talks about her very first song, which is titled, R.I.P., and claims that it was one of her most memorable moments also she pointed it out as her monumental moment.
Also, the question includes if Rita Ora is her real name to which she stated that it is funny, but everyone around her asks the same question.
She admitted that her real name and full name is Rita Sahatciu Ora.
Many of you might not know, but the artist is also left-handed, and she is pretty much happy to be left-handed.
As people say, very good things, left-handed people are creative, lovable, awesome, friendly, kind, generous, funny, and amazing people.
For further interview questions, visit the link below.
Net Worth
Being a pub owner, he must be earning a decent amount of fortune.
His daughter, Rita Ora, has an estimated net worth of $23 million, which she has accumulated through her singing and acting career.
How Did She Earn Money?
In August 2010, her debut album Ora was released, which ranked number one in the UK.
She gave some fantastic hits such as How We Do, Shine Ya Light, and Radioactive. She has traveled to several countries for her tours.
For her outstanding performance she has been honored with the following awards:
| | |
| --- | --- |
| Year | Title |
| 2013 | Glamour Award for Solo Artist |
| 2015 | Glamour Award for TV Personality |
| 2018 | MTV Video Music Award for Best Dance Video |
Besides singing, she has also done campaigns with famous brands such as Calvin Klein, Superga, Cavalli, and DKNY.
She has also started her range of Rimmel collection, Rimmel: Colourful Lip and Nail Collection by Rita Ora.
The collection is inspired by her passion for music with long lasting lip glosses and high shine polishes.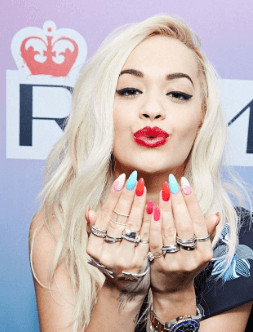 She also has a global property empire and is the owner of an entire Kosovan football team.
As an actress, she has appeared in movies like Fifty Shades of Grey, Southpaw, Fifty Shades Freed, and Fast & Furious 6, which collected $571 million, $94 million, $371 million and $788.7 million respective in the box office.
Trivia
His father, Besim Sahatciu, was a Kosovo Albanian director of theatre, film, and television.
He has studied economics.
We cover most of the information about Besnik Sahatciu as it is difficult to find on other wiki sites.
Stay tuned to vergewiki
Updated On Wed Jul 06 2022 Published On Mon Mar 23 2020 By paper-boat