Astrid Menks is known to the world because of her partner. She is the wife of the world's fourth-richest person, Warren Buffet.
Her Married Life and Husband
She is living a blissful married life with her husband, Warren Buffet. The couple walked the aisle on August 30, 2006, in Nebraska.
At the time of the wedding, Astrid was age 60 while her husband was 76.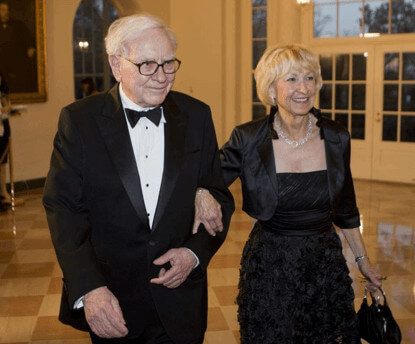 The pair did not have a grand wedding. The wedding ceremony took place at Warren's white stucco house in the prairie city of Omaha.
She wore a turquoise blouse and white trousers while her husband preferred to wear an everyday business suit.
Her husband is a well-known businessman and philanthropist. He is also the chairman and CEO of Berkshire Hathaway.
How Did The Couple Meet?
The power couple met at a cocktail bar where she worked as a waitress. Warren's first wife, Susan, too, worked in the same bar as a nightclub singer.
To pursue her career in music, Susan left for San Francisco. Before she left, she asked Astrid and some of her other friends to look after her husband.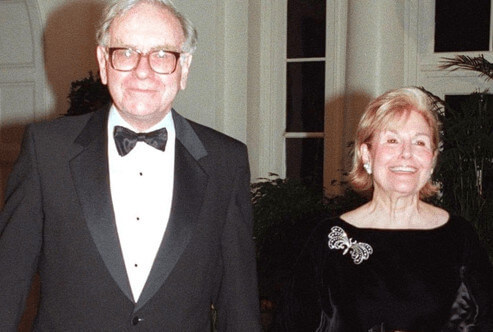 While she was away, her husband was devastated. He suffered from heartbreak. During this time, it was Astrid who took care of him.
She not only looked after him but also cooked for him.
Her frequent visits to him resulted in Astrid growing feelings for him. Since he was already married, she knew he would not marry her.
In 2003 Susan was diagnosed with cancer. Despite going through surgery and radiotherapy, she did not live long.
A year later, in 2004, she died due to a stroke.
Her Children
She does not have children of her own. However, she is a stepmother to three children, namely Susie, Howard, and Peter.
Susie is a philanthropist, Howard is a businessman, and Peter is a musician.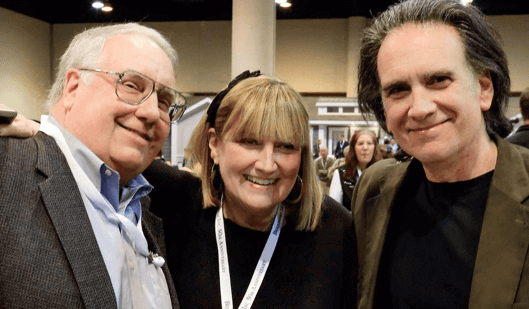 All three children love her and have massive respect for her. Her step-daughter Susie is thankful for their togetherness.
She is happy to have a stepmother like Astrid, who takes care of her father. She believes her stepmother would be there for her father even if he did not have a single cent with him.
Relation With Her Husband's Ex-wife
It was Susan who introduced her to Warren. Astrid and Susan knew each other from the same café where they worked.
They were perfect companions. Susan knew about the affair of her husband with Astrid, and she was okay with it.
Both the ladies had an agreement to share Warren without any problems. The trio even sent Christmas cards with all their names signed on it.
The trio also attended several events together.
A fun rapid-fire segment with Astrid's spouse
Interviews get interesting when you play a rapid-fire round game. Astrid's spouse Warren was spotted giving a great answer along with revealing some of his personal information while in conversation with Investor Archive.
The first and foremost question asked to him was about his phone, whether he is an apple or Samsung person?
Warren giggled and showed his mobile. It was a folding black phone gifted by Alexander. He was captured attaching the room key with it.
However, it was falling apart, Warren added. Also, he was asked about his buying things on Amazon. Warren revealed that his assistant had bought books for him.
Along with another series of questions, he answered that human nature would barely change in 50 years.
The most interesting question the host asked was, what is there in his wallet now? Without any delay, Warren replied that he had 400-500 dollars in cash.
He sportingly shows his wallet to the host. Lastly, if you want to know who Warren chose to have lunch with between Mark Zuckerberg or Mark Cuban, visit the link below.
Things of Astrid that will surprise you
Who would have thought that Astrid, with her hubby, still shops at thrift stores? It's true. The couple thinks that money is not only the aspect of their happiness even though they have a lot.
They chose to enjoy things like eating at a McDonald's and cherry coke rather than spending it on lavished and high-class meals.
They don't spend their money as there is no tomorrow. Other than that, Astrid is an animal lover. The lady is spotted doing charitable contributions to the local Zoo as well.
No doubt, in today's world, it's tough to find a human being who loves animals and shops at goodwill. Her heart is more engaged in doing good for others.
Also, with her spouse, she has donated millions of dollars to the Zoo too.
What did her husband say on the following topics?
According to Warren, he is never into beating himself up over mistakes or anything sort of as there is nothing one can do about rather than changing it in the future.
Being in a business world, he knows he is going to make plenty of mistakes, and that comes with the territory, and you move forward, he added.
Associating himself with the best people
In terms of associating with the best people, Warren feels very lucky because he is able to associate pretty much with whom he wants in business or socially or wherever.
He thinks the ideal thing is to focus on people who are better than you because you will move in the direction of the people you associate with.
He said he had several heroes in life, and associating with them has done wonders for him.
He said that he would not have had the same fun in life if he had been indiscriminate in terms of who he associated with over time.
His heroes, according to him, are first and foremost his father that follows Benjamin Graham, his partner Charlie Munger, Kay Graham, his wives.
All of them have done wonders for him, not expecting anything in return. He said of his friends doing ten things for him and are thinking about doing the 11th rather than whether they are going to get one in return.
If he never had a hero, then it would have been a terrible experience.
Talking about loyalty, he took the name of his partner, Charlie Munger, in business because, as per him, they don't keep a score who has done the most work and also thinks it's important in marriage as well.
Likewise, he took the name of Benjamin Graham, saying he never asked anything of him and just basically gave him.
Warren does not fear death. When he was about 10, he used to think a lot about it, but now he has had a terrific life.
He knows it's going to happen and has no idea what happens after being an agnostic. But in another 20 years, he is not sure he would want a lot more days after that.
He said he was having the good time he ever had at 84's. He knows his body can't do the same things now that he could before, but fortunately, it does not make any difference in his activities.
At the same time, he knows it will make a difference, and he would not want to sit around in a paralyzed state and do not want to survive.
He confessed to telling his wife and kids not to keep him alive to keep a heart beating but to keep him alive as long as he is enjoying his life.
Warren said he wakes up every morning as excited about the day that's coming as he never has in life. The toughest part for him is losing most of his friends.
The importance of quiet time
Warren liked things quiet and usually shut down the door at the office so that he could not hear anyone talking outside. He loves reading a lot and still, to date, spends five to six hours a day reading.
Astrid has lived with him for a long time, and as Susan put him together, Astrid also kept him together and has been doing ever since.
He added Astrid takes care of him like nobody else could take care of him in every way.
Know more about Warren Buffett
Warren does not consider himself the genius most people consider, but he considers himself a right guy interested in what he does. He says he has spent his life doing it and has surrounded himself with people that bring out the best in him. He added to say that there is no need to be a genius in what he does, which is the good thing about it. Buffett says being in a good game where there is probably a need for 120 points of IQ. The most important thing is the right orientation.
He does not have killer instincts, but when he wants to do something, he wants to do it big. He can put his whole net worth in it. He says he has never had less than 80% of his money in stocks, which he likes to call American business being the piece of an American business.
Doing what he has been doing is what makes him the happiest. He knows how to win over time. He is happy when stocks are going down so that he can buy more of them and save the amount of money. The second thing that makes him the happiest is that he likes being trusted by people. He would rather do what he does with his partners than do it sitting in the room himself, even though he can make money.
He still lives in the same house he bought 64 years ago in 1958 and has the same office he bought 60 years ago in 1962.
He eats the same thing he used to eat when he was six years old. He is 91, and still, to date, his eating habits have not changed, and he subsists on a diet of hamburgers, sandwiches, ice cream, and coke. One of his closest friends Bill Gates during an interview in 2016, recalled a time when Buffett stayed at his home. He said Buffett opened a package of Oreos for breakfast. Adding to that, he said Buffett eats like Kindergarten, whose parents are away, and that he have three cans of coke before leaving for work and breakfast has a bowl of ice cream or Utz potato. In Buffett's biography, The Snowball: Warren Buffett and the Business of life, he quoted, "I like eating the same things over and over again. I could eat a ham sandwich every day for fifty days in a row for breakfast.
Warren shared about his dreams and ambition
Warren was asked what his dreams and ambition were when he returned from New York in '56.
Warren instantly, without any thinking, mentioned that it was kind of disgustingly low. He confronted that he didn't have any idea what he was going to do in his life.
Warren said he had about $150,000 at that time. He even calculated that if he just earn 10%, there would be a total of $15,000 annually.
So Warren estimated that he could easily live big at that time. Before also, he was into reading and taking courses at the university.
He mentioned taking psychology which was his father-in-law's course, and was very clear about attending law school as there are subjects he is interested in.
Nevertheless, he admitted to stumbled into this partnership after a couple of months as there was a family of seven who wanted Warren to look after their investments.
Warren shared how he did not want to do it and share with them what he was doing. Warren then started to put the seven people into a partnership that had a total amount of $105,100.
Just after the months passed, a stockholder, Homer Dodge, wanted to invest his money but had no idea where so he asked Ben who recommended that Warren would be a great choice and then got together with Warren to invest about $100,000 at that moment.
Warren admitted that suddenly he had a partnership. Moreover, he revealed that the partnership was doing pretty well.
Other than that, when asked about his ambitions, Warren said that before, he used to think that he was a textile expert but later came to the realization that he was disabused of that notion.
Warren shared that the textile business was going very well, but for a short time, he mentioned himself as a duck floating on a pond while the rain was pouring.
However, he found out after it stopped raining that what he actually knows. After the realization, Warren then stepped up to the other businesses.
Warren then continued that the other business he chose only provided them with a little amount of cash.
Nevertheless, he shared that the reason for him finding the insurance business attractive as it controls the money. To know more about the insight details, visit the link below.
Her Net Worth
She previously worked as a waitress in a bar. Her earnings from the job are not yet revealed. After being married to Warren, she ultimately became a billionaire.
Warren has an estimated net worth of $85.5 billion. The source of his earnings is his business endeavors. He is the CEO of a multinational conglomerate holding company called Berkshire Hathaway.
According to Forbes, the company is worth more than $75 billion. Below is the list of top 6 companies owned by the holding company:
| | |
| --- | --- |
| S.N | Name |
| 1 | McLane Company, Inc. |
| 2 | Burlington Northern Santa Fe, LLC |
| 3 | Geico |
| 4 | Berkshire Hathaway Reinsurance Group |
| 5 | Lubrizol Corporation |
| 6 | PacifiCorp |
Her Lifestyle
She currently lives in Nebraska in a five-bedroom house purchased for $31500. The house was purchased in 1956, and hence the value has increased over the years.
The current value of the house is estimated to be $652619, which is comparatively low to the average cost of homes in that area.
The other houses in that area cost around $2.15 million.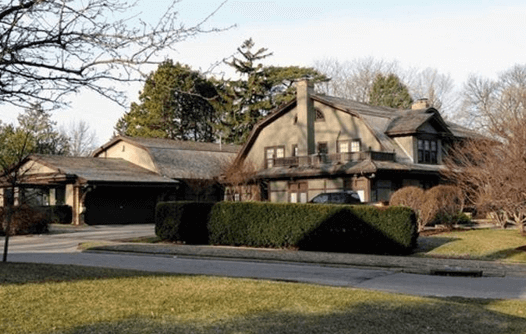 Her husband is a philanthropist who has donated $5 billion so far. He has even promised to give away 99% of his net worth to charity before his death.
Trivia
She exchanged the wedding vows on her husband's 76th birthday.
According to her bio, she was born in 1946 in Latvia.
We cover most of the information about Astrid Menks, as it is difficult to find on other wiki sites.
Stay tuned to vergewiki.com.
Updated On Fri Aug 19 2022 Published On Mon Feb 24 2020 By paper-boat