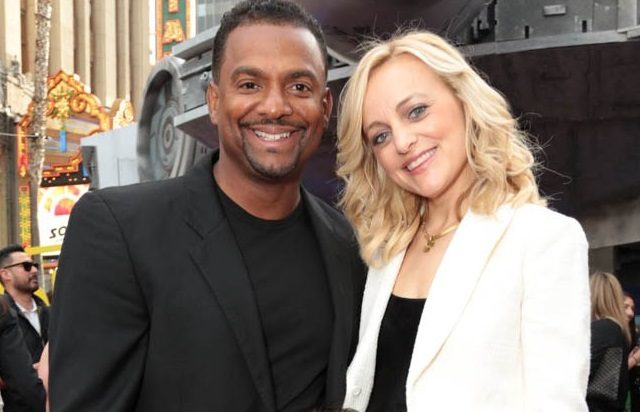 Angela Unkrich is a successful writer and blogger and also a former diver and gymnast.
She is successful in her career, but what made her come to the limelight is the fact that she is the wife of actor and Dancing with the Stars champion Alfonso Ribeiro.
Husband and Married
She is happily married to her superstar husband, Alfonso Ribeiro. The couple had their wedding in 2012. They met in 2011 and dated for a few months.
After dating, they knew that they were made for each other. The couple got engaged in July 2012 and finally tied the knot on the 13th of October, 2012.
As Alfonso is a superstar and has great fortune, it was quite evident that their marriage was a grand one. It was held in Burbanl's Lakeside Golf Club. The golf club is situated in Los Angeles.
Many celebrities and some big names were present. One of the big-name is Will Smith. Will Smith served as a groomsman, and Joey Fatone and David Justice assisted him.
Will Smith was the co-star of Alfonso in Fresh Prince, and they have developed a great bond.
The couple has a blissful married life together. They have three adorable kids. The couple had their first baby, a son on the 27th of October 2013. They named him as Alfonso Lincoln Ribeiro Jr (AJ).
Their second child was born on the 30th of April, 2015. This time again, they had a son and named him Anders Reyn.
The couple had their third baby, Ava Sue, a daughter this time on May 13, 2019.
She has step-children as well, and it is Alfonso's daughter from previous marriages. Her name is Sienna Ribeiro, and she was born on 7th October 2003. This was from a prior marriage of Alfonso with Robin Stapler.
Here is a picture that Angela Unrich has uploaded on her Instagram account, and it is of their wedding.
She uploaded this on her anniversary. She has captioned this picture as
"Happy Anniversary…."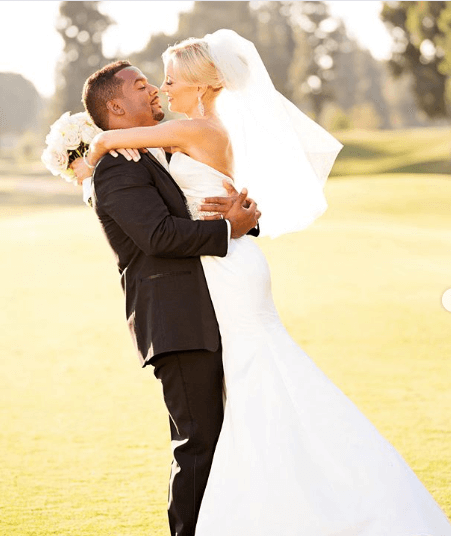 She has uploaded this heartwarming picture of her children on her Instagram account.
Get In: Maksim Chmerkovskiy Married Life And Wife
She has captioned this picture as
"Happiness comes in salty water…"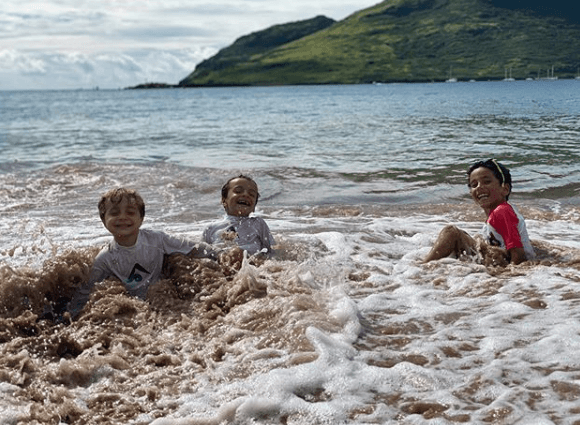 Her husband feels the black community does not support him over her because she is white
The Fresh Prince of Bel-Air star Alfonso claimed that he does not feel the black community supports him because of his white wife.
While opening up with Atlanta Black Star, he revealed not being fully accepted by a black community after he was asked if he had ever been told that he wasn't black enough the way his character Carlton was told during the episodes of The Fresh Prince of Bel-Air after he tried to pledge a black fraternity.
Speaking in the context, he said it still happens with him almost every day because he is in mixed relationships and gets things and looks and comments constantly.
He says he finds it interesting because he sees a lot of things on social media where people say things and people have positions, and it's not easy to make that choice because he is not at home in any home.
He added to say that he is never going to be white, and he is never going to be fully supported by the black community.
He went on to say that he is in his own little world with support from almost no one, to be in love with someone he has fallen in love with and said it doesn't make sense.
He said everyone wants to live in a world where they are accepted for being and loving and living the way they choose to live and that he will support any person that wants to live in a world that they want to live in, even a racist person to live in a world that wants to live in.
They don't have to be around him, but that's the world they want to live in; they should have the right to live in that world.
He says he lives in a mixed world and loves in a mixed world. He lives in a black world and loves in that world, and feels everyone should be supported.
He added dealing with it all the time and laughing at the fact that he is the mainstream Television host, has been in the game forever, and that he could purchase tickets to go to BET Awards.
Net Worth
Her exact net worth is not known right now. However, her husband Alfonso Ribeiro has a jaw-dropping net worth of 7 million dollars.
Her husband has earned money from movies and TV shows he has done, and the amount has been increasing since.
Alfonso has been involved in mega TV shows, and this is what has made him so prosperous.
He appeared in a very successful TV show called Fresh Prince of Bel-Air, and the series has impressive 7.9 ratings from IMDb. The series has brilliant 8.8 ratings from TV.com as well.
His work in Dancing with the Stars is what made him so famous. The series has 7.4 ratings from IMDb, and it aired on American Broadcasting Company, CTV Television Network.
He has been fantastic in Catch 21 and In the House as well. Here is the list of other TV series he has been a part of with their details such as IMDb ratings and TV.com ratings, Network and first episode date.
| | | |
| --- | --- | --- |
| TV Show Name | IMDb Ratings | TV.com |
| Fresh Prince of Bel-Air | 7.9 | 8.8 |
| Dancing with the Stars | 4.6 | 7.4 |
| America's Funniest Home Videos | 6.1 | 8.3 |
| Catch 21 | 6.5 | 7.7 |
| Silver Spoons | 6.1 | 9 |
| In the House | 6.7 | 8.2 |
She lives a brilliant life, and with a net worth of 7 million of her husband, it is visible too. She loves traveling.
She has uploaded this picture on her Instagram account of her vacation in Bora Bora.
This picture is captioned as
"Fbf to a year ago…."
And the photo is taken in Four Seasons Resort Bora Bora. The scene is magnificent, and she is having a perfect time here.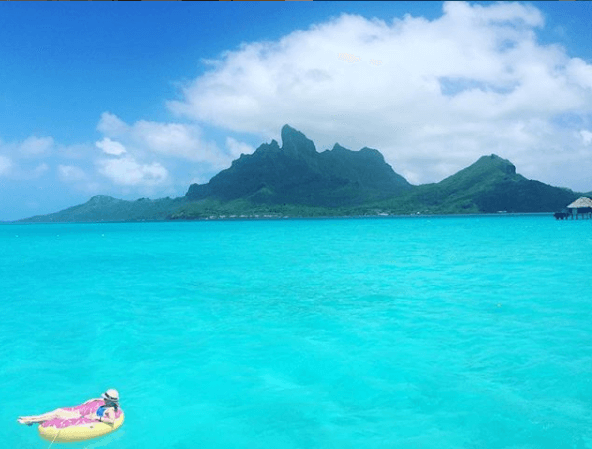 Trivia
She was born in 1981, and this makes her age 38 in 2019.
She celebrates her birthday on the 4th of February.
Wiki sites have information on her, but we got you in detail.
Updated On Sat Jun 18 2022 Published On Thu Nov 07 2019 By paper-boat