Allie Rebelo is the step-daughter of Jeremy Bieber, the father of the pop icon Justin Bieber.
Allie Rebelo Parents
Allie is born to her mother, Chelsey Rebelo. The information about her biological father is not available.
Below you can see the picture of Allie Rebelo with her mother, Chelsey Rebelo.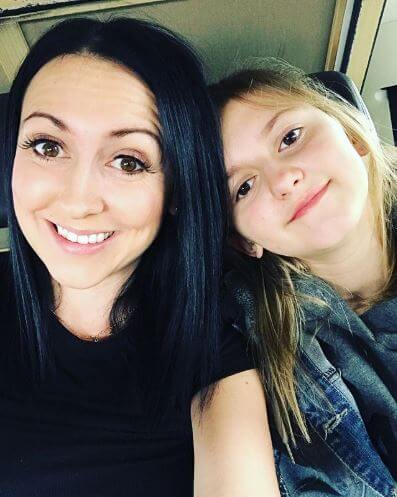 After Chelsey married Jeremy Bieber, both Chelsey and Allie changed their last name to Bieber.
Now, Allie lives with her mother, step-father and other siblings.
How Did Allie's Mother And Step-Father, Chelsey Rebelo, And Jeremy Bieber Meet?
Before Chelsey, Jeremy was dating Erin Wagner, a Canadian activist, in 2007.
They started living together and have two kids, Jazmyn Bieber and Jaxon Bieber.
But after living together for seven years, things did not work out, and for unknown reasons, Jeremy and Erin broke up.
After his break-up with Erin, Jeremy met Chelsey, and they started dating.
The YouTube video of Jeremy proposing to Chelsey on a beach got famous after Jeremy uploaded it on his YouTube channel.
Jeremy and Chelsey were on vacation to ST. Barts on February 2016, where Jeremy took out a ring box, went on one knee and asked Chelsey to be his wife.
Chelsey was unknown of this surprise, which Jeremy had planned; she was surprised and said Yes to him.
Their wedding took place in a private ceremony in the presence of their 40 close family and friends in February 2018.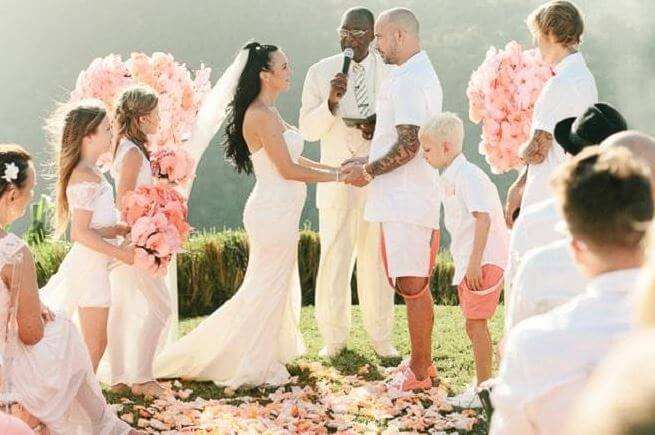 At their wedding, the spotlight was all on Justin Bieber and his then-girlfriend Selena Gomez, with whom he came to his father's wedding.
Chelsey had a 12-year-old Allie from her previous relationship when she married Jeremy, and Jeremy had three children from his previous two relationships.
And at the time of the wedding, Chelsey was pregnant and gave birth to a baby daughter named Bay Bieber in the same year.
After they tied the knot, Jeremy took care of Allie like his other children, and now he is a proud parent to five kids.
In his teenage days, Jeremy was dating Pattie Mallette, the mother of Justin Bieber.
Jeremy was 18, and Pattie was 17 when Justin was born.
They never married even though their wedding date for 15th October 1994 was set because they both felt that they were not ready to tie the knot.
They parted ways when Justin was a toddler.
Allie Rebelo Step-Brother Justin Bieber
Allie's step-brother Justin is a world-famous Canadian singer, songwriter, and actor.
He is currently married to Hailey Baldwin, who is also a famous American model and television personality.
Justin revealed the news about them being husband and wife on 23rd November 2018.
And they had an official wedding ceremony on 30th September 2019.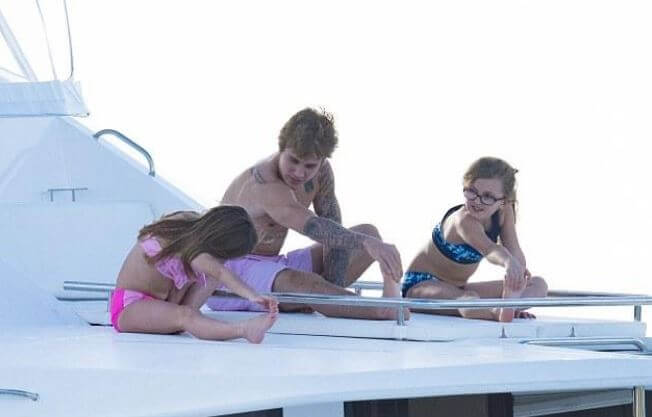 Even though Allie is Justin's step-sister, he treats her the same way he treats his other siblings.
Justin loves spending time with all of his siblings. He maintains a close and healthy relationship with all of them.
Here you can see the image of Justin Bieber with his siblings, Jaxon Bieber, Allie Bieber, and Jazmyn Bieber, inside a studio.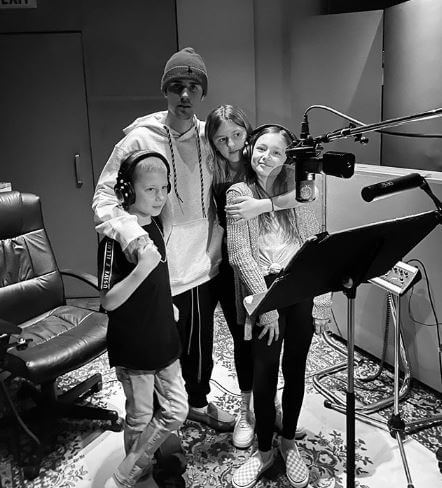 Why was her half-brother Justin nervous?
Despite having different mothers, Allie and Justin share a close connection. Justin on The Ellen Show was captured sharing about his nervousness.
The talk begins with Justin's wife, Hailey. Justin praised her, stating her as an amazing person, further claiming her to be super precious.
Also, he points out that he is enjoying his life with Hailey. Even though they have known each other for a long time, the individuals still feel nervous while they are around each other.
Then he shares his nervousness; it's not about her answer during the proposal as Justin said he knew she would say Yes as they talked about it back then.
But it was about if he was going to make this commitment as a man and be able to earn her as he said? Justin reflects it as a serious commitment too. As a result, they are living happily to date.
Allie's debut on TikTok
Well, young Allie made her debut on TikTok. The young girl has associated with Drake, a pop singer as well. Moreover, she was captured in a music video, "Tootsie Slide," and no doubt she gave her best.
Millions of audiences praised her outstanding expression and talent. That's why she is now recognized as one of the famous TikTok stars in Canada.
Allie was recently captured doing a TikTok video with step-brother Justin and his wife, Hailey, including Allie's two sisters.
Allie is more focused on her education which is the reason for her not being active on other social media platforms.
It's been stated that, like Justin, Allie also wants to be a popular figure in her upcoming career. She is recognized as having straight blonde hair and a great figure.
It seems she likes to maintain a fit body. However, in her leisure time, she loves spending time and playing with her pets.
Besides that, Justin uploaded his sweet family picture of himself, his spouse Hailey, and sisters Jazmyn and Allie. He captioned it saying his favorite girls whereas, in reply, Allie commented Love You.
Is Allie going to become an aunt?
In an upcoming Amazon documentary Justin Bieber: Our World, her brother Justin revealed starting a family with his beloved wife, Hailey Baldwin.
In the documentary, Bieber is seen sharing his intentions for 2021, of which squishing out a nugget with Baldwin is one of them.
During his conversation, he revealed his intention for 2021 to be continuing setting goals and having fun while doing them and making sure that he keeps his family first and hopefully squish out a nugget.
Before his New Year's Eve concert, Bieber asked his wife Baldwin how about they start trying at the end of 2021.
Baldwin recently overcame the scariest moment of her life, which she shared on her YouTube channel. According to her, she had a scary incident on the 10th of March.
She was having breakfast with her husband, Bieber.
They were having a normal talk when she suddenly felt a weird sensation that traveled from her shoulder to her fingertips during the middle of the conversation.
Her fingertips suddenly became numb, and she couldn't figure out where the sensation was coming from.
When Bieber asked her if she was ok, she could not speak as the right side of her face started drooping.
They both thought she was having a stroke and asked someone to call the doctor. Luckily, there happened to be a medic who immediately rushed over and started testing her arms.
The facial drooping as per her last a little bit more than 30 seconds. She had so much in her mind and was scared to death.
When she was asked several questions, she knew all the answers in her head, but she could not get the words out.
She was later taken to the hospital, and by the time she was taken to the hospital, she was pretty much back to normal and wasn't having any issues with her face or arm.
She was diagnosed with a small blood clot in her brain, which the doctor cauterized as Transient Ischemic Attack (TIA), which was a ministroke.
She felt relief and grateful that it wasn't worse and that she wasn't going to have any permanent issues, but her scan did show she had a lack of oxygen for a certain amount of time.
After getting discharged from the hospital, she went down to see more doctors and did some more thorough in-depth testing, after which the doctors came to a conclusion why she had a blood clot in the first case.
First of all, she had just recently started birth control pills which should have never been on because she suffered from migraines.
The second thing was she had recently had Covid, and then the third thing was that she was on a recent long flight in a short span of time.
However, she is in good health now. It seems that squishing out a nugget is on hold as Baldwin recently revealed taking birth control pills.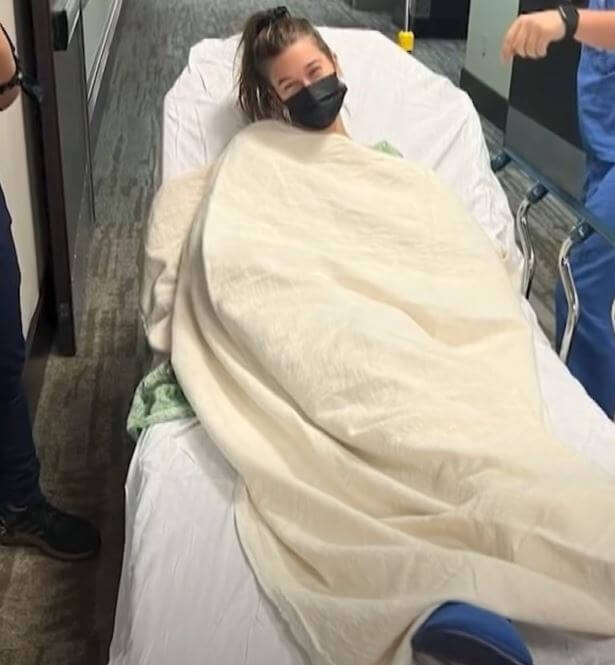 Net Worth
Allie is just a teenager and does not have any net worth. Her parents have decent earnings, which she enjoys.
Below you can see the detail about the net worth of Allie's step-father and step-brother.
| | |
| --- | --- |
| Name | Net Worth |
| Justin Bieber | $265 million |
| Jeremy Bieber | $5 million |
Allie's Hobbies
Allie enjoys playing soccer and basketball. She is a sports enthusiast. She also loves to dance.
Trivia
Allie was born in the year 2007 in Canada.
She celebrates her birthday on the 7th of April every year, making her 13 years of age as of 2020.
For Amazing Biographies Of Your Favorite Celebrities,
Stay Tuned To vergewiki
Updated On Fri Dec 23 2022 Published On Wed Jul 08 2020 By shaumya